Potato Croquettes are crisp fried breaded mashed potato patties.  Parmesan cheese and chives are added to the potatoes to provide the ultimate taste bud experience.  Two minute garlic aioli dipping sauce takes this over the top!
Hubby just loves these potatoes!!  They reheat perfectly on a baking sheet in a 425 degree oven for a couple of minutes each side.  Don't skip the garlic aioli dipping sauce!  It is AMAZING!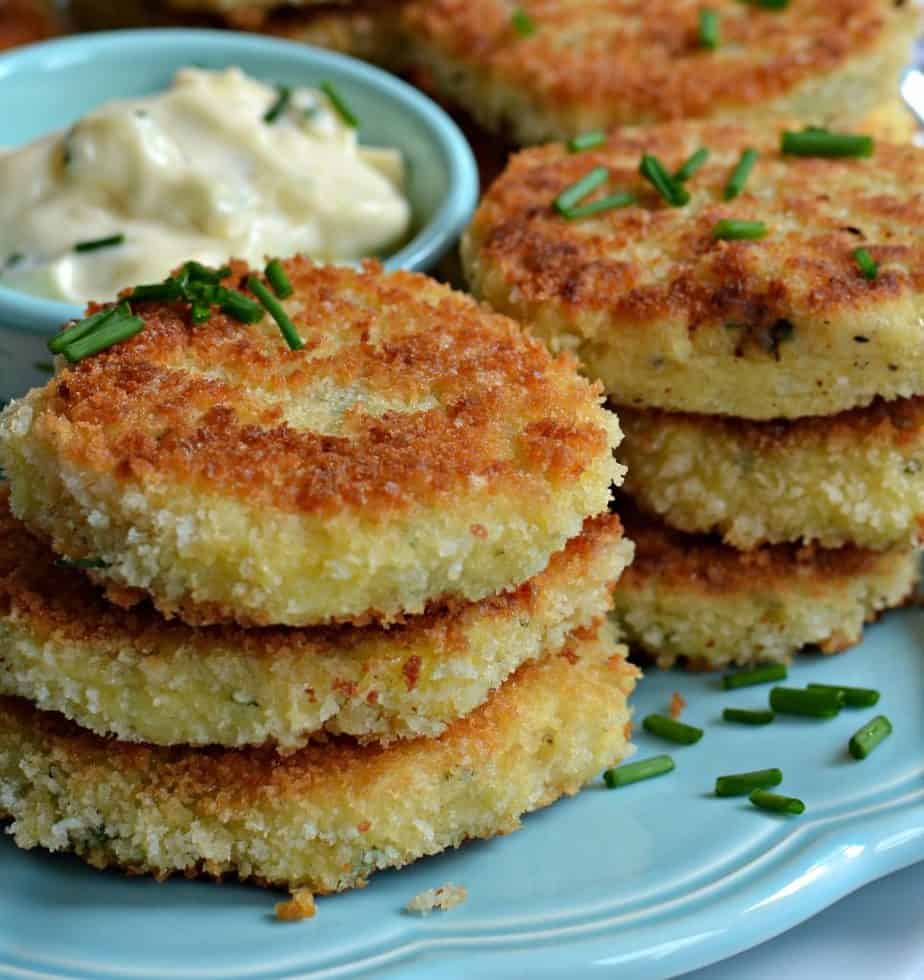 These delicious Potato Croquettes are so easy to whip together. They can be deep fried but I prefer to pan fry them in a little vegetable oil consequently making a lot less mess and still producing a nice crunchy crust. Are you always in a hurry?  Believe me I get it!  Hurry is my middle name!  Prepare the mashed potatoes a day ahead of time and store in the fridge in an airtight container. When  you are almost ready to complete the other steps remove the potatoes from the icebox and let them come to room temperature for about 30-40 minutes. These delicious potato patties are perfect with steak, chicken, fish and pork.  The patties can be cooked ahead of time and reheated on a baking sheet in the oven at 425 degrees for just a few minutes.
What is a Potato Croquette?
A Potato Croquette is a crispy on the outside and a creamy on the inside potato pancake that is super  easy to make with any good mashed potatoes.  But before you add anything to those smashed spuds lets talk about how to make those beauties.
How do you make Potato Croquettes?
These mashed potato croquettes could not be any easier.  Mix 2 cups mashed potatoes with a beaten egg, Parmesan cheese, fresh chives, salt and pepper.  Form small patties and dip in the flour, beaten eggs and then breadcrumbs.  Add the oil to a large skillet over medium heat.  Add the patties and cook 1-2 minutes per side or until golden brown.  Drain on paper towels.
Mix the mayo, minced garlic, lemon juice and salt. Serve with the potato croquettes.  It is just that simple to make great tasting croquettes with Garlic Aioli Dipping Sauce!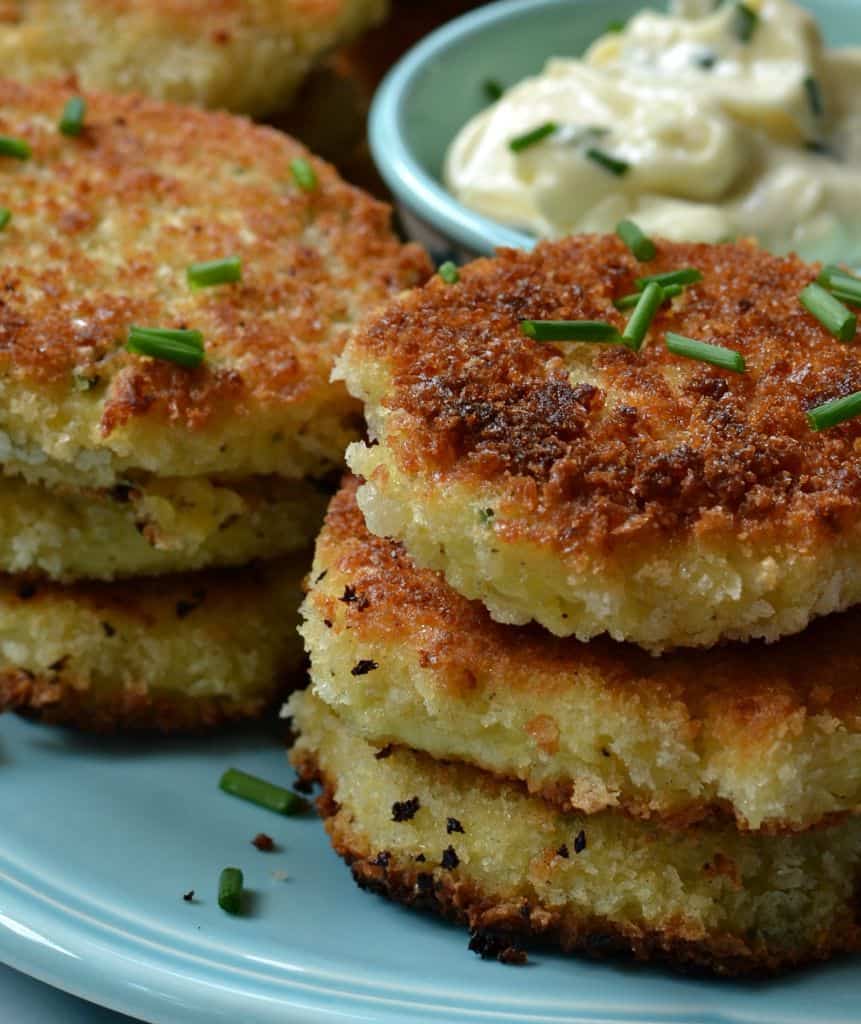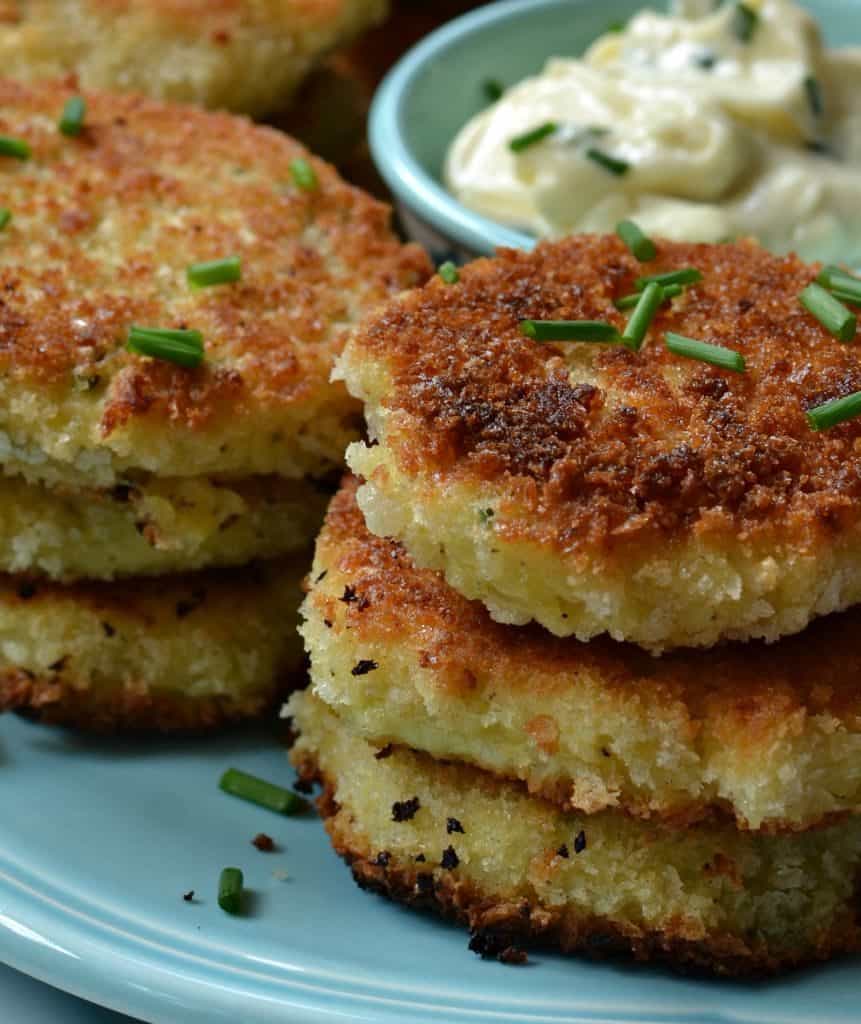 What potatoes are the best for this recipe
Both russet potatoes and Yukon gold potatoes are perfect for these delicious delights.  Just boil the peeled potatoes until soft, drain real well and mash. Refrigerate for at least 30 minutes.  Now you are ready to proceed with the rest of the recipe!
These amazing potatoes are perfect as a side dish or an appetizer.  Put them on your to try list today and let me know what you think!!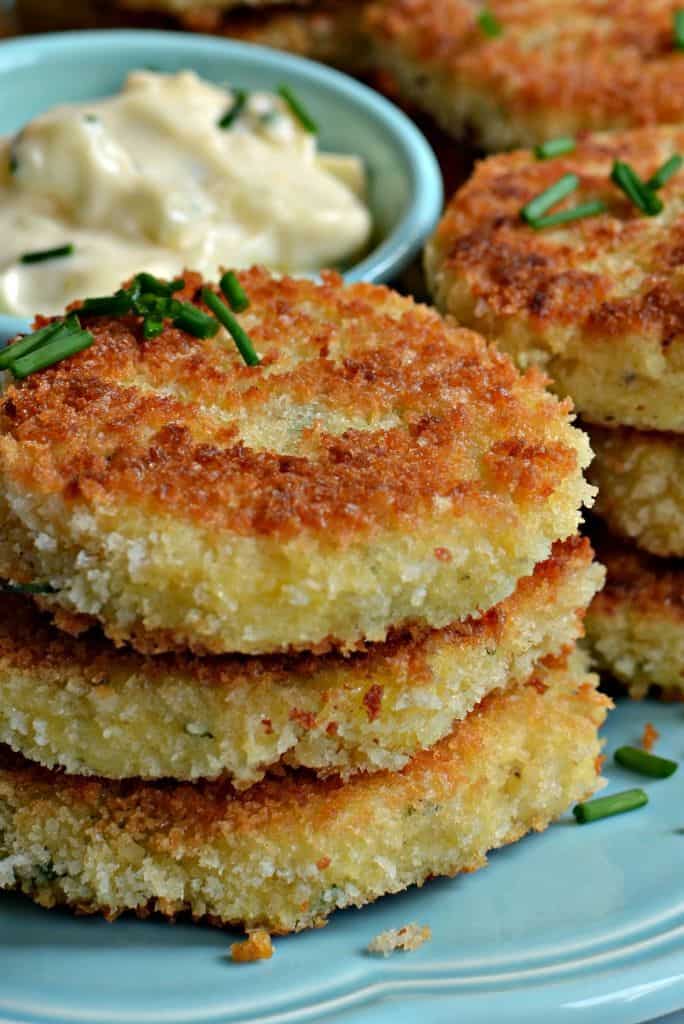 Other potato recipes you will love!
This post was originally published August 4, 2018 and was republished July 31, 2019 withe new content.
Print
Potato Croquettes with Garlic Aioli Dipping Sauce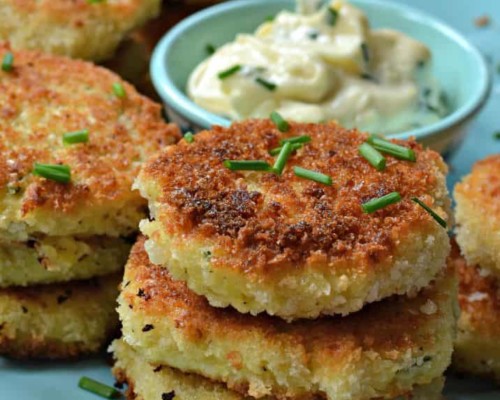 These delectable croquettes include Parmesan cheese, chives and a four ingredient tasty Garlic Aioli Dipping Sauce for the ultimate taste experience.
Author:
Prep Time: 15 minutes
Cook Time: 10 minutes
Total Time: 25 minutes
Yield: 16 Patties 1x
Category: Side Dish
Method: Pan Fry
Cuisine: American
Potato Patties
2 cups mashed potatoes (about 1 lb of potatoes or three average sized spuds)
1 egg beaten
1/2 cup fresh grated Parmesan
1/4 cup fresh chopped chives
1/2 teaspoon salt
1/4 teaspoon fresh ground black pepper
Crispy Breading
1/4 cup flour
2 eggs beaten
1 1/4 cups panko bread crumbs
2–4 tablespoons vegetable oil
Garlic Aioli
1/4 cup mayo
1 clove garlic minced
1/8 teaspoon salt
1 1/2 teaspoons lemon juice
Instructions
In medium bowl combine mashed potatoes, 1 beaten egg, Parmesan, chopped chives, salt and pepper. Refrigerate for at least 30 minutes. Using 1 1/2 tablespoon cookie scoop shape potatoes into disc shaped potato patties.
Place flour, beaten eggs and Panko bread crumbs in three separate shallow bowls. Dip patty into flour, eggs and then bread crumbs. Repeat with remaining patties.
Heat 1-2 tablespoons of oil in large skillet over medium heat. Add potatoes patties and cook until browned; approximately 1-2 minutes per side. Add more oil when necessary.
In small bowl whisk together mayo, garlic, salt and lemon juice.
Serve immediately with garlic aioli.
Keywords: fried potato patties, garlic aioli dipping sauce, potato recipe, potato croquettes, potato croquettes recipe, mashed potato croquettes, recipes using mashed potatoes
On the hunt for more delicious recipes?  Follow Small Town Woman on Facebook, Pinterest, and Instagram.
https://www.smalltownwoman.com/wp-content/uploads/2019/05/Beth-1.pdf