These Raspberry Margaritas bring a little tequila, Grand Marnier, and lime together for a delicious party cocktail. There is nothing quite like a Raspberry Margarita with an abundance of fresh raspberry flavor. Raspberries are delicate, sweet, flavorful, and a favorite of all ages with a mouth-watering taste sensation!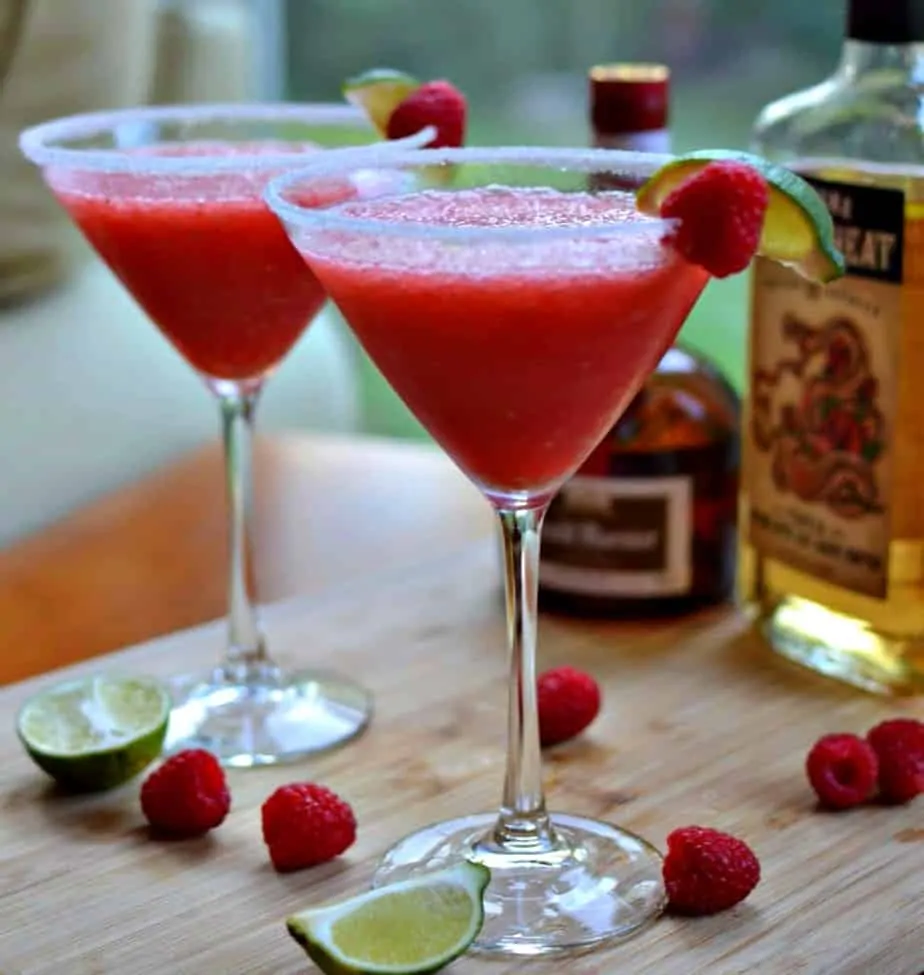 Fresh berries make such a pretty cocktail for those special occasions and parties. I love to serve these for spring and summer holidays like Easter, Mother's Day, and Memorial Day. Served as a slushy ice-cold refreshing beverage or even dessert, it is sure to cool you off on those hot summer days on the patio or by the pool. They are so quick to come together that you can make them on the fly for unexpected quests.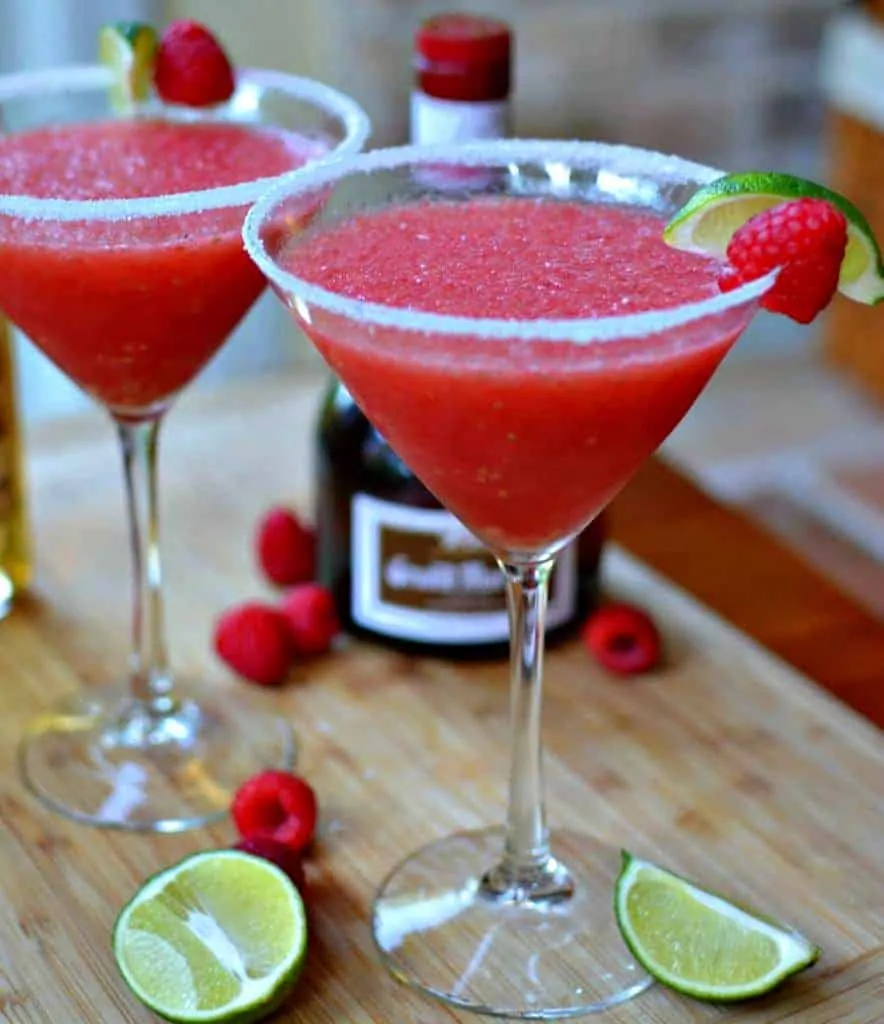 For a little added sweetness, the glass is rimmed with sugar instead of a salted rim. After all, raspberries are packed with flavor, and a little bit of sweetness complements them perfectly. When selecting raspberries, pick brightly colored, plump berries. As with all berries, avoid any that show signs of spoilage or mold. Fresh raspberries are fragile and highly perishable. Keep them in your refrigerator and use them within two days.
How do you make a Raspberry Margarita?
Start by spreading a little sugar on a shallow plate. Next, run the rim of the glasses with a lime slice. Now dredge the rim into the sugar. Then add the raspberries, Grand Marnier, Tequila Blanco, sugar, and lime juice to a blender and pulse several times. Add the ice and blend to desired consistency. If desired, garnish with fresh lime wedges and raspberries.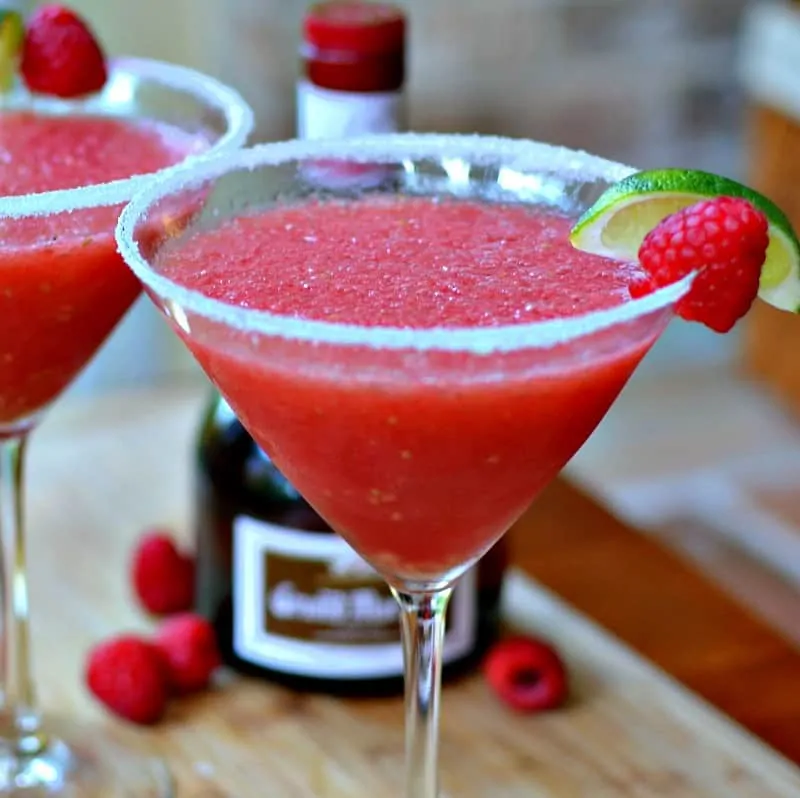 More cocktails recipes
Print
Raspberry Margarita
A fun and easy mouthwatering good Raspberry Margarita made in under five minutes, making it perfect for all your spring and summer events.
Author:
Prep Time: 5
Total Time: 5 minutes
Yield: 4 cocktails
Category: cocktails
Method: blender
Cuisine: American
2–4 tablespoons of sugar
2 cups fresh raspberries (reserve several berries for garnish)
1/2 cup Grand Marnier
1/2 cup white or silver tequila
1 tablespoon sugar
1/4 cup fresh lime juice
Lime wedges for garnish
5–6 cups of ice.
Instructions
Spread sugar over a plate. Rub the rim of the glass with lime juice and run moistened edge through sugar.
Blend raspberries, Grand Marnier, tequila, sugar, and lime juice. Add ice and blend to desired consistency. Garnish with lime slices and raspberries.
Notes
You can substitute any orange liqueur like Triple Sec or Cointreau for the Grand Marnier. 
Swap the raspberries in this recipe for blueberries, strawberries, blackberries, peaches, or mango.  
Use fresh or frozen raspberries. 
If you prefer the traditional components of the margarita, then salt the rim.  I can safely say that either way is delicious. 
Use the best tequila that your budget can handle.
Keywords: cocktail, frozen raspberry margarita, cocktail using tequila, raspberry cocktail, raspberry lime margarita cocktail, best raspberry margarita recipe, how to make a frozen raspberry margarita
On the hunt for more delicious recipes? Follow Small Town Woman on Facebook, Pinterest, and Instagram.
https://www.smalltownwoman.com/wp-content/uploads/2019/05/Beth-1.pdf