This delectable Cabbage Roll Soup takes everything you love about cabbage rolls and puts into one easy soup.  This hearty family friendly soup is flavor packed and full of wholesome ingredients.  I love to serve it with Best Cornbread Recipe or Cheddar Corn Scallion Beer Bread.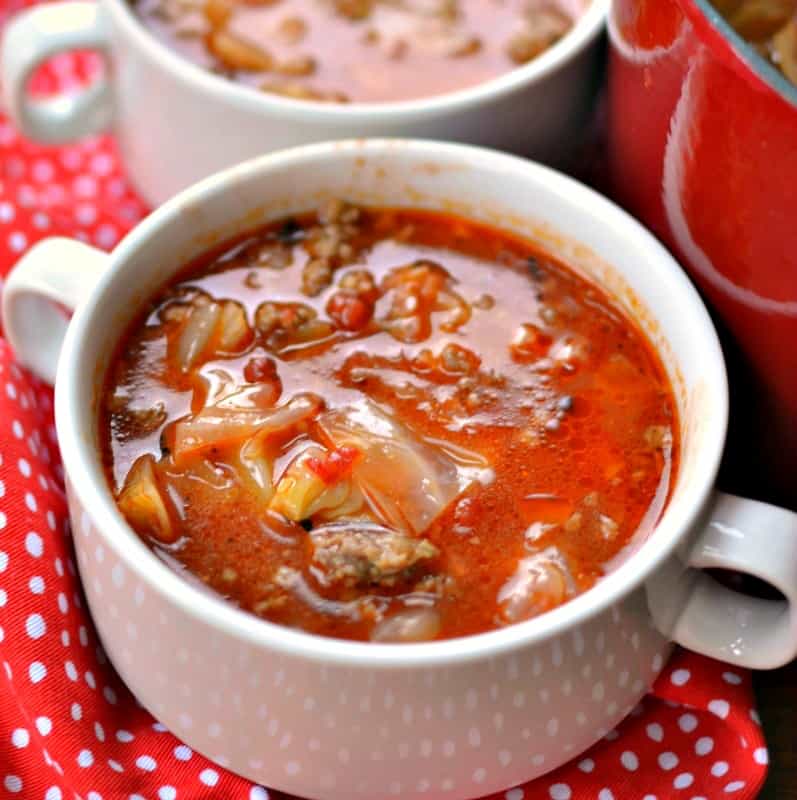 I love everything about cabbage rolls but I don't always have the time to make them.  It takes time to simmer the cabbage leaves, stuff them and roll them. This soup eliminates all of that but still gives you all the flavor of cabbage rolls.  Besides who wouldn't love a nice warm hearty bowl of soup.  To me soup is great anytime.  It warms the cockles of my heart.
In no time at all you can have a whole pot of hearty soup for your crew.  This family friendly recipe starts with sausage, onion, garlic and cabbage.  It is seasoned perfectly and sweetened with just a bit of brown sugar.  The aromas from the kitchen will be enough to ensure that you don't miss out on a bowl.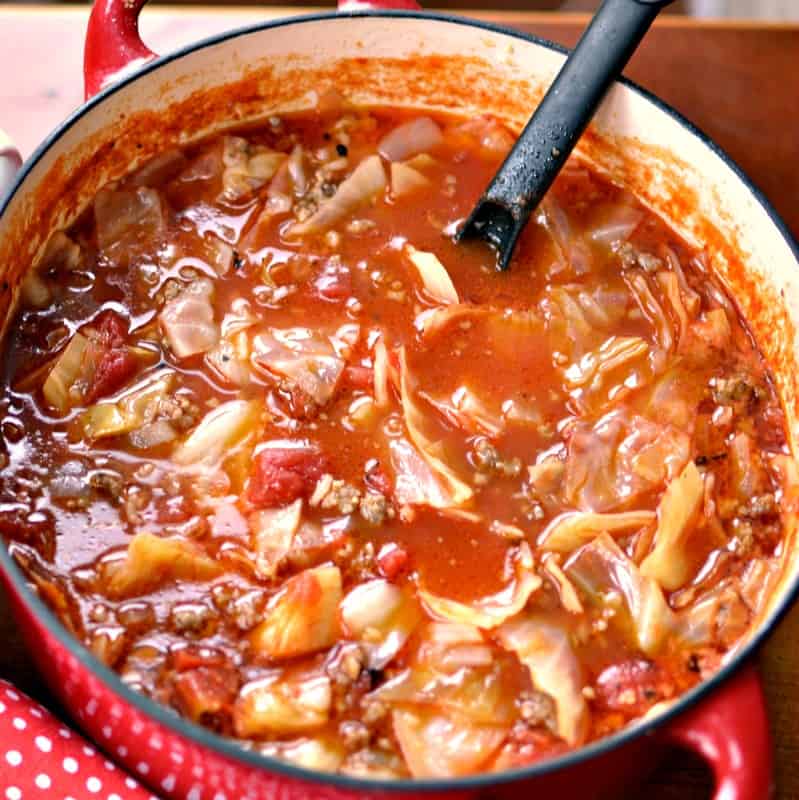 How do you make Cabbage Roll Soup
First start by simply browning your sausage.  I like to use unflavored bulk breakfast sausage but you could use an Italian sausage with this instead.  Then add your onions and cabbage and cook until soft.  Now add your garlic and cook another minute or so.  Make sure you are stirring the pot every couple of minute or so. Now add the fire roasted tomatoes, chicken broth, Cajun seasoning, tomato paste, brown sugar and rice.  Finally simmer for about 25 minutes or until the rice is tender.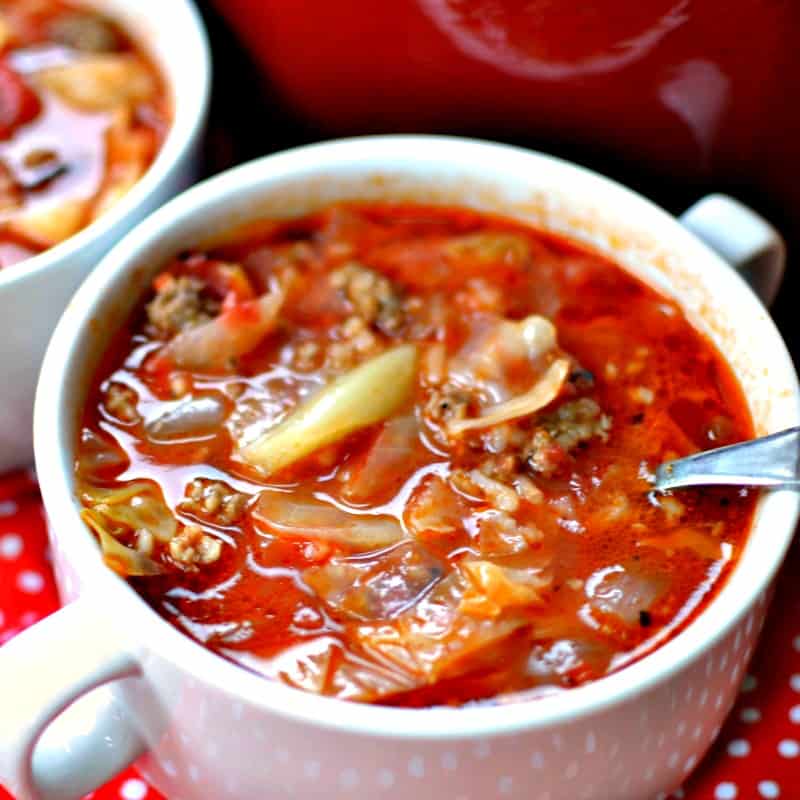 Helpful tips for making Cabbage Roll Soup
Ground beef can be substituted for the pork sausage however I really like the added flavor of the pork sausage.  It really melds with the cabbage well.
If swelling rice bothers and you know you will be saving some of the soup for another nights meal split the batch before adding the rice.  Plan to refrigerate the half without the rice.  When you go to simmer it for another nights dinner add the other half of the rice and cook until the rice is tender.
Fire roasted tomatoes are tomatoes that have been charred over an open flame before being diced and canned.  They are with the other canned tomatoes at your local grocery store.  I love them because they really add a smokey sweetness to this soup.
Okay call me crazy but the Cajun seasoning adds just the right touch to this amazing soup and brings out the best in the pork, cabbage and tomatoes.  You can can always adjust the amount, add it just to your bowl (although simmering it makes it better) or omit it.
Beef or vegetable broth can be substituted for the chicken broth.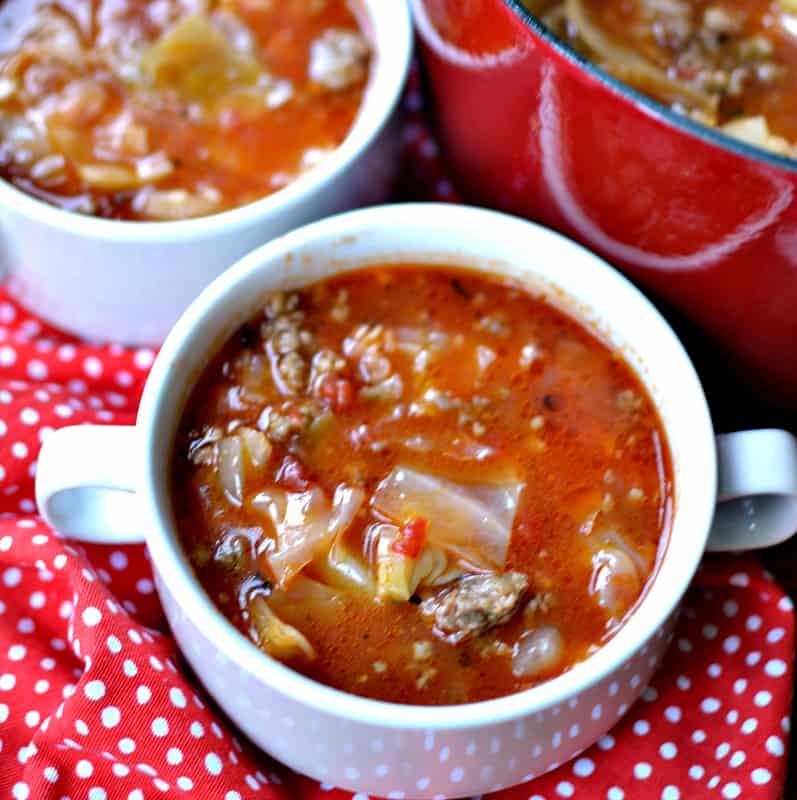 Other soup recipes you will love!
This post was originally published September 12, 2016 and was republished February 6, 2020 with new content.
Print
Cabbage Roll Soup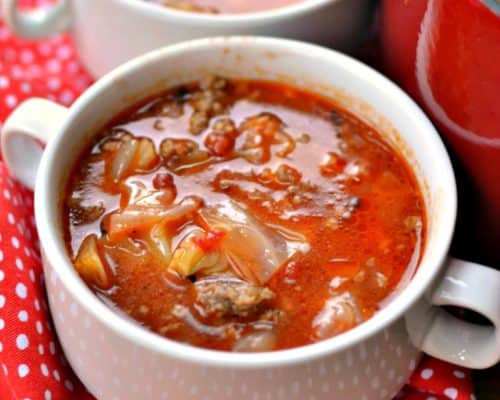 This simple yet delectable soup combines all the delicious flavors of old fashioned cabbage rolls in a fraction of the time.  Be sure to read my helpful tips to make the most of this family friendly recipe.
Author:
Prep Time: 10 minutes
Cook Time: 55 minutes
Total Time: 1 hour 5 minutes
Yield: 6 bowls 1x
Category: soup
Method: stove top
Cuisine: Polish
Scale
Ingredients
1 lb ground pork sausage (I use Jimmy Dean all natural)
1 medium onion chopped
1 small head green cabbage cored and coarsely chopped
3 large cloves garlic minced
1 (14.5 ounce) can fire roasted tomatoes
8 cups low sodium chicken broth
1 tablespoon Cajun seasoning (more or less depending on taste)
1/4 cup tomato paste
3 tablespoons brown sugar
1/2 cup uncooked long grain white rice
Instructions
In large pot or dutch oven over medium heat brown sausage; drain any excess fat. When almost fully browned add onions and cabbage and cook until soft; approximately 10-15 minutes stirring several times. Add garlic and cook for 1 minute; stirring continuously.  Add fire roasted tomatoes, chicken broth, Cajun seasoning, tomato paste, brown sugar and rice.
Bring to a low boil. Turn down to simmer and cook about 25-30 minutes or until rice is tender.
Keywords: cabbage soup, cabbage roll recipe, soup, cabbage recipe, cabbage roll soup, unstuffed cabbage roll soup, easy cabbage roll soup
https://www.smalltownwoman.com/wp-content/uploads/2019/05/Beth-1.pdf