Pasta e Fagioli is a delectable Italian soup that combines Italian sausage, vegetables and beans in a rich tomato base with a perfect blend of Italian herbs and spices. I like to serve it with a little bit of fresh grated Parmesan along with Triple Cheese Garlic Bread or Bacon Jalapeno Cheddar Beer Bread.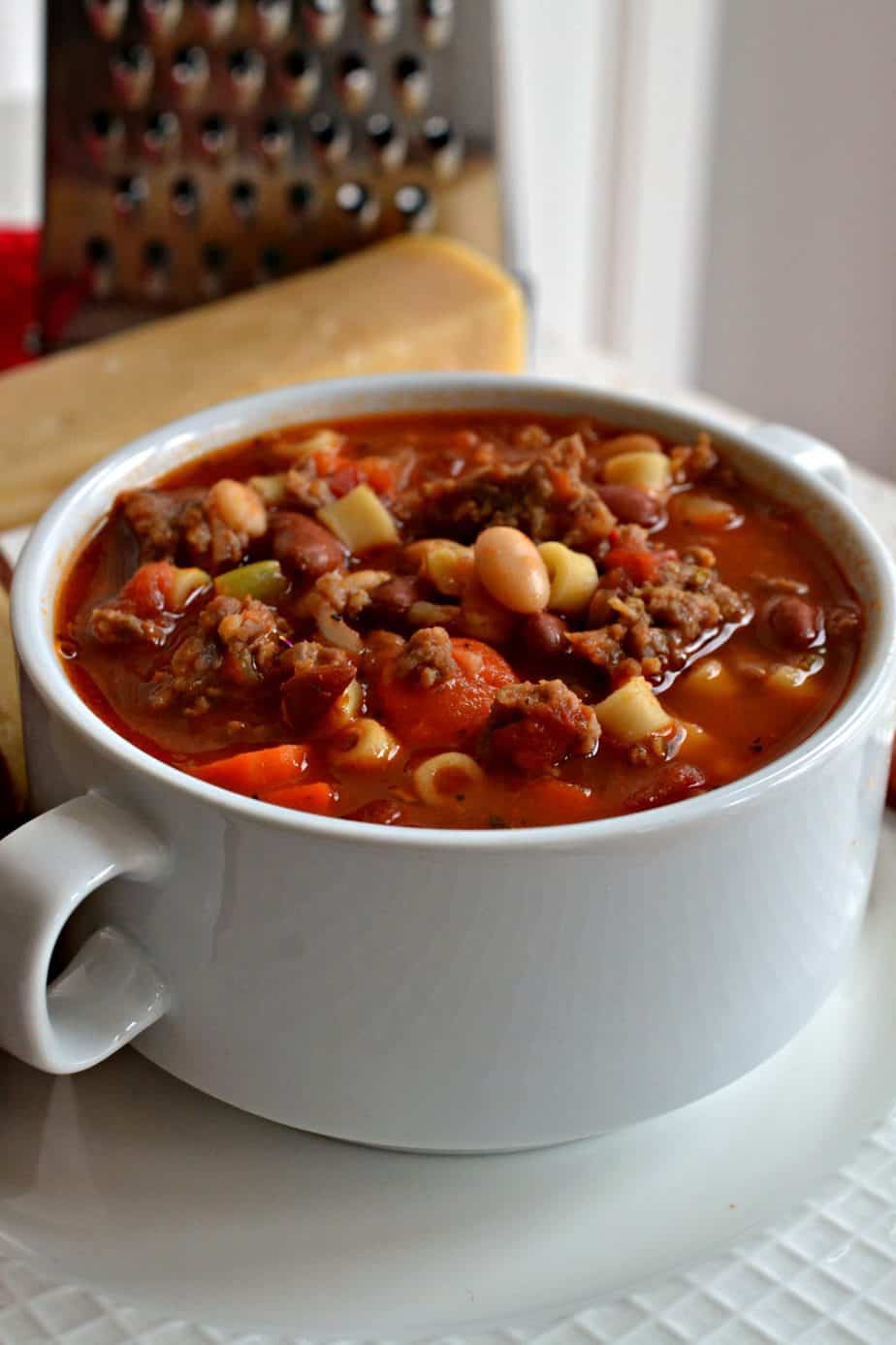 There is nothing better than a big hot pot of simmering soup.  My family cooks and enjoys soup through out the year!  Not just during the winter months and we just love all the tasty flavors and heartiness in this soup recipe. You may have tried this soup at Olive Garden. Well this recipe is so much better and you can make it in the confines of your own kitchen controlling everything that is added.  It is easy, dependable, so delectable and it freezes really well.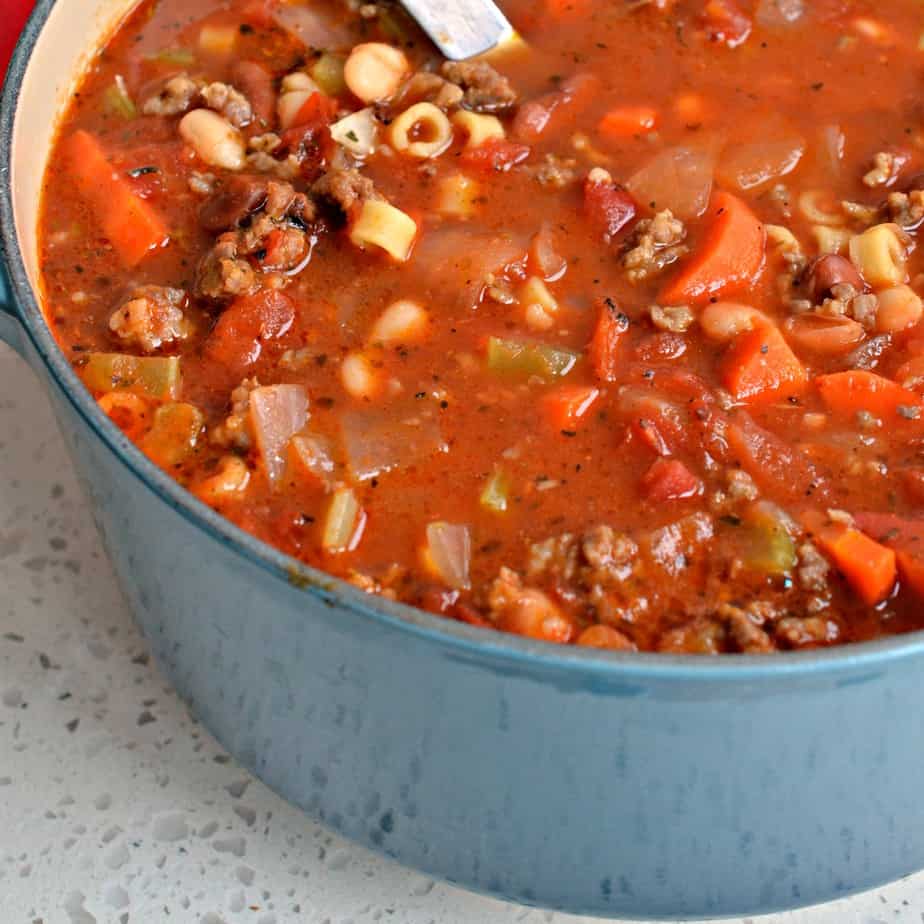 How do you make Pasta e Fagioli?
Start by browning the sausage in a dutch oven or heavy stockpot over medium heat. When the sausage is about halfway browned add the onions, carrots and celery.  Continue cooking until the sausage is completely browned.  Now reduce the heat and add the garlic, oregano, marjoram, basil, thyme leaves, and onion powder cooking for about 1 minute while stirring constantly.
Then add the chicken broth, tomato sauce, fire roasted tomatoes and beans.  Next simmer for about 10 minutes while stirring several times.  Now remove about 2/3 cup of hot liquid and whisk it together in a separate bowl with the tomato pasta.  Add it it back to pot and simmer for about 5 more minutes. Finally add the pasta and simmer until tender.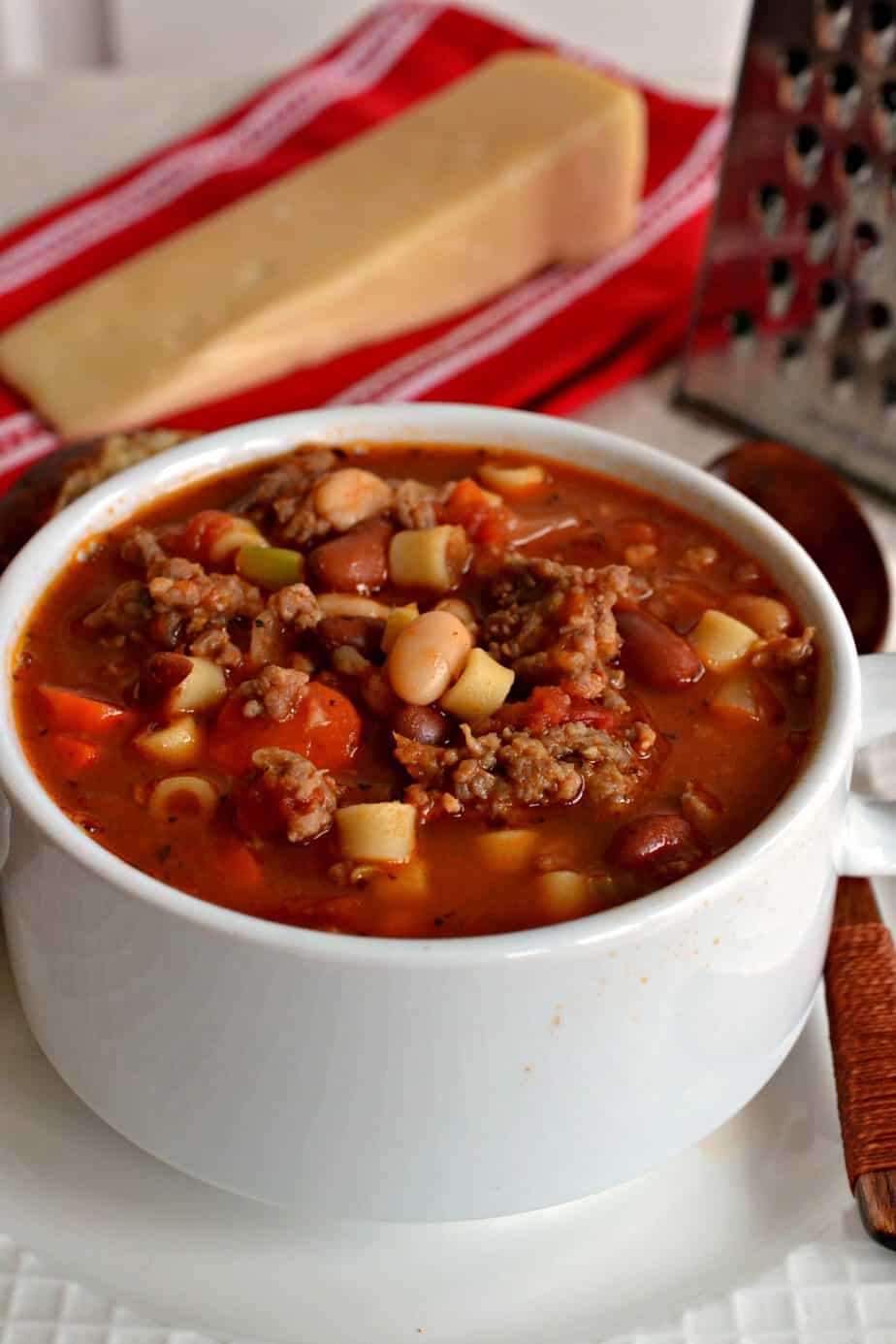 Helpful tips for making Pasta e Fagioli
Use either mild or hot Italian sausage. The choice is completely up to you and your taste buds.
For aesthetic purposes peel your carrots as they are such a beautiful bright orange color when peeled.
Drain and rinse your beans to remove any excess salt and starch. This helps improve flavor.
Do not overcook the pasta and prepare to eat promptly. The pasta will continue to cook some even after the heat has been turned off.
If you know you will be saving some soup for another day remove that amount before you add the pasta.  When you reheat the soup you can simmer it again and add a little bit of pasta.
Serve with 1-2 tablespoons freshly grated Parmesan Cheese on top.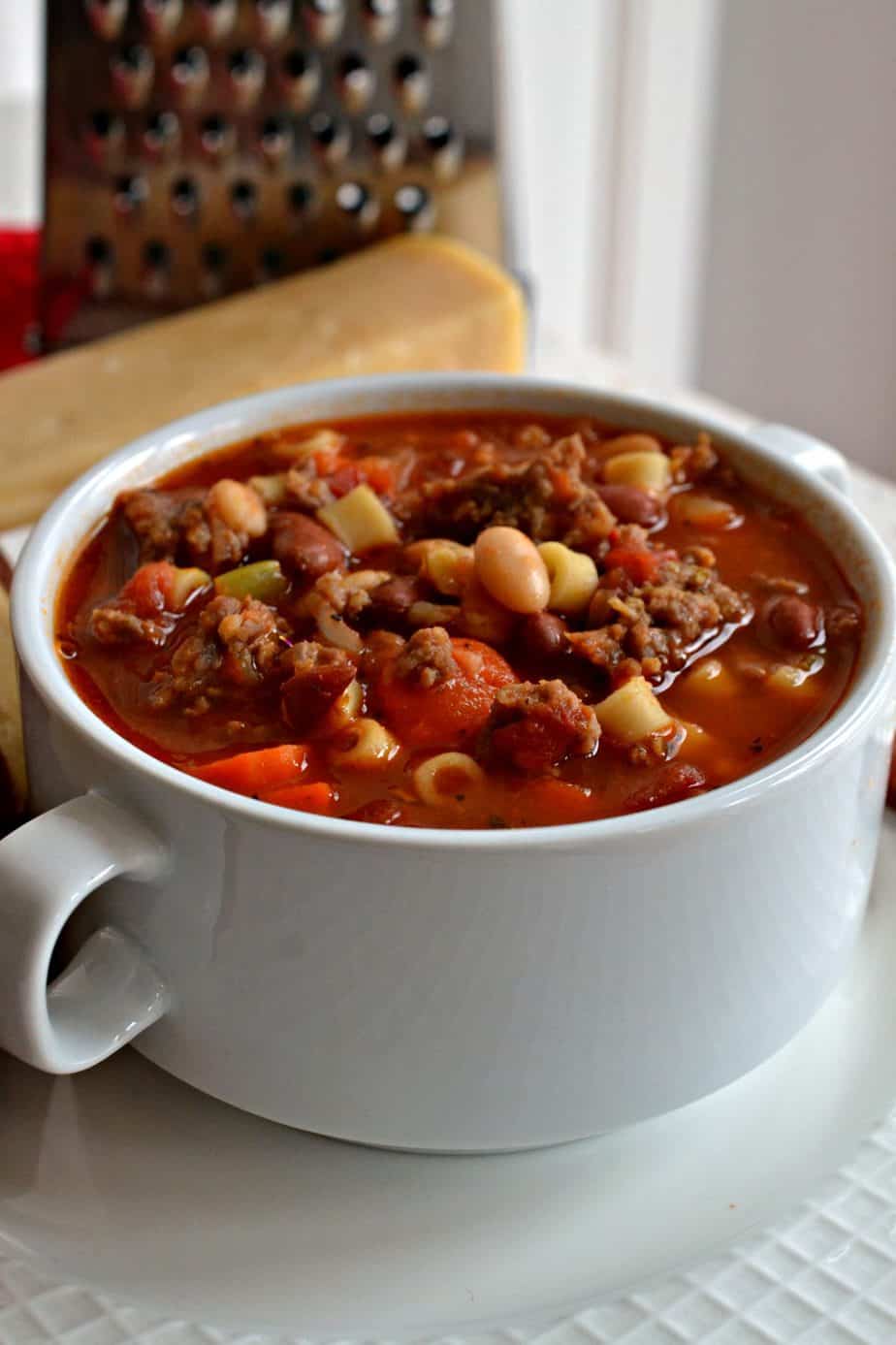 What to serve with Pasta e Fagioli
warm bread sticks
hot fresh rolls
beer bread
fresh fruit cup
a simple spinach salad
French baguette
garden wedge salad
fried mozzarella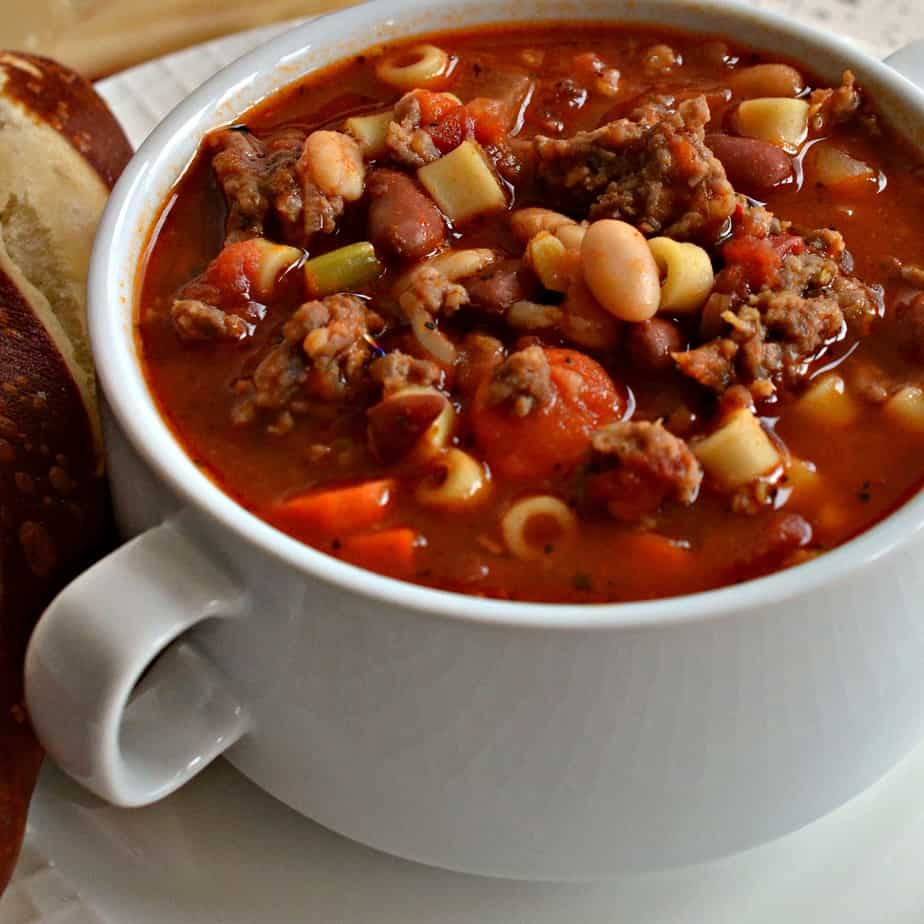 More soup recipes you will love!!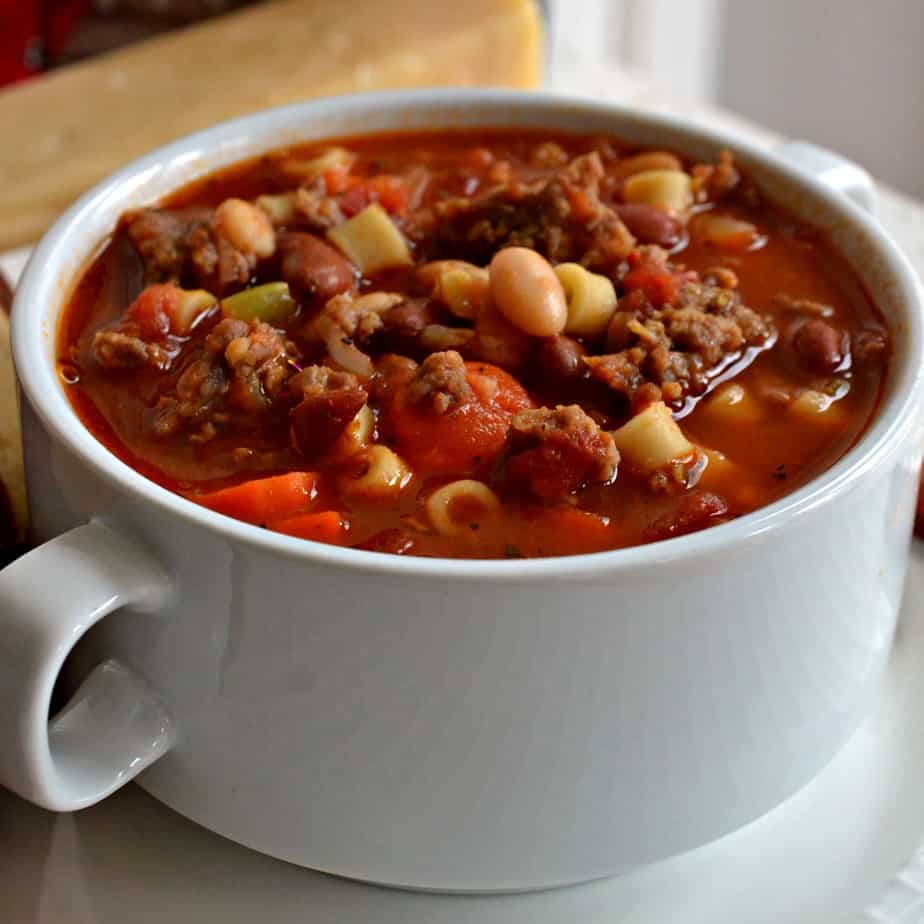 Print
Pasta e Fagioli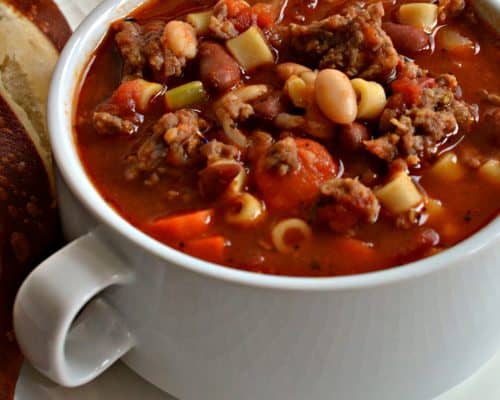 This Olive Garden copycat classic is bursting with flavor and hearty goodness from Italian sausage, beans, pasta, Italian herbs and spices. Now you too can make this delicious soup right in your own kitchen.
Author:
Prep Time: 10
Cook Time: 25
Total Time: 35 minutes
Yield: 8 servings 1x
Category: soup
Method: stovetop
Cuisine: Italian
Scale
Ingredients
1 lb Italian Sausage
1 small onion chopped
2 carrots chopped
2 stalks celery chopped
2 cloves garlic minced
½ teaspoon dried oregano
½ teaspoon dried marjoram
½ teaspoon dried basil
½ teaspoon dried thyme leaves
½ teaspoon onion powder
4 cups low sodium chicken broth
1 (8 ounce) can tomato sauce
1 (14.5 ounce) can fire roasted tomatoes
1 (15.5 ounce) can red kidney beans 
1 (15.5 ounce) can great northern beans
3 tablespoons tomato paste
1 cup Ditalini pasta
Freshly grated Parmesan Cheese (optional)
Instructions
Brown Italian sausage over medium heat in a dutch oven or heavy stockpot.  About halfway through the browning process add onions, carrots and celery.  Once fully browned reduce heat to low.  Add garlic, oregano, marjoram, basil, thyme leaves and onion powder.  Cook for 1 minute; stirring constantly.
Add chicken broth, tomato sauce, fire roasted tomatoes, kidney beans and great northern beans.  Simmer for 10 minutes; stirring several times.
Remove 2/3 cup of hot broth and whisk with tomato paste.  Add it back to the soup and simmer for 5 minutes; stirring several times.
Add pasta and cook until tender; approximately 10 minutes.  If desired serve with 1-2 tablespoons freshly grated Parmesan Cheese per bowl.
Keywords: Italian soup, Olive garden pasta e fagioli, pasta e fagioli, soup with pasta and beans, soup with sausage and beans
https://www.smalltownwoman.com/wp-content/uploads/2019/05/Beth-1.pdf