Slow Cooker Sauerkraut and Sausage is an easy family friendly meal combining smoked chicken or polish sausage, potatoes, carrots, onions and sauerkraut in a honey Dijon mustard base.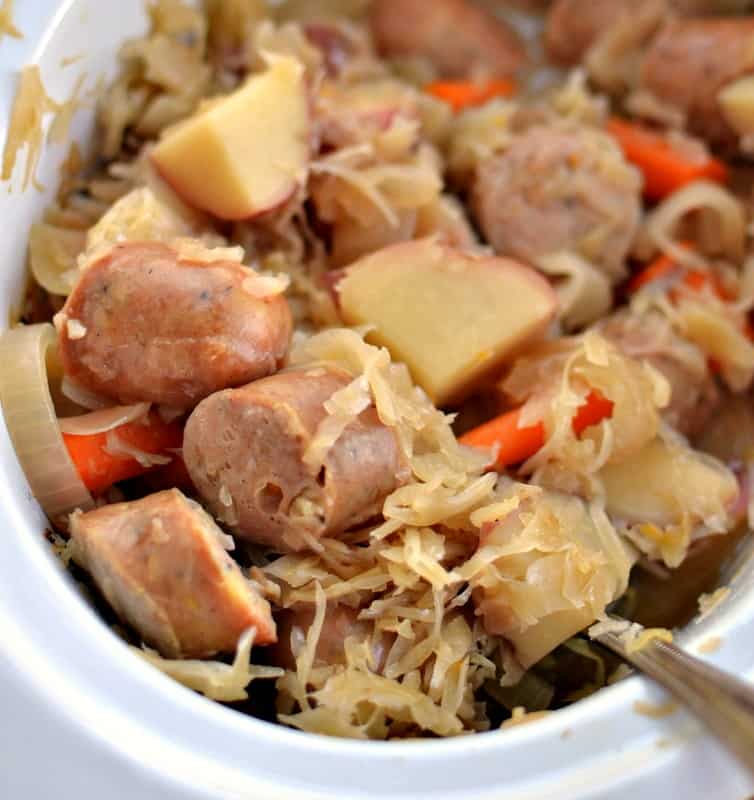 Winter has clearly arrived.  It is in full force here and I think the high today is around five degrees Fahrenheit.  One can never have enough great slow cooker recipes for days like this.  Slow Cooker Sauerkraut and Sausage is a two step slow cooker recipe as the sausage needs to be added to the cooker after about three hours or it will cook too long and dry out.  This delicious easy recipe combines chicken smoked sausage, potatoes, onions, carrots and sauerkraut in a sweetened honey mustard chicken broth.  The sweetness cooks in it all day.   It is the perfect winter meal that is full of hearty good for you food.
How do you make Slow Cooker Sauerkraut and Sausage?
Start by cutting your carrots, onions and potatoes. Now add the cut vegetables and the sauerkraut to the  slow cooker.  Next in a small bowl whisk together the chicken broth, cracked pepper, honey and Dijon mustard. Pour the mixture over the vegetables in the crock pot. Cover and cook on high for 2-3 hours or until the vegetables begin to soften. Now cut your smoked sausage into large bite size pieces and add them to the slow cooker.  Gently stir so they are mixed in with the vegetables.  Cook for an additional 1 1/2- 2 hours or until everything is tender and the sausages have heated and plumped up a little bit from the moisture.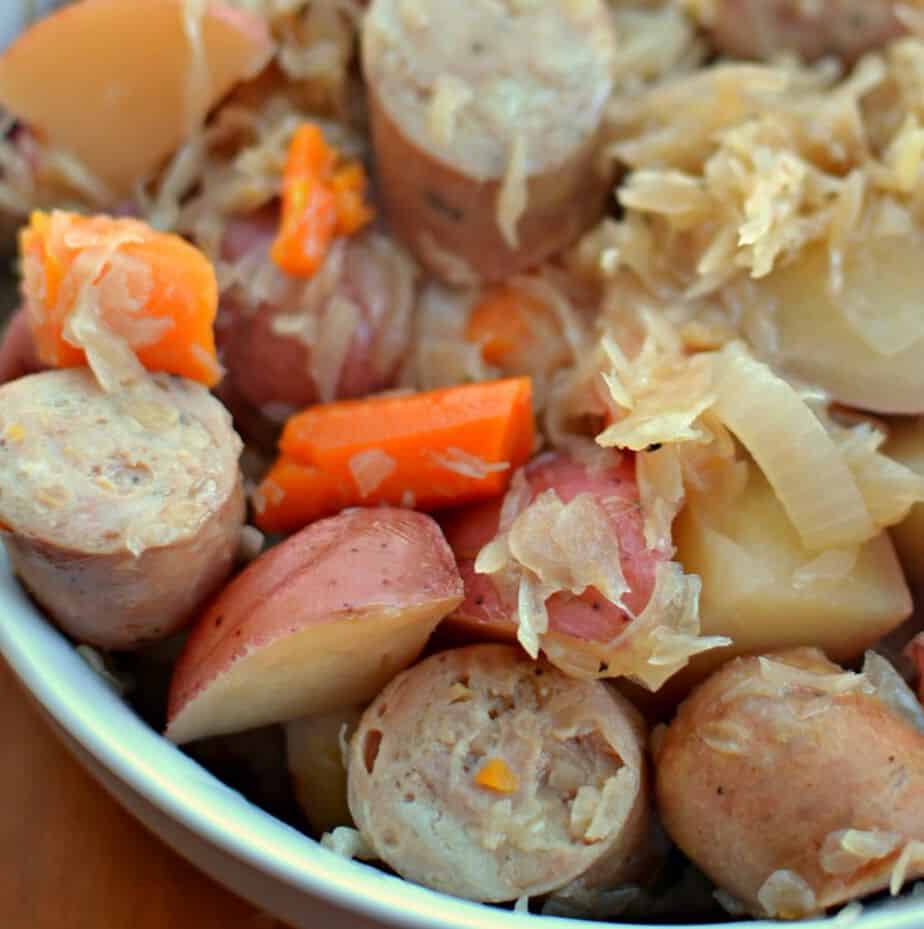 Slow cookers are so awesome. They are perfect in the summer because they do not heat the house up and they are perfect in the winter for providing an easy way to throw together a good hearty comfort food recipe.  The perfect meal that makes the house smell like your own personal chef has been cooking the ultimate recipe for you all day.
Tips for making Sauerkraut and Sausage
For a more aesthetically appealing dish peel the carrots so the orange color is cleaner and more vibrant.
There are so many great smoked sausage options these days.  I personally like the smoked chicken sausages however Polish sausage is also a delicious option.  Try to pick a more natural sausage that is free of nitrates/nitrites.
Slow cookers vary in cooking time.  Keep an eye on the pot and plan ahead with some leeway.  You can always turn the crock pot to warm and hold dinner for a few minutes.
Sauerkraut and sausage are very salty so do not add any salt to the slow cooker.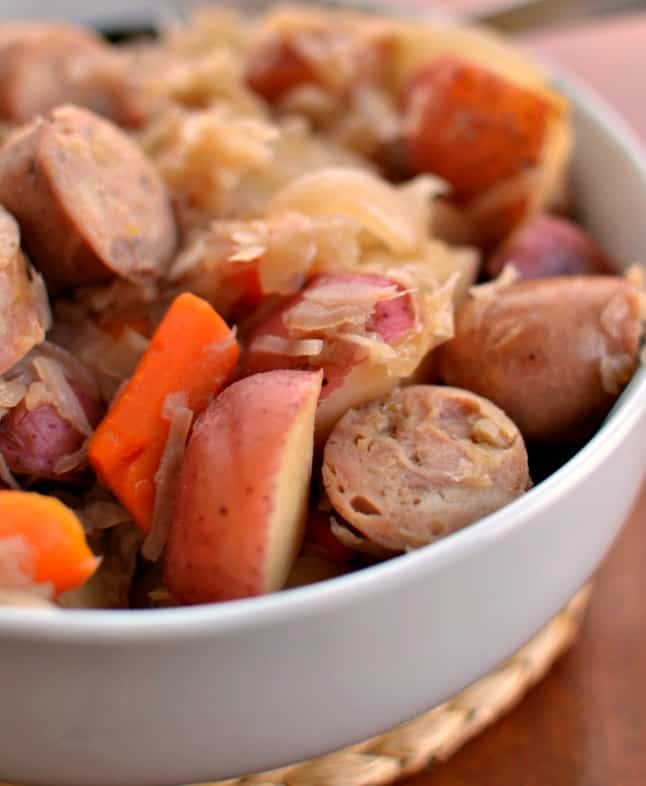 Do you love your crock pot as much as I do?  What is your favorite recipe to cook in the crock pot?  This Slow Cooker Sausage Sauerkraut and Potatoes could easily become one of your favorites.  It is amazingly easy, dependable and so darn tasty!
Other slow cooker recipes you will love!
This post was originally published January 1, 2018 and was republished August 21, 2019 with new content.
Print
Slow Cooker Sauerkraut and Sausage
This family friendly slow cooker recipe combines smoked sausage, sauerkraut, potatoes, onions and carrots in a sweet honey mustard sauce.
Author:
Prep Time: 10 minutes
Cook Time: 5 hours
Total Time: 5 hours 10 minutes
Yield: 4 servings 1x
Category: main meal sausage
Method: slow cooker
Cuisine: polish
3 large carrots peeled and cut into bite size chunks
1 large onion cut in half and thinly sliced
4–6 small red potatoes cut in eights
1 (14 ounce) can sauerkraut
1/2 cup low sodium chicken broth
1/4 teaspoon fresh cracked pepper
3 tablespoons honey
3 tablespoons Dijon mustard
12 ounces smoked chicken sausage chunked in large bite size pieces
Instructions
Place carrots, onions, potatoes and sauerkraut in crock pot.
In small bowl whisk together chicken broth, cracked pepper, honey and Dijon mustard. Pour over vegetables in crock pot. Cover and cook on high for 2-3 hours or until vegetables have started to soften.
Add sausage and stir gently to combine. Cook on high for additional 1  1/2-2 hours or until vegetables are fork tender and the sausage is warm. Serve promptly or reduce heat to warm and hold dinner for 30 minutes.
Keywords: polish sausage and sauerkraut, slow cooker sausage, slow cooker sausage and sauerkraut, sauerkraut and sausage recipe, crockpot sauerkraut and sausage, polish sausage and sauerkraut recipe
On the hunt for more delicious recipes?  Follow Small Town Woman on Facebook, Pinterest, and Instagram.
https://www.smalltownwoman.com/wp-content/uploads/2019/05/Beth-1.pdf