Roasted Sweet Potato Salad is a combination of Southern hospitality taste meets flavor-packed Tex Mex. Seasoned roasted sweet potatoes, crunchy vegetables for texture, and a simple three-ingredient dressing bring it all together in perfect harmony. For an over-the-top delectable meal, serve with Balsamic Vinegar Barbecue Ribs or Dry Rub Sweet Barbecue Pork Tenderloin with a side of fried apples.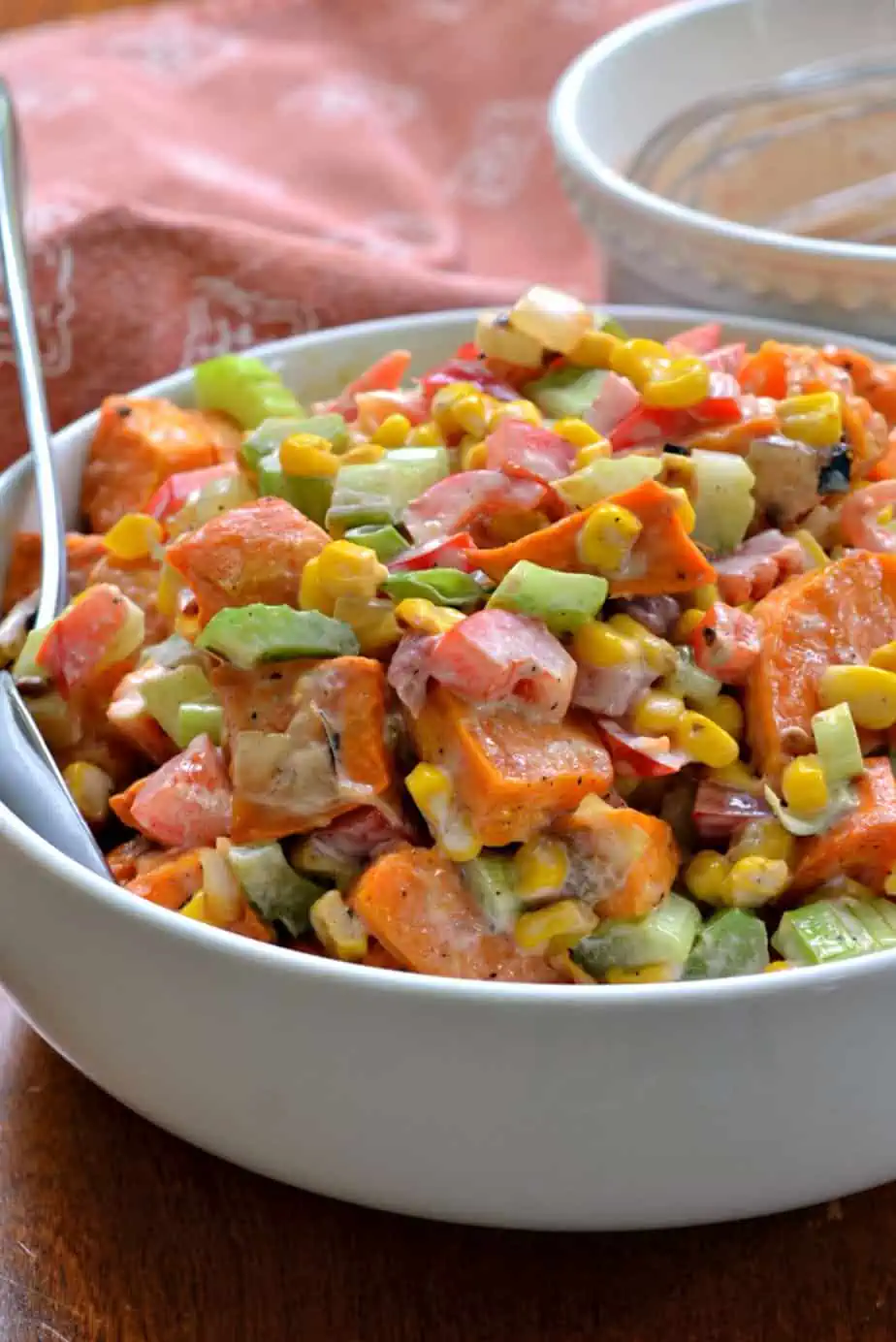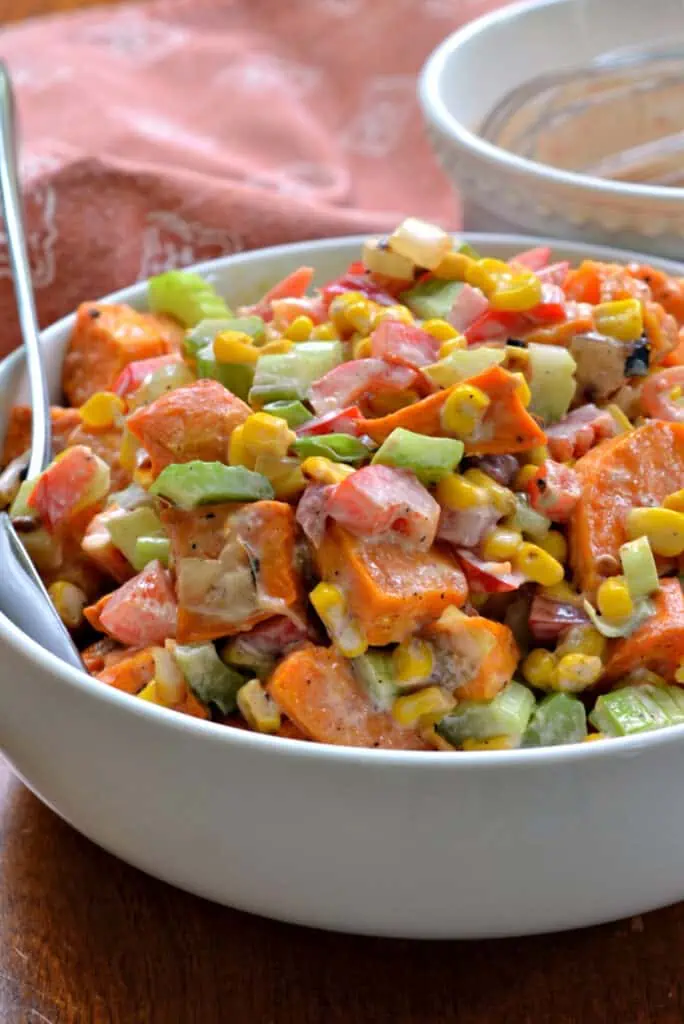 Are you a sweet potato nut like me? I just love them. Have you ever had salsa on a sweet potato? It is phenomenal and part of the inspiration for this recipe. This amazing Sweet Potato Salad combines seasoned roasted sweet potato bites, blackened corn, sweet onion, crisp celery, sun-ripened red bell pepper, and scallions all in creamy salsa dressing. So incredibly delicious that you will want to make it over and over again this summer.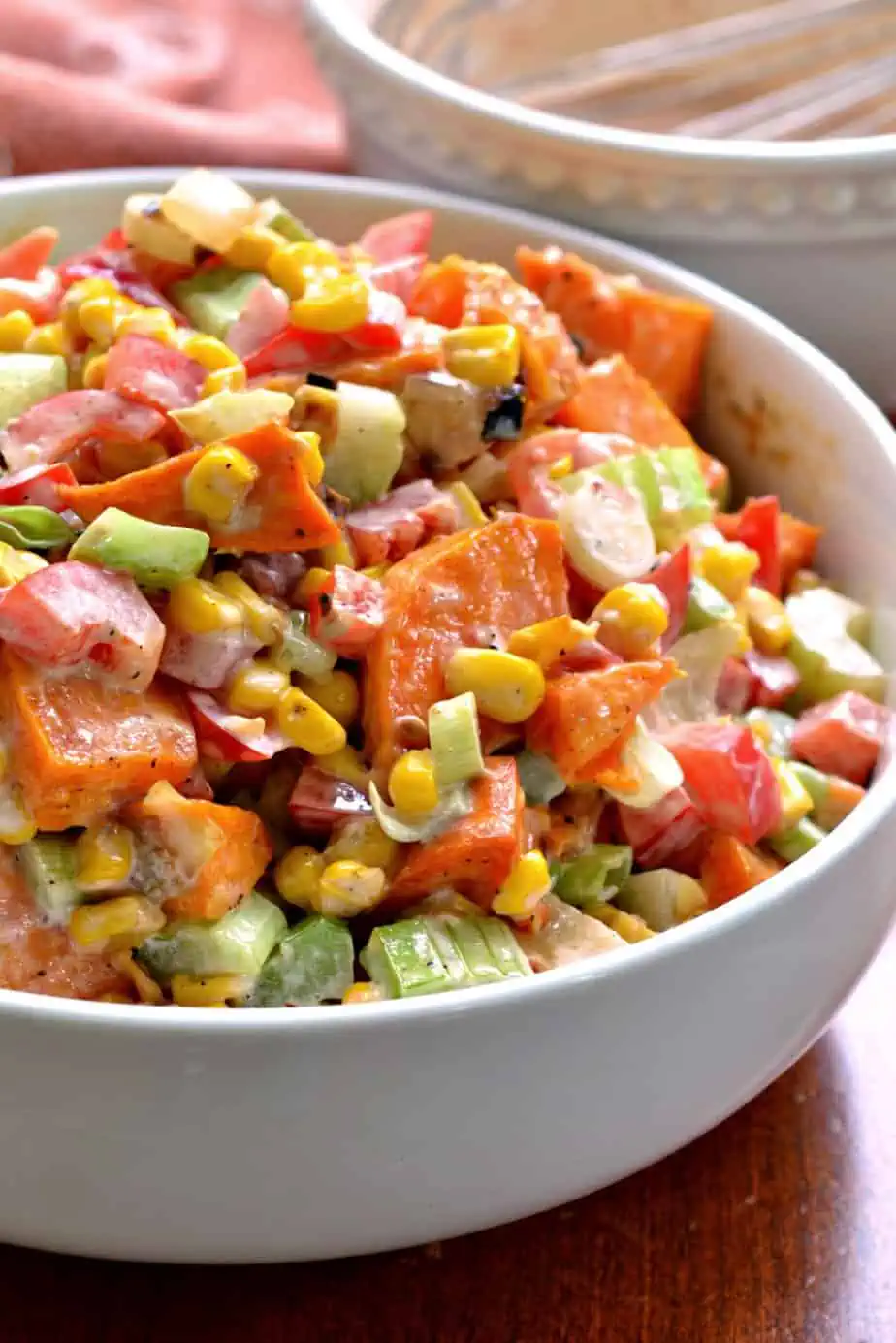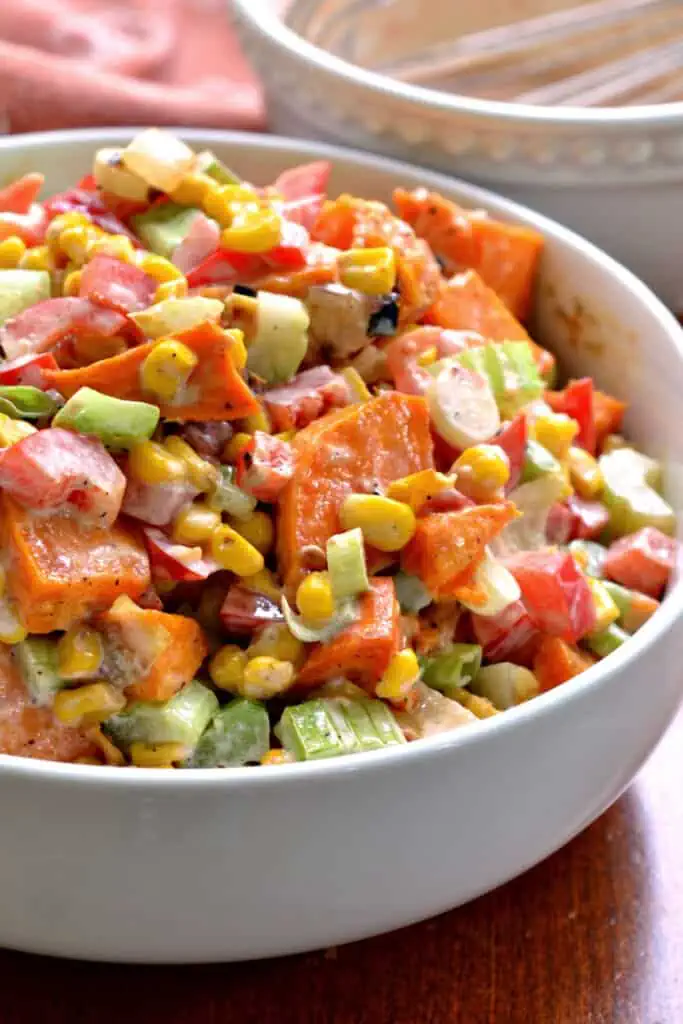 How do you make Sweet Potato Salad?
Start by peeling and cubing your sweet potatoes into bite-size chunks. Throw all those bright beautiful chunks into a large zipper storage bag. Drizzle with olive oil and sprinkle with salt. pepper, garlic powder, onion powder, and a couple of pinches of red pepper. Then simply shake to coat. Place the potatoes on a parchment-covered baking sheet and roast just until fork tender. This usually takes about 30-35 minutes. Let them cool while you chop the other vegetables
In a small bowl, whisk together the mayo, salsa, and lime juice and set aside. Add one tablespoon of olive oil to a large skillet over medium heat and swirl to coat the pan. Add the chopped onion and corn to the hot skillet. Flip every couple of minutes with a spatula. After about 7-10 minutes, the corn will turn a nice light golden brown, and the onions will be lightly browned on the edges. Allow the corn and onion mixture to cool.
In a large serving bowl, add the cooled sweet potatoes, blackened corn and onions, celery, red bell peppers, and scallions. Add the salsa dressing and toss gently to combine. top with herbs like fresh cilantro, chives, or dill. Refrigerate for several hours to blend all the delicious flavors together.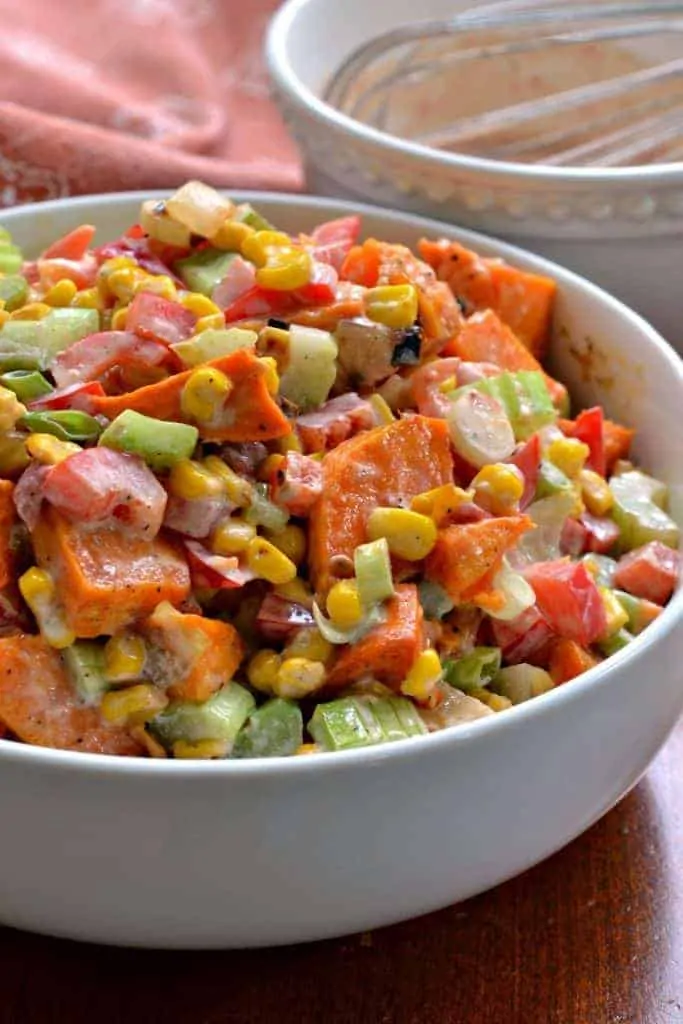 Recipe notes and helpful tips
Don't skip seasoning the potatoes before roasting because it really takes this salad over the top.
Leave space between the potato chunks on the baking sheet so the heat can flow and roast the potatoes.
Cook the sweet potatoes just until fork tender. Start checking after 25 minutes and every 3-4 minutes thereafter.
Cut your vegetables fairly small. They should complement the sweet potatoes as they are the star of the show.
Blackened (charred) corn is fairly easy to make, and it is really hard to mess up.  Simply leave it over the medium heat undisturbed for a couple of minutes, flip with a spatula, and then repeat again until it is lightly browned.  If it is browning too fast, reduce the heat.
To add sweetness, try honey, dried cranberries, or pomegranate seeds.
For added texture, add some chopped nuts like almonds, pecans, walnuts, or pumpkin seeds.
For best results, refrigerate the salad a couple of hours prior to serving, therefore letting the flavors co-mingle for a little bit.
If sensitive to heat, omit the crushed red pepper, and it will still be delicious!
Store leftovers in an airtight container in the refrigerator for up to 3 days.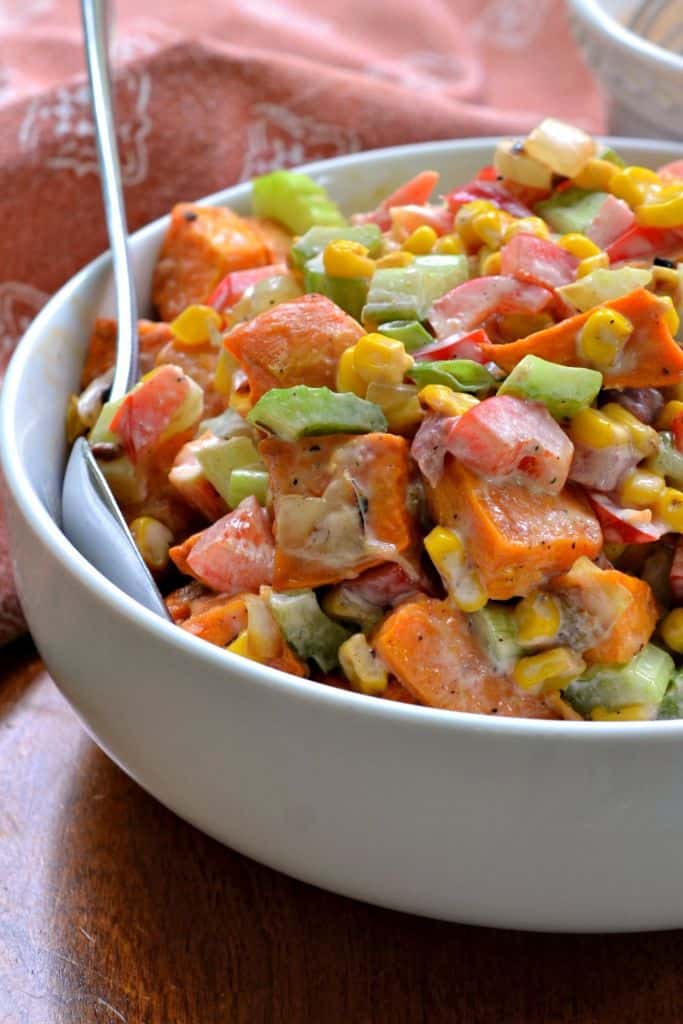 More potato recipes
Print
Sweet Potato Salad Recipe
Sweet Potato Salad is a perfect combination of sweet, savory, and a little spice! Tossed together with a creamy homemade dressing, this sweet potato salad is the perfect side dish for summer parties, potlucks, and picnics.
Author:
Prep Time: 20
Cook Time: 35
Total Time: 55 minutes
Yield: 8 servings
Category: potatoes
Method: bake
Cuisine: southern
2 1/2 lbs sweet potatoes peeled and cut in bite-size chunks
4 tablespoons extra virgin olive oil
1/2 teaspoon sea salt
1/4 teaspoon fresh ground black pepper
1/2 teaspoon garlic powder
1/2 teaspoon onion powder
1/8 teaspoon crushed red pepper (optional)
1 small red onion chopped
1 1/2 cups corn
2 stalks celery chopped
1 red bell pepper diced small
3 scallions chopped
Dressing
1/3 cup mayonnaise
1/3 cup salsa
1 tablespoon fresh lime juice
Instructions
Preheat oven to 400 degrees
Combine sweet potatoes, 3 tablespoons olive oil, salt, pepper, garlic powder, onion powder and crushed red pepper (if desired) in a large Ziploc style bag and shake to coat. Place on parchment covered baking and roast until fork tender; 30-35 minutes. Cool completely.
In small bowl whisk together mayonnaise, salsa and lime juice.
Add 1 tablespoon olive oil to a large skillet over medium heat and swirl to coat pan.  Add chopped onion and corn to the hot skillet; flip every 2-3 minutes with a spatula.  Cook 7-10 minutes or until the corn is light golden brown. Cool completely.
In a large bowl combine sweet potatoes, corn and onions, celery, red bell peppers, and scallions. Add the salsa dressing and stir gently to combine.
Keywords: how to make sweet potato salad, sweet potato salad recipe, roasted sweet potato salad
On the hunt for more delicious recipes? Follow Small Town Woman on Facebook, Pinterest, and Instagram.
https://www.smalltownwoman.com/wp-content/uploads/2019/05/Beth-1.pdf