This Thick Hearty Chili Recipe is plump full of ground beef, black beans, tomatoes, onions, green bell peppers, and a perfect blend of spices. Be sure to read my helpful hints on thickening chili and helpful tips for those who like their chili with a little heat.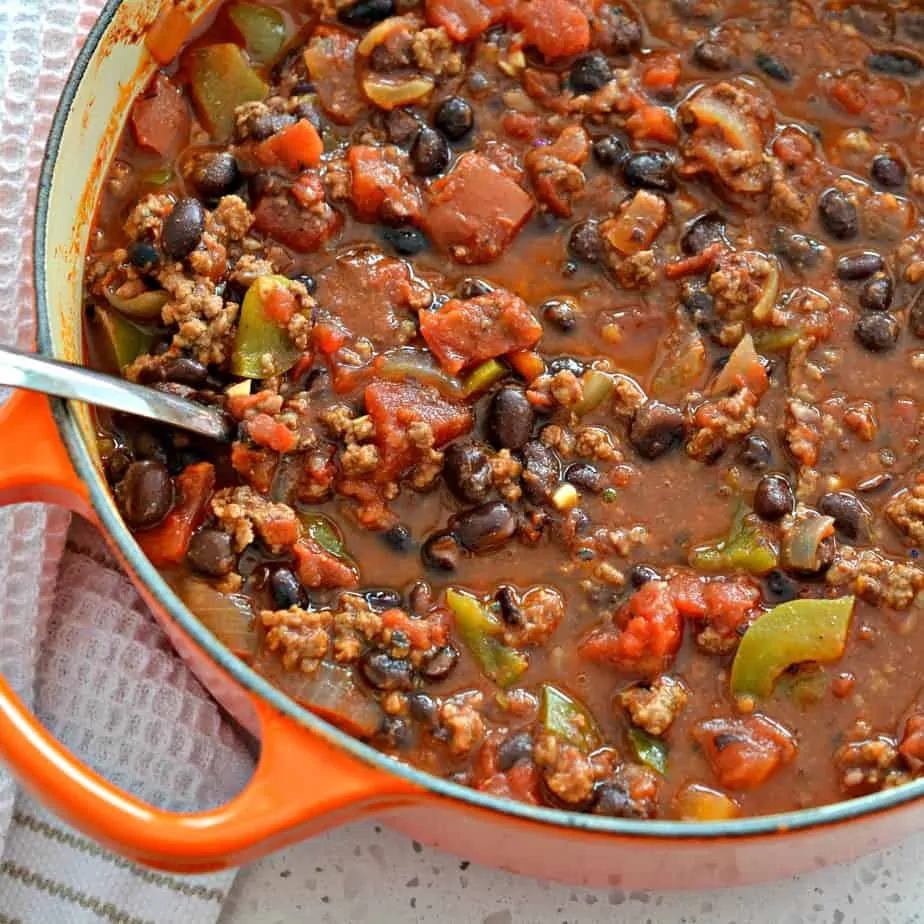 This is the time of year for awesome soups, chowders, stews, and chili. Thick, Hearty Beef and Bean Chili Recipe is one of my favorite dishes. Nothing better than a big thick bowl of chili. You know, the kind that is almost thick enough for your spoon to stand up. You can serve it over spaghetti noodles, mac n cheese, or with a side of Best Cornbread Recipe.
This Chili Recipe can easily be adapted to the crock pot by cooking the beef in a skillet first. For added flavor, once the beef is browned, add the onions, peppers, and garlic and saute for 2-3 minutes. It will give your crock pot chili just a little added flavor and edge!!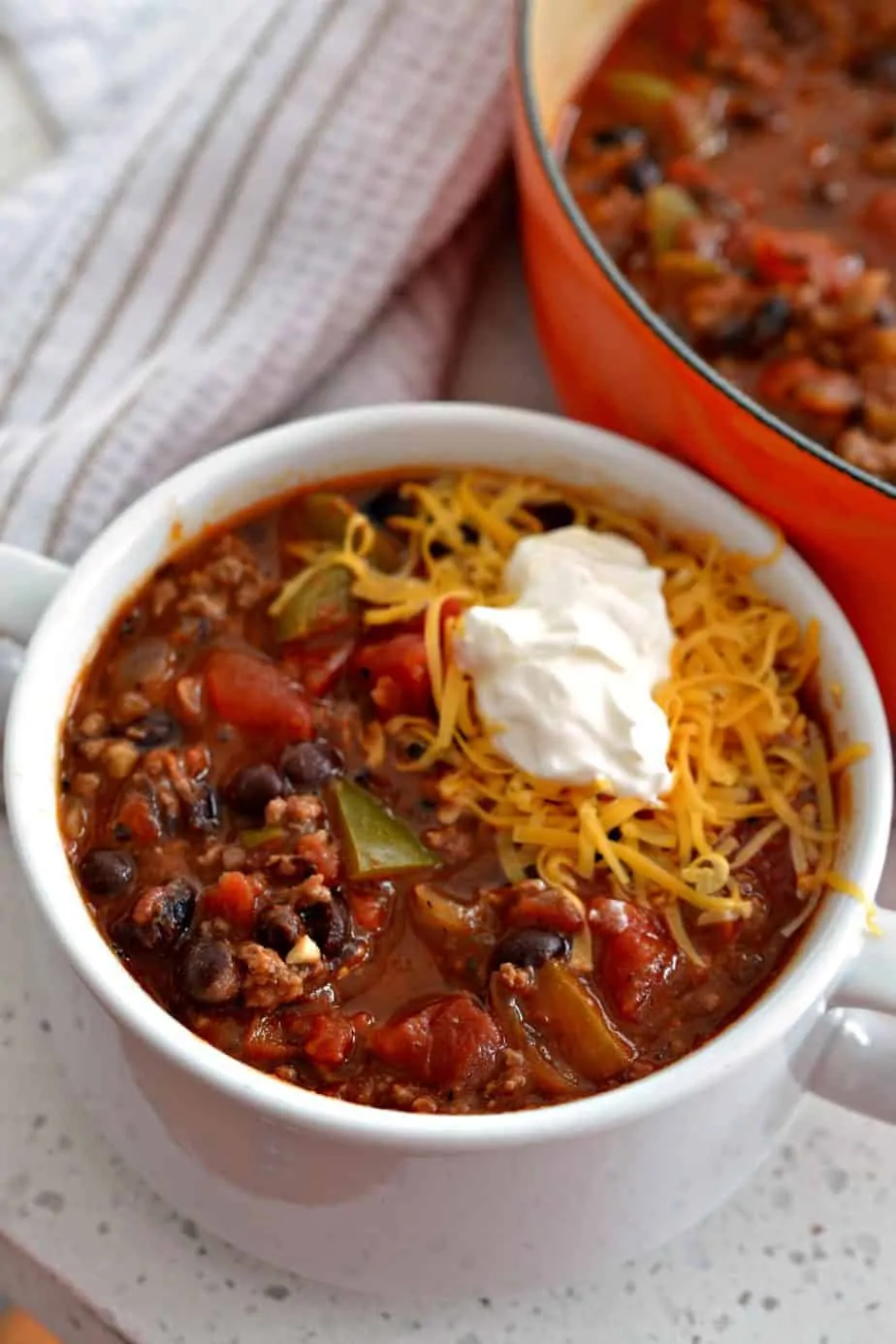 How do you make this Thick Hearty Chili Recipe?
In a dutch oven or large pot over medium-high heat, brown the ground beef. About halfway through the browning process, add the onion and green bell peppers. Continue cooking for 4-5 minutes while you finish browning the meat. Then reduce the heat and add the minced garlic. Cook for about 1 minute, stirring constantly. Add your spices and brown sugar, stirring to combine.
Now stir in the fire-roasted tomatoes, beef broth, and black beans. Simmer for about 10 minutes, and then stir in the tomato paste. For extra thick chili, run the reserved black beans through a food processor and stir into the chili. Simmer for about 20 more minutes. If desired, top with cheddar, sour cream, and green onions.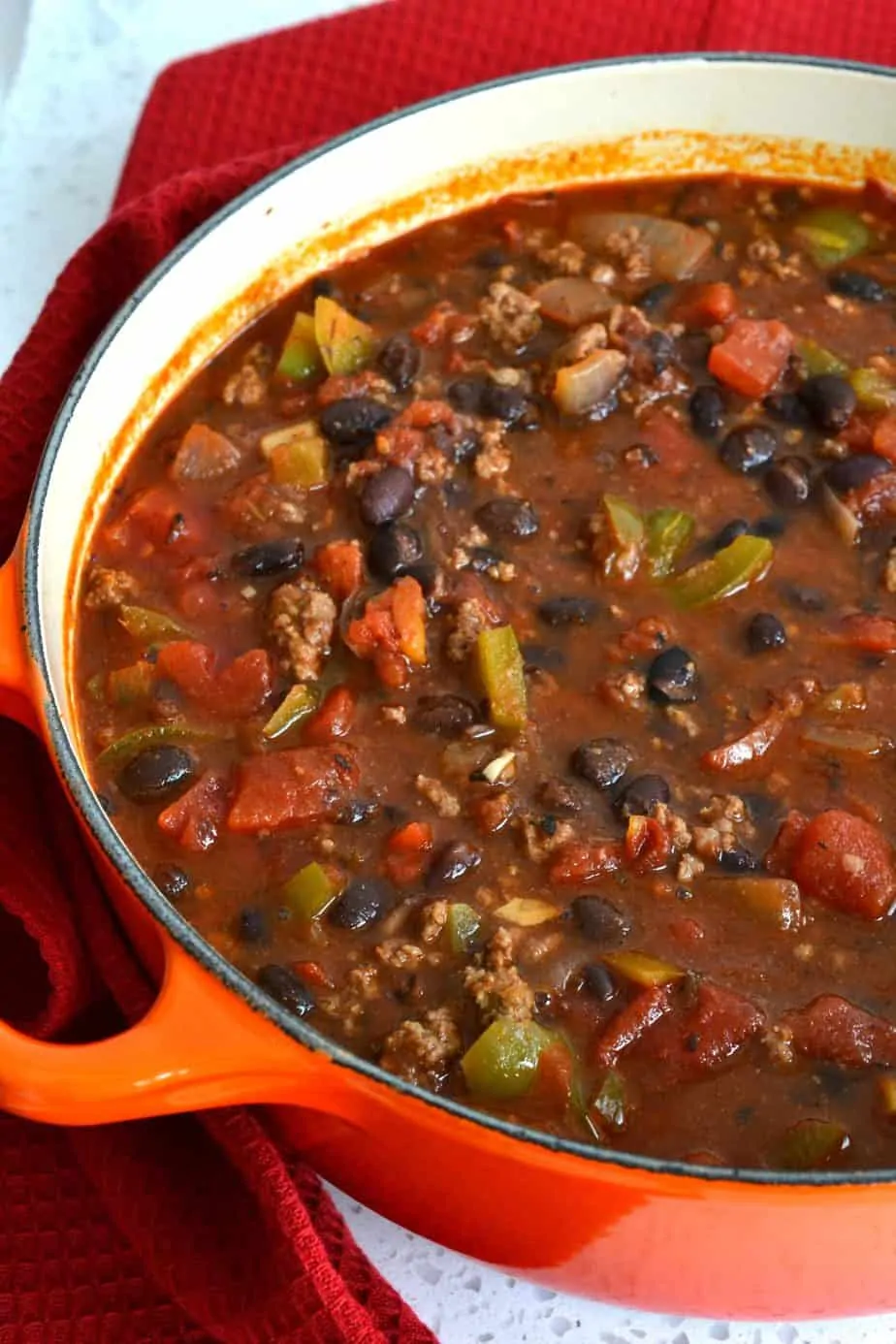 Five different ways to thicken chili
Add 2-3 tablespoons of tomato paste. Tomato paste is really thick, so it helps to add 1/4 cup of the hot broth to it and stir to combine. Once smooth, add it to your chili.
Reserve 3/4 – 1 cup drained and rinsed beans. Run them through a food processor or mash them with an old-style potato masher. Stir them into the chili to thicken it. If choosing this method, add a little more of the spices as the starchy beans tend to neutralize some of the flavors.
Add 1 tablespoon of Masa Harina (corn flour) to the chili. This does slightly alter the texture and taste of the chili. It is not my favorite way to thicken chili, but some of my friends and family love it.
Add a slurry of water and cornstarch to thicken the liquid. 2 tablespoons of cornstarch in 1/4 cup cold water helps thicken the chili.
Simmer the chili uncovered to reduce the liquid.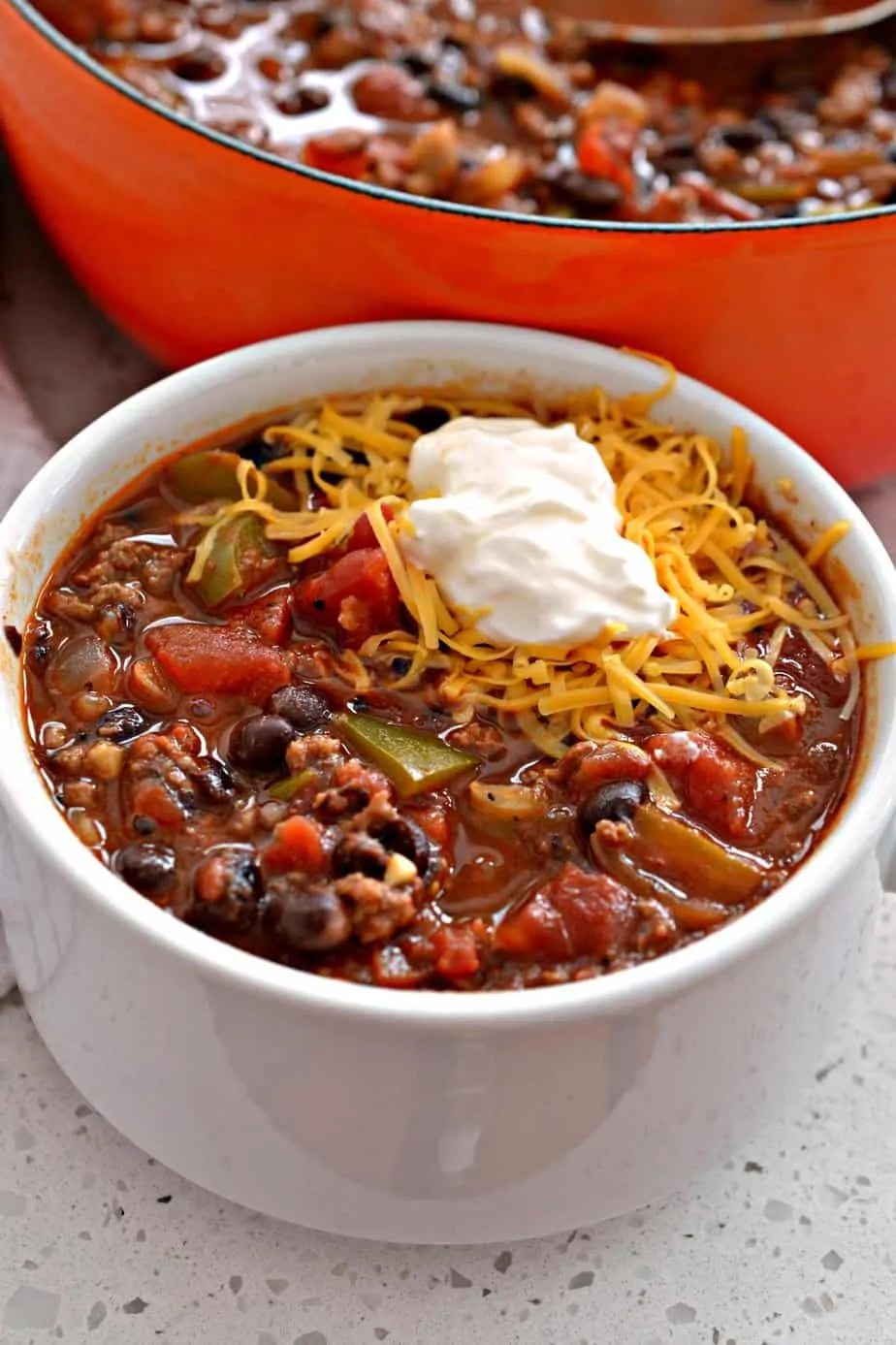 Ways to turn up the heat on chili
Please try any of these ideas in moderation until you you get your chili just how you like it. It is much harder to tone it down than to heat it up.
Add finely minced jalapeno.
Stir in several tablespoons of hot sauce, such as Franks hot sauce.
Increase your cayenne pepper to 1/2 teaspoon.
Add 1-2 chopped chipotle peppers packed in adobo sauce. You can find them in the Mexican food section of most local grocery stores.
So if you have a chill in your bones or there is a chill coming your way, then make a big pot of this delectable Thick Hearty Chili. Plop your buns down on the sofa, turn on your favorite classic movie and enjoy the great smells of your masterpiece simmering on the stove!
More ground beef recipes to try
Print
Thick Chili Recipe
This thick and hearty beef and bean chili recipe is perfect for the cold winter months. This simple recipe is freezer-friendly, perfect for a weeknight family dinner, and packed with veggies.
Author:
Prep Time: 10 minutes
Cook Time: 40 minutes
Total Time: 50 minutes
Yield: 8 servings
Category: Dinner
Method: Crock Pot
Cuisine: American
1 1/2 lbs lean ground beef
1 small onion chopped
1 green pepper seeded and chopped
2 cloves garlic minced
2 teaspoons cumin
1 teaspoon dried oregano
1 teaspoon paprika
1 tablespoon chili powder
1 teaspoon onion powder
1 tablespoon brown sugar
1/8 – 1/4 teaspoon ground cayenne pepper
2 cans (15 ounce) black beans drained and rinsed (reserve 1 cup)
1 can (14.5 ounce) fire roasted diced tomatoes
1 can (14.5 ounce) low sodium beef broth
2 tablespoons tomato paste
Kosher salt and fresh ground black pepper
Toppings
Sour cream
Shredded cheddar cheese
Chopped green onions
Instructions
In a large stockpot, brown ground beef over medium heat. Add onions and peppers and cook for 4-5 minutes. Add garlic and cook for additional 60 seconds.
Stir in cumin, oregano, paprika, chili powder, onion powder, brown sugar, and cayenne pepper. Stir in black beans (except for the reserved beans) diced tomatoes, and beef broth.  Simmer for 10 minutes.
Mix the tomato paste with 1/4 cup of the hot broth.  Stir into the chili.
Run the reserved black beans through a food processor or mash them with an old-style potato masher.  Stir them into the chili. Simmer for 20 minutes. Season with salt and pepper to taste.
If desired, top with sour cream, shredded cheddar, and green onions.
Notes
Ground chicken or ground turkey can be substituted for the ground beef.
Keywords: beef and bean chili, hearty chili, homemade chili, beef chili recipe, crock pot beef and bean chili, easy chili recipe, chock pot chili
On the hunt for more delicious recipes? Follow Small Town Woman on Facebook, Pinterest, and Instagram.
https://www.smalltownwoman.com/wp-content/uploads/2019/05/Beth-1.pdf