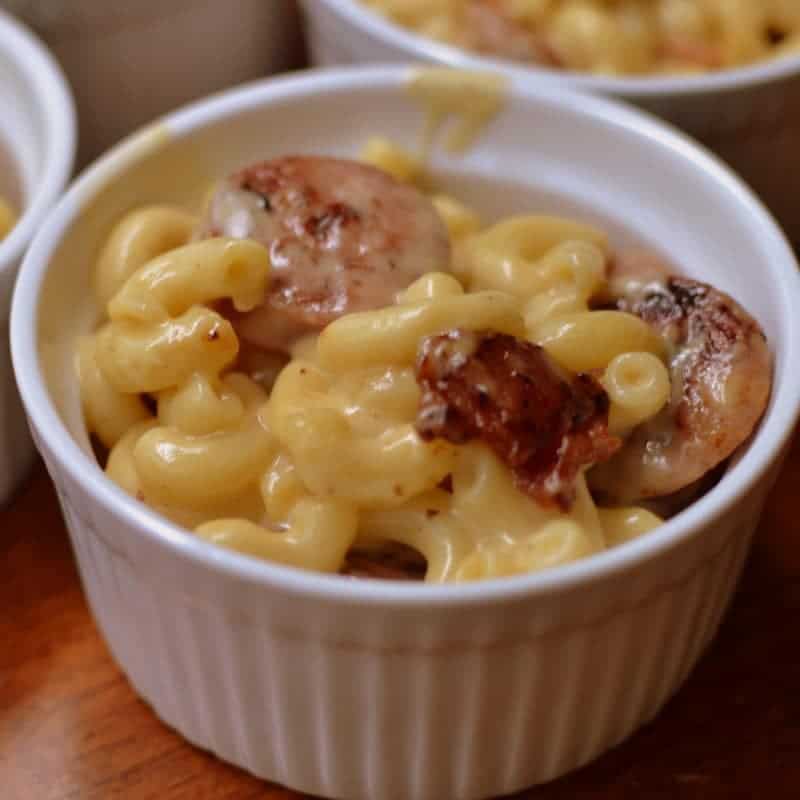 There are only a few comfort foods that belong in the same league as grilled cheese. Trust me I know!  I am a grilled cheese nut!  Have you tried my Jalapeno Popper Grilled Cheese or my Easy Breakfast Grilled Cheese?
 Macaroni and cheese is one of those foods that can compete quite well with the grilled cheese when it comes to comfort food.   Macaroni and cheese is just as versatile as the grilled cheese.  The cheese combinations and add ins are endless. They are only limited by your own imagination.  This Bacon Chicken Sausage Macaroni and Cheese is a family favorite enjoyed by everyone from the little ones to the old fogies.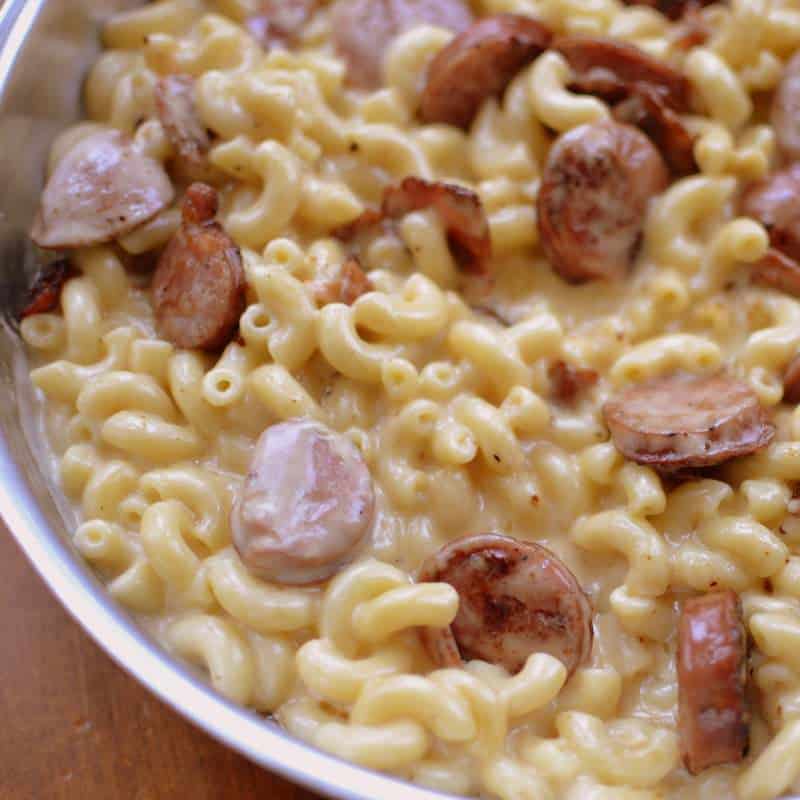 This tasty little number uses a combination of sharp cheddar and white cheddar for a super creamy texture.  Crisp bacon and lightly browned pieces of smoked chicken sausage are added at the finish to make this a complete meal.  In a hurry? No problem!  You can cook the bacon and sausage ahead of time and stir them in at the end.  You could even cook the elbows ahead of time.  I always say where there is a will there is a way!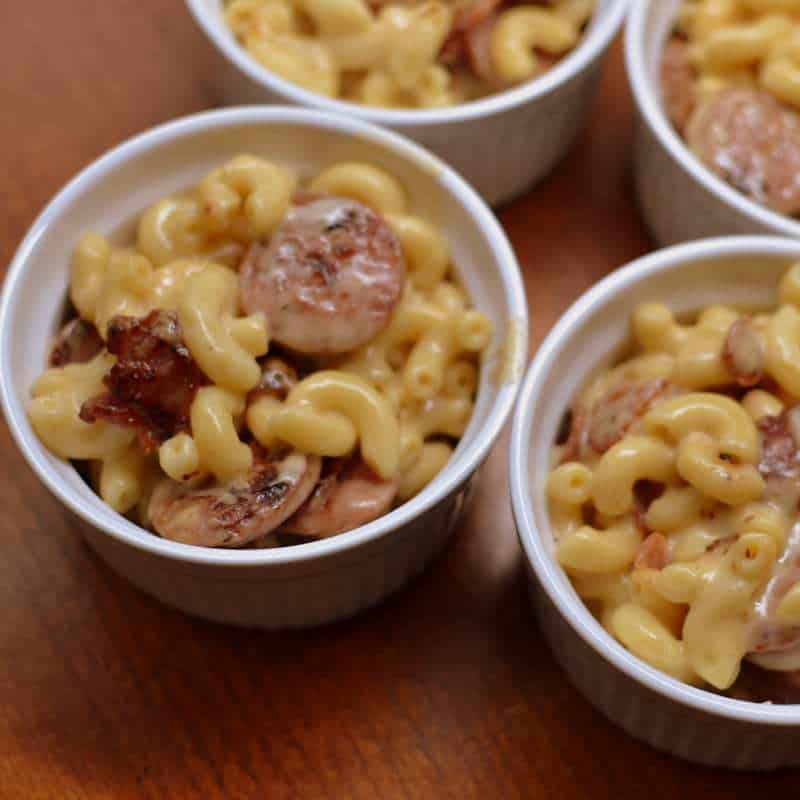 Are you feeling a little adventurous?  You could add garlic, onions, pimentos, peppers or broccoli!  Lots of wonderful combos could come from this dish. I wanted to keep it a little simple and let you add from here…..besides that the kids really did not want any grown up food added to one of their favorite dishes.  I understand!  I was a kid once upon a time!!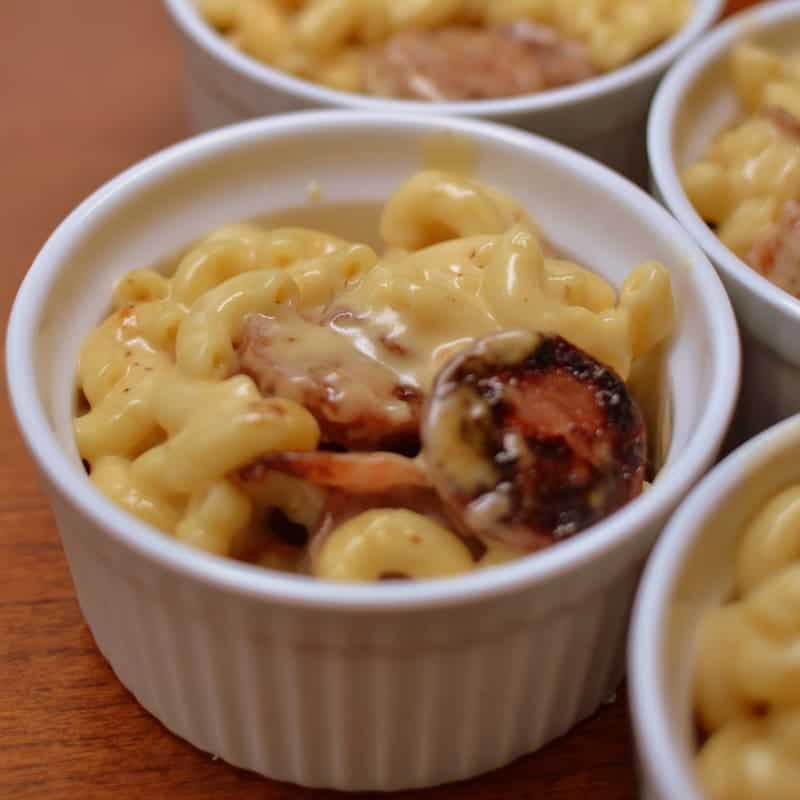 Put this on your list right now!!   You and your loved ones will devour this Bacon Chicken Sausage Macaroni and Cheese  like you haven't eaten in days.  Am I the only one that feels like my kitchen is open 24/7…kind of like a road diner?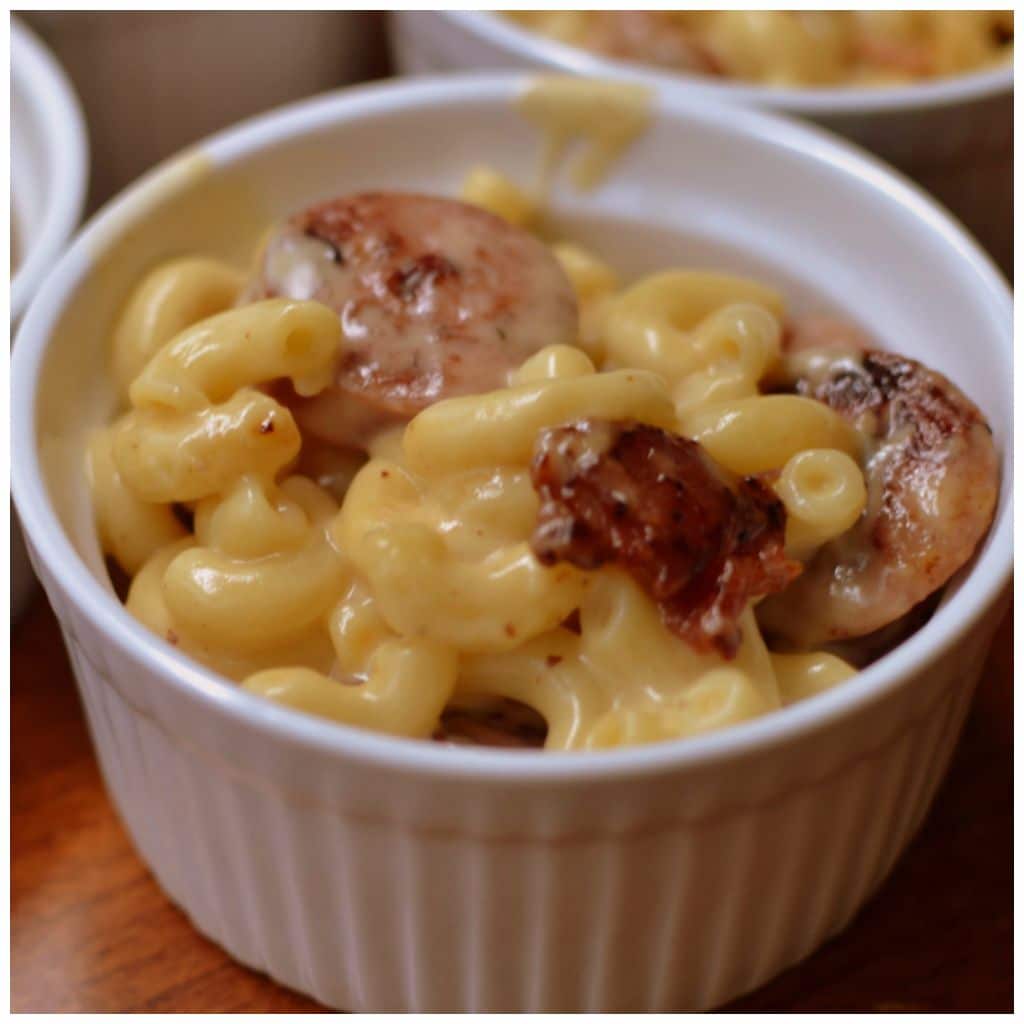 Print
Bacon and Sausage Macaroni and Cheese
This macaroni and cheese recipe is a truly decadent experience! Savory bacon tender chicken sausage is mixed in with white and sharp cheddar cheese for a creamy, delicious dish.
Author:
Prep Time: 5 minutes
Cook Time: 15 minutes
Total Time: 20 minutes
Yield: 4 servings
Category: Dinner
Method: Stovetop
Cuisine: American
1 3/4 cups uncooked elbow macaroni
2 tablespoons butter
2 tablespoons flour
1 cup low sodium chicken broth
1/2 cup half n half
1 cup sharp cheddar shredded
1 cup white cheddar shredded
4 slices bacon coarsely chopped
2 cooked chicken sausage links (I use Aidells Chicken & Apple) sliced in 1/2 inch rounds
Salt & pepper to taste
Instructions
Cook macaroni according to box instructions and drain well in colander. Set aside.
In large saucepan over medium heat melt butter. Whisk in flour, Whisking constantly cook for 1 minute. Slowly stir in chicken broth alternating with half n half. Cook over very low heat stirring frequently until slightly thickened; approximately 10 minutes. Slowly stir in the sharp cheddar and the white cheddar; stirring frequently.
Meanwhile in a small skillet over medium low heat add bacon and cook until almost completely browned. Add sausage rounds and cook another 2-3 minutes or until bacon is crispy and sausage rounds are lightly browned. Remove bacon and sausage from pan with slotted spoon. Combine bacon, sausage, cheese sauce and elbow macaroni. Season with salt & pepper to taste. Serve immediately.
Keywords: bacon and sausage mac and cheese, macaroni and cheese, cheddar mac and cheese, bacon macaroni and cheese, chicken sausage, mac and cheese recip
Other recipes you will love!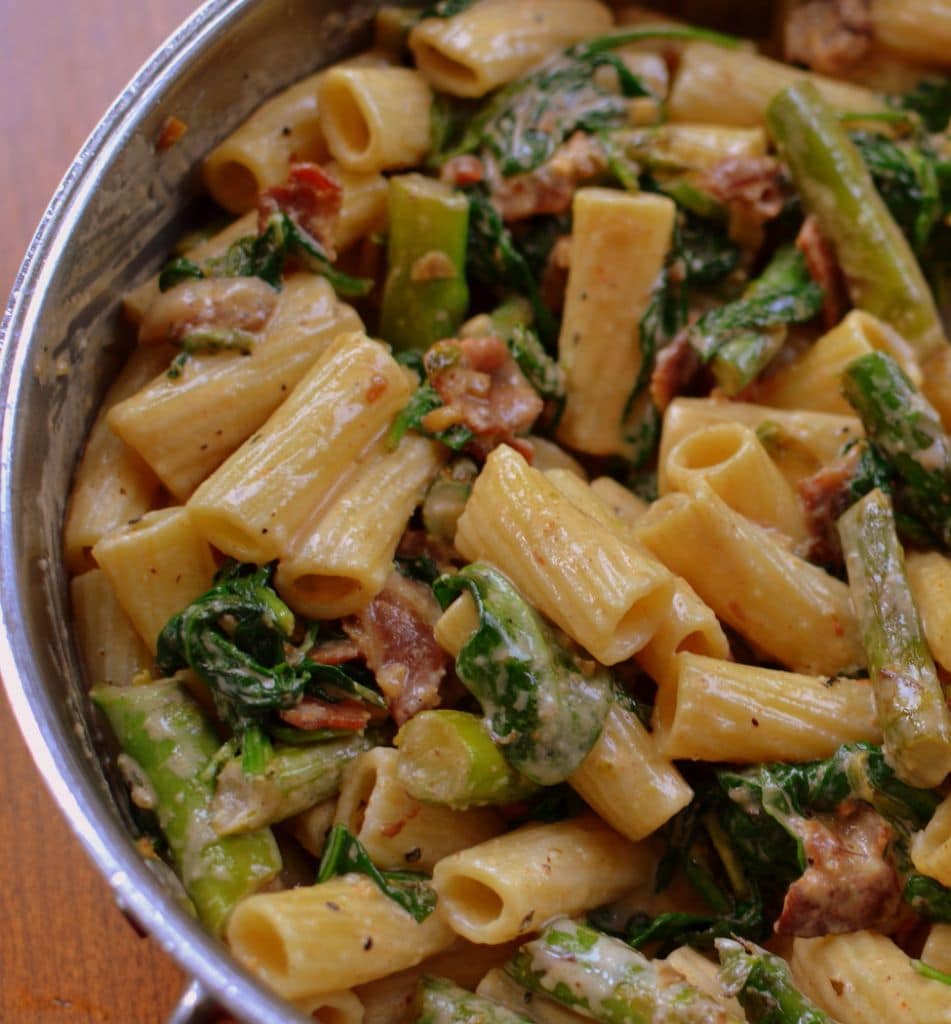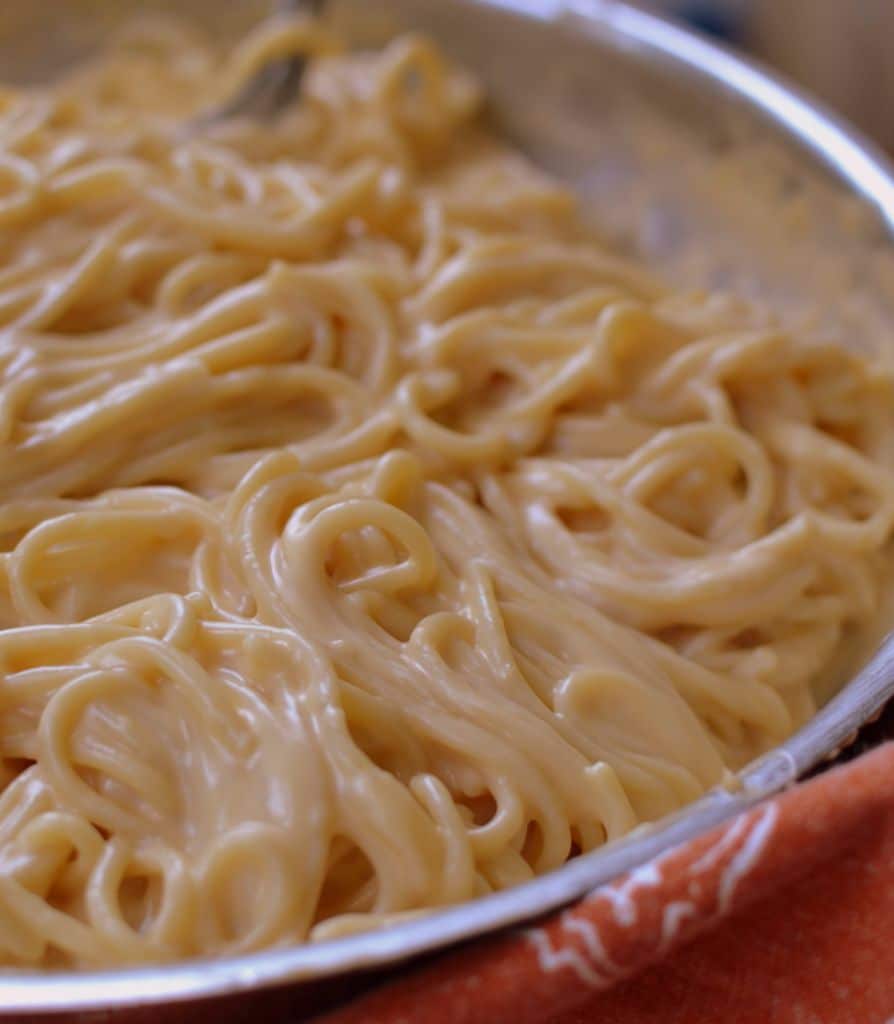 Cheesy Stove Top Spaghetti
https://www.smalltownwoman.com/wp-content/uploads/2019/05/Beth-1.pdf