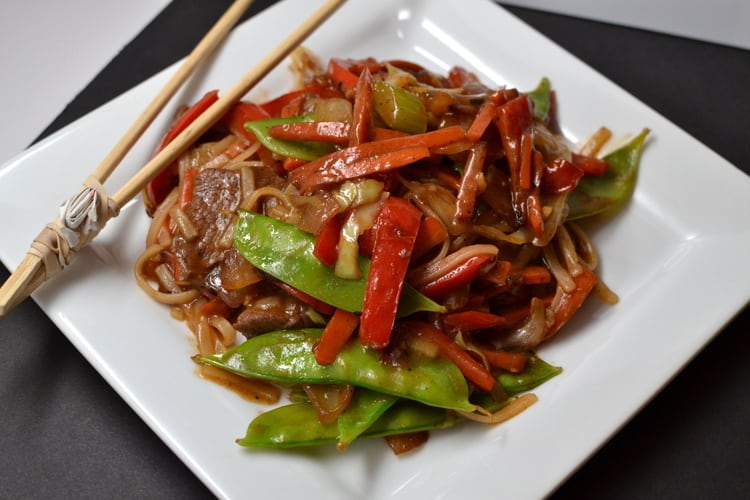 I love stir fry!! I really need to start making it once a week at least! You should not be intimidated by it. It really is not difficult at all and the results are so good. You will find that you can cook as well as your favorite Chinese or Thai restaurant!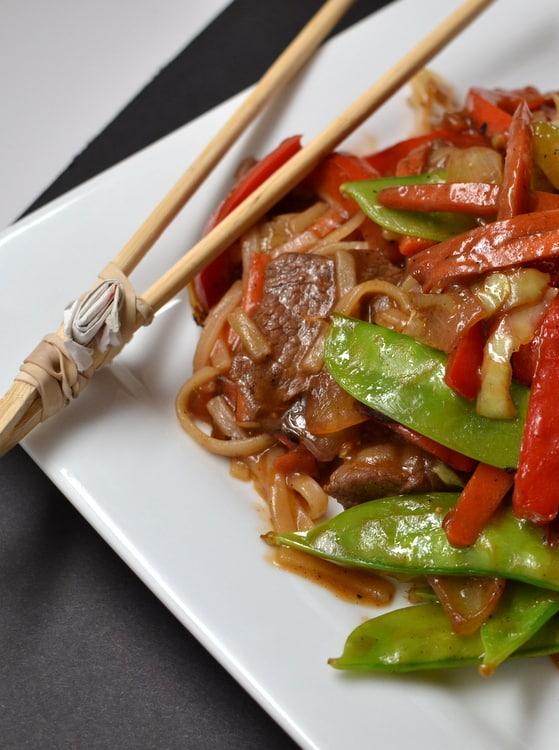 Look at that! You can get the same results and enjoy all that stir fry has to offer right in your own kitchen! This particular stir fry recipe is outstanding if I say so myself. I believe I just did. The cut of beef I used was petite shoulder and I marinated it for about six hours but you could use sirloin or T-Bone or any other cut of beef that you know that your family loves!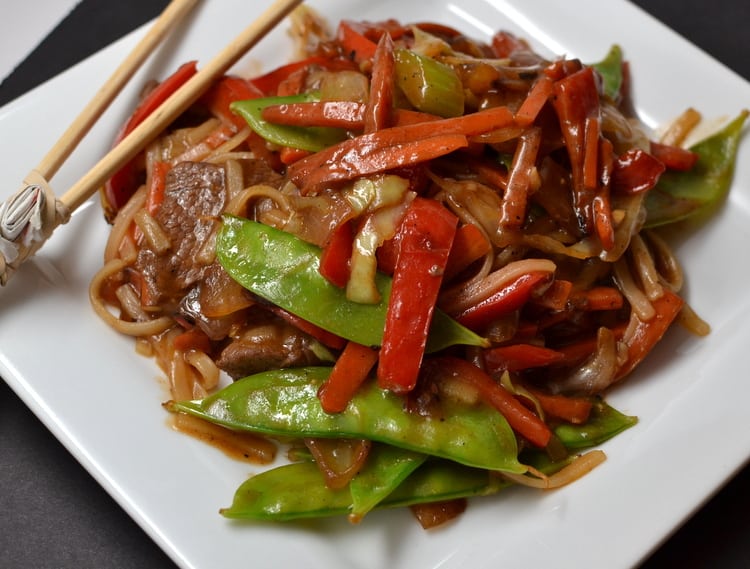 So get creative, adventurous and live life on the edge! Make yourself some scrumptious stir fry!
Print
Beef Lo Mein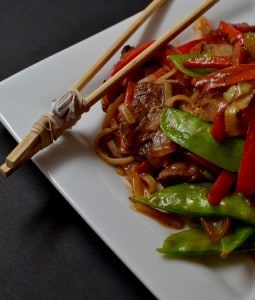 Scale
Ingredients
1 lb beef petite shoulder cut in bite size pieces
1/3 cup low sodium soy sauce
2 tablespoons Worcestershire
2 tablespoons sherry
2 tablespoons mirin
Stir fry rice noodles
1/2 large onion chopped
1 large red pepper cut julienne
2 carrots cut in matchsticks
2 stalks celery cut on diagonal
3 cups shredded cabbage
30–40 snow peas
1/2 cup white wine
1/4 cup low sodium soy sauce
2 tablespoons cornstarch dissolved in 1/4 cup water
2 tablespoons mirin
2 tablespoons Worcestershire
1 tablespoon fresh ginger
4 teaspoons sriracha
Instructions
Add beef, 1/3 cup soy sauce, 2 tablespoons Worcestershire, 2 tablespoons sherry and 2 tablespoons mirin to large ziploc bag. Allow to marinate in refrigerator for 30 minutes up to 6 hours.
Bring small saucepan of water to a boil on stove. Remove from heat and add rice noodles. Let noodles soak in water 8-10 minutes. Rinse under cold water and drain well. Toss with a few drops of sesame oil and set aside.
Combine wine, 1/4 cup soy sauce, dissolved cornstarch, 2 tablespoons mirin, 2 tablespoons Worcestershire, ginger and sriracha in medium ceramic or glass bowl. Mix with whisk and set aside.
Remove beef from marinade and slice into bite size pieces. Discard marinade.
Heat 1 tablespoon each canola oil and sesame oil in wok on high heat just until smoking. Add onion, red pepper, carrots and celery to wok. Cook for 3-5 minutes. Add cabbage and snow peas to the wok with the other veggies and cook 2-3 minutes. Add garlic to the wok with the rest of the veggies and cook 1 minute. Remove vegetables from wok. Cover to keep warm.
Add 1 tablespoon each canola and sesame oil to wok on high heat. Add the beef and 2 tablespoons of the sauce in the small bowl. Cook 3-5 minutes allowing the meat to brown on each side before turning. Remove from wok. Cover and keep warm.
Whisk sauce in bowl and add to wok on high heat. Allow to come to boil and thicken about 1-2 minutes. If sauce is too thick add 1-2 tablespoons of wine or water. Add veggies and beef back to wok. Add rice noodles and stir to combine.
https://www.smalltownwoman.com/wp-content/uploads/2019/05/Beth-1.pdf