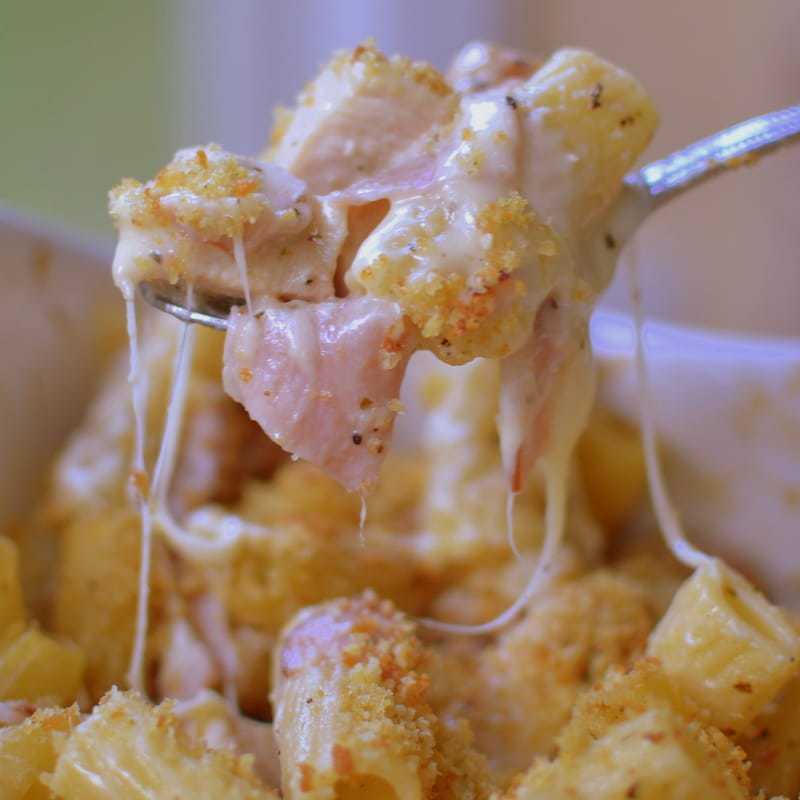 This Easy Chicken Cordon Bleu Pasta Casserole is sure to become one of your family favorites. It combines tender chicken, sweet ham, Swiss cheese, rigatoni pasta and a perfect blend of spices all in a cream sauce topped with fresh ground croutons. How could anyone resist all this flavorful goodness packed into one beautiful casserole?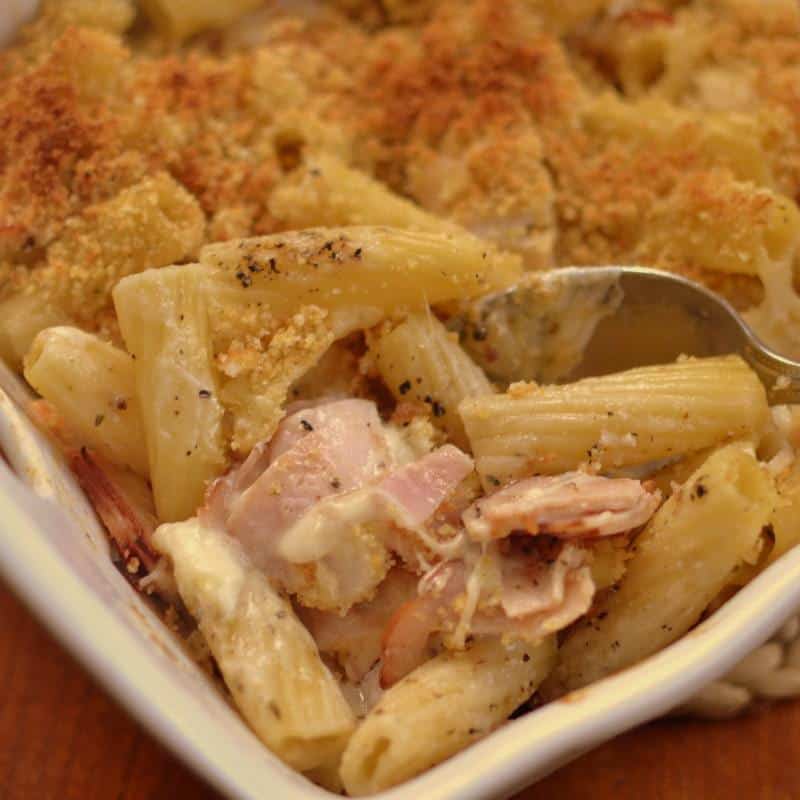 This casserole takes no time to prep! If you can handle a couple of things at once you can prep this casserole for the oven in about 20 minutes. This casserole would be perfect for a party and could be tripled or quadrupled easily. I also think that it would sit in in a chafing dish, or over a chafer stand well. I always purchase some low sodium chicken broth for keeping my casserole dishes moist in their chafing dishes during parties. All they need is about 1/4 to 1/2 cup of chicken broth poured in if they start to get dry over the sternos! I also cook the pasta ala dente because the pasta will continue to absorb the moisture from the casserole.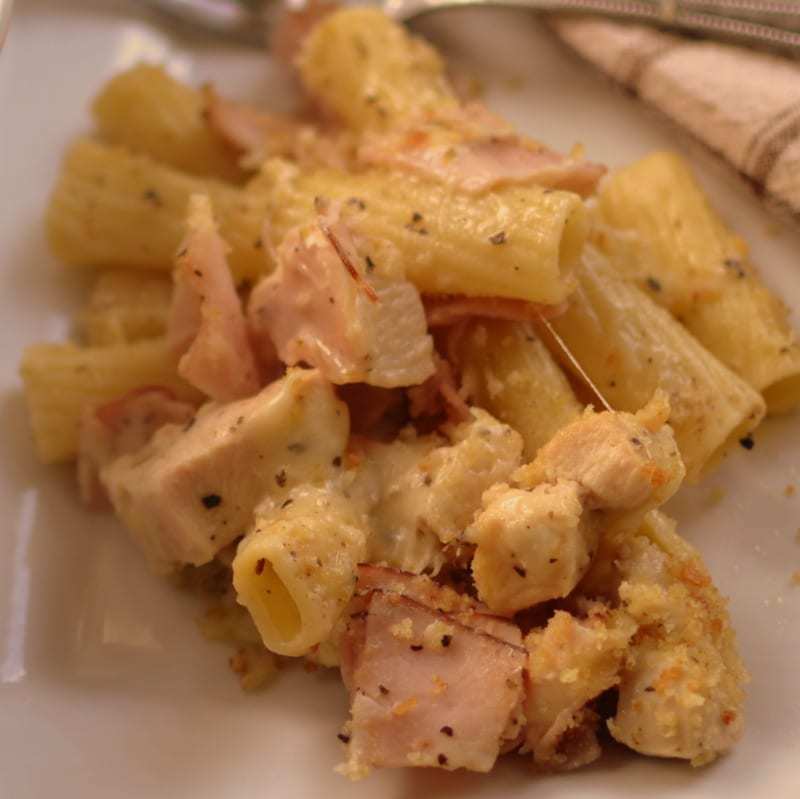 I sure you and your family enjoy this pasta as much as we do. Bon appetit my food loving friends!
Chicken Cordon Bleu Pasta Casserole
Ingredients
8 ounces uncooked rigatoni noodles
2 large boneless skinned chicken breasts cut in small cubes
1 tablespoon olive oil
1 teaspoon sesame oil
4 tablespoons butter
4 tablespoons flour
1 3/4 cup milk
1 teaspoon oregano
1 teaspoon basil
1/4 teaspoon garlic powder
1/2 lb sliced sweet deli ham cut into bite size pieces
1/2 lb sliced deli Swiss cheese cut into bite size pieces.
Salt & pepper to taste
2 cups well seasoned bread croutons
Instructions
Preheat oven to 350 degrees.
Cook rigatoni according to box instructions and drain well. .
Heat olive oil and sesame oil over medium heat. Cook chicken until lightly browned and no longer pink inside; approximately 6-8 minutes depending on the size of the cubed chicken. In same skillet melt butter over low heat, whisk in flour and cook for 1 minute. Mixture should be smooth and bubbling. Slowly whisk in milk. Add oregano, basil and garlic powder. Continue whisking until smooth and thickened; approximately 5 minutes.
Lightly spray small rectangular casserole dish with nonstick cooking spray. Combine pasta, creamy milk mixture, chicken, ham and Swiss in the casserole dish. Salt & pepper to taste.
Pulse croutons in food processor or smash in Ziploc bag. Sprinkle over the top, Bake casserole for 25-30 minutes. Turn broiler on the last minute of cooking to lightly brown the top. Stay close by broilers are unpredictable.
https://www.smalltownwoman.com/chicken-cordon-bleu-pasta-casserole/
Other delectable chicken recipes you will love!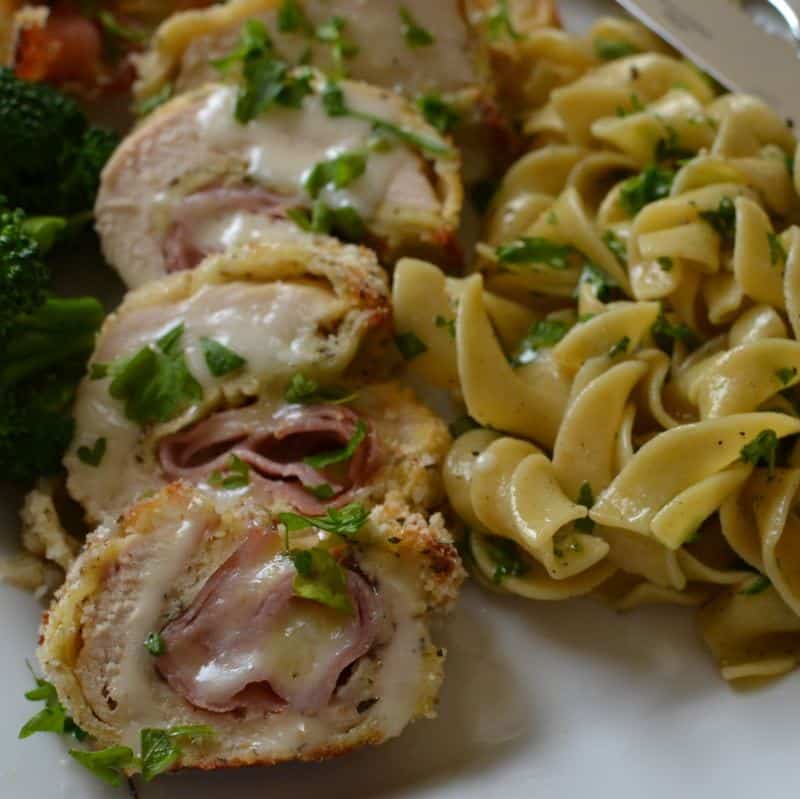 Chicken Cordon Bleu Pasta Casserole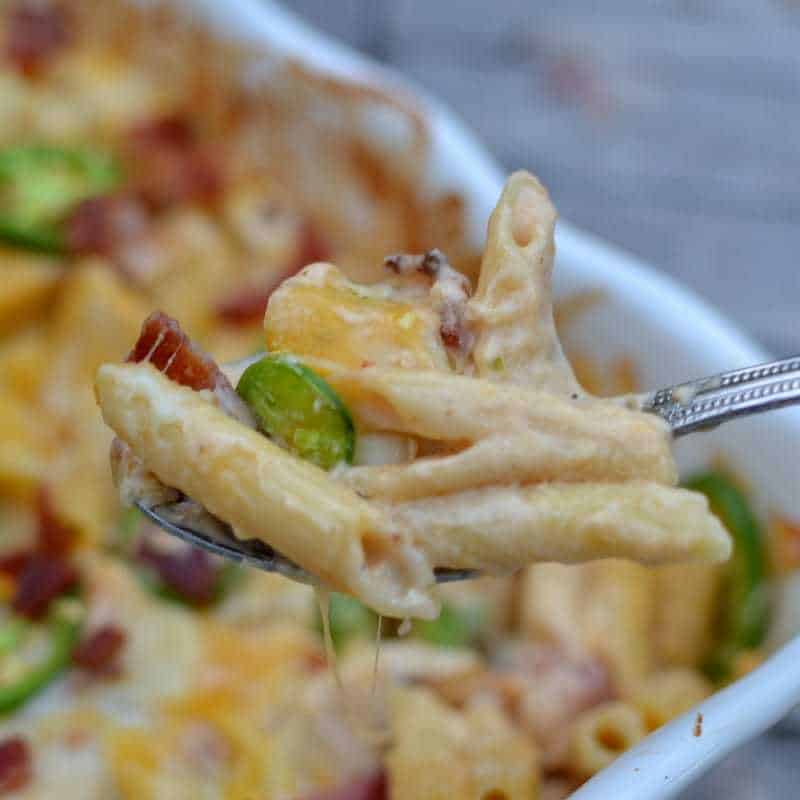 Jalapeno Popper Chicken Casserole