This Loaded Wedge Salad combines bacon, tomatoes, red onions, hard boiled eggs, avocado and cooked rotisserie chicken all under a blanket of creamy bleu cheese or ranch dressing.  For a special treat I love to serve it with Classic Bloody Mary Cocktail or Raspberry Margaritas.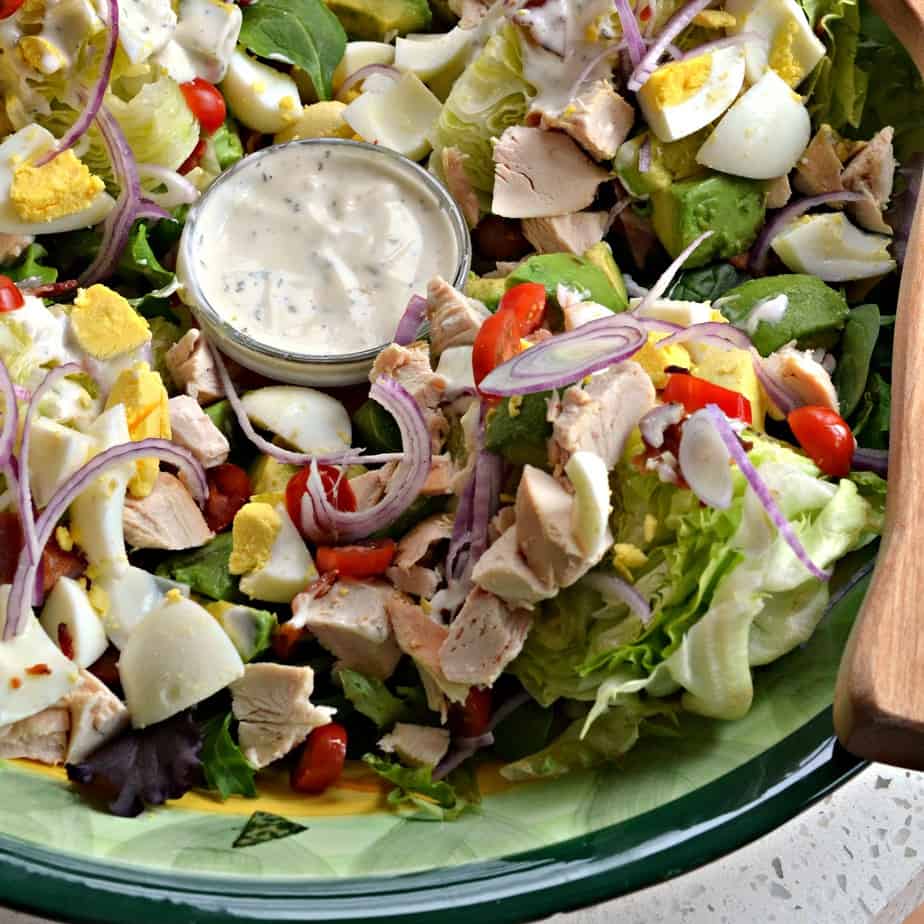 I was reading a cookbook recently that talked about the wedge salad.  The poor wedge hasn't always had it easy.  It was in for a while and out for a while but heaven knows it still makes one heck of a salad.  Perhaps you have not had one for a while!  Well this Cobb Wedge Salad will be just the right one to rekindle your love of the wedge! My husband love this salad with ranch while I prefer it with bleu cheese.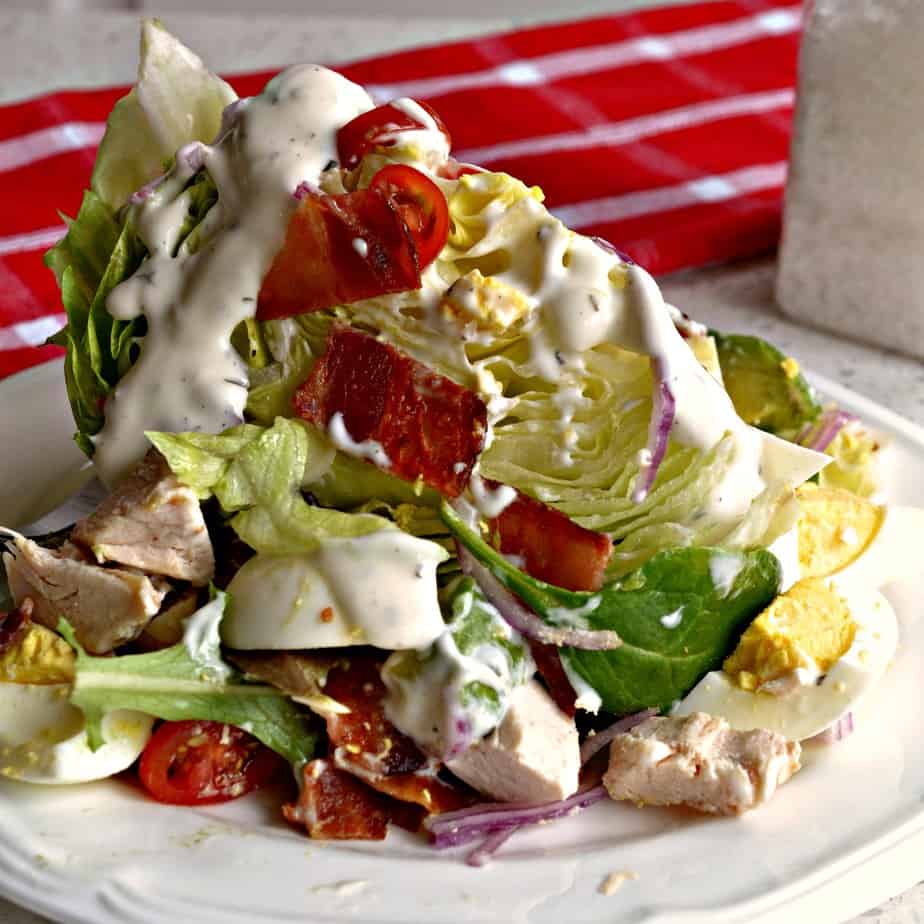 How do you make this loaded Wedge Salad?
If making the blue cheese whisk together the mayonnaise, garlic, parsley, yogurt, lemon juice, vinegar and bleu cheese. Season with salt and pepper to taste. Cover and chill for at least 45 minutes.
Now cut your iceberg lettuce in quarters and place on a large serving platter. Then surround with a little bit of spinach. Now sprinkle with crispy chopped bacon, tomatoes, red onions, chopped hard boiled eggs, avocados and chopped chicken.  Drizzle with the homemade bleu cheese or your favorite ranch.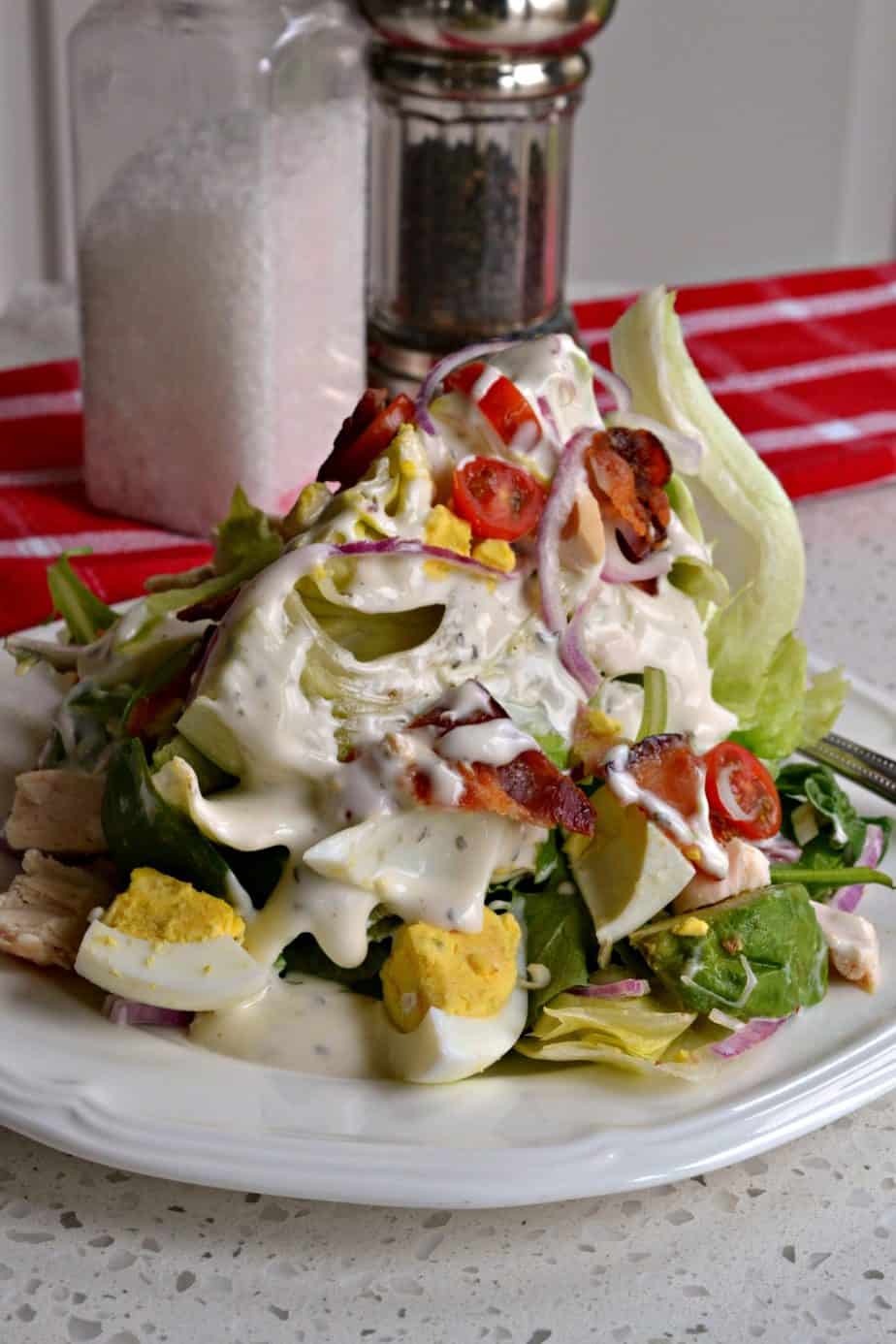 Helpful tips for making this loaded Wedge Salad
The blue cheese is optional.  You can use any kind of dressing you like such as ranch, creamy Italian, oil and vinegar, honey mustard, Thousand Island or Green Goddess dressing.
Steam your eggs not boil them.  Place them in steamer basket with the basket just above the boiling water.  Cover and cook for 15 minutes for large eggs.
To keep your avocado from turning brown spritz or brush with a little lemon juice.
For ease use already roasted rotisserie chicken that is available at more most grocery stores and warehouse stores.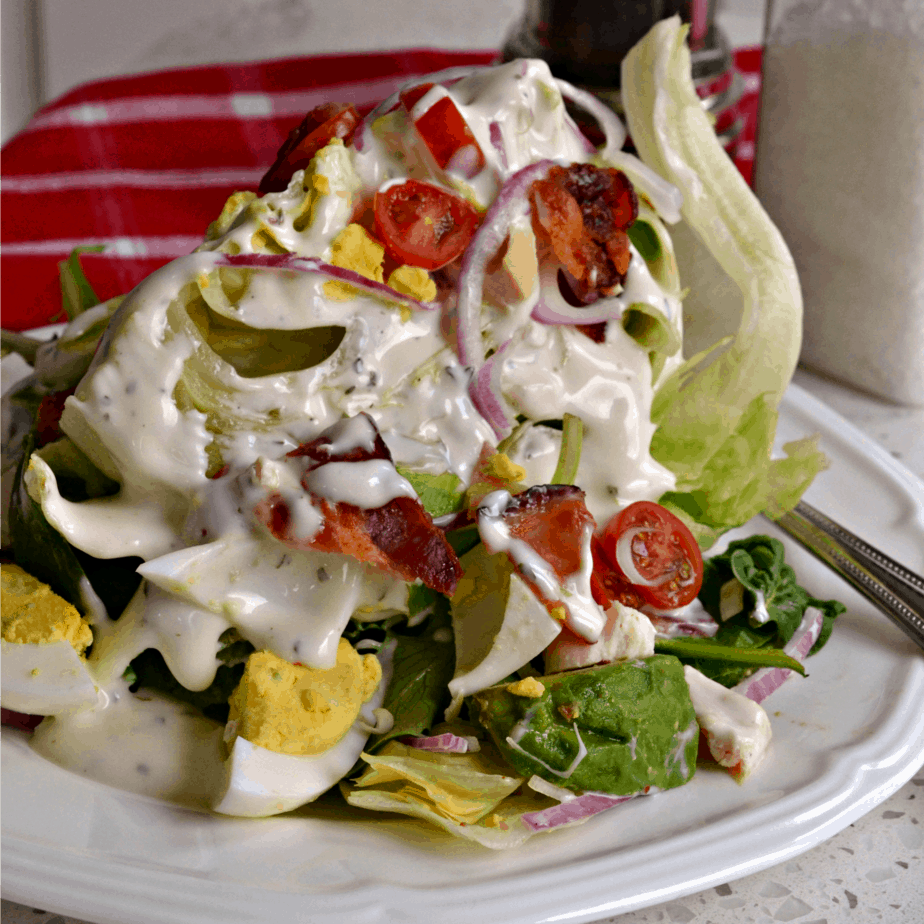 Other salad recipes you will love!!
This post was originally published April 27, 2015 and was republished April 11, 2020 with new content.
Print
Loaded Wedge Salad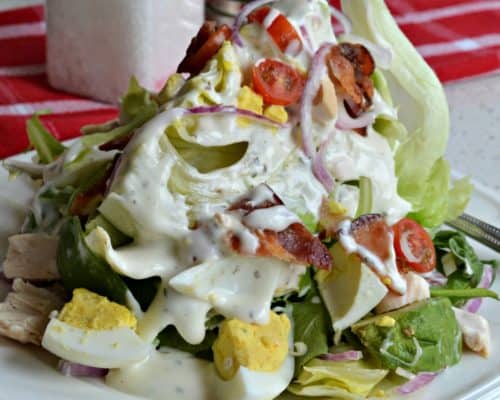 This easy Loaded Wedge Salad is sure to become one of your favorites.  It has all kinds of goodies like bacon, tomatoes, avocado and chicken.
Author:
Prep Time: 10 minutes
Total Time: 10 minutes
Yield: 4 servings 1x
Category: main meal salad
Method: no bake
Cuisine: American
Scale
Ingredients
BLUE CHEESE DRESSING
3/4 cup mayonnaise
2 tablespoons minced garlic
2 tablespoon dried parsley
1/2 cup low fat Greek yogurt
2 tablespoons lemon juice
2 tablespoons white vinegar
1/4 cup bleu cheese crumbles
Salt and pepper
WEDGE SALAD
1 head iceberg lettuce cut in quarters
8 cups baby spinach
4 slices crispy bacon chopped
1/2 pint grape tomatoes sliced in half
1/2 red onion sliced very thin
4 hard boiled eggs peeled and diced
1 avocados peeled and diced
1 1/2 cups diced roasted chicken
Instructions
In a small mixing bowl combine mayonnaise, garlic, parsley, yogurt, lemon juice, vinegar and bleu cheese. Season with salt and pepper to taste. Cover and chill for at least 45 minutes.
Place iceberg wedges on four large plates. Split spinach up equally and place around wedge. Top with bacon, tomatoes, red onion, eggs, avocado and chicken; split equally between the four plates.
Top with the blue cheese dressing or your choice of dressing.
Keywords: blue cheese wedge salad, iceberg wedge salad, how to make a wedge salad, wedge salad dressing
https://www.smalltownwoman.com/wp-content/uploads/2019/05/Beth-1.pdf