THIS EASY LUSH ZUCCHINI BREAD CAN BE WHIPPED UP IN NO TIME AT ALL AND MAKES THE MOST INCREDIBLE MOUTHWATERING LOAF OF ZUCCHINI BREAD YOU WILL EVER EAT. SO LUSH THAT BUTTER IS OPTIONAL FOR THIS BREAD!
Grandma had it right.  If the sweet bread is made right than butter is optional!  That is just so true!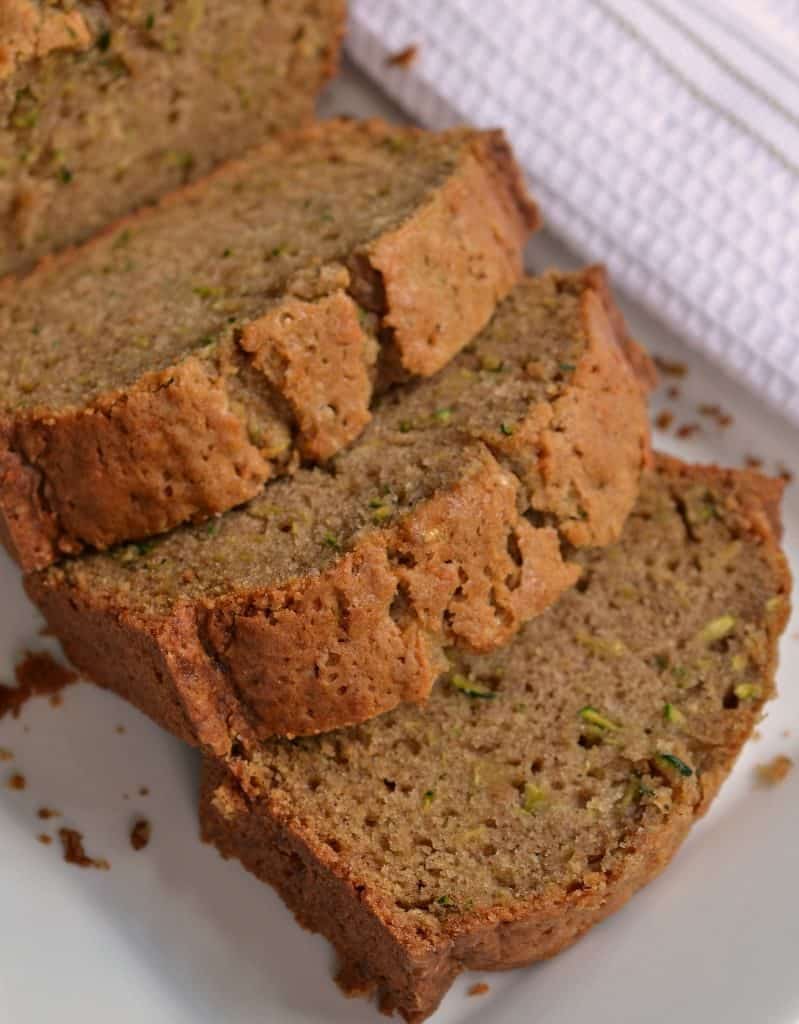 Summer is in full force here and the zucchini is in full abundance.  Now I am not growing it this year but the market is full of it and therefore the price is dropping like flies.  Seems like a great time to make a zucchini bread loaf.  Now I really wanted to call this Easy Moist Zucchini Bread but because a large number of people (my daughter included) have some kind of strange anti moist word fetish I decided I had better stick with Easy Lush Zucchini Bread. I hope that lush is a strong enough word to make the point that this bread is delicious and moist.  As grandma used to say "Nothing worse than a dry loaf of sweet bread."
One of the keys to this delectable moist Zucchini Bread is safflower oil. Safflower oil is extracted from the seeds of it's plants and is well known for it's health benefits like managing blood sugar and lowering cholesterol levels.  It also makes a great moist loaf of bread.  Something tells me that my dear daughter is not going to like this post at all and for that reason I am getting a good laugh.

HOW TO MAKE EASY ZUCCHINI BREAD
First of all in a small bowl mix together flour, salt, baking soda, baking powder and cinnamon.  In larger bowl beat together eggs, oil, sugar, vanilla, and grated zucchini. Mix dry ingredients into wet ingredients. Stir in nuts if desired.  Pour into two greased loaf pans and bake.  As a result you will now you have two awesome loaves of sweet bread.
This Zucchini Bread freezes very well for up to two months. Cool the bread completely before freezing. Place the Zucchini loaf in a ziploc freezer bag squeezing out all the air and then place that freezer bag in another freezer bag squeezing out all the air. To thaw remove from the freezer and place in the refrigerator still wrapped as this will avoid any excess condensation.  Allow to fully thaw and then before serving remove from refrigerator still wrapped and bring to room temperature.

DO I NEED TO PEEL THE ZUCCHINI FOR ZUCCHINI LOAF?
Absolutely not.  I just wash it, cut off the top and bottom stem and grate it with the largest holes on my grater.  It is just that simple.
Put the ingredients for this zucchini loaf on your shopping list today.  It is easy, dependable, delicious and oh so moist.  Oh gosh there is that word again.  I hope I did not offend anyone!!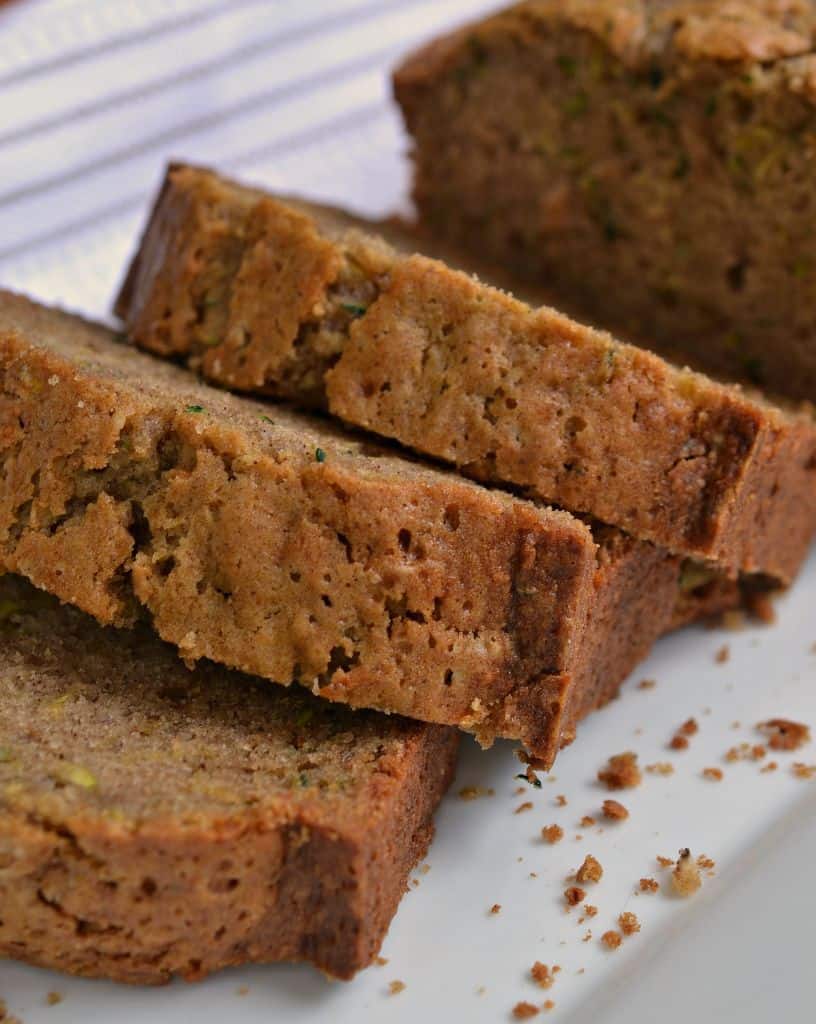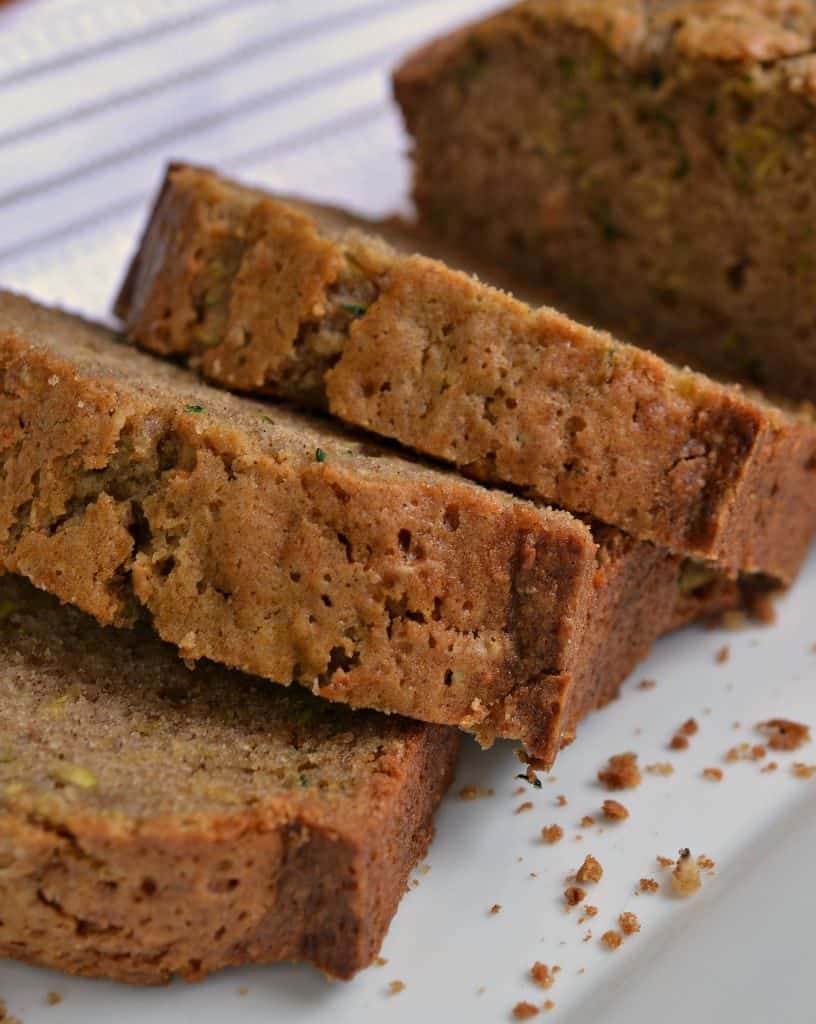 MORE ZUCCHINI RECIPES YOU WILL LOVE!
Print
Easy Lush Zucchini Bread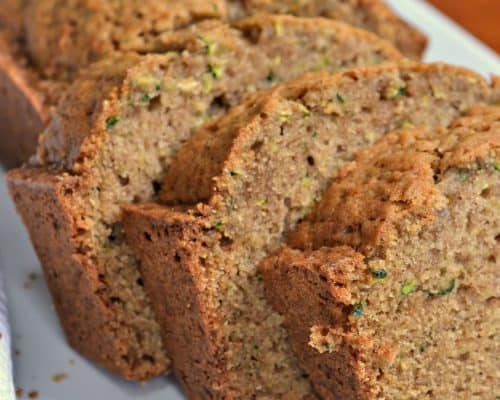 This easy lush zucchini bread can be whipped up in no time at all and makes the most incredible mouthwatering loaf of zucchini bread you will ever eat.
Author:
Prep Time: 30 minutes
Cook Time: 1 hour
Total Time: 1 hour 30 minutes
Yield: 2 loaves 1x
Category: Sweet breads
Method: Baked
Cuisine: American
3 cups all purpose flour
1/2 teaspoon salt
1 teaspoon baking soda
1/2 teaspoon baking powder
1 tablespoon cinnamon
3 eggs beaten
1 1/4 cups safflower oil
2 cups sugar
1 tablespoon vanilla
3 cups grated zucchini
Optional: I cup chopped walnuts
Instructions
In medium bowl whisk together flour, salt, baking soda, baking powder and cinnamon.
In large bowl mix together eggs, safflower oil, sugar, vanilla and zucchini.
Add dry ingredients to wet ingredients in three parts stirring just until combined. If desired stir in nuts.
Pour into two greased 8 x 4 inch loaf pans. Bake at 350 degrees for 55-60 minutes or until toothpick inserted into top center comes out clean.
Keywords: healthy zucchini bread, best zucchini bread, easy zucchini bread, how to make zucchini bread, Zucchini Bread recipe, homemade Zucchini Bread, moist Zucchini Bread recipe
https://www.smalltownwoman.com/wp-content/uploads/2019/05/Beth-1.pdf