This delectable five minute Caramel Frappucciono will make a fru fru coffee drinker out of you in no time.  Drink it virgin style or spike it up with baileys, kahlua or rumchata.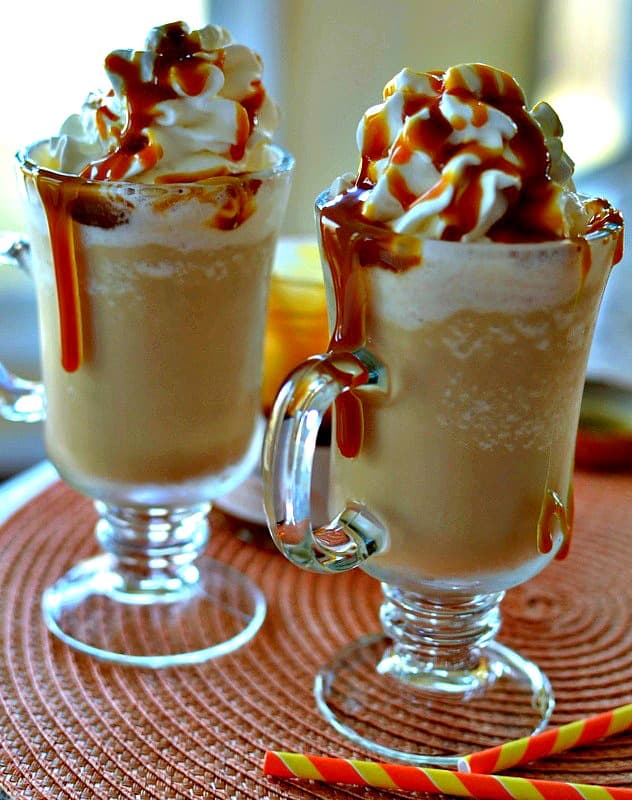 Do you know anyone that loves a good frappuccino?  My daughter and I just love them.  There is  nothing better than a creamy frozen iced coffee treat.  You can whip up this delectable creamy Caramel Frappuccino up in the morning or as after dinner treat.
How to set up a Caramel Frappuccino Bar?
These frapps are so easy that even a small crowd is not out of the question.  Wouldn't it be fun to set up a frozen coffee bar.  You could do flavors like dark chocolate, mocha, strawberries and cream, and mint chocolate chip. For ease store whipped cream in ice buckets and include various flavored syrups to match your frappuccinos.  For the adults you could even supply baileys, kahlua and rumchata.  The possibilities are only limited by your imagination!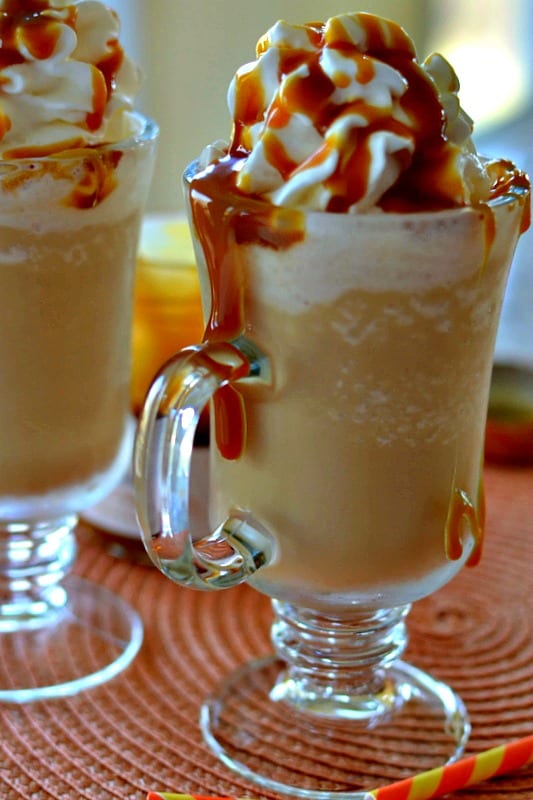 My daughter and I love creamy coffee drinks year round.  For this Five Minute Creamy Caramel Frappuccino we used the new Green Mountain Caramel Vanilla Cream but you can use any caramel flavored coffee. I have even used unflavored coffee and added a little more caramel sauce and it was just as delicious. These super easy treats contain five ingredients and can be whipped up in the blender less than five minutes.   If you are speedy you should be able to complete it in about three minutes.
How do you make a Caramel Frappuccino?
First heat the ice cream topping in the microwave per instructions on the package to make it smooth, creamy and easy to work with. Next in a blender combine the ice, cooled coffee and the cream. Blend the ingredients on high for about one minute while you drizzle in two to three tablespoons of warm caramel. Finally pour the mixture in two small mugs or one large one and top with whipping cream and drizzle with more warm caramel.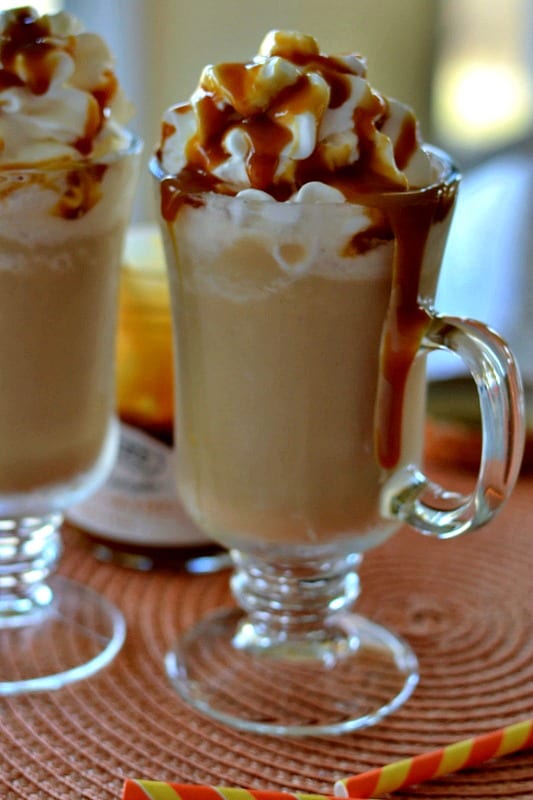 If you have a passion for coffee, love to treat yourself and others, or just have a maddening passion for frappuccinos than put the ingredients on your shopping list today and indulge yourself.
Other delicious drink recipes you will love!
This post was originally published February 19, 2018 and was republished December 12, 2019 with new content.
Print
Creamy Caramel Frappuccino
This delectable creamy caramel frappucino has five ingredients and takes less five minutes to make in a blender making it the perfect pick me up beverage or party drink. For even more fun for the adults spike it with Baileys, Kahlua or Rumchata.
Author:
Prep Time: 5
Total Time: 5 minutes
Yield: 2 small cups 1x
Category: Coffee Beverage
Method: Blender
Cuisine: American
Caramel ice cream topping (I like Smuckers salted caramel)
2 cups ice
1 cup strong coffee cooled (caramel flavor)
1/4 cup heavy whipping cream
Whipped cream
Instructions
Heat ice cream topping in microwave per instructions on package.
In blender combine ice, cooled coffee and cream. Blend the ingredients on high for about 1 minute. Drizzle in 2-3 tablespoons of warm caramel while blending.
Pour in 2 small mugs or 1 large one. Top with whipping cream and drizzle with more warm caramel.
Notes
If you can not find caramel flavored coffee you can use any unflavored dark blend.
Keywords: caramel frappuccino, caramel frappuccino recipe, coffee beverage, frappuccion, frozen coffee, frozen coffee drink, how to make a caramel frappucino, salted caramel frappucino
On the hunt for more delicious recipes?  Follow Small Town Woman on Facebook, Pinterest, and Instagram.
https://www.smalltownwoman.com/wp-content/uploads/2019/05/Beth-1.pdf