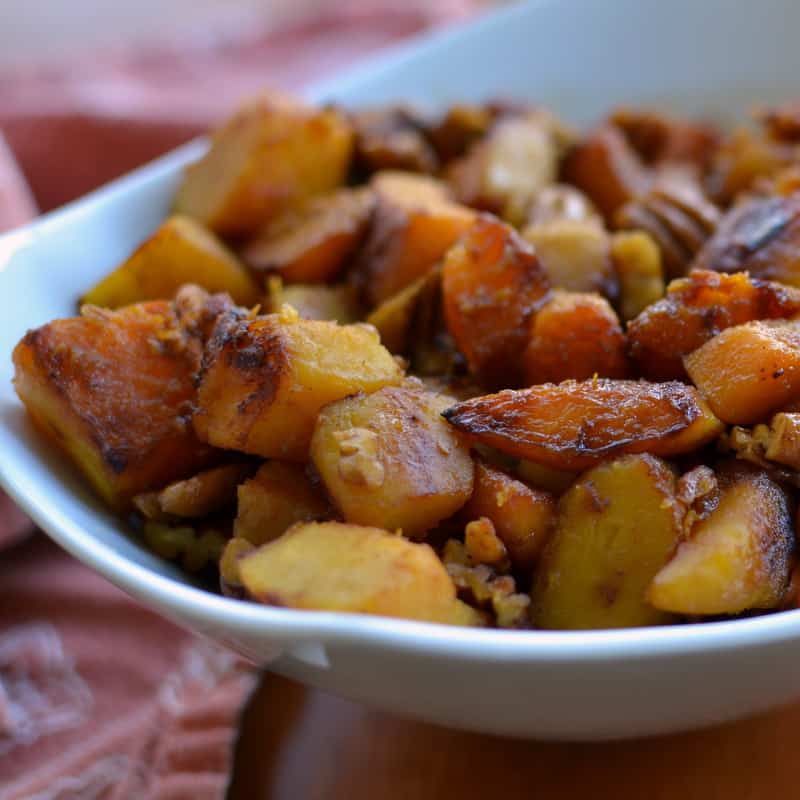 It is winter and with it comes delicious squash.  You have seen the gorgeous late harvest beauties in the markets and grocery stores.  I am sure that you have wondered what do they taste like and how do I cook them.  They are the perfect fall harvest and somewhat resemble gourds. In order to peel and chop you will need a sharp peeler and a good sharp knife.  I found myself wishing I had invested in a new peeler.  Honestly they need replacing every now and then.  Well lets just say that I had passed up the every now and then and headed for eons from now.  Found this interesting Easy Tip For Cutting and Peeling Winter Squash. I am going to try it the next time I cook winter squash.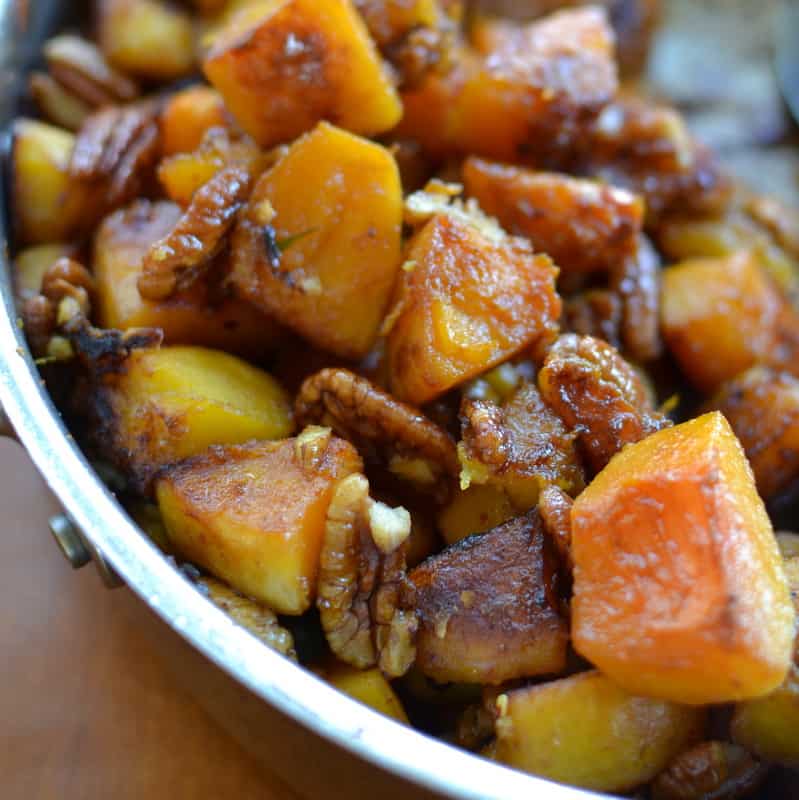 These sweet flavorful nuggets are one of the best that nature has to offer. This Honey Butternut and Acorn Squash is flavorful and easy to prepare.  You can add pecans or other nuts like walnuts for crunch or pistachios for texture and flavor.  Want more color for the holiday season add  pomegranate seeds!  On a budget add toasted sunflower seeds.  When cooking there is always a solution to every issue.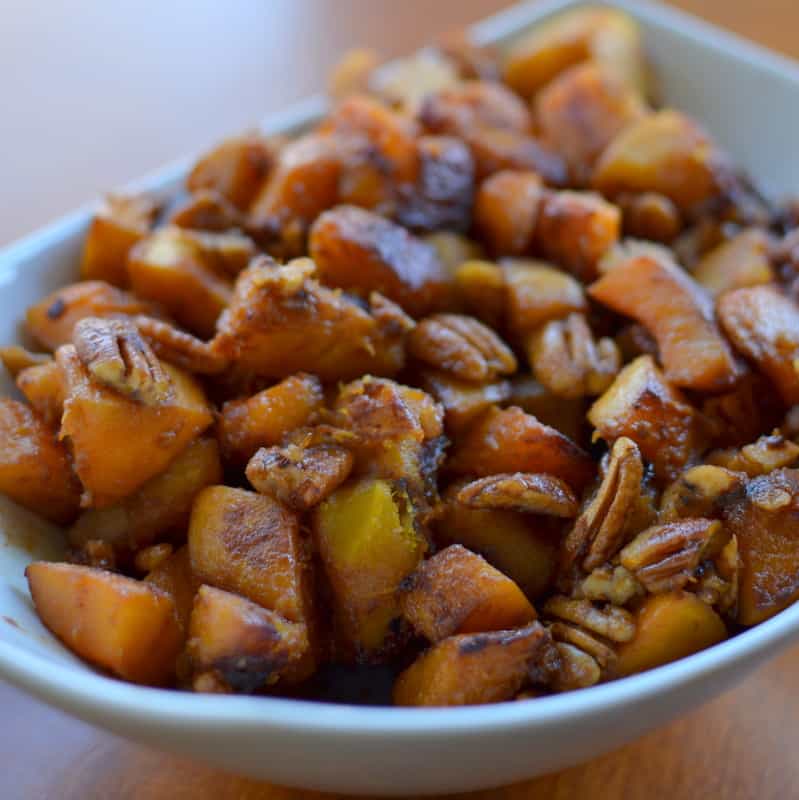 So if you love sweet squash than this Honey Butternut and Acorn Squash is for you.  The flavor is superb! This Honey Butternut and Acorn Squash can go with so many main entrees like roasted pork, ribs and chicken. Your guests will be singing your praises.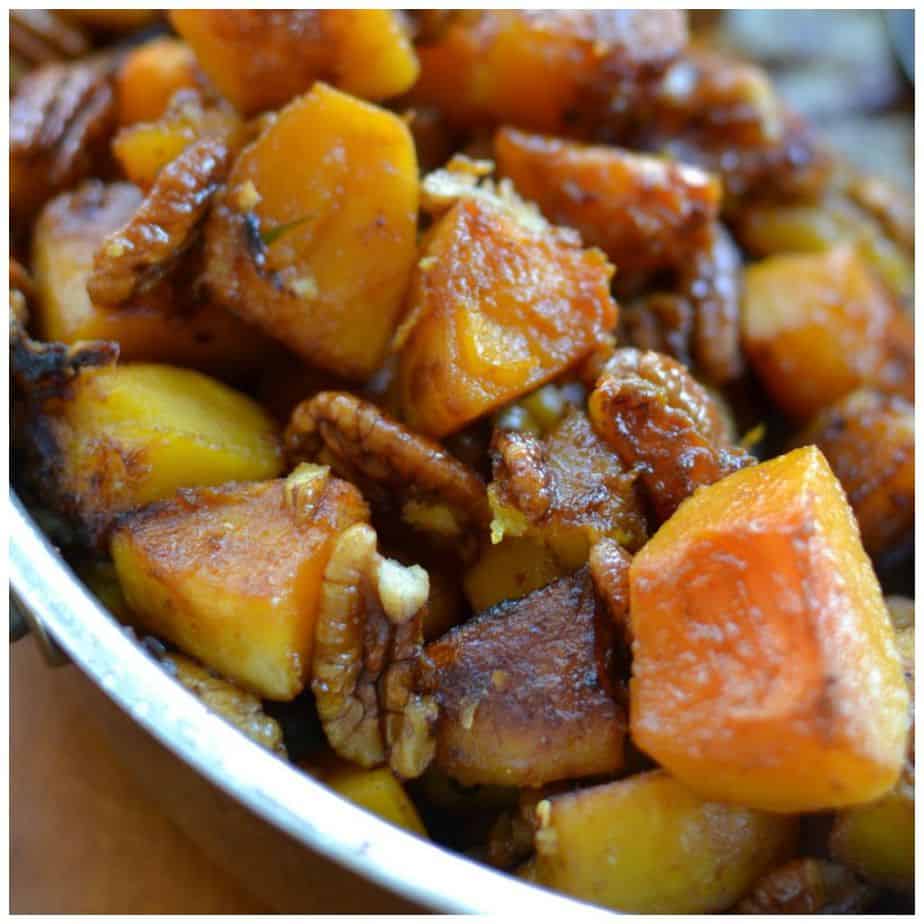 Other vegetable recipes you will love!
Print
Honey Butternut and Acorn Squash
1 butternut squash peeled, seeded and cubed
1 acorn squash peeled, seeded and cubed
2–4 tablespoons olive oil
1/2 teaspoon cumin
1/4 teaspoon paprika
1/8–1/4 teaspoon cayenne pepper
1/8–1/4 teaspoon crushed red pepper
2 tablespoons honey
1 cup coarsely chopped roasted pecans
Instructions
Heat 1-2 tablespoons olive oil in large skillet over medium high heat. Add squash in two batches because you do not want to crowd the pan. Cook until browned; stirring frequently as it browns so that it does not brown too much. Cook until tender and lightly browned; approximately 15 minutes per batch. .
Add all the squash back to the pan and sprinkle with cumin, paprika, cayenne and crushed red pepper. Stir to coat. Add honey and stir to coat. Add pecans and stir.
On the hunt for more delicious recipes?  Follow Small Town Woman on Facebook, Pinterest, and Instagram.
https://www.smalltownwoman.com/wp-content/uploads/2019/05/Beth-1.pdf