This easy Pinwheel Recipe brings out all the great flavors in jalapeno poppers. It is an easy delicious game day snack or party appetizer and can easily be modified to your liking!
These are a hot commodity at game day parties, potlucks, and neighborhood socials.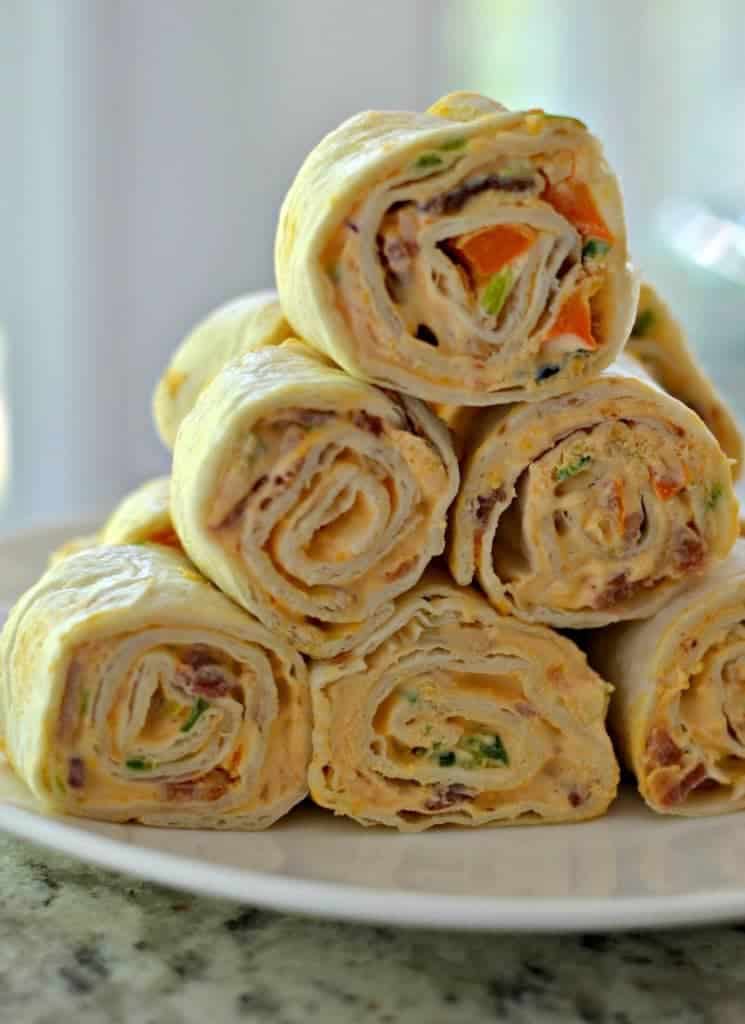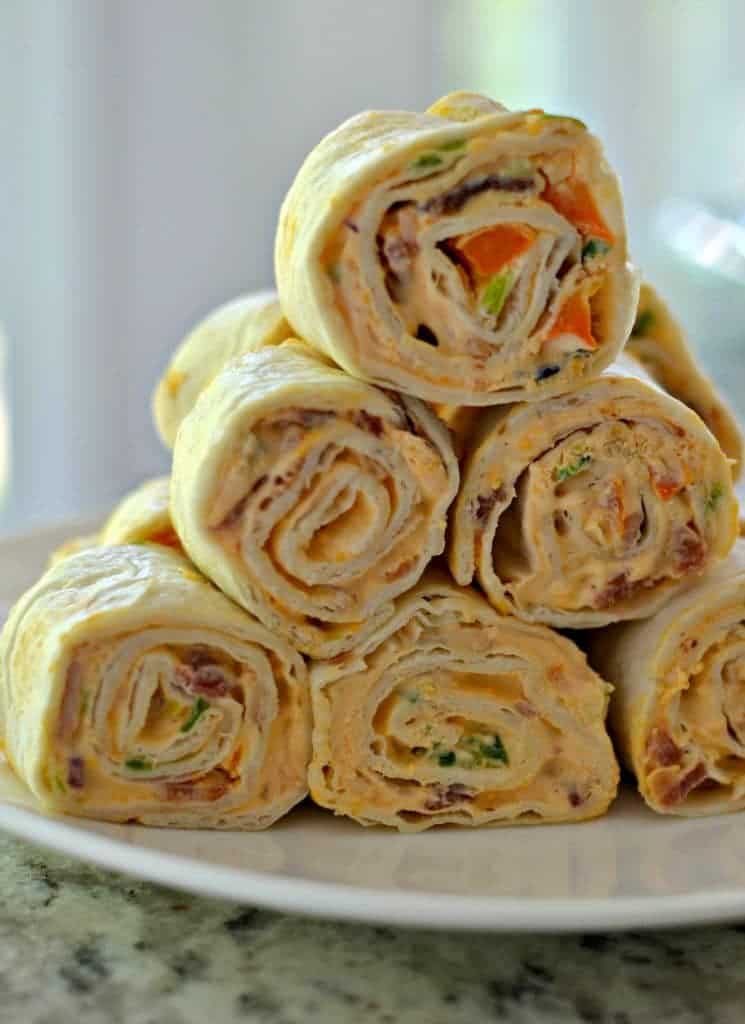 Fall is approaching quickly. This morning I had to turn the heat on in the car on the way to drop my son off at school. It was fifty-five degrees so there is no doubt that things are starting to change a bit. Before you know it the holiday and entertainment season will be upon us. This easy Pinwheel Recipe makes that neighborhood soiree or game day party an absolute breeze!
How to make easy Jalapeno Popper Pinwheels!
Simply blend your cream cheese, sour cream and sriracha until smooth and creamy. Stir in jalapeno, cheddar, onion, bell pepper and crisp bacon. Generously spread over cooked soft tortillas. Roll up tight and either slice for serving or refrigerate for use within a day.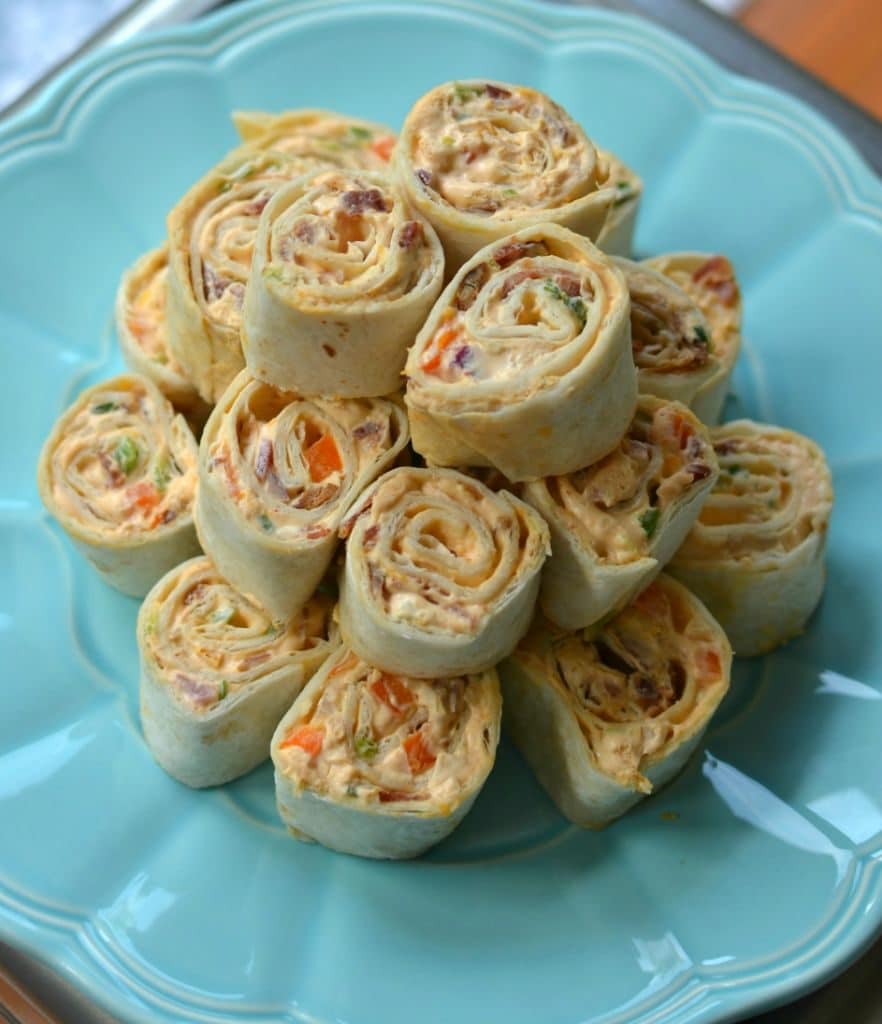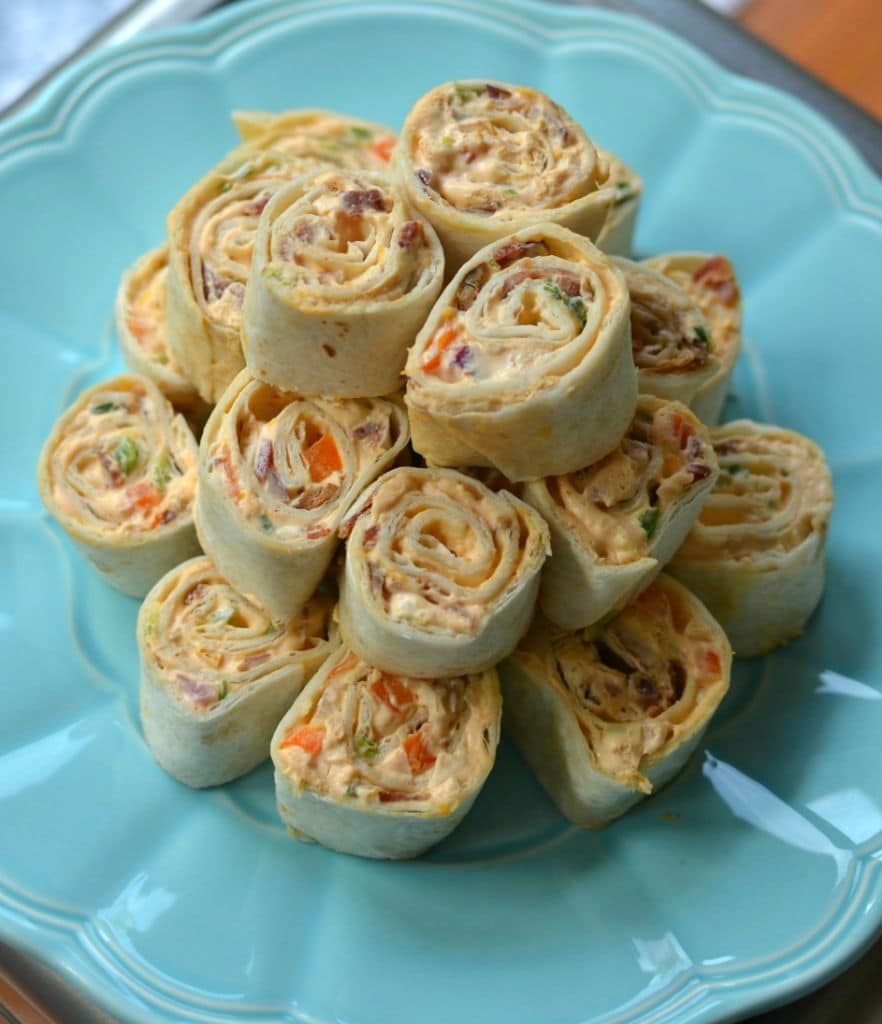 Cream cheese is the base for most pinwheels but you can certainly modify the other ingredients to your liking and add them to the cream cheese.
Other ideas for Tortilla Pinwheel Recipes!
Chicken Bacon Ranch – minced chicken, crisp finely chopped bacon, a few tablespoons of ranch and chopped scallions.
Italian – Genoa salami, finely chopped sun-dried tomatoes, provolone cheese and pepperoni.
Taco – cooked taco seasoned beef, cheddar cheese, a few tablespoons of salsa, chopped scallions and chopped olives.
Reuben – thin sliced corned beef, well drained sauerkraut, Swiss cheese and a couple of tablespoons of Russian dressing.
The possibilities for different pinwheels is endless. I bet there is something going through your creative mind right now!!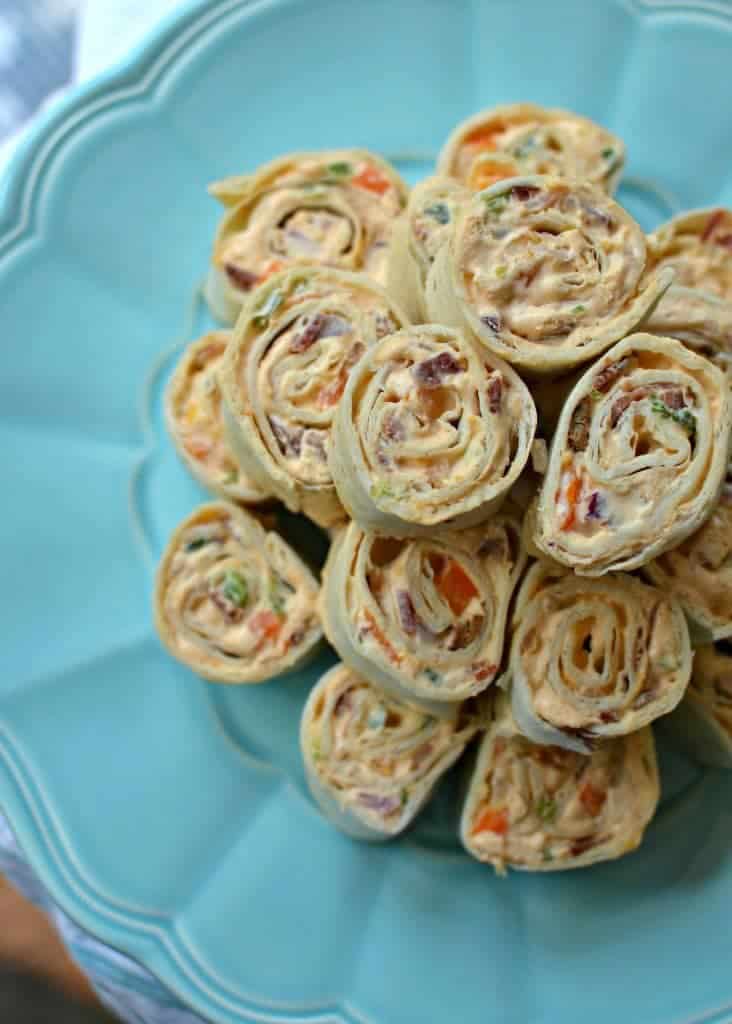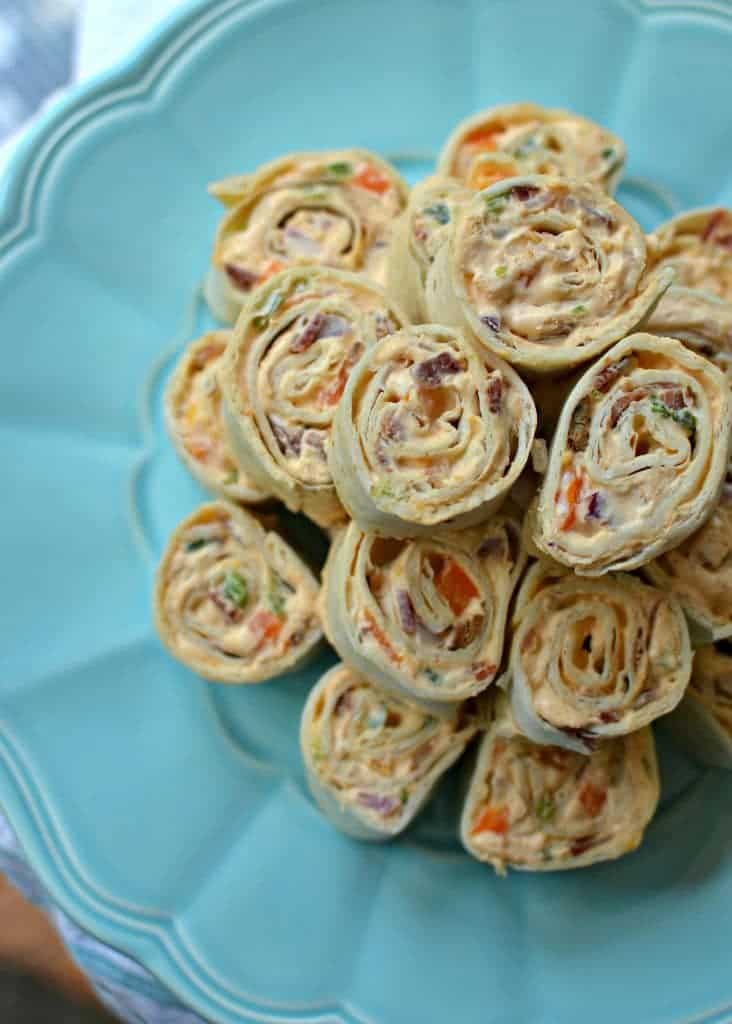 Helpful hints to make this Pinwheel Recipe epic!
Soften the cream cheese to make it easier to mix and spread.
Chop bacon and vegetables very fine.
Use tortillas that are precooked, soft and have a little thickness to them.
Roll tortillas as tight as you can without squeezing out all the goodies.
Discard end pieces unless you want to save them for a snack for yourself or the kids.
This pinwheel recipe can be prepared ahead of time and wrapped in plastic wrap, refrigerated and cut right before serving.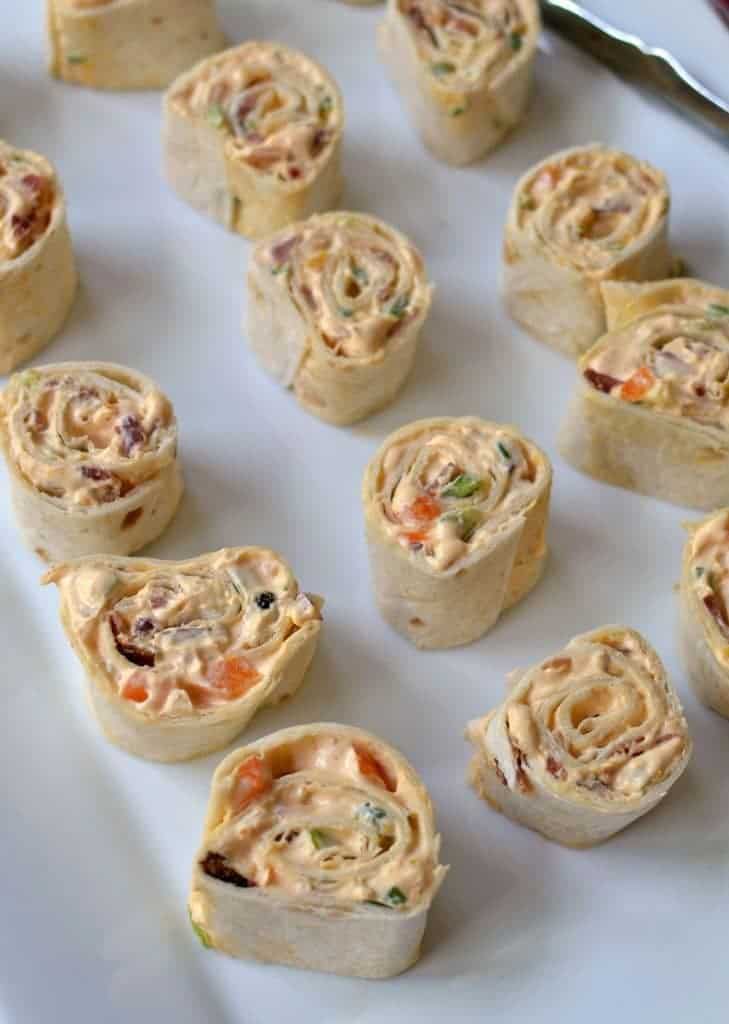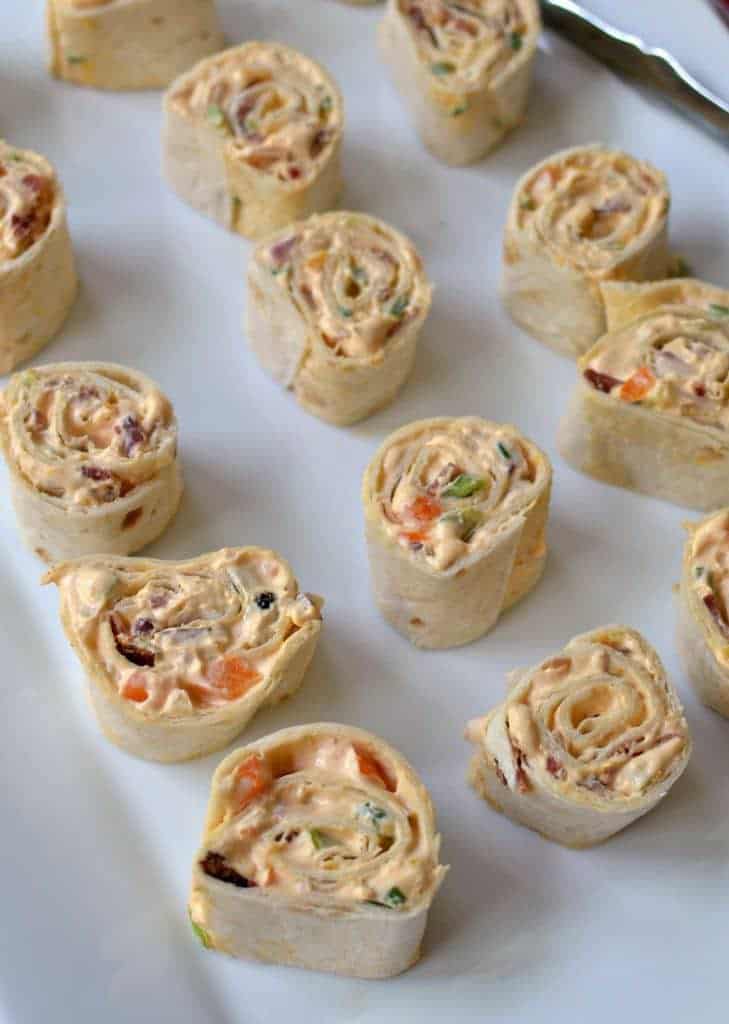 OTHER APPETIZER RECIPES YOU WILL LOVE!
Jalapeno Popper Pinwheel Recipe
Ingredients
8 ounces cream cheese softened
1/4 cup sour cream
2-3 teaspoons sriracha (to taste)
1 jalapeno seeded and minced
1/2 red or orange pepper finely chopped
2/3 cup finely shredded cheddar cheese
6 slices crispy cooked bacon finely chopped
3 tablespoon red onion minced
4 (10 inch) tortillas
Instructions
Beat cream cheese, sour cream and sriracha until smooth. Stir in jalapeno, bell pepper, cheese, bacon and onion.
Divide evenly over flour tortillas.
Roll very tightly and slice into 1/2 - 1 inch pieces; discarding ends.
Notes
If preparing ahead of time. Roll them, store in plastic wrap and slice right before serving.
https://www.smalltownwoman.com/jalapeno-popper-pinwheel-recipe/