Tis the time of year to start baking cookies!  I love it and I love cookies.  Cookies are a family tradition at our house.  There are just so many great Christmas cookie recipes and so many friends, neighbors and extended family to share them with.  Honestly who in the world wouldn't love a batch of assorted sweet treats to indulge in. These Maraschino Cherry Almond Chocolate Cookies are the perfect complement to your cookie tray.  They are gorgeous, delicious and the flavor combination is amazing!
These days there are so many ways to pack them for gift giving.  Wrap it Up: 30 Cute Cookie Wrappers to Buy or DIY has so many awesome ideas!!  My favorites are the Dot Handle Boxes and the Sweet Heart Lace Favor Boxes!!  I have also found lots of great ideas for wrapping and packing cookies at Target in the dollar bins.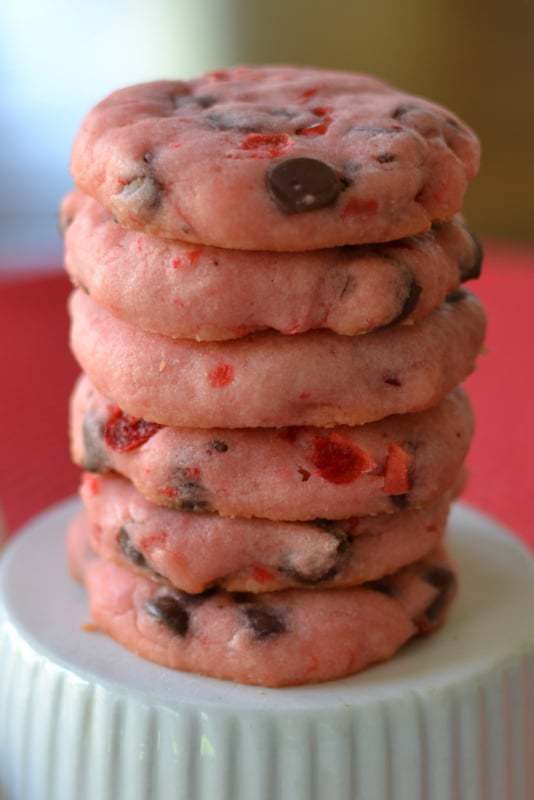 Maraschino Cherry Almond Chocolate Cookies are easy shortbread cookies full of cherries and semi-sweet chocolate chips. There is a touch of almond flavoring to complement the cookie.  They are so quick to come together.   Have you made any of my other Christmas treats and cookies?  Foolproof Almond Joy Fudge, Thick Chocolate Chunk Pecan Cookies and Peppermint Chocolate Thumbprint Cookies are just a few reader favorites.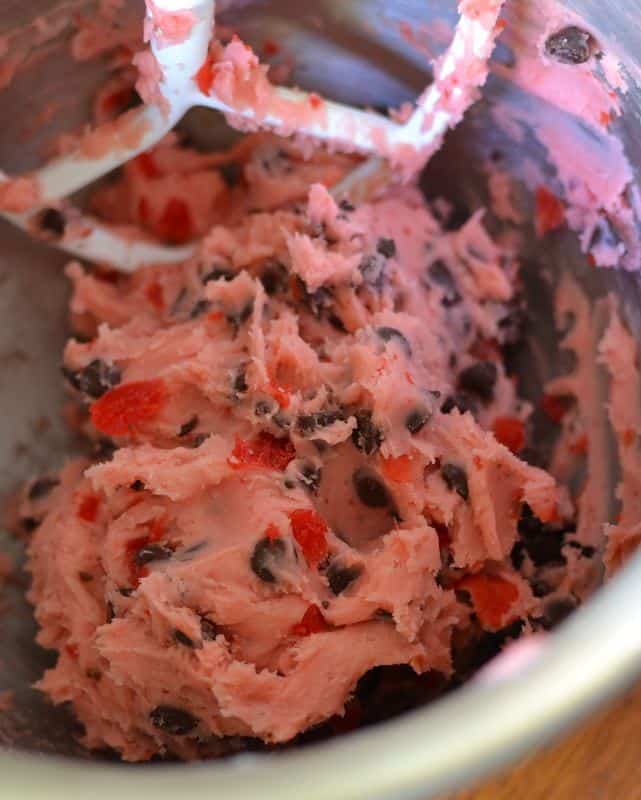 They can be frozen ahead of time.  I pack all my cookies in doubled Ziploc freezer bags and place them in sturdy glad-ware containers.  When defrosting take them out of the containers frozen and place on serving trays or platters uncovered.  Never allow them to defrost in the plastic and the containers. The condensation that builds in there will ruin the cookies.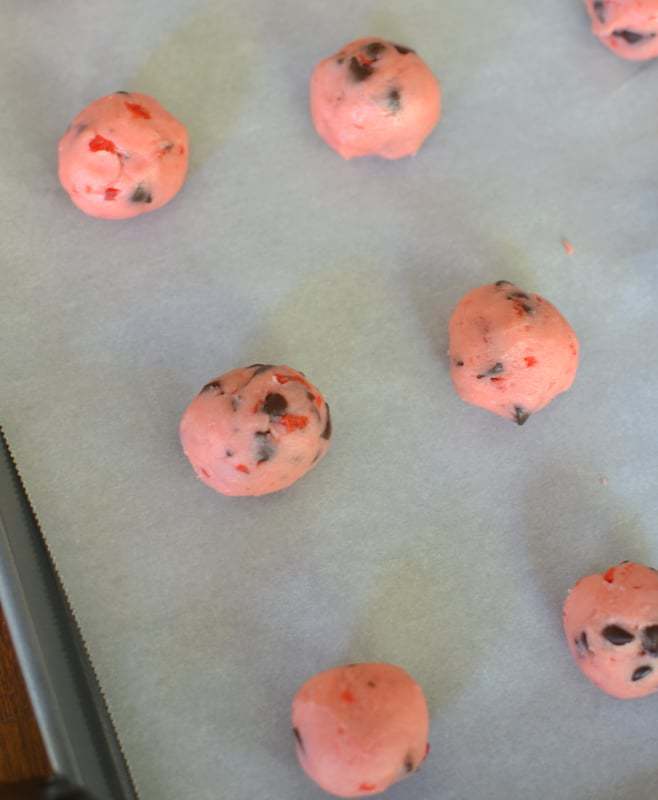 So if you love baking and making special holiday treats to share with others put these Maraschino Cherry Almond Chocolate Cookies on your Christmas baking list.  They will make a special addition to your holiday cookie tray!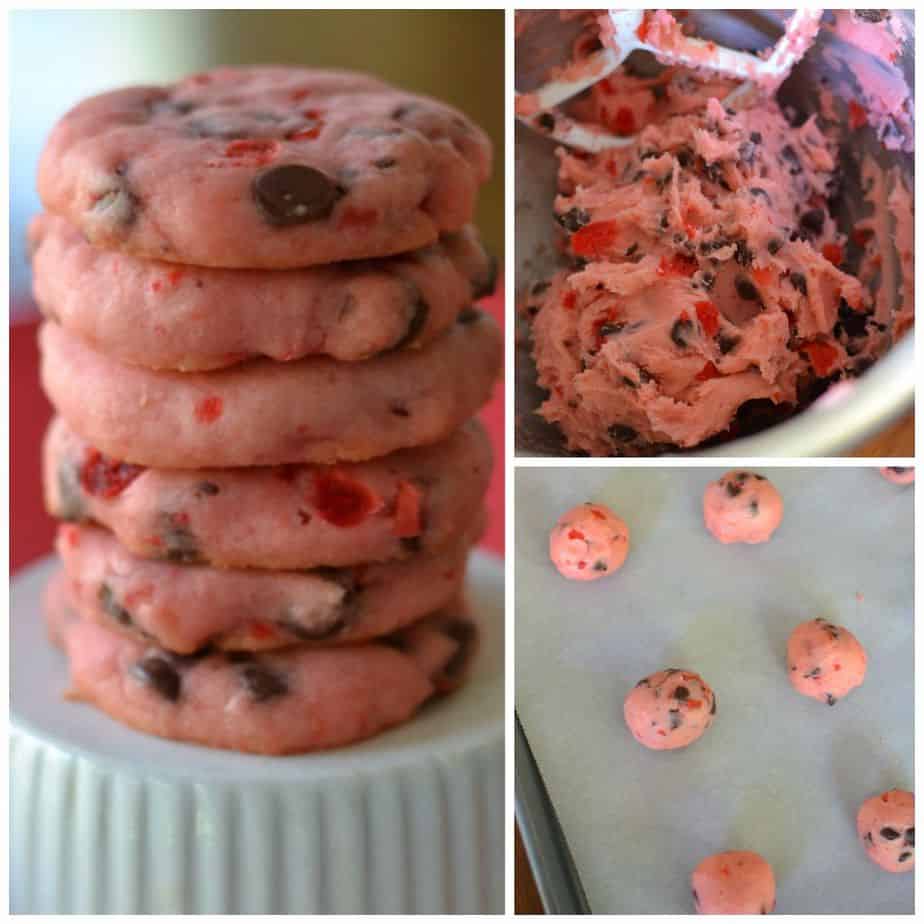 Print
Maraschino Cherry Almond Chocolate Cookies
These pretty-in-pink cookies are the perfect treat for a Christmas Cookie Exchange! Maraschino cherries, chocolate chips, and a touch of almond give these cookies all their sweetness.
Author:
Prep Time: 5 minutes
Cook Time: 15 minutes
Total Time: 20 minutes
Yield: 22-26
Category: Dessert
Method: Baking
Cuisine: American
1 cup butter softened
1 teaspoon almond extract
1 cup powdered sugar
2 1/4 cups all purpose flour
2–3 tablespoons maraschino cherry juice
1/2 cup maraschino cherries chopped
1 cup semi sweet chocolate chip morsels
Instructions
Preheat oven to 350 degrees. Cover cookie sheets with parchment paper.
In large bowl with mixer beat butter until smooth and creamy. Beat in almond extract and powdered sugar. Turn mixer to stir or low and slowly add flour mixing in until incorporated. Mix in maraschino cherry juice and maraschino cherries. Stir in chocolate chips.
Roll into 1 inch balls and place on parchment paper. Spray bottom the of a glass with non stick cooking spray and flatten balls. You will need to spray glass several times.
Bake for 12-14 minutes. Allow to cool for 5 minutes before removing cookies to cookie cooling racks.
Notes
You can also bake the cookies as rolled balls and they will cook to a more traditional cookie shape. Flattening gives them more of a shortbread look.
Store in an airtight container for up to 3 days at room temperature or up to 6 days in the refrigerator.
Keywords: cherry almond chocolate chip cookies, cherry chocolate chip cookies, cherry almond cookies, maraschino cherry cookies, cherry almond shortbread cookies
On the hunt for more delicious recipes?  Follow Small Town Woman on Facebook, Pinterest, and Instagram.
https://www.smalltownwoman.com/wp-content/uploads/2019/05/Beth-1.pdf