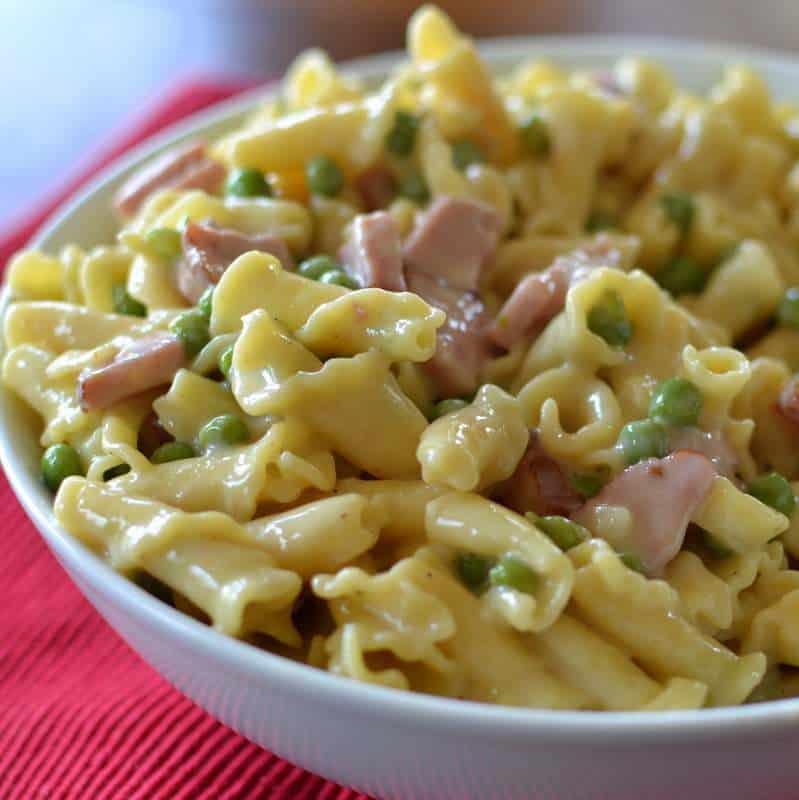 Well spring and summer are right around the corner and with it comes lots of activities.  So many fun things to do and so little time.  There are kids baseball and soccer games.  It is time for some much needed exercise like walking, biking and hiking.  The kids need to get off their electronic devices and rediscover all that nature has to offer.  I need to remind them that we have a trampoline, basketball net, bikes and scooters.  All of this is so much fun but it means we need to have quicker easier meal preparation.  That is where one pot suppers become so important. This One Pot Cheesy Ham and Pea Campanelle is perfect for those evenings where enjoying the fresh air and sunshine take precedence.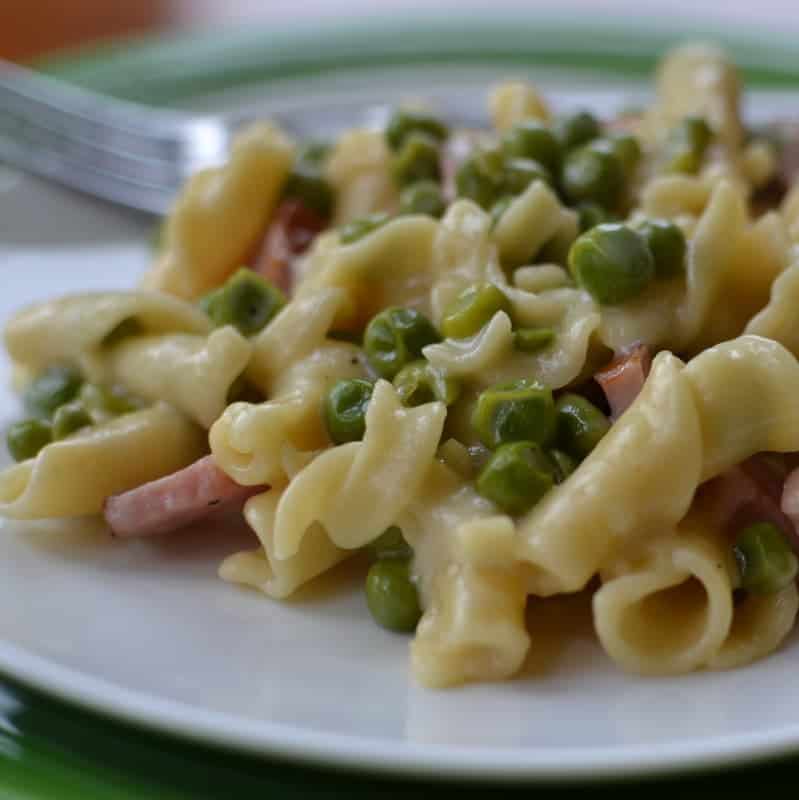 Not only is this made in one pot but it is real quick to come together and tastes delicious. One Pot Cheesy Ham and Pea Campanelle combines ham, peas and Campanelle pasta in a a lightly seasoned slightly sweet cheese sauce.  It is fairly economical and enjoyed by both young and old.  If you don't like peas you can substitute frozen broccoli or chopped fresh broccoli added a few minutes before the cream.  Provel is a regional cheese so good substitutions would be Gouda or white american if you are looking for a budget savvy choice.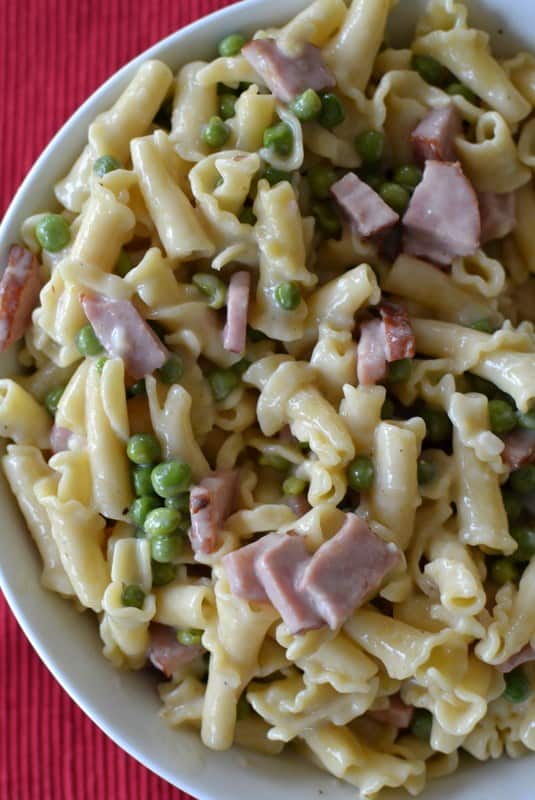 I will be writing a lot more one pot suppers as I myself need to get some serious exercise and fresh air.  This happens over the winter here in Missouri.  We tend to get just a little too comfortable in our sweat pants.  I hope you enjoy this easy One Pot Cheesy Ham and Pea Campanelle.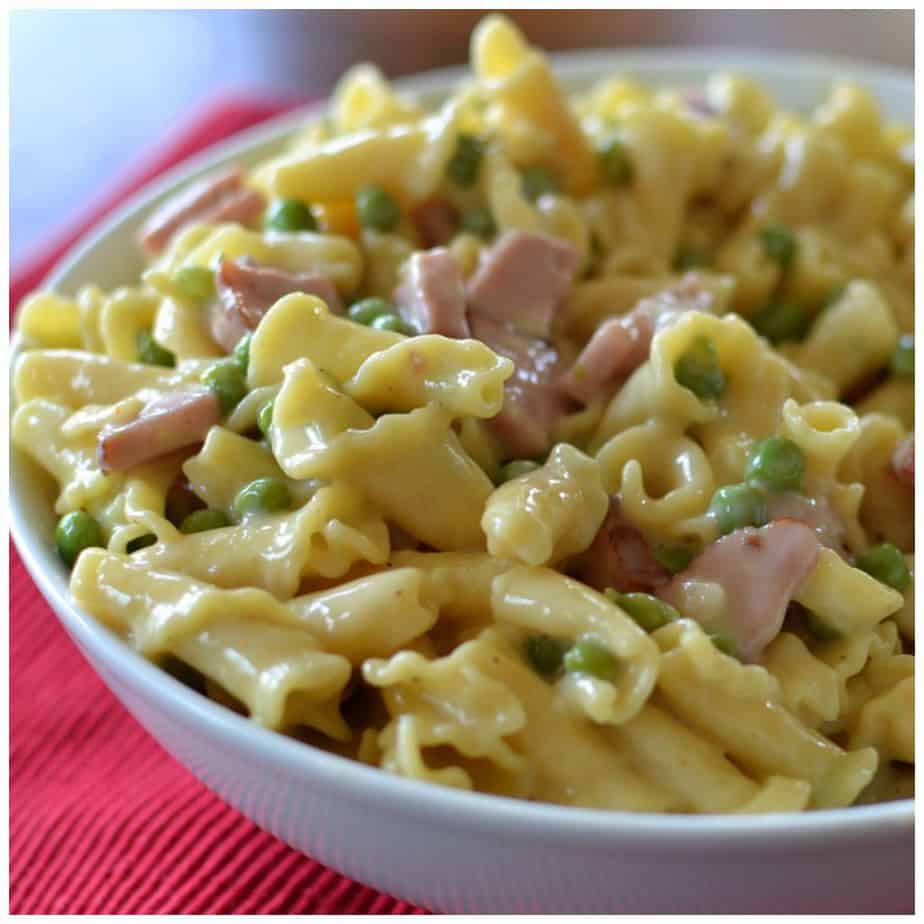 Print
One Pot Cheesy Ham and Pea Campanelle
Scale
Ingredients
2 tablespoons olive oil
2 cups cooked chopped ham (approximately 1 lb)
2 large cloves garlic minced
2 1/2 cups chicken broth
1/8 teaspoon ground cumin
1/8 teaspoon ground cayenne pepper
8 ounces Campanelle pasta (about 2 cups)
1 cup frozen peas
1/4 cup heavy cream
1 cup grated fresh Pamesan
3/4 cup Provel ropes (see notes below)
Salt & pepper to taste
Instructions
Heat olive oil in large stockpot over medium heat. Add ham and cook for 1-2 minutes. Turn heat to low and add garlic and cook for additional 1 minute. Add chicken broth, cumin, cayenne pepper and pasta. Cover and cook on low boil for 15 minutes.
Add peas and cream; cover and cook for additional 2-3 minutes or until campanelle is tender. Remove from heat. Slowly add Parmesan while stirring. Add provel cheese and cover for five minutes. Stir to combine. Sauce thickens as it cools.
Notes
If Provel is not available you can substitute shredded Gouda or shredded white American. The grocery deli can slice you off a small chunk of white American or you can even add chopped slices.
Other recipes you will love!