Bursting with fresh citrus, this Orange Vinaigrette Recipe mixes up quickly and easy with just eight simple ingredients, many of which you may already have on hand. This light tangy vinaigrette is ideal for spring mix salads, spinach salads, or any tender greens where a light, flavorful dressing is desired. I love to drizzle it over spring greens with almonds, gorgonzola, and red onions or avocados stuffed with chicken salad, walnuts, and goat cheese.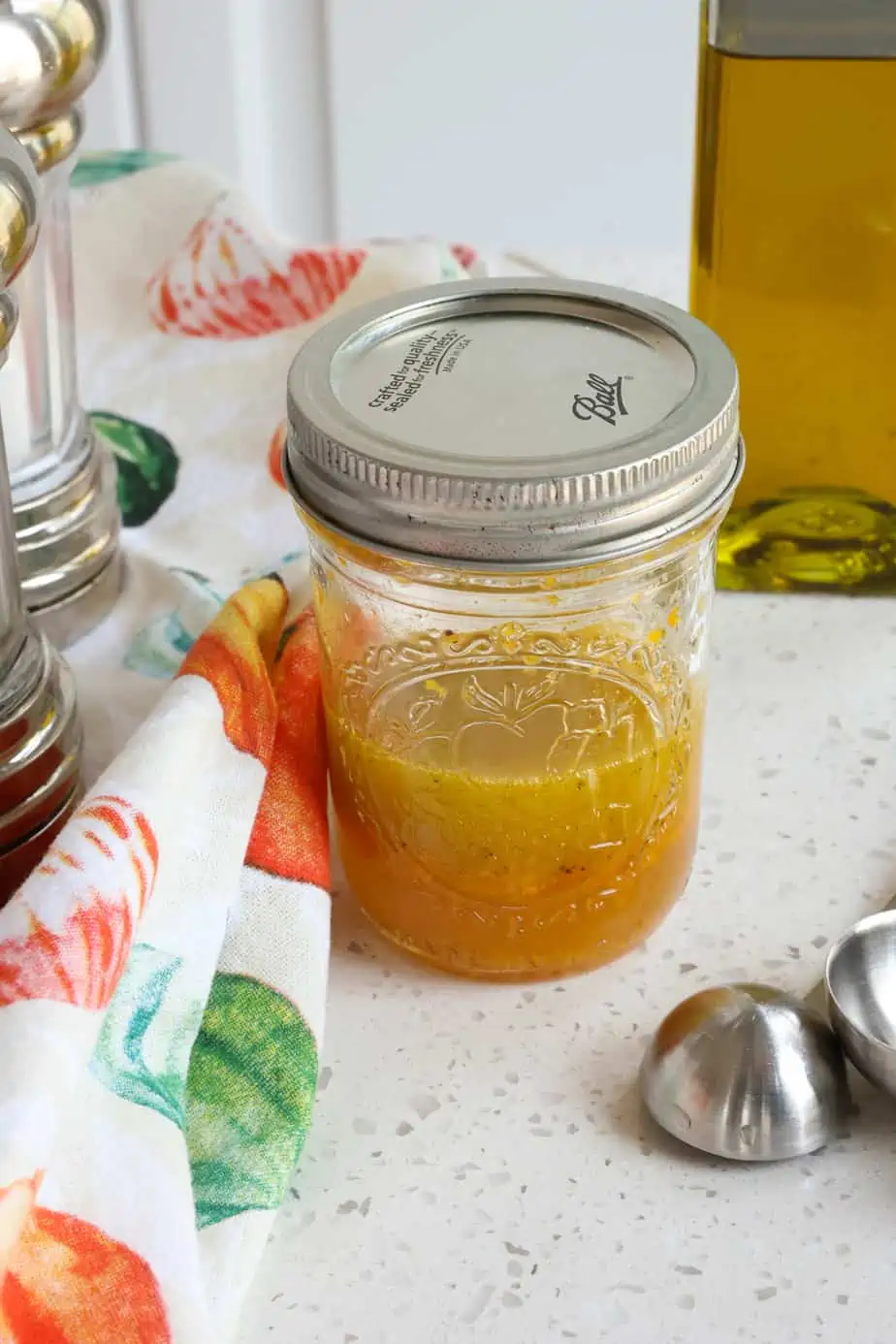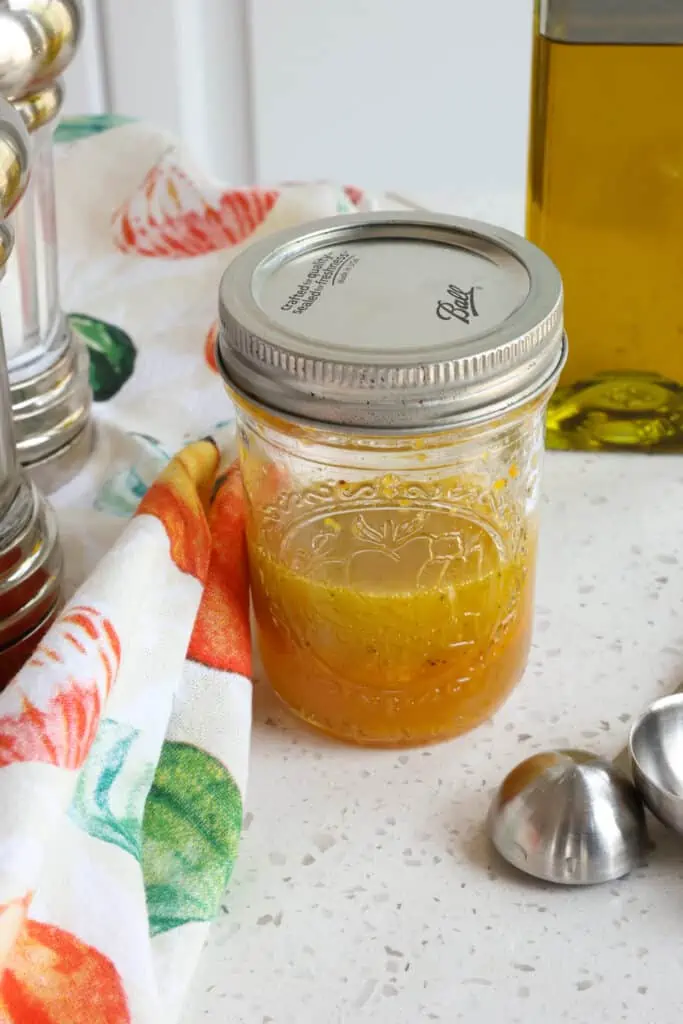 The orange juice and orange zest in this vinaigrette are so refreshing, with just the right pop for so many salads. Try it on fruit salad, berry salad, arugula salad, and strawberry salad. It is so easy to prepare by simply whisking all the ingredients together or combining in a mason jar with a tight-fitting lid and shaking to combine. Add a little garlic and red pepper flakes and use it as a marinade for chicken, fish, vegetables, or shrimp. Just keep in mind that with the orange citrus, 10-15 minutes of marinating time is enough.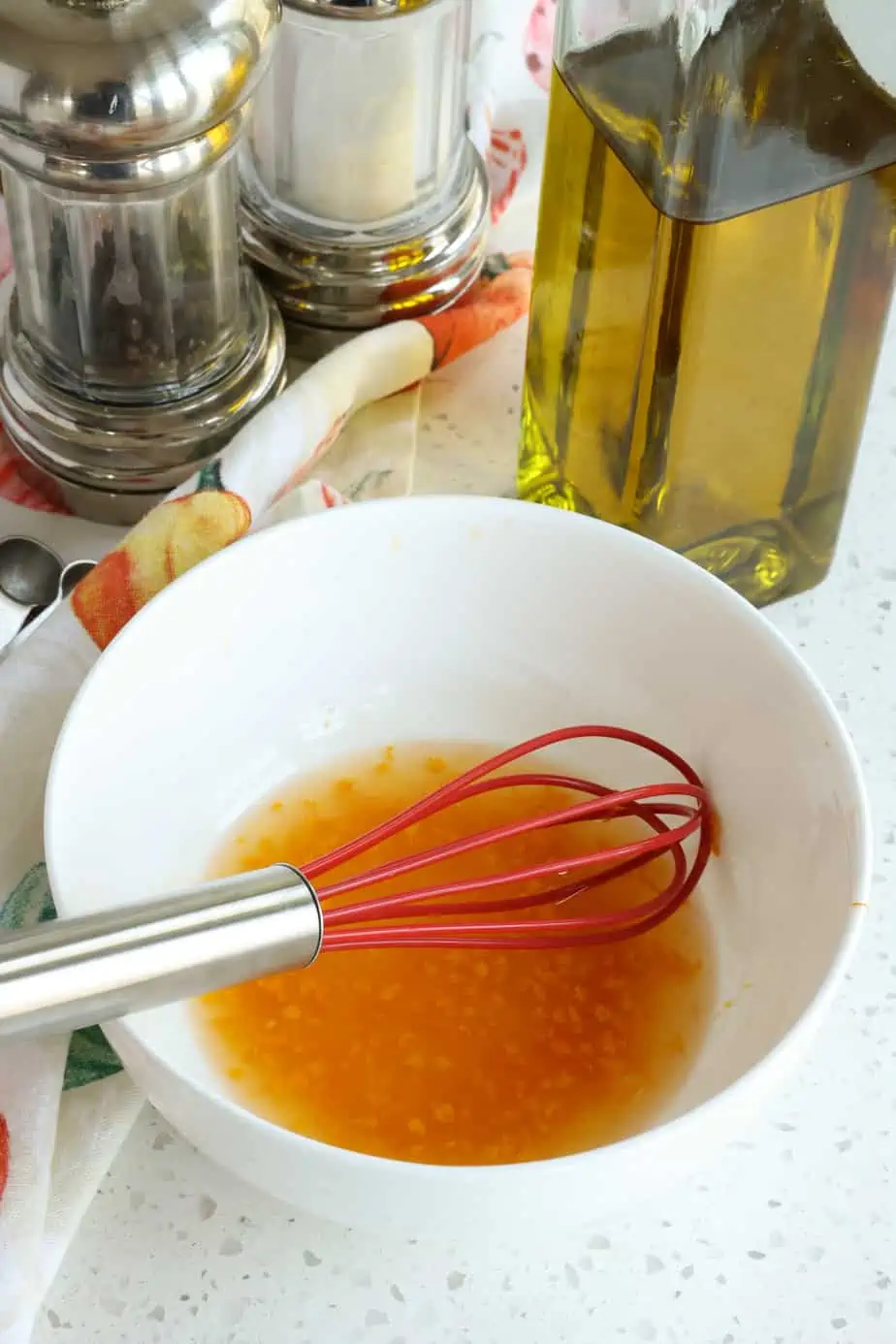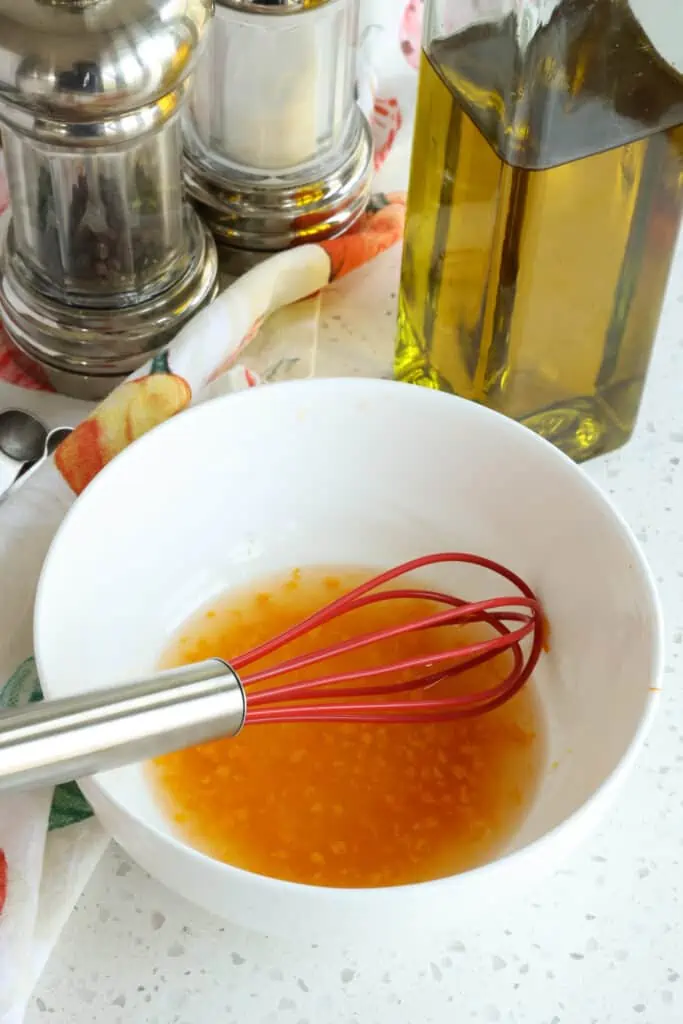 What is in Orange Vinaigrette
It is the simple ingredients in this homemade orange salad dressing that make it taste so good. Just all-natural ingredients that really shine through without additives and preservatives.
Champagne Vinegar – or substitute white wine vinegar
Orange Juice – freshly squeezed is best, and one orange will do the trick.
Orange Zest – use the zest from the orange before you squeeze it
Honey – for a tad of sweetness.
Dijon Mustard – for a little bit of tang
Olive Oil – so it will cling to the greens
Salt and Pepper – to suit your taste, but I love plenty of fresh cracked black pepper.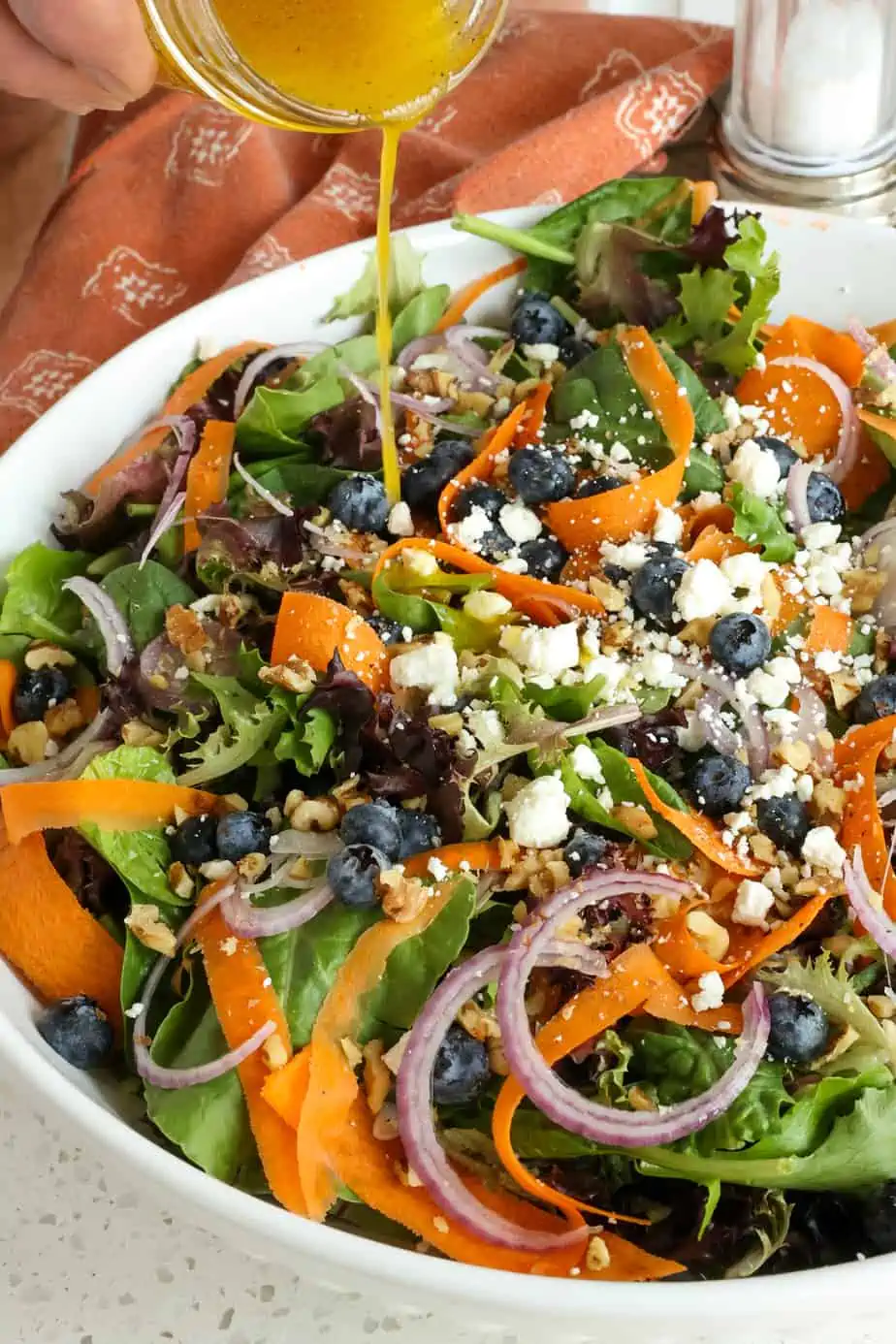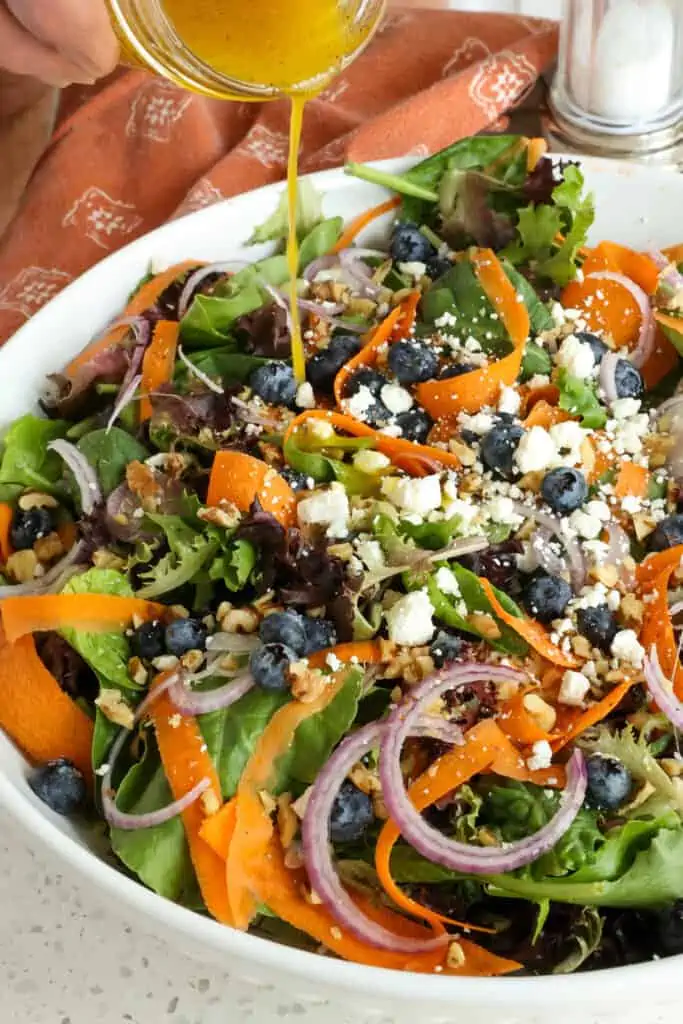 What is the difference between vinaigrette and dressing?
A salad dressing is any liquid mixture that dresses a salad and can most definitely include a vinaigrette. While a vinaigrette is a type of salad dressing in which vinegar and oil are the main components of the dressing.
7 reasons why you should make your own dressing
The ingredients are usually fairly common, with many recipes offering suitable substitutions with only small changes in taste.
You can easily adjust the seasonings to suit yourself.
Most salad dressings take mere minutes to make.
Salad dressing recipes are effortlessly halved or even doubled to accommodate any number of people.
It is considerably less expensive to mix your own salad dressings.
You control the ingredients leaving out all the additives, preservatives, gums, artificial flavors, and artificial colors.
Without a doubt, homemade salad dressing tastes so much better than bottled salad dressing every time.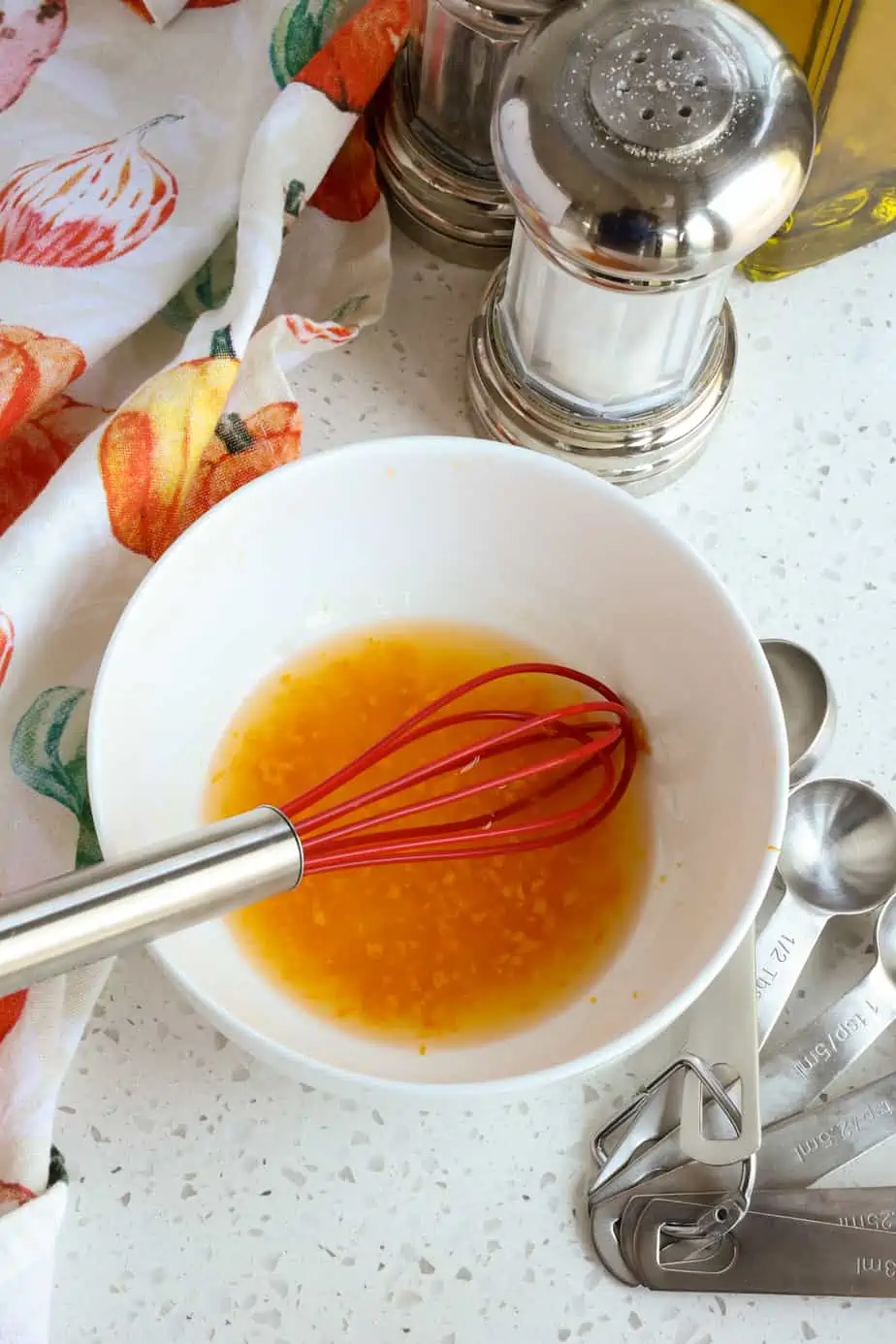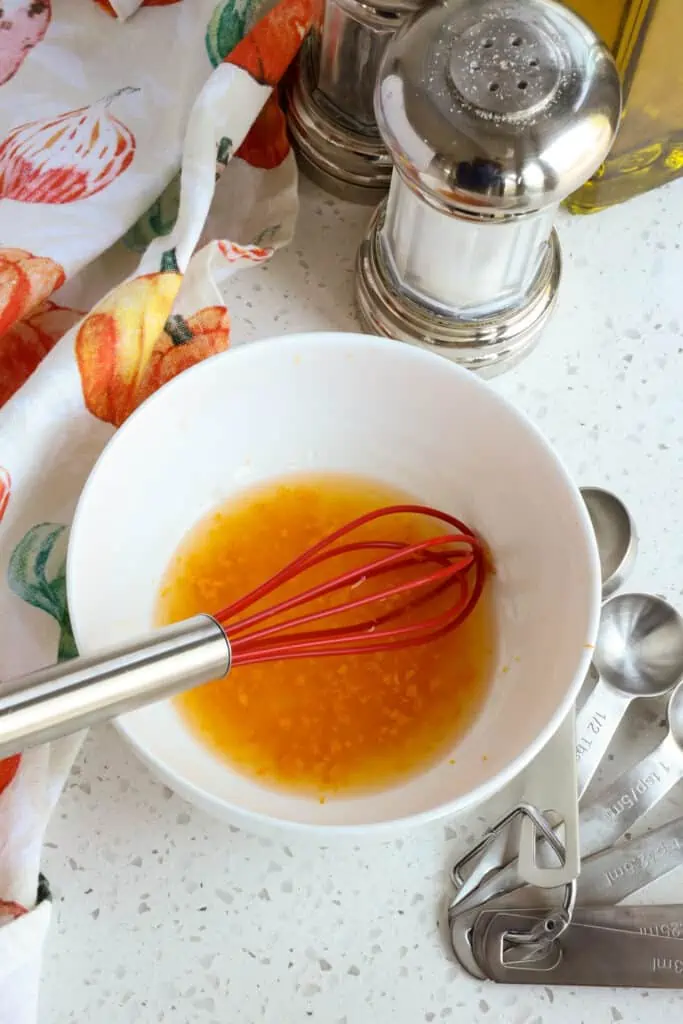 Enjoy these fresh salads!
Print
Orange Vinaigrette
A fresh and tasty homemade Orange Vinaigrette made with fresh orange juice and orange zest in less than five minutes. Enjoy it over your favorite garden greens, fresh steamed asparagus, grilled chicken, sun-ripened peaches, and strawberries.
Author:
Prep Time: 5 minutes
Total Time: 5 minutes
Yield: 1/2 cup
Category: salad dressing/other
Method: whisk and bowl
Cuisine: American
2 tablespoons champagne vinegar (white wine vinegar or apple cider vinegar)
¼ cup orange juice (about the juice from 1 orange)
1 tablespoon orange zest
1 tablespoons honey
2 teaspoons Dijon mustard
⅓ cup extra virgin olive oil
salt and pepper to taste
Instructions
In a small bowl, whisk the champagne vinegar, orange juice, orange zest, honey, Dijon mustard, and a pinch of salt together.
Drizzle in the olive oil slowly while whisking.  Season with salt and pepper to taste.
Store the vinaigrette in an airtight container in the refrigerator. 
Notes
Likewise, you can put all the ingredients in a mason jar with a tight-fitting lid and shake well. 
Keywords: how to make orange vinaigrette, how to make orange vinaigrette dressing, orange vinaigrette recipe
On the hunt for more delicious recipes? Follow Small Town Woman on Facebook, Pinterest, and Instagram.
https://www.smalltownwoman.com/wp-content/uploads/2019/05/Beth-1.pdf