This homemade Yum Yum Sauce Recipe is a delectable savory easy seven ingredient Japanese Hibachi Steakhouse sauce that comes together in less than five minutes.  This delectable sauce is just as tasty as the one you get at those expensive Japanese Hibachi Restaurants at a fraction of the cost.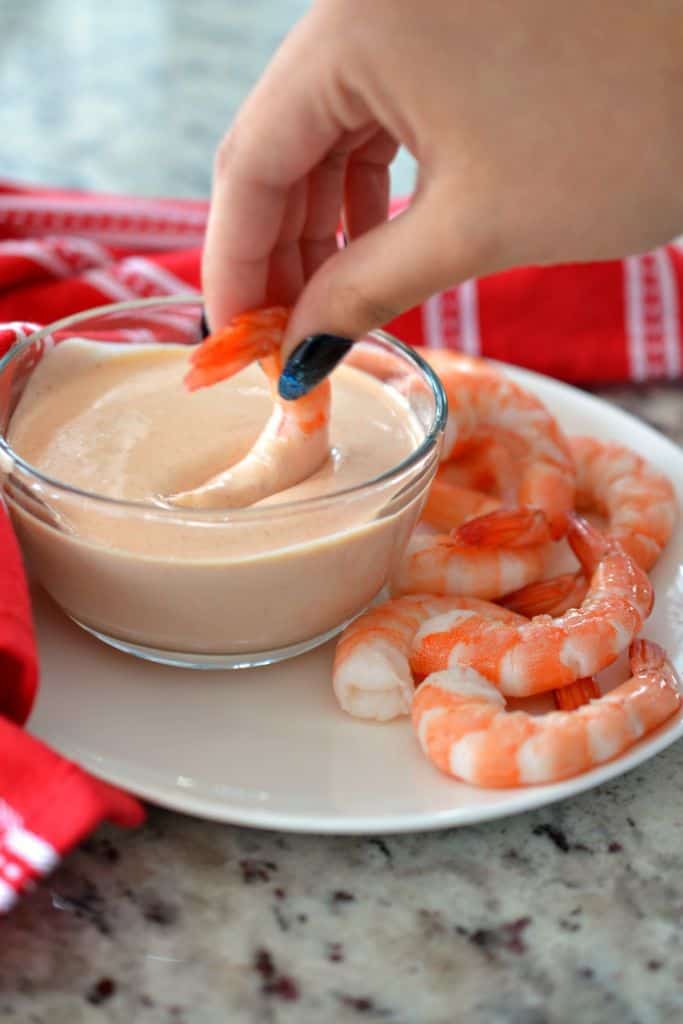 One of our favorite restaurants is a Japanese Steakhouse about twenty minutes from the house.  We love the whole experience from the chef cooking and entertaining us to the delectable fried rice, seafood, crispy cooked vegetables and tender juicy chicken.  My family has a particular fondness for this addictive famous Japanese Steakhouse sauce. We just love to dip our shrimp and fried rice in this tasty sauce.
We can't always go the hibachi grills as much as we would like to. Sometimes it is the weather but most of the time we need to be frugal and watch our budget. You can make this delicious recipe right in your own kitchen at a fraction of the price of dinner at the Japanese Steakhouse. I love dipping my Sweet Pork Dumplings and Easy Basic Chicken Stir Fry in it! So delicious! You are going to love it! This sauce is at its best after one to two days so a little advance preparation is in order.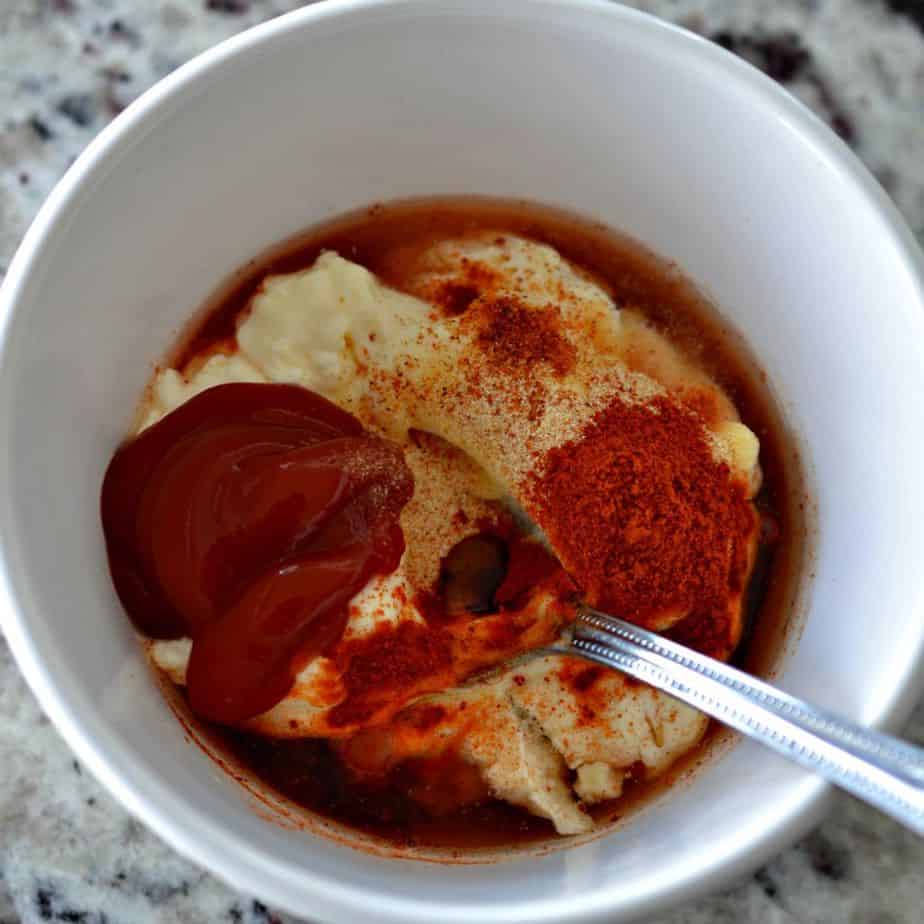 What is Yum Yum Sauce?
Also known as White Sauce, Sakura Sauce, Seafood Sauce, or pale pink sauce this dipping sauce is commonly found in Japanese steak houses.  It takes about five minutes to prepare and its main ingredient is Japanese mayonnaise but if that is not available you can make it with mayo from your local grocery store.  I have had good success with the taste of both Hellmann's and Dukes mayonnaise.   It is so yummy that we enjoy dunking our hibachi vegetables and French fries in it, using it as condiment on our grilled hamburgers, and even as a salad dressing.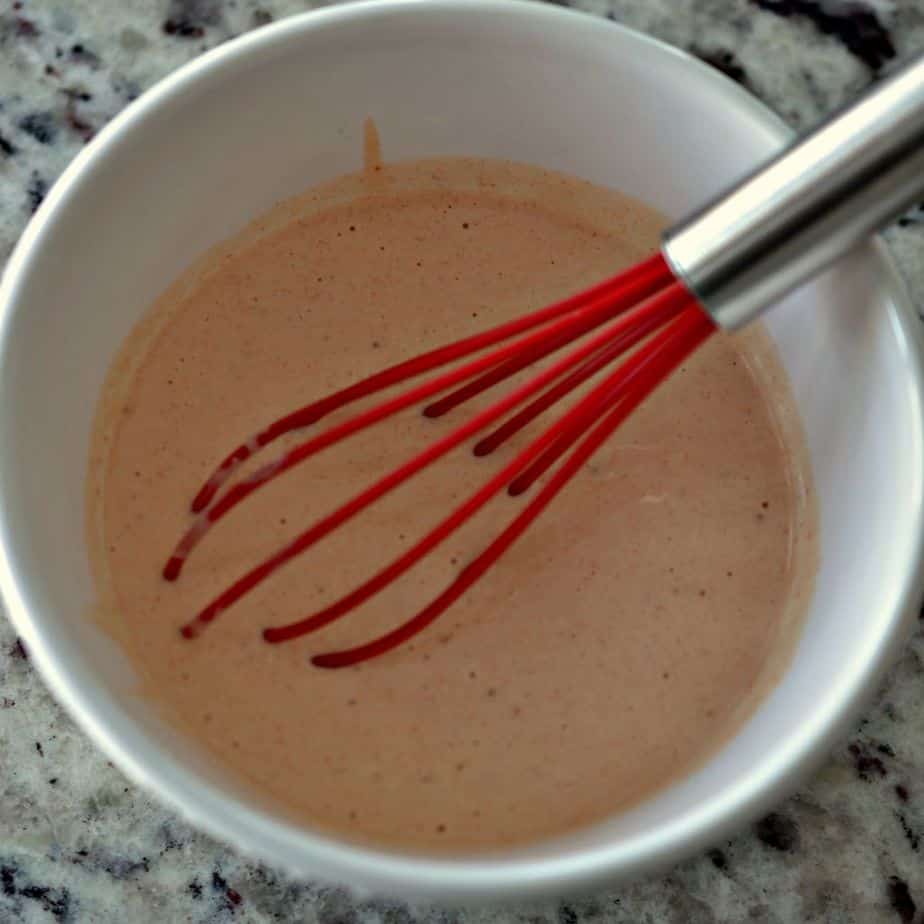 How do you make this sauce?
As I said before this is a five minute fry sauce and shrimp sauce recipe.  Simply grab a bowl and whisk together the mayo, ketchup, rice vinegar, mirin, garlic powder, paprika and water.  It takes a few minutes to whisk it all together and get it smooth.  Just keep going because it will pull together.  Now here is the important part cover and let it sit for a day or two. You can eat it right after you mix it however if you want the flavor to really pop than hold back.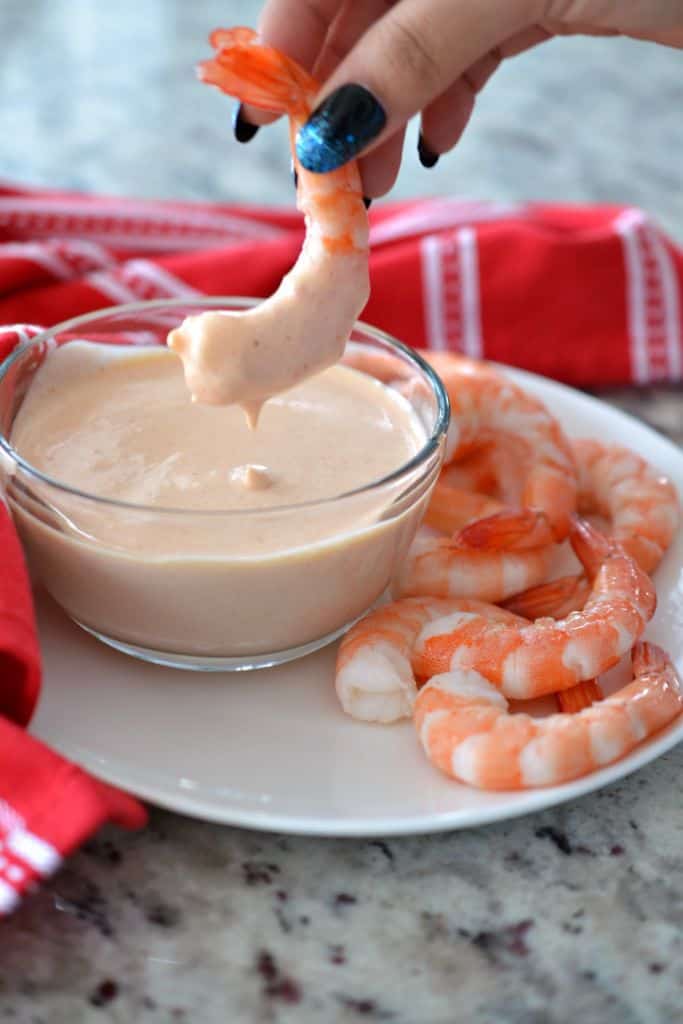 Use it is a dipping sauce for
Sushi
Shrimp
Grilled Chicken
Sweet Potato Fries
Onion Rings
Stir Fry Vegetables
Steak
Stir Fried Rice
Other Asian recipes you will love!
This post was originally published March 6, 2019 and was republished June 24, 2020 with new content.
Print
Yum Yum Sauce
Now you can make your favorite Japanese Hibachi Steakhouse Sauce at home in less than five minutes. Use it for dipping stir fry, pot stickers, fried rice and lo mein dishes.
Author:
Prep Time: 5
Total Time: 5
Yield: 1 cup sauce 1x
Category: sauce
Method: stir
Cuisine: Japanese
1 cup mayonnaise (preferably Japanese mayo like Kewpie)
1 tablespoon ketchup 
1 1/2 teaspoons rice vinegar
1 tablespoon mirin (see notes)
1 teaspoon garlic powder
1/2 teaspoon paprika
2 tablespoons cool water
Instructions
Whisk together mayo, ketchup, rice vinegar, mirin, garlic powder, paprika and water.  Cover and refrigerate for 24 hours.
Notes
As a substitute for mirin mix 1 tablespoon white wine, dry sherry or vermouth with 1 teaspoon sugar.
Tomato pasta can be substituted but you may want to include 1-3 teaspoons of granulated sugar to sweeten it a little.  
Keywords: how to make yum yum sauce, what is yum yum sauce, homemade yum yum sauce, yum yum sauce ingredients
On the hunt for more delicious recipes? Follow Small Town Woman on Facebook, Pinterest, and Instagram.
https://www.smalltownwoman.com/wp-content/uploads/2019/05/Beth-1.pdf