ZUCCHINI GRATIN WITH YELLOW SQUASH IS A DELICIOUS SIDE DISH THAT IS EASY AND QUICK TO PREPARE. IT WILL MAKE A SUMMER SQUASH LOVER OUT OF YOU!
Summer is in full force here and with it comes lots of fresh zucchini and yellow squash. Even if you don't grow it the season brings such an abundance that the market price drops on it consequently making this dish even more desirable. This delectable Zucchini Gratin takes about 15 minutes of your devoted time and then it is in the oven for an additional 15-20 minutes making it very doable for a weeknight meal. This recipe will bring out a passion for zucchini and squash that you never knew you had!
WHAT IS ZUCCHINI
Zucchini is a summer squash. It is native to central America and Mexico but it is grown throughout the United States during the warm summer months. While you may think of zucchini as a vegetable it is actually a fruit. Zucchini and yellow squash are low in calories with a low glycemic index. Both squashes are a good source of vitamins A and C, fiber and potassium and they make a great zucchini gratin.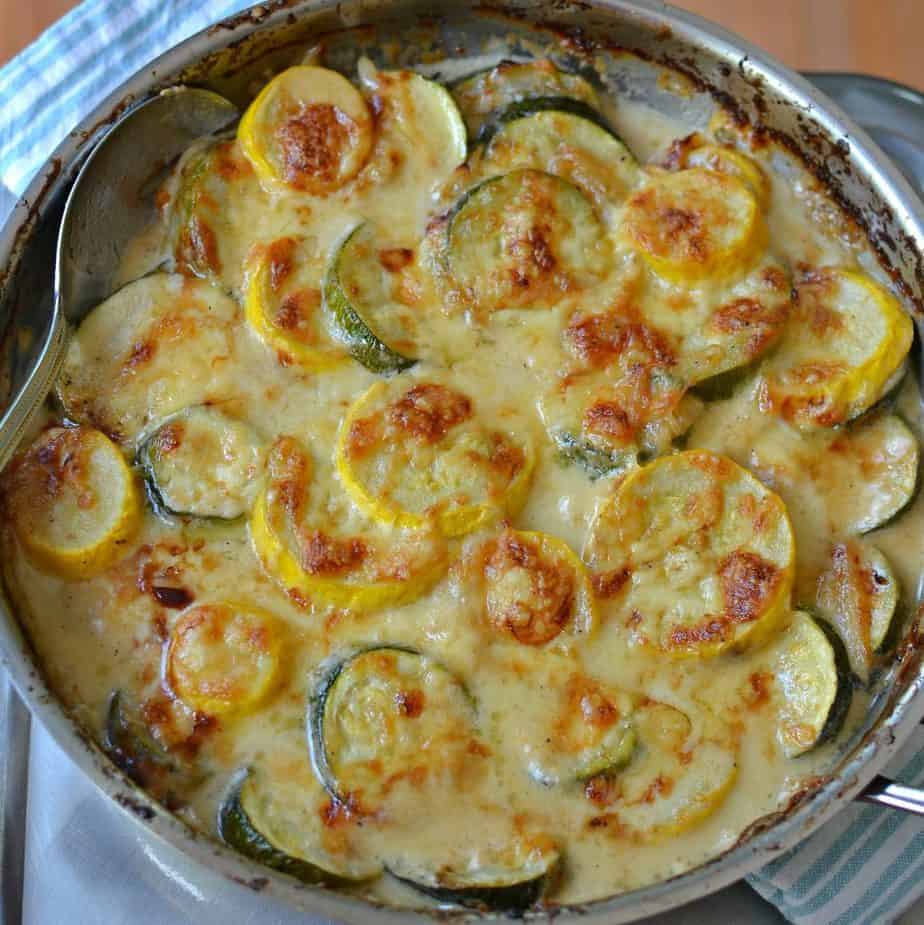 HOW TO MAKE ZUCCHINI GRATIN!
This delectable recipe could not be any easier! Using an ovenproof skillet melt the butter and add the onion. Saute until the onion is slightly soft and browned on the edges. Add the garlic and cook one more minute. Add cream and simmer until bubbly and slightly thickened. Slowly stir in Parmesan then add zucchini and yellow squash and cook for a few more minutes. Sprinkle with Gouda and bake for 15-20 minutes.
So easy and so delicious. It is amazing what happens to a veggie after you bake it in a bath of cream and cheese. Oh yeah don't forget to give credit to the garlic! As if that isn't enough there is a blanket of smoked gouda on the top to create the most delectable squash dish ever!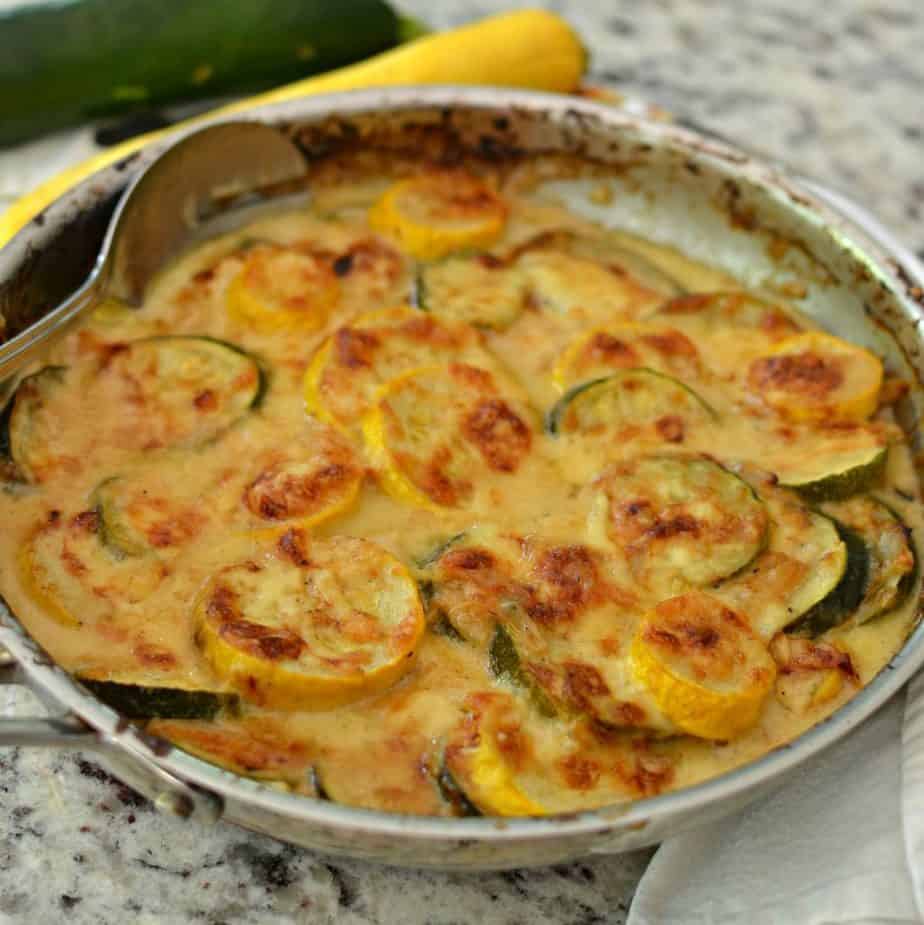 MORE ZUCCHINI RECIPES YOU WILL LOVE!
This post was originally published September 7, 2015 and was republished July 16, 2018.
Zucchini and Yellow Squash Au Gratin
Ingredients
2 tablespoons butter
1/2 onion thinly sliced
1 zucchini sliced in rounds 1/8 to 1/4 inch thick
1 yellow squash sliced in rounds 1/8 to 1/4 inch thick
2 large cloves garlic minced
1/2 cup heavy cream
1/4 cup parmesan
1 cup shredded smoked gouda
Instructions
Preheat oven to 450 degrees
Melt butter in oven proof skillet over medium heat. Add onion and cook until the edges start to brown approximately 5 minutes. Add garlic and cook for additional 1 minute. Add cream and simmer until bubbly and starting to thicken. Slowly stir in parmesan. Add zucchini and yellow squash and cook an additional 4-5 minutes.
Sprinkle with smoked gouda and bake in the oven for 15-20 minutes or until cheese is golden brown.
https://www.smalltownwoman.com/zucchini-and-yellow-squash-au-gratin/