Beef Bulgogi is a Korean dish with thin slices of steak marinated to perfection and grilled over high heat, producing delectable, crispy edges on tender slices of beef.
Just made this again and my darling daughter said "The house smells so good, just like an Hibachi steakhouse."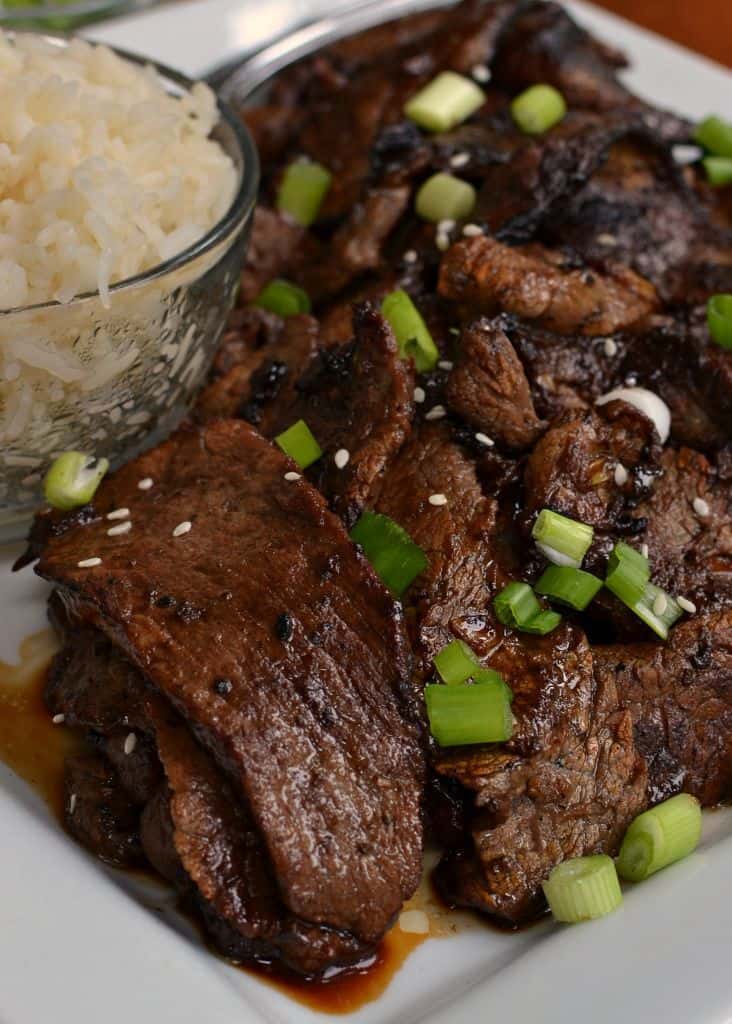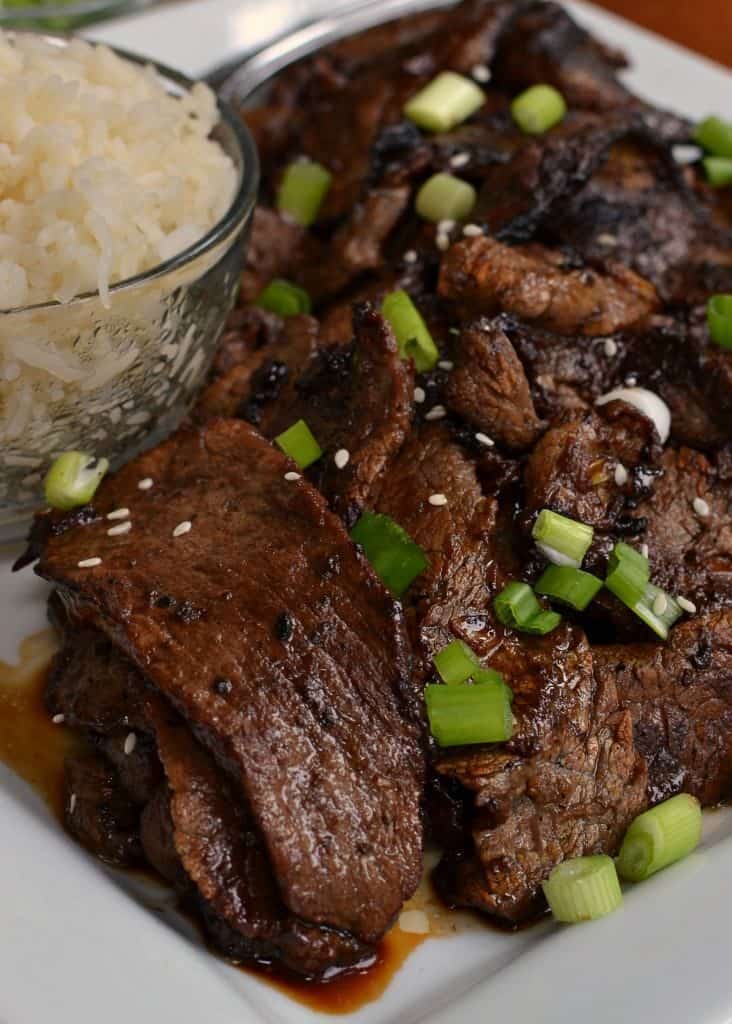 I just cannot express to you just how wonderful this Beef Bulgogi is and with a little preparation, it is  quick and easy.  You can use other cuts of beef besides flank steak to make this tasty recipe.  Sirlon, tenderloin, petite shoulder or any good cut of marbled beef will work.  The beef marinates for at least one hour and then I grill it at a high heat or flash fry in a little bit of hot oil in my cast iron skillet.
Traditional Ways to Serve Beef Bulgogi
Serve with a bowl of steamed rice.
Add onions, peppers, mushrooms and carrots to the skillet with the beef.
Serve in lettuce wraps with Korean sticky rice and kimchi (spicy pickled cabbage)
Serve with Korean cucumber salad and noodles with kimchi.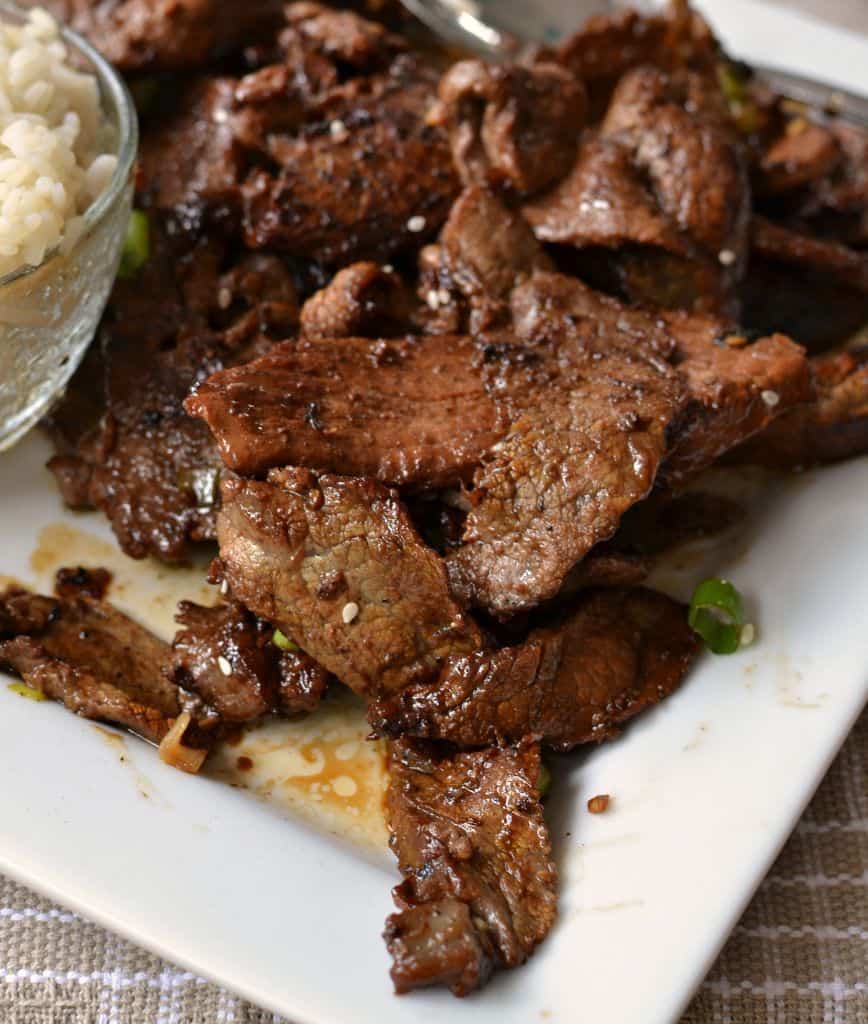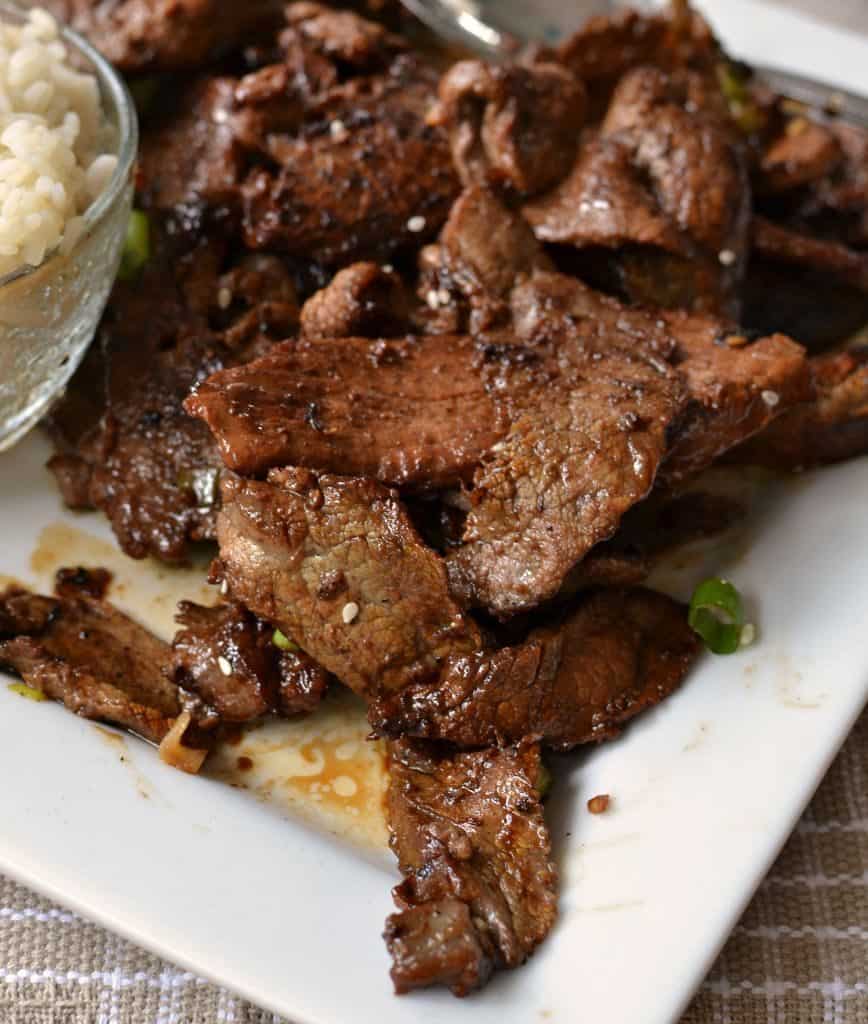 How to Make Beef Bulgogi
Slice beef as thin as you can.  Freezing for a couple of hours helps with this. Place beef in large ziploc bag and add soy sauce, brown sugar, minced garlic, sesame oil, black pepper, grated pear and green onions. Marinate for one hour up to overnight.
Heat cast-iron skillet or grill (you will need a small grate so the beef does not fall through) to medium-high heat.  Add 1-2 tablespoons of oil to the skillet or brush grill grate with oil.  Remove beef from marinade with tongs to drain marinade.  Arrange beef in single layer and do not crowd. Cook beef in small batches resisting the urge to turn it until it is seared and crispy about 1-2 minutes.  Serve immediately.
Helpful Hints to Make This Beef Bulgogi Recipe Epic!
Make sure you slice the beef as thin as possible so it cooks fast and gets crispy on the edges.
Use tongs to remove the beef from the marinade, draining as much as you can as this helps the beef cook properly.  You want the beef to sear not boil.
Resist the urge to turn the beef too soon or more than once therefore really searing it and getting it just perfect.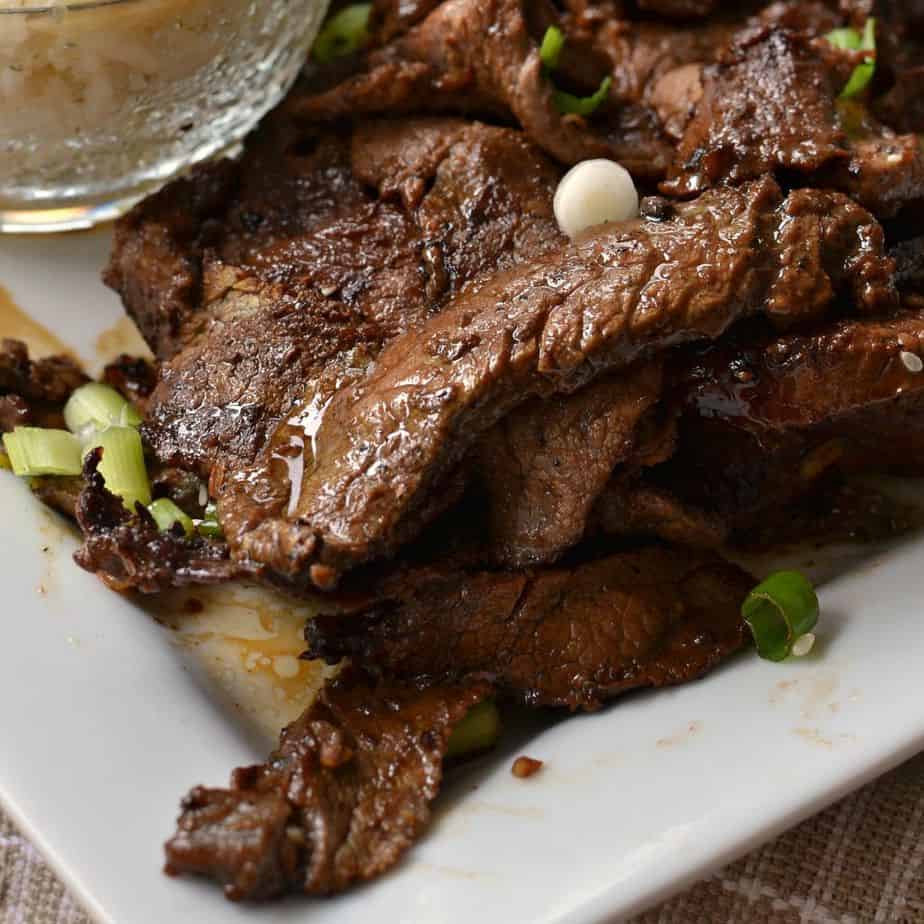 This bulgogi steak recipe will quickly become one of your favorite recipes.  It is dependable, easy and amazingly delicious!
More Beed Recipes You'll Love:
Print
Beef Bulgogi (Korean Beef)
Beef Bulgogi is a Korean dish with thin slices of steak marinated and grilled. Best served with steamed or fried rice, or as a filling in burritos or wraps.
Author:
Prep Time: 10 minutes
Cook Time: 10
Total Time: 20 minutes plus marinating time
Yield: 4
Category: Beef
Method: Stovetop
Cuisine: Korean
1 lb. flank steak very thinly sliced
1/3 cup low sodium soy sauce
2 1/2 tablespoons brown sugar
4 cloves of garlic minced
2 tablespoons sesame oil
1/3 teaspoon fresh ground black pepper
1/3 cup chopped green onion (reserve two tablespoons to sprinkle on top)
1 grated asian or red pear (see notes)
Canola oil
Instructions
Place steak in large Ziploc bag. Add soy sauce, brown sugar, garlic, sesame oil, pepper, green onion and pear. Marinate for at least one hour up to overnight.
Add 1 tablespoon oil to cast iron skillet over medium high heat. Using tongs remove beef from marinade and place in skillet in single layer. Cook for 1-2 minutes per side or until browned and slightly crispy on the edges. Add more oil when necessary. Work in batches; plating the meat after it is done. Serve immediately.
Notes
Asian pears and red pears can be hard to find. You can sub any ripe pear if necessary.
Keywords: BEEF BULGOGI, BEEF BULGOGI MARINADE, BEEF STEAK, DINNER, KOREAN BEEF, KOREAN BEEF BULGOGI, SEARED BEEF
https://www.smalltownwoman.com/wp-content/uploads/2019/05/Beth-1.pdf