These sumptuous Marinated Herb Butter T Bone Steaks are bathed in an easy to prepare red wine ginger marinade, grilled to perfection and then topped with a garlic herb butter.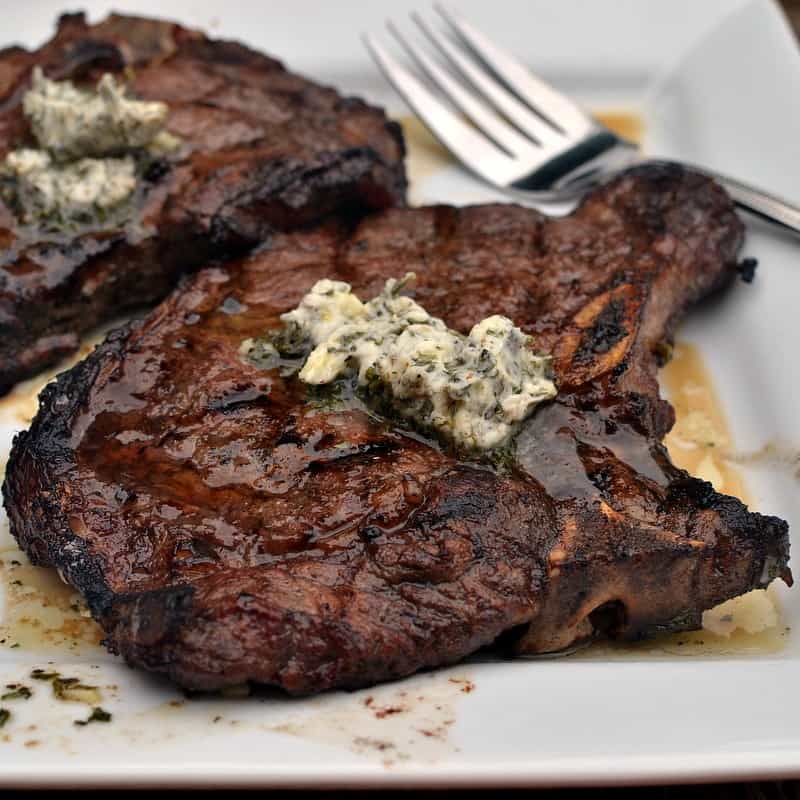 I love love love steak.  Are you a a carnivore like myself? I just love the idea of sinking my teeth into a thick juicy steak. I made these Marinated Herb Butter T Bone Steaks yesterday. Made them with the intention of saving mine till my husband got home from work.  Well needless to say that did not happen. My intentions were good.  I thought I will have one small bite and cover it back up with foil.  Well then I made another agreement with myself.  I will have one more small bite and step away.  I bet you know how this story ends.  They are so good that I just could not resist.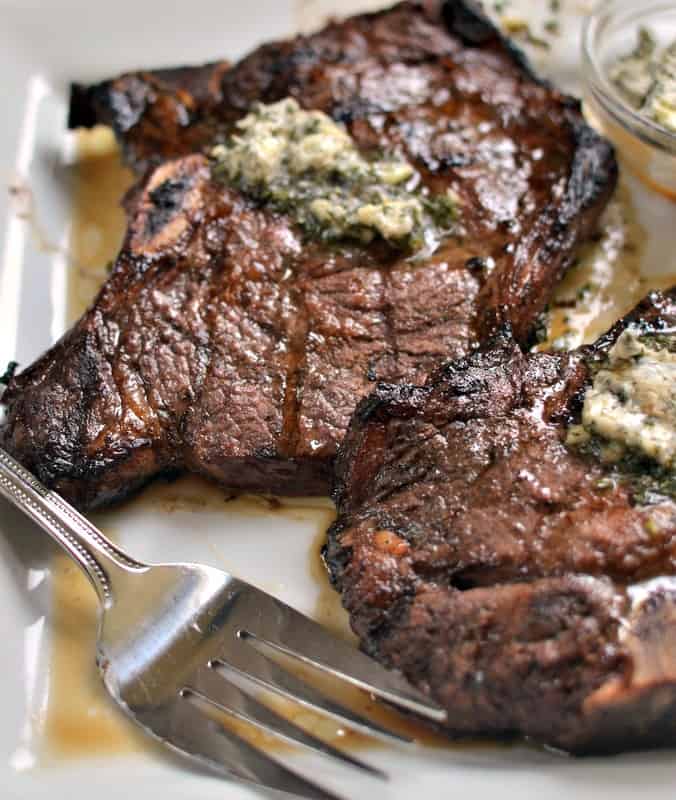 These Marinated Herb Butter T Bone Steaks are marinated in a bath of wine, soy sauce and ginger, grilled to perfection and topped with a perfect blend of herbs and butter.  Of course I used t-bones because they are one of my favorites but you could use Filet Mignon, New York Strip, Porterhouse, Ribeye or even Petite Shoulder.  These are all great cuts of beef.  Did you know that the T Bone consists of two lean tender cuts of beef, the tenderloin and the strip.   You can learn more about different cuts of beef at Certified Angus Beef.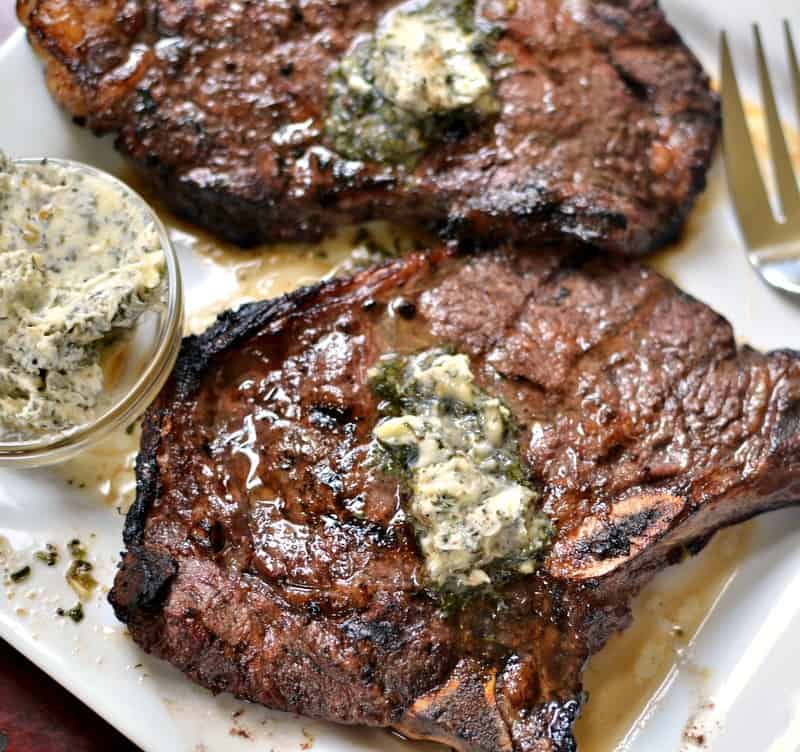 How to Cook T Bone Steaks
Leave steaks in the marinade for about one hour turning in the marinade several times.
Scrape grill grate and brush lightly with cooking oil before heating.
Get half of the the grill good and hot and sear the steaks. Don't flip them until they are golden brown and slightly crispy on the edges. Sear both sides.  Then move the steaks off to the side (over indirect heat) until desired doneness.
Use tongs to turn them.  You don't want to pierce them with a fork and have all those wonderful juices wasted in the bottom of the grill.
Remove from grill and cover loosely with aluminum foil and allow to rest for ten minutes. Apply herb butter and serve.
How do you make Herb Butter for T Bone steaks?
Herb butter adds so much to your t-bone steak recipe and it is so easy to make. Simply mix together butter, onion powder, garlic, oregano, basil, parsley and chives.  You can use fresh or dried herbs. You can prepare in advance and refrigerate.  Just take the butter out of the fridge about 30-40 minutes in advance. So what you are waiting for? Grilling season is here and before you know the season will have turned.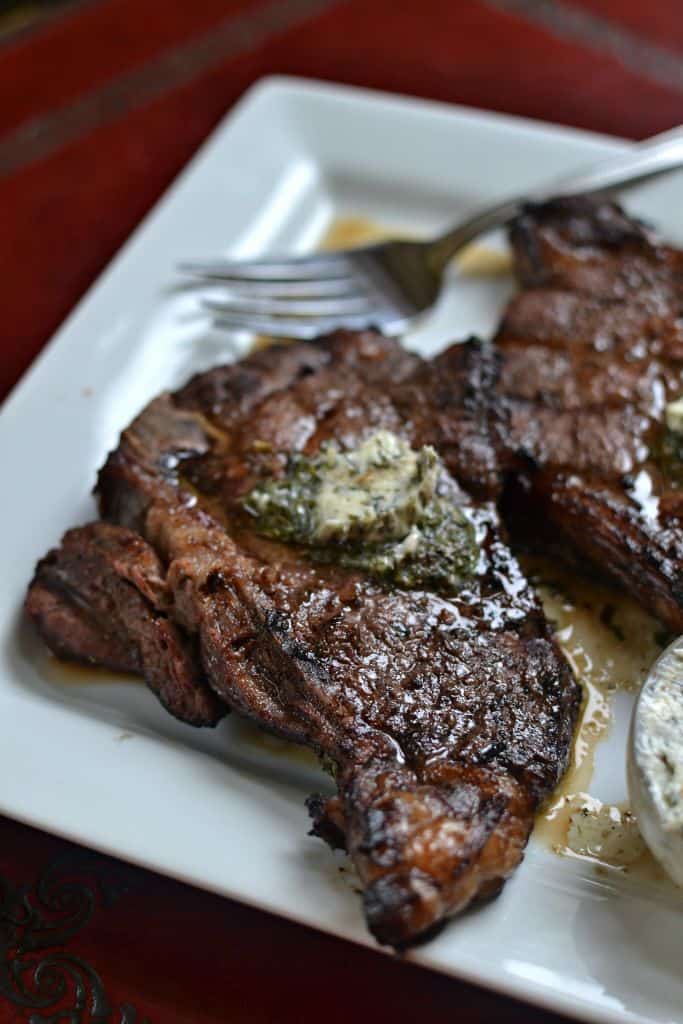 Other delicious beef recipes you will love!
This post was originally published May 28, 2017 and was republished July 26, 2019 with new content.
Print
Marinated Herb Butter T Bone Steaks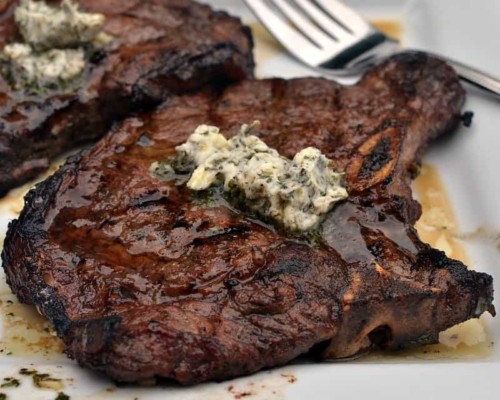 Get ready for to make tender marinated steaks grilled to perfection and topped with an easy to make garlic herb butter.
Author:
Prep Time: 10
Cook Time: 10
Total Time: 20 minutes
Yield: 4 steaks 1x
Category: main meal beef
Method: grill
Cuisine: American
Scale
Ingredients
4 t-bone steaks
1 cup dry red wine
3 tablespoons low sodium soy sauce
2 tablespoons Worcestershire sauce
1 tablespoon fresh grated ginger
1 stick butter (1/2 cup) softened
1/2 teaspoon onion powder
2 cloves garlic minced
1 teaspoon dried oregano
1 teaspoon dried basil
1 tablespoon dried parsley
2 teaspoons dried chives
Instructions
In large Ziploc bag add steaks, wine, soy sauce, Worcestershire, and ginger. Place in refrigerator and turn every fifteen minutes for one hour.
In medium bowl stir together butter, onion powder, garlic, oregano, basil, parsley and chives.
Preheat grill and cook to desired liking. Top with one tablespoon butter during last minute of cooking. Remove, cover and plate for ten minutes. Top with another tablespoon of butter right before serving.
Keywords: marinated steak, grilled t-bone, grilled steak
https://www.smalltownwoman.com/wp-content/uploads/2019/05/Beth-1.pdf