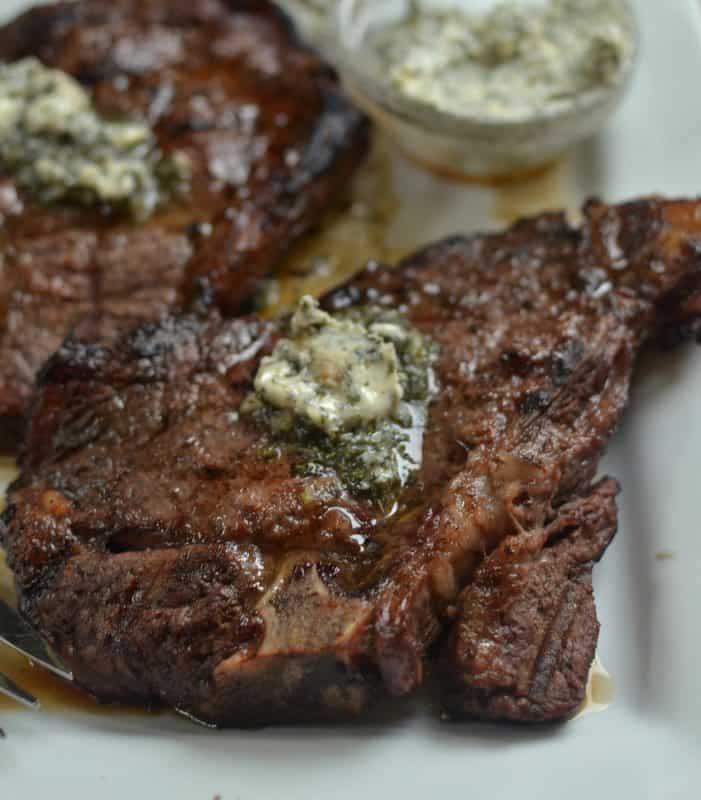 I love love love steak. Are you a a carnivore like myself? I just love the idea of sinking my teeth into a thick juicy steak. I made these Marinated Herb Butter T-Bone Steaks yesterday. We food bloggers have to cook everything while there is sill plenty of daylight. Made them with the intention of saving mine till my husband got home from work. Well needless to say that did not happen. My intentions were good. I thought I will have one small bite and cover it back up with foil. Well then I made another agreement with myself. I will have one more small bite and step away. I bet you know how this story ends. They are so good that I just could not resist.
Have you tried any of my other beef recipes? Beef Tenderloin Red Pepper Rumaki, Dutch Oven Barbecue Beef Brisket, Beef Petite Shoulder with Pan Gravy and Beef Lo Mein are just a few of my favorites. There are so many great cuts of beef and wonderful recipes circling in my head. There are so many greats sides for a good cut of beef. Of course the first one that comes to mind is potatoes. They just go together like Fred and Ginger. I hope I am not dating myself with that comment. Can you imagine some Cream Cheese and Chive Stuffed Red Potatoes or Parmesan Herb Potatoes with that big juicy steak? I can clearly imagine it.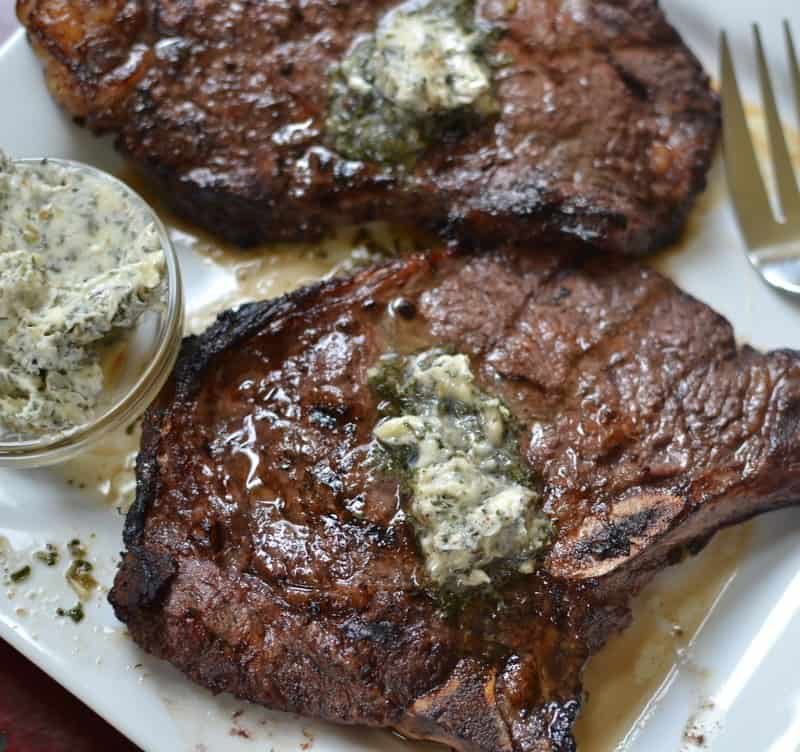 These Marinated Herb Butter T-Bone Steaks are marinated in a bath of wine, soy sauce and ginger, grilled to perfection and topped with a perfect blend of herbs and butter. Of course I used T-bones because they are one of my favorites but you could use Filet Mignon, New York Strip, Porterhouse, Ribeye or even Petite Shoulder. These are all great cuts of beef. Did you know that the T-Bone consists of two lean tender cuts of beef…the tenderloin and the strip. You can learn more about different cuts of beef at Certified Angus Beef.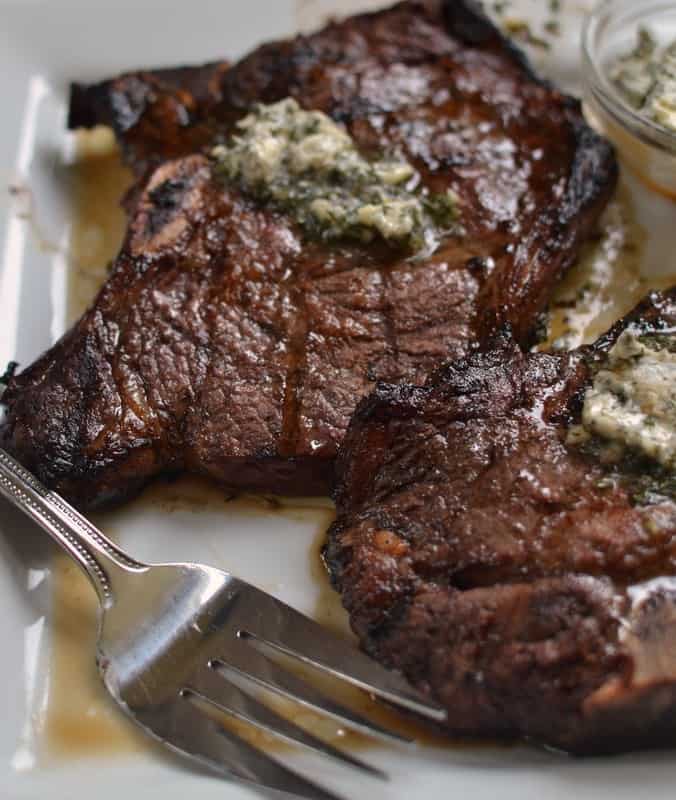 So what are you waiting for? Grill yourself and your loved ones the steak of their dreams. How does the slogan go? "Beef. It's What's For Dinner"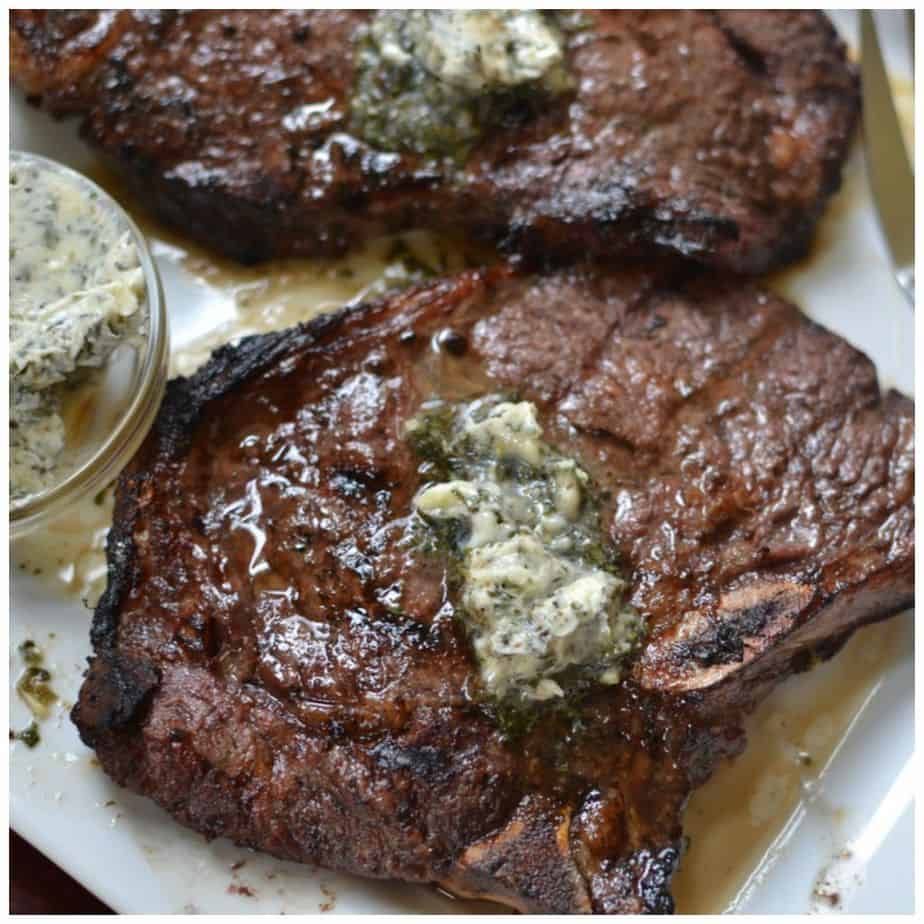 Marinated Herb Butter T-Bone Steaks
Ingredients
4 t-bone steaks
1 cup dry red wine
3 tablespoons low sodium soy sauce
2 tablespoon Wocestershire sauce
1 tablespoon fresh grated ginger
1 stick butter (1/2 cup) softened
1/2 teaspoon onion powder
2 cloves garlic minced
1 teaspoon dried oregano
1 teaspoon dried basil
1 tablespoon dried parsley
2 teaspoons dried chives
Instructions
In large Ziploc bag add steaks, wine, soy sauce, Worcestershire, and ginger. Place in refrigerator and turn every fifteen minutes for one hour.
In medium bowl stir together butter, onion powder, garlic, oregano, basil, parsley and chives.
Preheat grill and cook to desired liking. Top with one tablespoon butter during last minute of cooking. Remove, cover and plate for ten minutes. Top with another tablespoon of butter right before serving.
https://www.smalltownwoman.com/marinated-herb-butter-t-bone-steaks/
Other delicious beef recipes you will love!