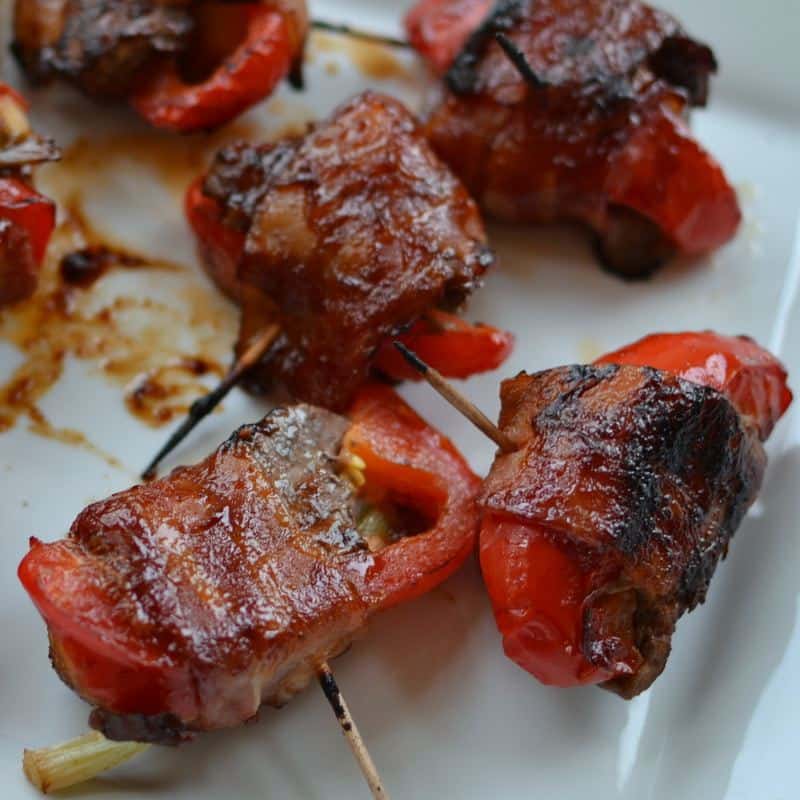 These little beauties are perfect appetizers!  PERFECT!  They will do for a holiday party or for a birthday party, 4th of July (you could cook these on the grill), or even a Thanksgiving appetizer.  Love them so much that you could even cook them and make them a romantic meal for two!! How sweet would that be?  These Beef Tenderloin Red Pepper Rumaki may be the most delectable appetizer ever!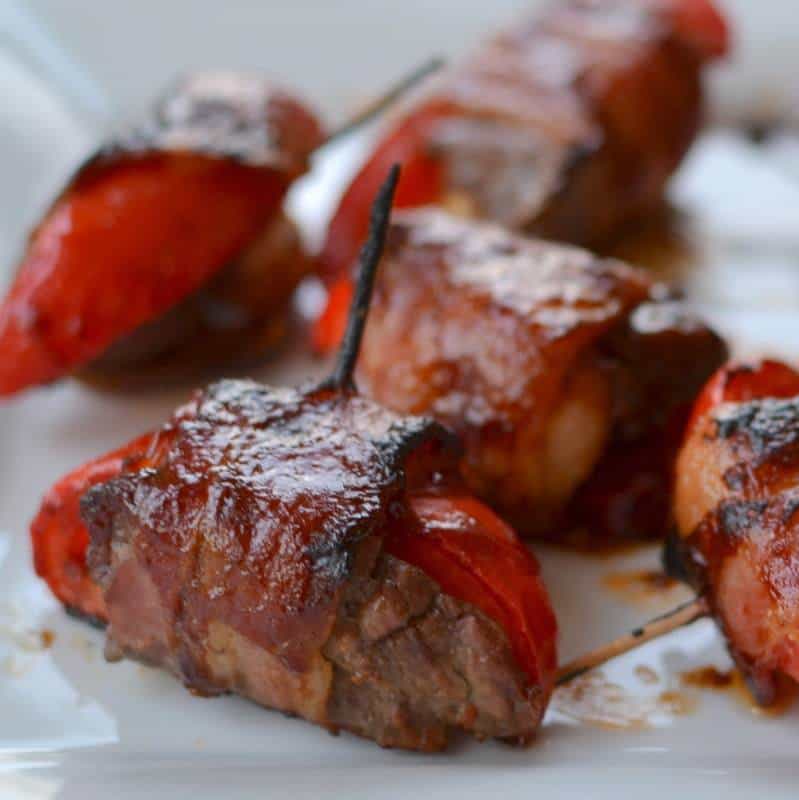 So you ask what is Rumaki?   Well traditional Rumaki combines chicken liver, water chestnuts and bacon in a soy sauce sweetened with brown sugar or ginger.  Well my recipes are not always traditional!   Sometimes you just got to add your own swing and swagger!!   Plus I really don't like chicken livers!  This Beef Tenderloin Red Pepper Rumaki combines succulent beef tenderloin, sweet red bell peppers, water chestnuts and green onions in the most savory sweet ginger Asian sauce ever.  They are easy and quick to prepare and can be wrapped ahead of time.  Sometimes hubby and I just make a meal out of them!!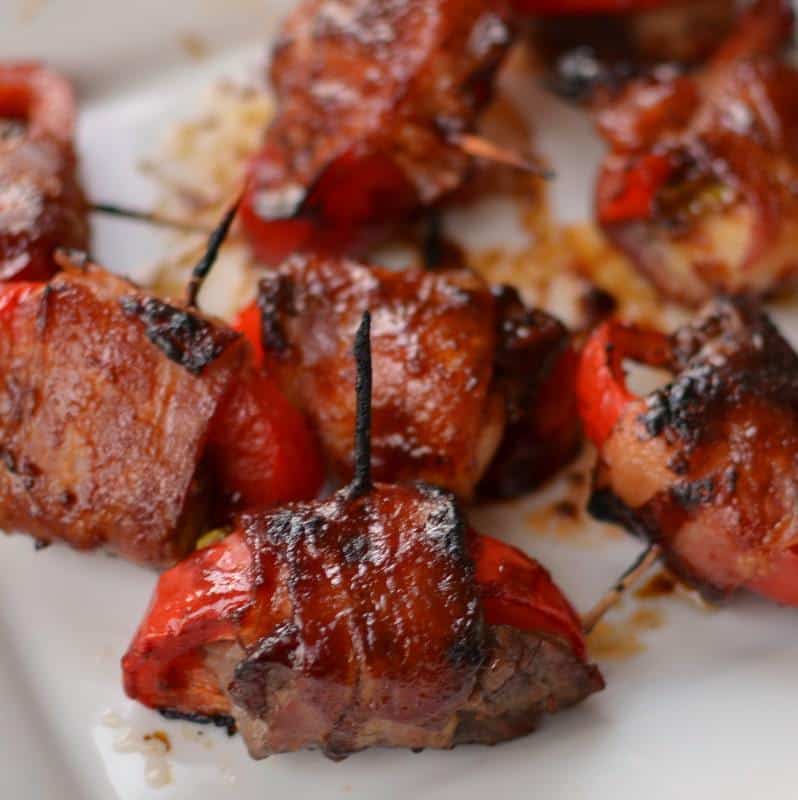 I hope that you and your loved ones enjoy these as much as we do.  They are perfect for any occasion!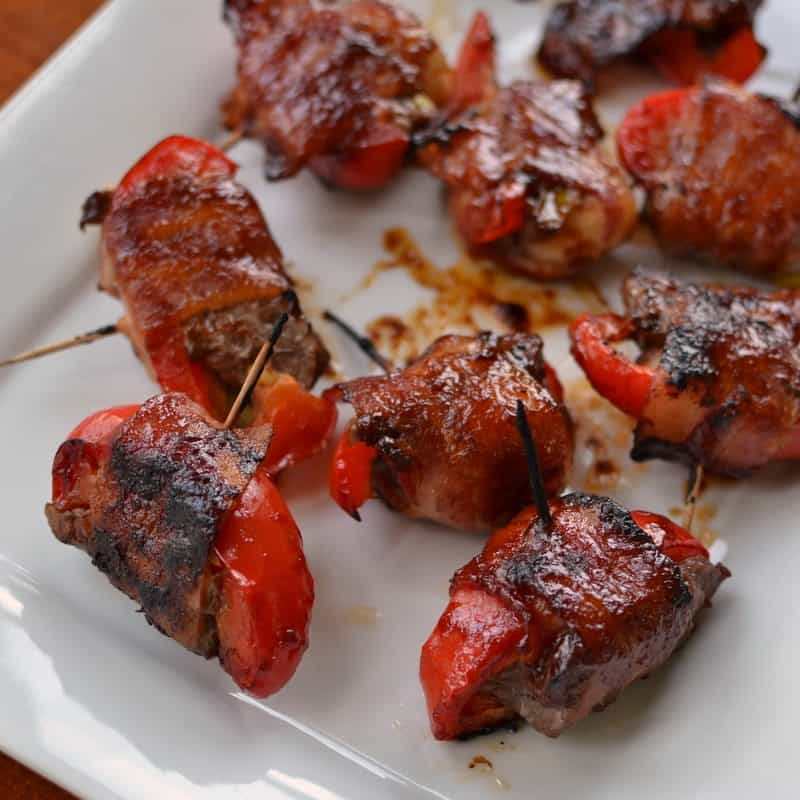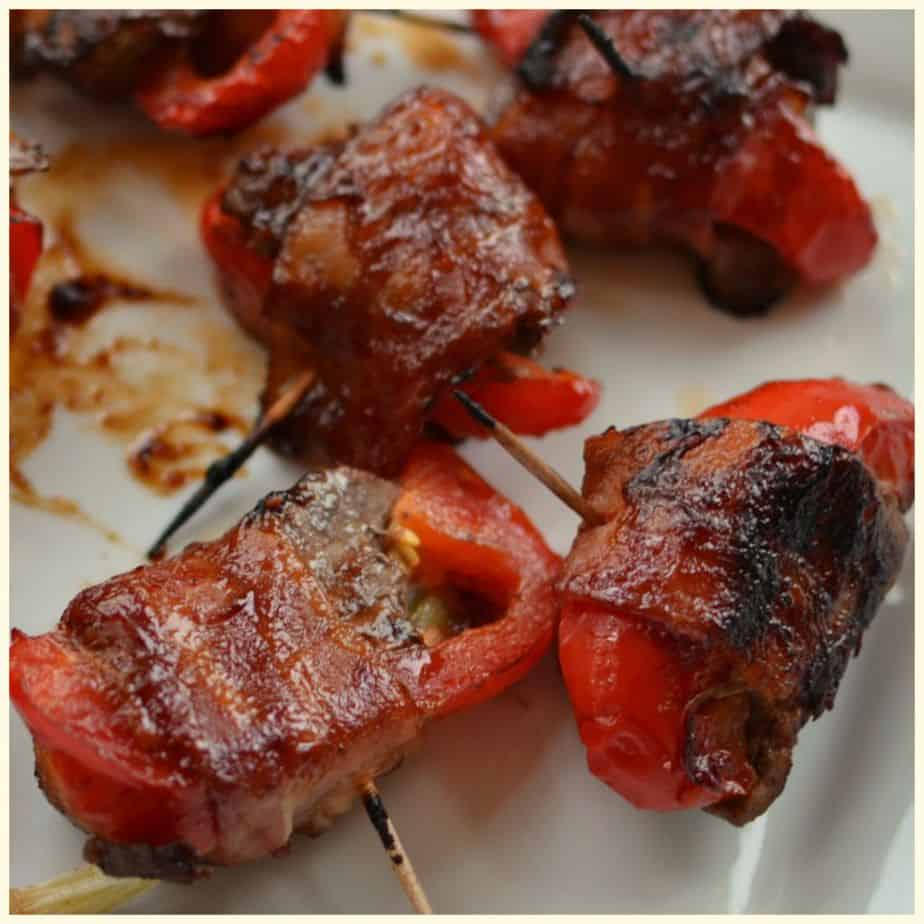 Print
Beef Tenderloin Red Pepper Rumaki
Scale
Ingredients
1/3 cup soy sauce
2 tablespoons Worcestershire sauce
1 tablespoon fresh ginger
1/4 teaspoon garlic powder
1/3 cup water
1 1/2 tablespoons honey
2 tablespoon ketchup
3/4 lb beef tenderloin cut into 12 large bite size pieces
1 small red pepper cored seeded and cut into 12 long strips
1 (8 ounce) can whole water chestnuts
6 slices uncooked hardwood smoked bacon sliced in half
6 green onions trimmed & cut in half
Toothpicks
Instructions
Preheat oven to 400 degrees. Cover large baking sheet with aluminum foil and spray with nonstick cooking spray. I use olive oil.
Combine soy sauce, Worcestershire sauce, ginger, garlic powder, water, honey and ketchup in small saucepan. Simmer over low heat for 10 minutes.
Wrap one piece of red pepper, one water chestnut, one piece of green onion and one piece of beef with half slice of bacon. Secure with toothpick. Repeat until all are wrapped.
Place on cookie sheet and bake ten minutes. Remove from oven, gently turn and baste with soy/ginger marinade. Place back in oven for 8-10 minutes. Remove and baste. Repeat until bacon is good and crispy; approximately 30 minutes.
Notes
For added crispiness you can turn on the broiler the last minute of cooking but broilers are unpredictable to keep a close eye on them.
https://www.smalltownwoman.com/wp-content/uploads/2019/05/Beth-1.pdf