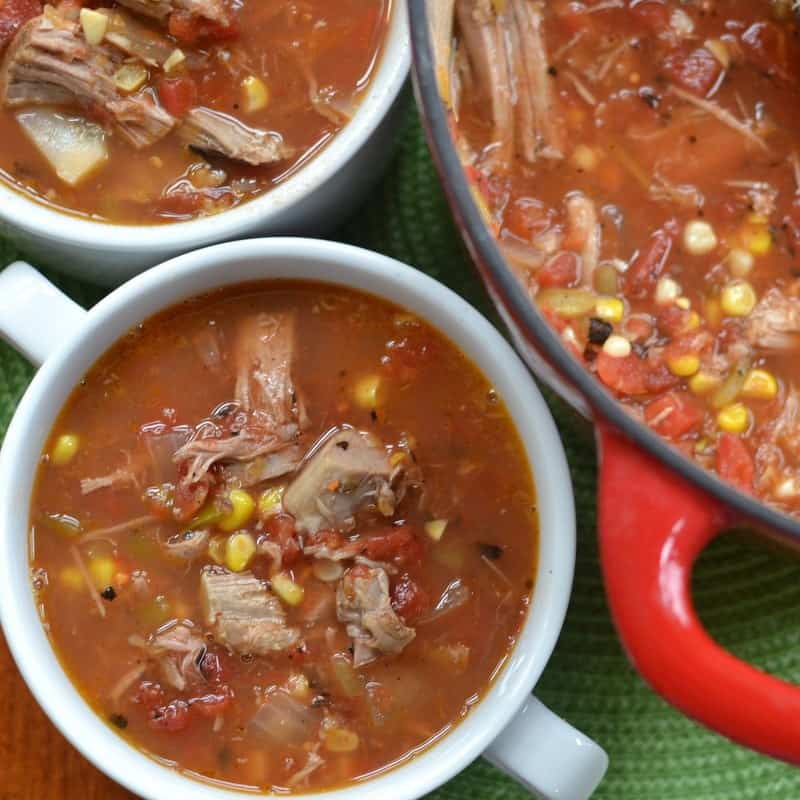 I love soup! To me anytime of the year is a great time for a pot of soup This Blackened Corn and Smoked Pork Soup is perfect anytime. This fabulous recipe calls for already cooked smoked pork butt. So often I make a great big pork butt or shoulder and I find myself creating great new recipes to use up those tasty leftovers. Do you do the same thing? Leftover smoked pork butt is always so moist and tender that the recipe possibilities are endless.
Have you tried any of my other pork recipes? Balsamic Vinegar Barbecue Pork Ribs, Dry Rub Sweet Barbecue Pork Tenderloin and Crock Pot Pork and Noodles are just a few of the family favorites. Pork is such a versatile meat and when cooked right it is so flavorful and tender. Pork is commonly referred to as the other white meat and pork tenderloin is now as lean as skinless chicken breast.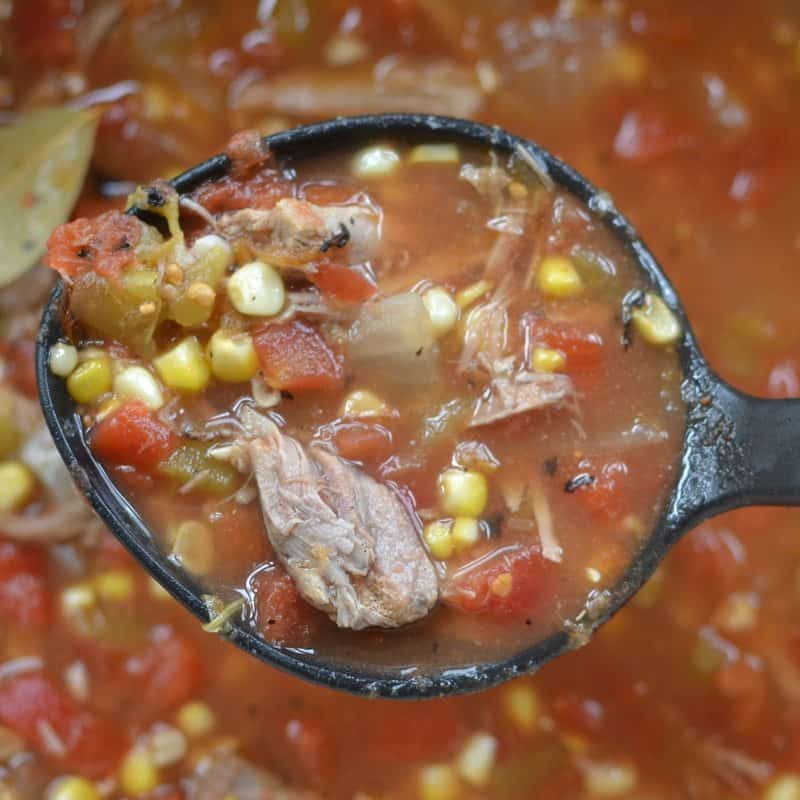 This tasty Blackened Corn and Smoked Pork Soup combines fresh corn, smoked pork butt, onions, garlic, green chili's, salsa style tomatoes, and a perfect blend of spices into an amazing soup. Utilizing precooked pork shoulder or butt helps bring this recipe together real fast. You can simmer for about 30 minutes or let it meld together for a couple of hours. Either way the smells and the flavors are amazing!
Do you need a good easy smoked pork butt recipe? Here is my recipe for Pulled Pork Street Tacos just follow it down to and including the liquid smoke. This is a great recipe that cooks up in a dutch oven and is so tender and flavorful.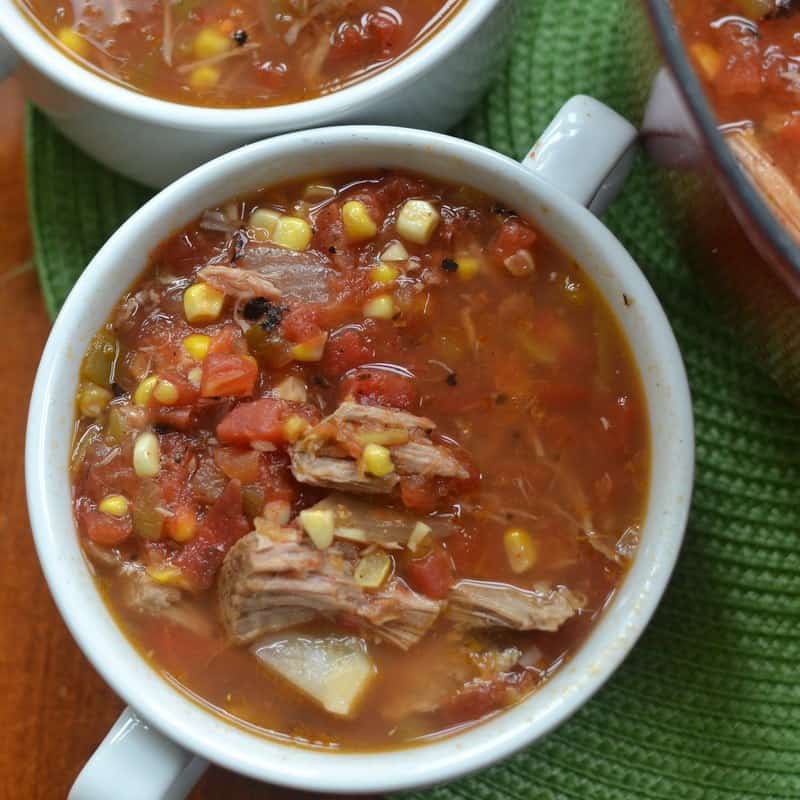 So if you are soup lover like myself and you smoke some pork butts here and there then you must give this Blackened Corn and Smoked Pork Soup a whirl.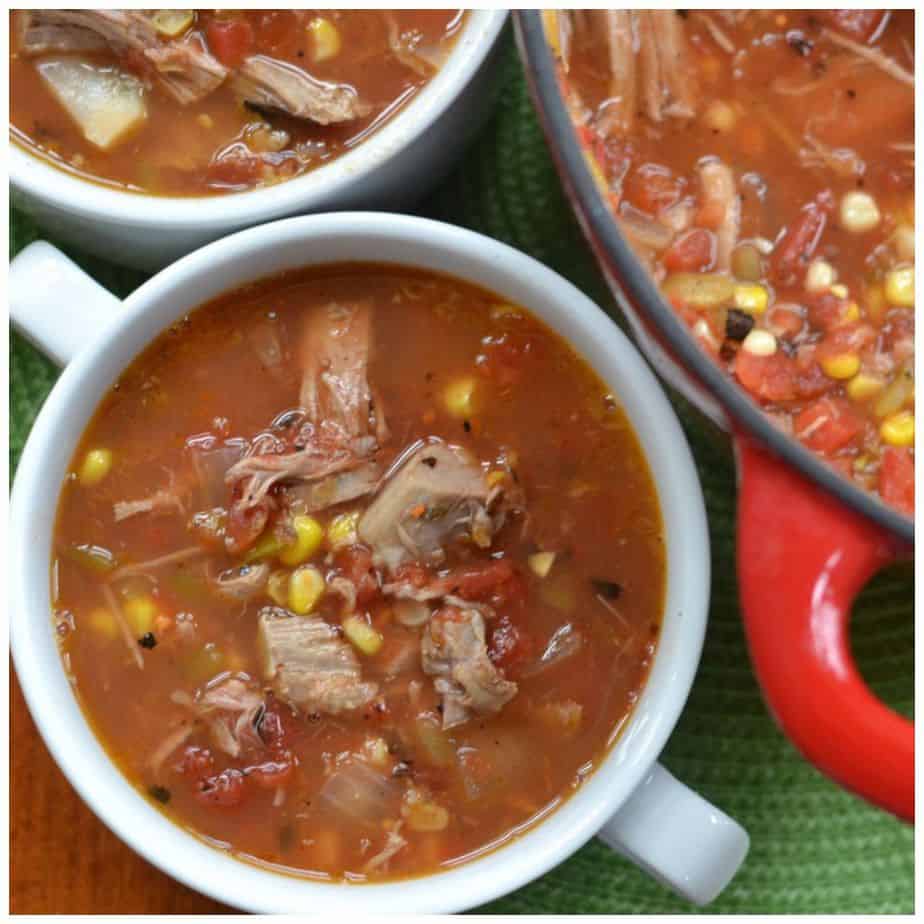 Blackened Corn and Smoked Pork Soup
Ingredients
1 tablespoon olive oil
1 small onion chopped
3 ears corn shucked and kernels removed
4 cups low sodium chicken broth
2 (4 ounce) cans green chiles
1 (14.5 ounce) can fire roasted salsa style tomatoes
1 (14.5 ounce) can diced tomatoes
1 tablespoon ground cumin
1-2 teaspoons Cajun seasoning
1 - 1 1/2 lbs chopped smoked pork butt
Instructions
In Dutch oven or large stockpot heat oil over medium heat. Add onions and corn and cook until corn starts to lightly brown and snap stirring occasionally . Stir in the chicken broth scraping the bottom to deglaze the pan. Stir in green chiles, salsa style tomatoes, diced tomatoes, cumin, Cajun seasoning and cooked pork.
Simmer for 30 minutes.
https://www.smalltownwoman.com/blackened-corn-and-smoked-pork-soup/
Other soup recipes you will love!