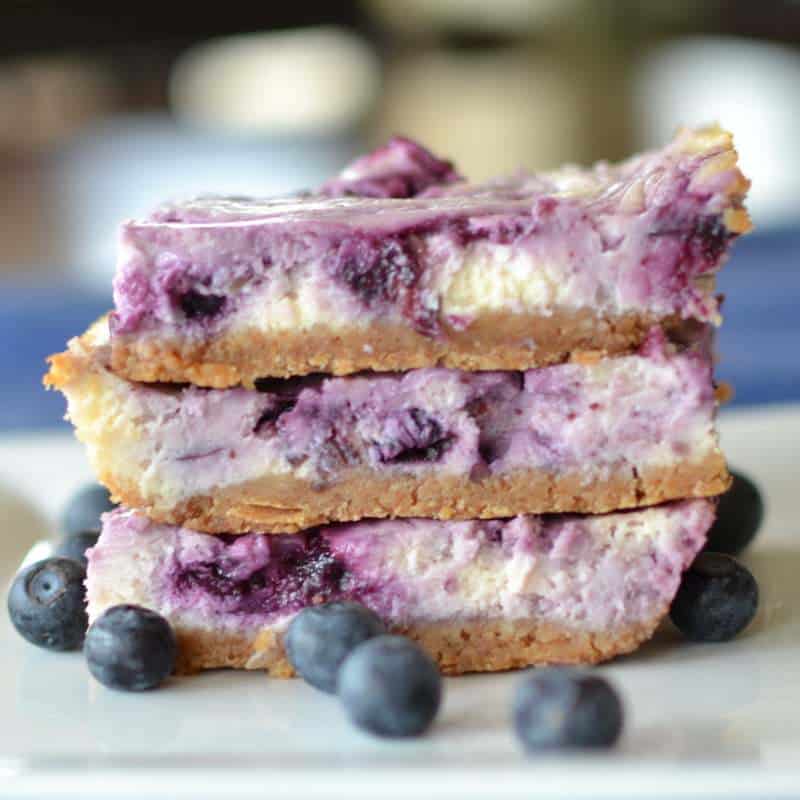 Blueberries are my absolute favorite berry.  We are so lucky to have a plentiful supply year round.  They vary in price as the seasons pass based on supply and demand but they are available.  Our neighborhood Costco carries them year round at reasonable prices and they even offer organic ones.  I just can not get enough of these beauties.  If you are familiar with my blog and recipes than you know how much I love blueberries.  As a matter of face I adore them.  Have you tried my Blueberry Cheesecakes in Mason Jars, Blueberry Orange Cream Cheese Cookies or my Cream Cheese Dumplings with Blueberry Sauce?  The list goes on and on!
Now of all the things that go with blueberries cream cheese has got to be at the top of that list.  These Blueberry Cream Cheese Bars bring out the best that pair has to offer.  Delectable sweet blueberries are simmered in a lightly sweetened sauce and then swirled in a cheesecake filling all a top a simple graham cracker crust.   Folks life does not get much better than this.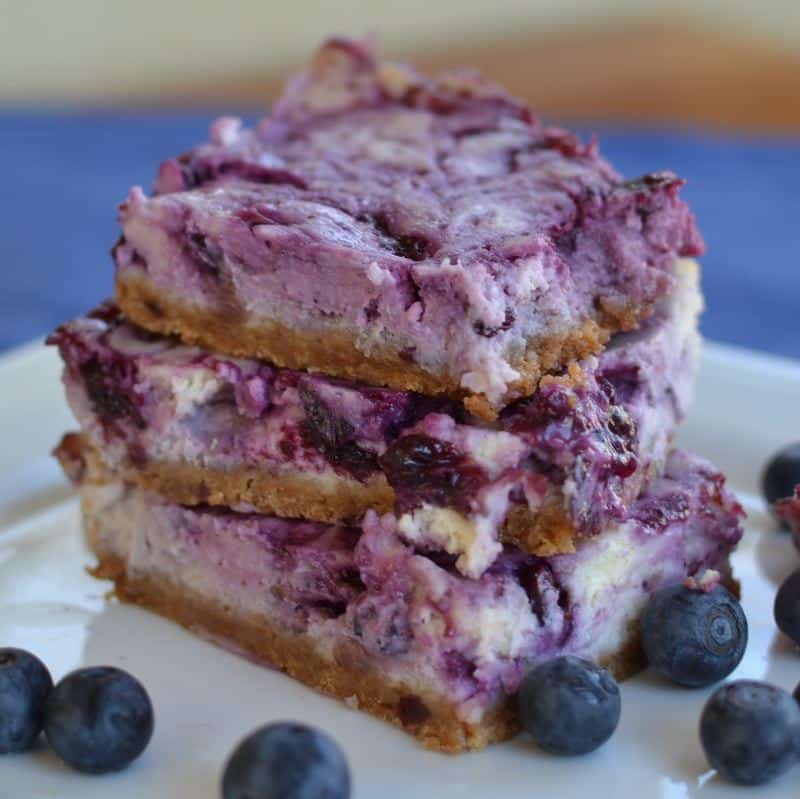 The blueberry filling needs to chill a bit before being swirled in the cream cheese mixture however you can make it up to a day ahead. You can swirl it through the cream cheese with anything thin like a bamboo skewer. Please refrigerate the bars after the dish has cooled for several hours.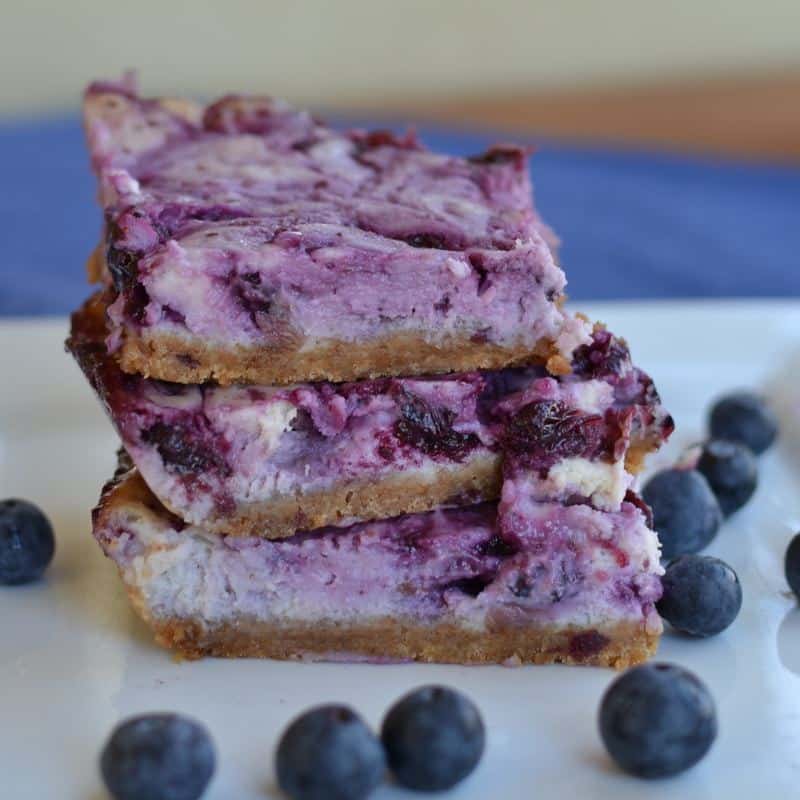 These Blueberry Cream Cheese Bars are perfect for potlucks, dinner parties, patio parties neighborhood soirees and  birthday parties.    Your family is going to love these delectable treats made with my favorite berry!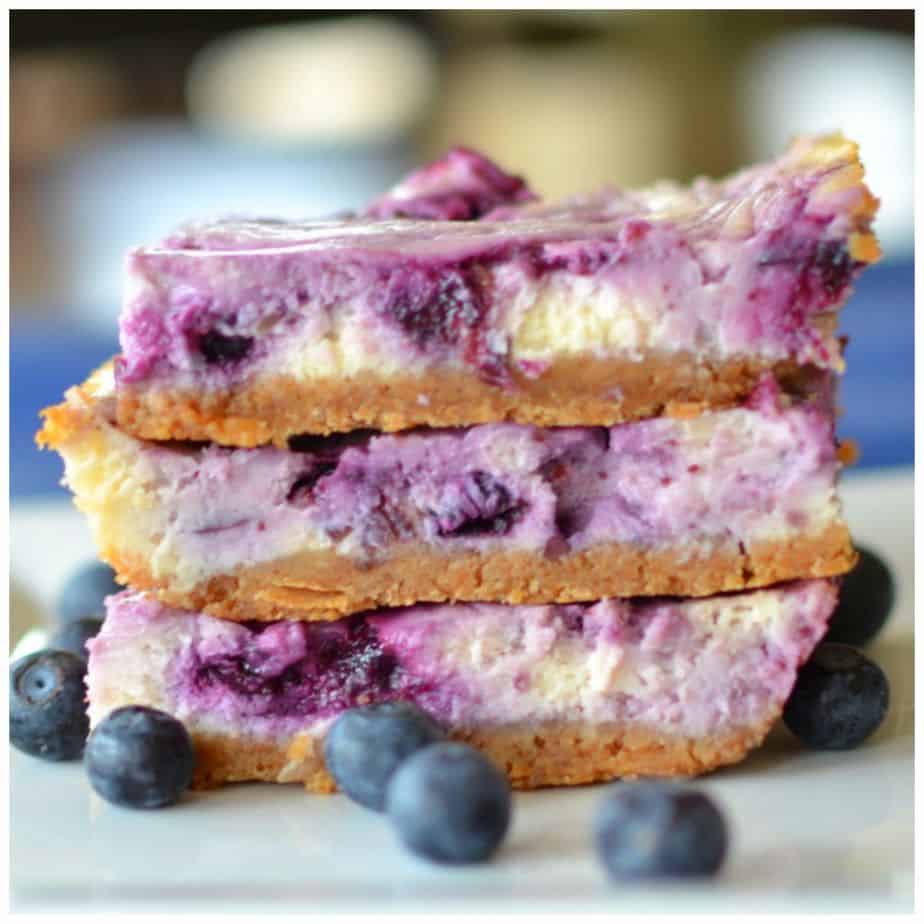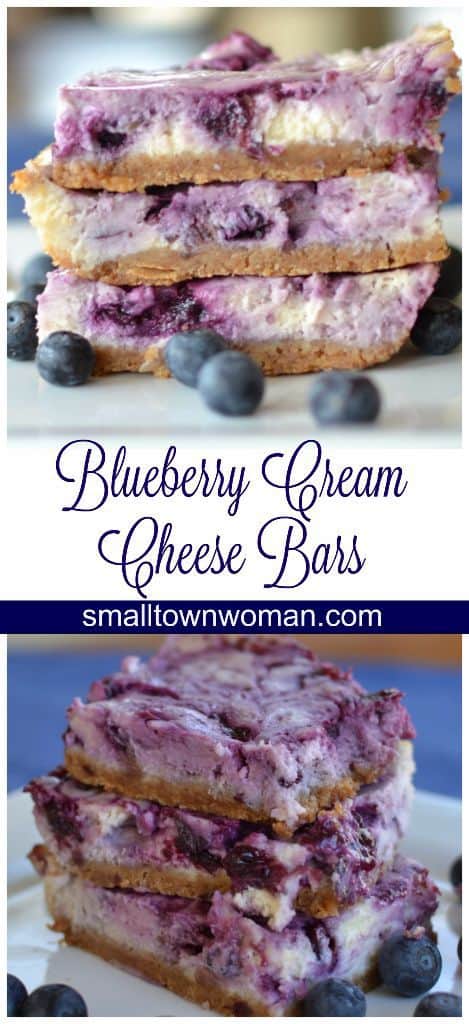 Print
Blueberry Cream Cheese Bars
Scale
Ingredients
3 cups blueberries
1/2 cup sugar
Nonstick cooking spray
1 1/2 cups graham cracker crumbs
6 tablespoons butter melted
2 tablespoons sugar
1/2 cup sugar
2 (8 ounce) packages of cream cheese
1 teaspoon vanilla
2 eggs
Instructions
Combine blueberries and 1/2 cup of sugar in small saucepan. Cover and place on low heat. Simmer for 10 minutes and remove from heat. After pan cools place in refrigerator to chill and thicken for 2-3 hours.
Preheat oven to 350 degrees. Spray 9 x 13 inch baking dish with nonstick cooking spray. In small bowl combine graham cracker crumbs, 6 tablespoons melted butter and 2 tablespoons sugar. Press evenly into baking dish.
.In stand mixer with paddle attachment mix 1/2 cup sugar and cream cheese until smooth. Turn mixer to low; add vanilla extract and 1 egg at a time mixing just until incorporated. Pour cream cheese mixture over graham cracker crust.
With chilled blueberry sauce make two thick lines down the length of the pan over the top of the cream cheese. Using bamboo skewers or chopsticks swirl in being careful not to scrap the crust on the bottom.
Bake 40-45 minutes or until set in the center. Chill well before cutting. Refrigerate all leftovers.
Other delicious recipes you will love!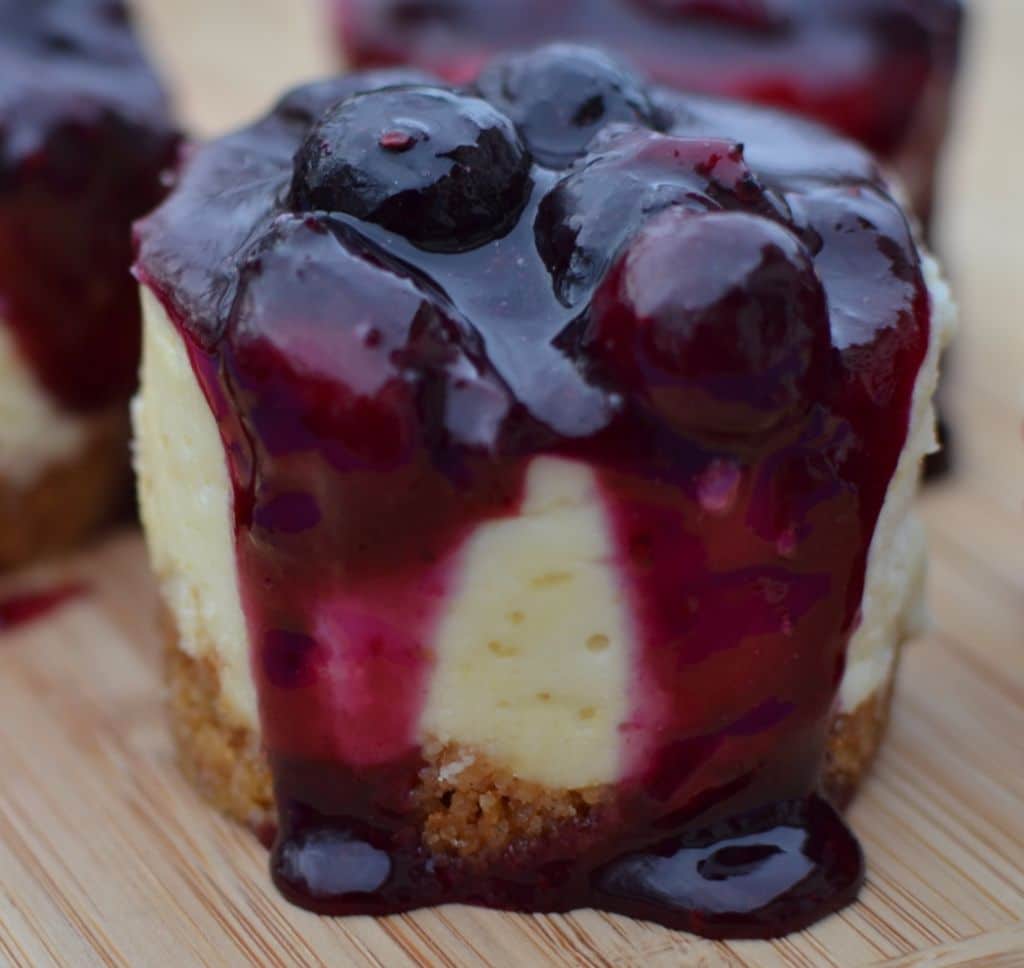 Blueberry Mini White Chocolate Cheesecakes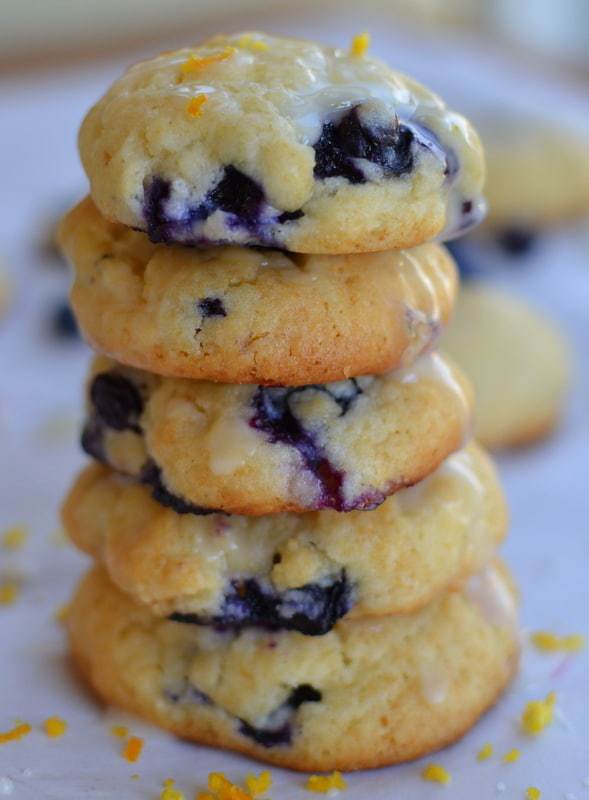 Blueberry Orange Cream Cheese Cookies
https://www.smalltownwoman.com/wp-content/uploads/2019/05/Beth-1.pdf