These Blueberry Cookies are a cinch to make using a box cake mix, cream cheese and fresh blueberries.  They are topped with a three ingredient orange glaze.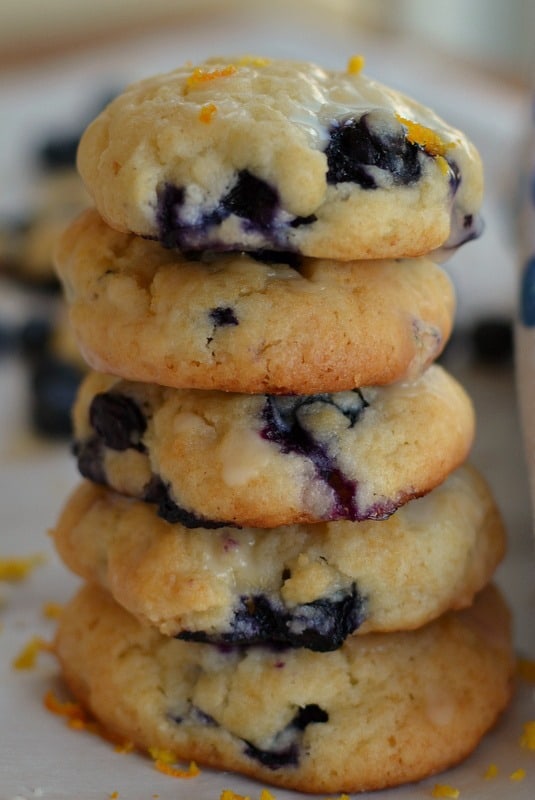 Why you should make these gorgeous blueberry cookies.
One of my absolute favorite fruits is blueberries.  These little gems are just the most amazing berry.  Blueberries are high in fiber, vitamins, minerals and antioxidants and they taste AMAZING.  We love blueberries around here so it is no wonder that I would have a recipe for Blueberry Cookies. These cookies are so scrumptious and they come together real fast utilizing a boxed butter cake mix. They are even super delectable without the orange glaze so if you are watching your sugar count skip that step. You will still find them irresistible.
Using fresh blueberries in these beautiful blueberry cake mix cookies makes all the difference in the world.  Are you and your huge blueberry fans?
Here are some more delicious blueberry recipes: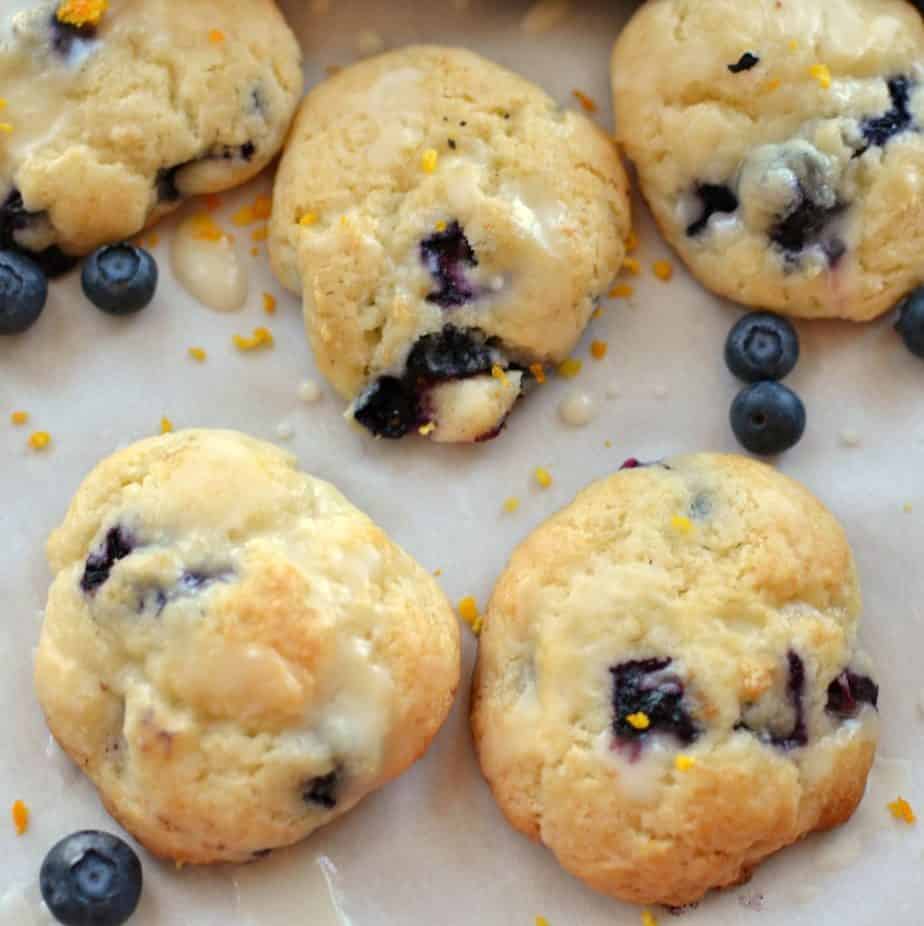 Here are some helpful hints to make these Blueberry Cookies magnificent!
When you purchase the blueberries for this recipe, do not look for the biggest blueberries.  Some blueberries are as big as the end of my thumb and that is just to darn big for a cookie.
Work gently when folding in the blueberries.  The dough is stiff but it can be done with patience or as a last resort working them in when you roll them.
Be careful when moving them from the baking sheet to cooling racks.
Lemon and lemon zest are an easy substitution for the glaze in this.  If going that route substitute a little lemon juice for the orange extract.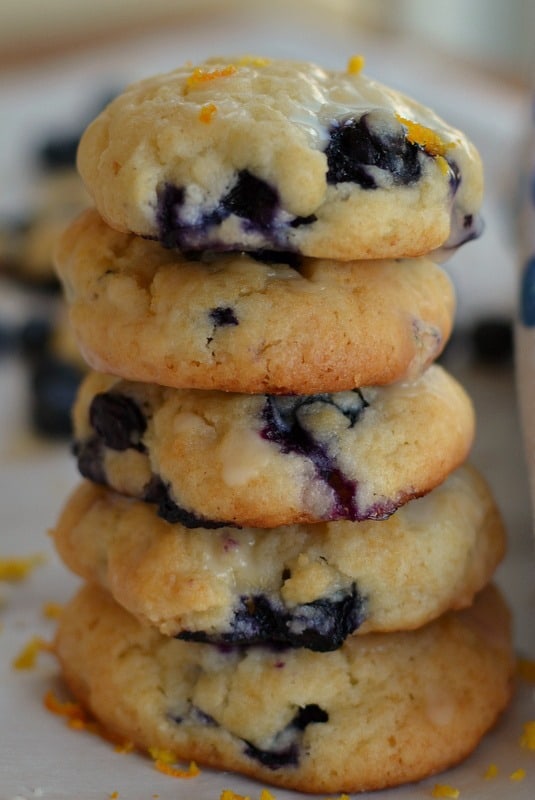 These beautiful Blueberry Cookies are the prefect spring and summer treat.
This recipe was originally published January 18, 2016 was republished on June 11, 2018 with new relevant information, new pictures and helpful hints.
Print
Blueberry Orange Cream Cheese Cookies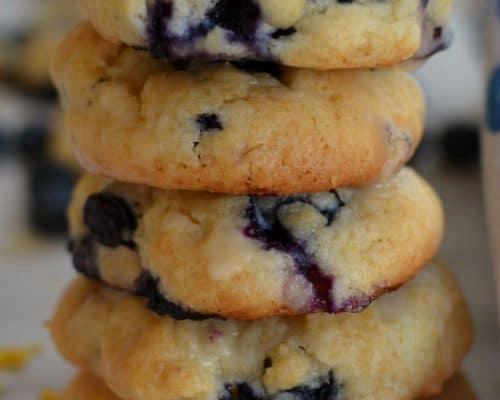 These delicious blueberry cookies are a super easy recipe! Thanks to boxed cake mix and a yummy 3-ingredient orange glaze, you'll want to make batches of these sweet cookies for everyone!
Author:
Prep Time: 30 minutes
Cook Time: 15 minutes
Total Time: 2 hours 45 minutes
Yield: 24 1x
Category: Dessert
Method: Baking
Cuisine: American
Scale
Ingredients
1/2 cup of butter (1 stick) softened
1 box cream cheese (8 ounce) softened
1 egg
1 teaspoon orange extract
1 box Betty Crocker Butter Cake Mix
1 1/2 cups fresh blueberries
1 cup powdered sugar
1 tablespoon orange zest
3 tablespoons orange juice
Instructions
Cream butter and cream cheese with mixer. Add the egg and orange extract and mix just until combined on low scraping the bowl several times. Add the cake mix in three parts mixing just until combined after each part. Remove from the mixer and very carefully and slowly fold in blueberries. You don't want them to burst so just take your time.
Refrigerate dough for 2 hours.
Preheat oven to 350 degrees.
Roll into 1 1/4 inch balls. Place on cookie sheets covered with parchment paper. Bake 15-16 minutes or until lightly browned. Cool for 2 minutes and remove to cookie cooling racks.
In small bowl whisk powdered sugar, orange zest and orange juice. Drizzle over cooled cookies.
Yield is 24-30 cookies.
Notes
Makes approximately 24 – 30 cookies
Keywords: BLUBERRIES, BLUEBERRY COOKIES, CAKE MIX COOKIES, COOKIES, COOKIES WITH FRESH FRUIT, CREAM CHEESE, DESSERT, FRESH FRUIT COOKIES, GLAZED COOKIES, ORANGE, ORANGE GLAZE, SUMMER COOKIES
https://www.smalltownwoman.com/wp-content/uploads/2019/05/Beth-1.pdf