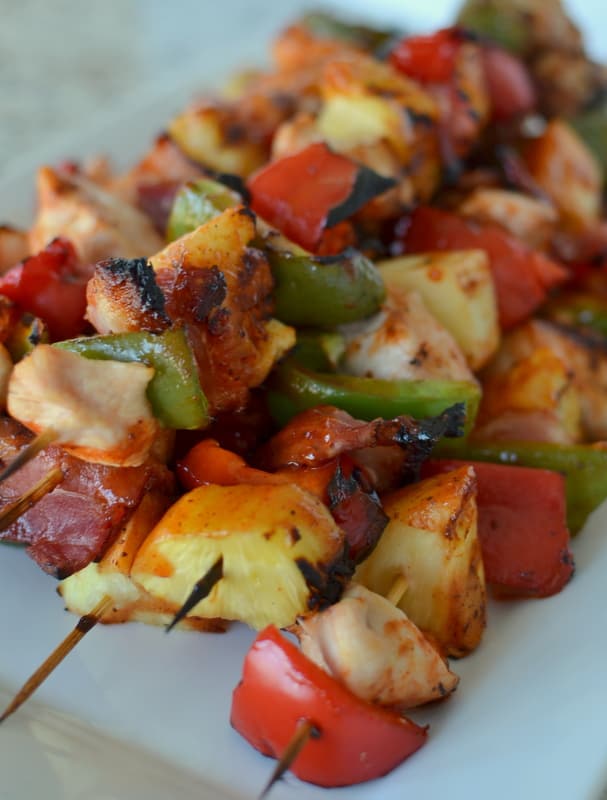 Spring is knocking right on our back door and for once hubby and I seem to be ready for it. Last week hubby cleaned up all the flowers beds cutting off the dead brush from the perennials, herbs and annuals.  He cultivated the beds and blew all the leaves and debris down to the woods.  He fertilized the beds and lawn and cut back the ivy from the stone wall.  This week he is moving the dogs winter house from the garage out to the wood pile where it stays until next fall.  He is setting up her spring and summer corner in the garage.  He calls it "Poopy's Palace."  It won't be long before he is dragging out the patio set.  Gosh how I love the change of seasons!! He is working up quite the appetite! These Chicken Bacon Pineapple Pepper Skewers are going to hit the spot just right!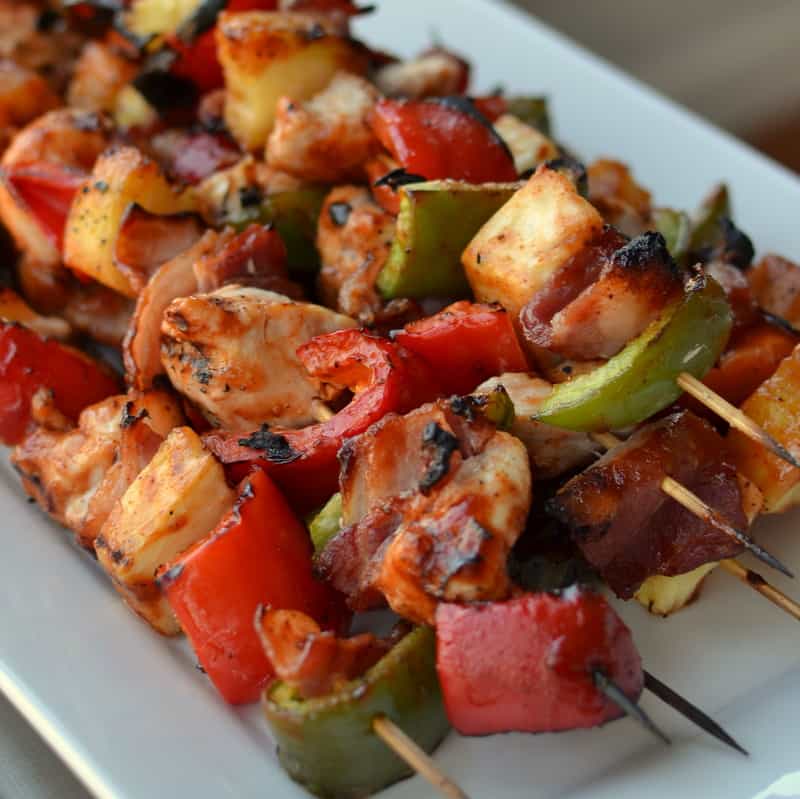 Do you like to grill?  We are grill masters around here!  It does not matter what season it is.  I will go out and shake the snow off the pit and fire it up.  The only time I get knocked out of play is if my pit is iced shut.  It has only happened a few times.  Thank goodness!  Grilled Chicken, Dry Rub Grilled Pork Tenderloin and Balsamic Vinegar Barbecue Pork Ribs are just a few of my favorite barbecue grill recipes.
These amazing Chicken Bacon Pineapple Pepper Skewers are so easy to put together and they grill up in about fifteen minutes.  The sauce pulls together quick because it starts with your favorite Kansas City style barbecue sauce.  I will also include an easy chicken marinade because the last couple of times the chicken breasts I have purchased have not been as tender as in the past…must be some old birds.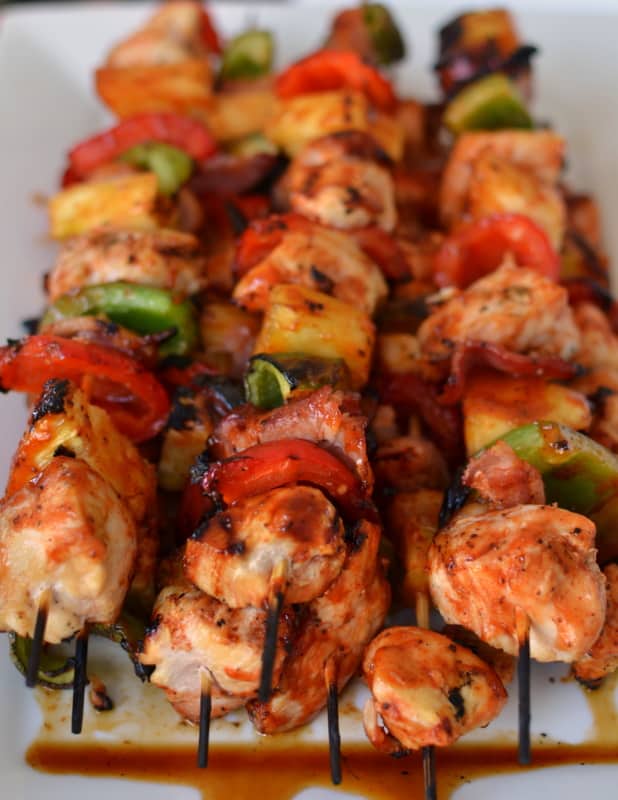 What did I tell you there goes hubby with the patio furniture. So if you have spring fever, love easy dependable delicious recipes, or just love bacon, pineapple and chicken then put these Chicken Bacon Pineapple Pepper Skewers on your to try list today.  Your loved ones will be singing your praises!!
Delicious sides to go with your Chicken Skewers
Print
Chicken Bacon Pineapple Pepper Skewers
Chicken Marinade
1/4 cup vegetable oil
2 teaspoons rice vinegar
1/3 cup honey
1/3 cup soy sauce
1/8 teaspoon ground black pepper
Chicken Skewers
2 large chicken breasts cut into 1 1/2 inch chunks
1 green pepper cut into 1 inch chunks
1 red pepper cut into 1 inch chunks
Fresh pineapple cut into 1 1/2 inch chunks
3/4 lb smoked bacon cut into 1 1/2 inch pieces
8 bamboo skewers (soaked in water for at least 30 minutes)
Honey Barbecue Sauce
1 cup Kansas City Style Barbecue Sauce
3 tablespoons honey
1 1/2 teaspoon Dijon mustard
Instructions
In large Ziploc bag add vegetable oil, rice vinegar, honey, soy sauce, black pepper and chicken. Refrigerate and allow to marinate for 1 1/2 – 2 hours. Remove chicken from marinade and discard.
Thread chicken, green pepper, red pepper, pineapple and bacon on skewers alternating between them.
In small saucepan over low heat combine barbecue sauce, honey and Dijon mustard.
Preheat grill and cook skewers for 12-15 minutes, turning several times and basting with sauce every 4-5 minutes.
Other delicious chicken recipes you will love!