This flavor packed Chicken Tortilla Soup is delicious anytime of the year. This fabulous medley of corn, onion, fire roasted tomatoes, black beans and cilantro comes together quickly and easily with rotisserie chicken.
"Of soup and love, the first is the best." Venetian Proverb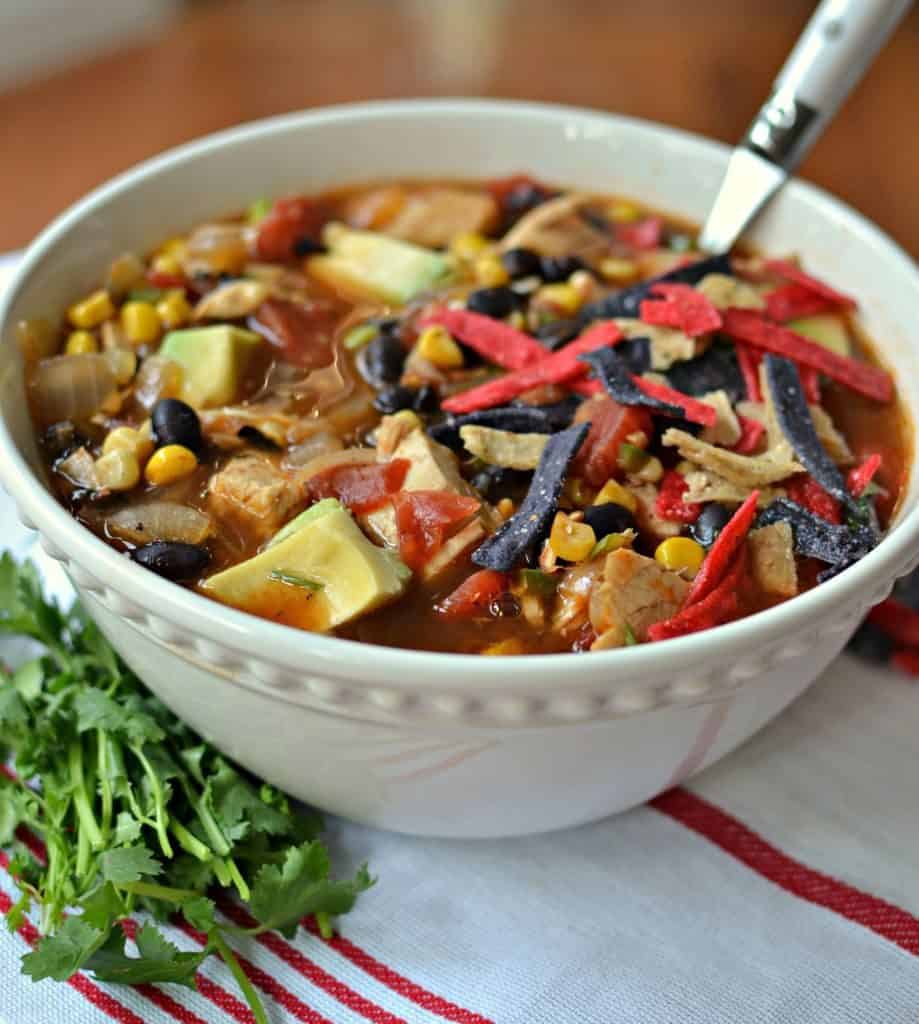 Fall is approaching real fast and with it comes lots and lots of fabulous soups. This delectable Chicken Tortilla Soup is one of our favorites and we enjoy it year round. It is packed full of natures hearty goodness so you can feel good about eating it and feeding it to your family. With the addition of rotisserie chicken this feast comes together in about thirty minutes. I just fixed this again the other night and served it with my delicious Cornbread Recipe.
Different types of chicken that can be used to make Chicken Tortilla Soup.
I think the easiest chicken to use is tender fresh rotisserie chicken that is now available in so many places like Costco, Sams Club and most local grocery stores. It practically falls off the bone and you can shred, chop or dice it in a matter of minutes. You can also use poached chicken, baked chicken, slow cooked chicken, sauteed chicken and instant pot chicken. You can use any method of cooking that leaves the chicken tender and easy to dice or slice for soup. Please make sure you skin and bone the chicken.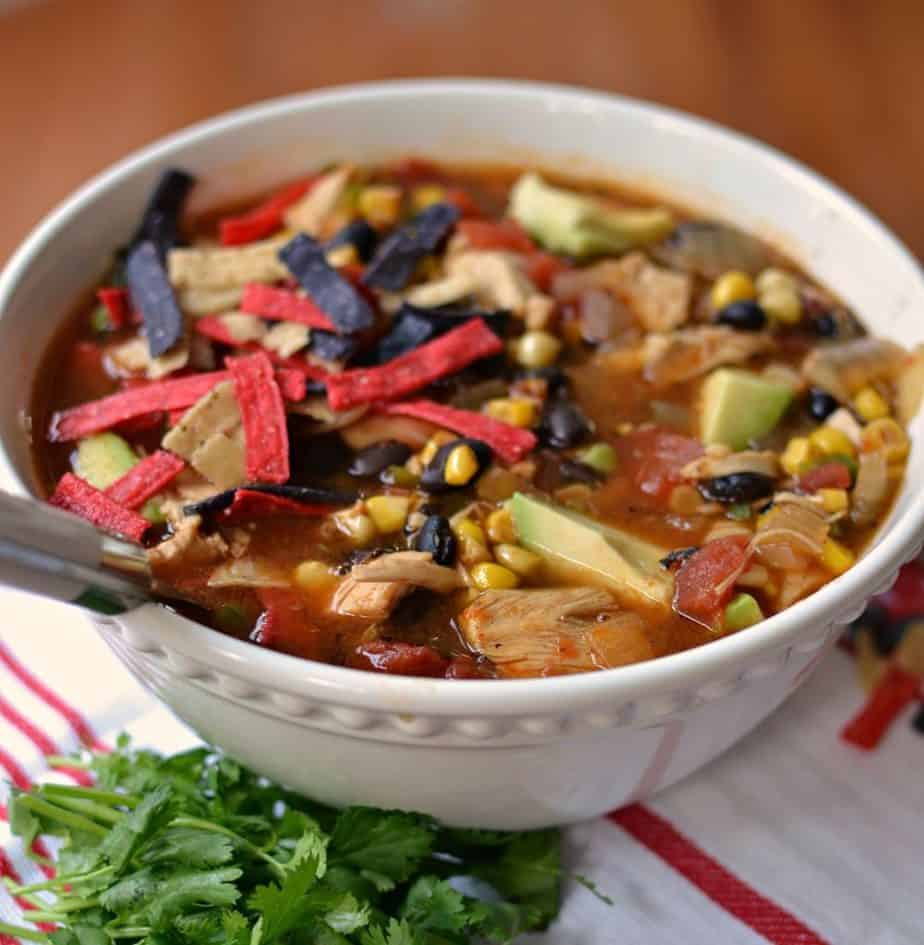 How to make Chicken Tortilla Soup Recipe.
First you start by cooking fresh corn and chopped onions in a little hot olive oil. When the onion is almost soft and corn is starting to brown add the minced garlic, jalapeno, cumin, chili powder and ground cayenne pepper. Now pour in the chicken broth using a spoon to scrape the brown bits of caramelized corn off the bottom of the pot. Add the fire roasted tomatoes and drained black beans. Simmer for 10 minutes and then add the cooked chicken. Finally season with salt and pepper to your liking. Garnish with cilantro, chopped avocado, tortilla strips, finely shredded cheddar cheese and sour cream.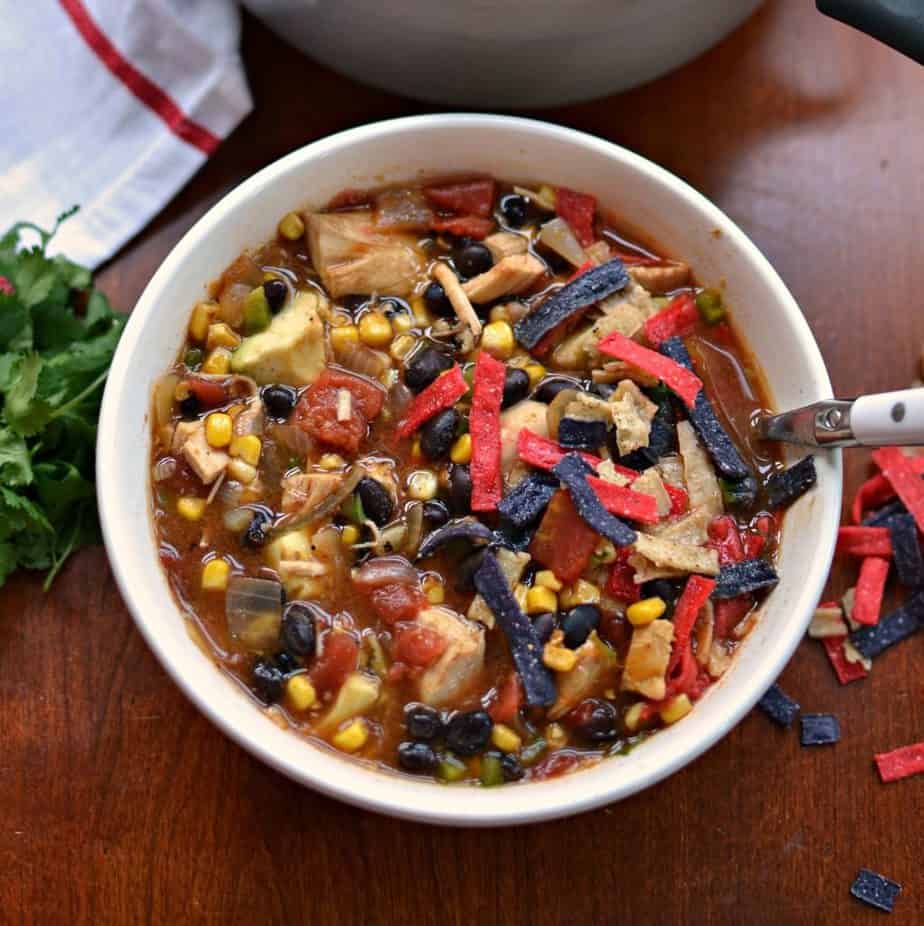 Toppings for Chicken Tortilla Soup.
Finely shredded cheddar or monterey jack cheese
Tortilla strips
Chopped avocados
Sour Cream
Chopped cilantro
Chopped Scallions
Limes
This awesome Chicken Tortilla Soup will quickly become of your favorites. Is there a better time to build up your soup repertoire than late summer/early fall? Put the ingredients for this delectable meal on your list today so that when you are ready to roll with it everything is right there for you.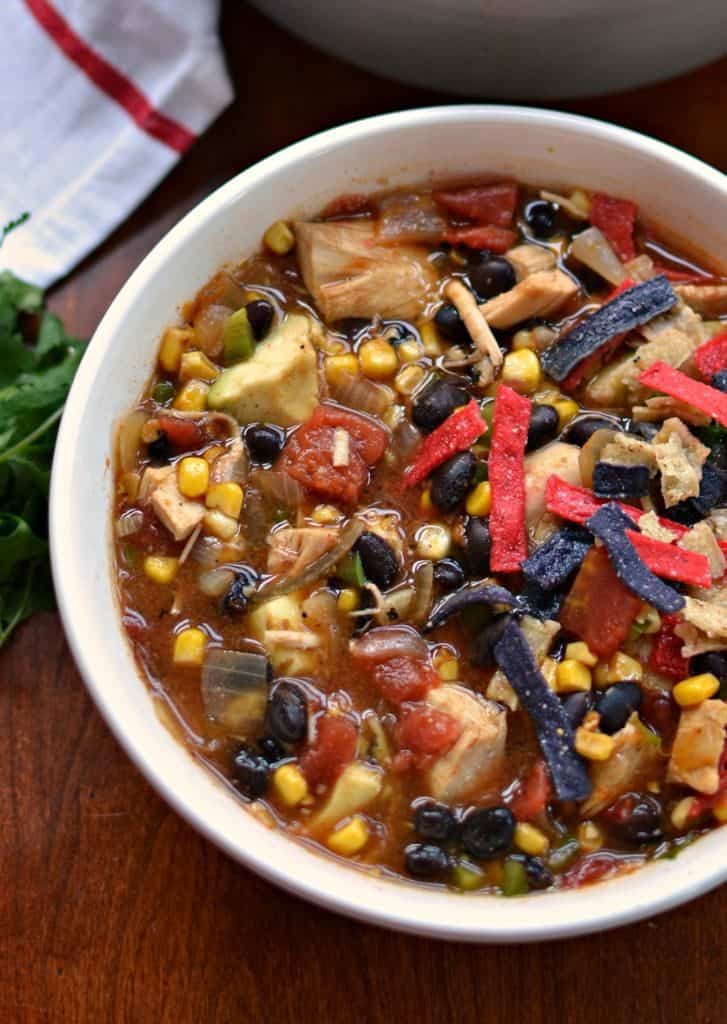 More soup recipes you will love!
Ingredients
2 tablespoons olive oil
1 medium sweet onion chopped
2 ears corn shucked desilked and kernals removed
3 cloves garlic minced
1 jalapeno seeded and minced
1 tablespoon of ground cumin
1 tablespoon chili powder
1/8 teaspoon cayenne pepper
6 cups low sodium chicken broth
1 (14 ounce) can fire roasted tomatoes
1 (15 ounce) can black beans drained and rinsed
3 cups chopped cooked rotisserie chicken
Salt & pepper to taste
1/3 cup chopped cilantro
1 peeled seeded diced avocado drizzled with lime juice
Tortilla strips
Optional: Sour cream
Optional: Finely shredded cheddar or monterey jack cheese
Instructions
In dutch oven or stock pot heat olive oil over medium heat. Add onion and corn; cook until the onion is slightly soft and the corn is starting to brown and caramelize. Reduce heat to low and add garlic, jalapeno, cumin, chili powder and cayenne; cook for 1 minute. Add chicken broth, tomatoes and black beans; simmer for 10 minutes. Add rotisserie chicken and salt & pepper to taste; simmer for 5 minutes. Stir in cilantro and avocado.
Spoon in bowls and garnish with tortilla strips, sour cream and cheese.
https://www.smalltownwoman.com/chicken-tortilla-soup/