If you have five minutes and a blender than these beautiful Easy Frosty Strawberry Mimosas can be all yours.  These beauties are party perfect for all your holiday celebrations however make sure you have plenty of backup ingredients because everyone loves them and they will go quickly.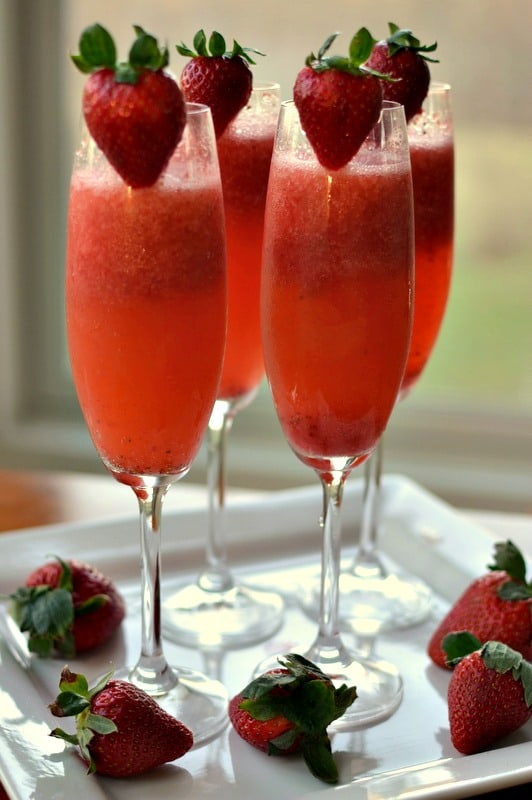 This is the perfect time of the year for celebrations and parties.  These Easy Frosty Strawberry Mimosas will come in handy for all your party needs. These beautiful cocktails are perfect for any celebration, birthday party or neighborhood soiree. Best part of all they come together in just a few simple steps that take less than five minutes.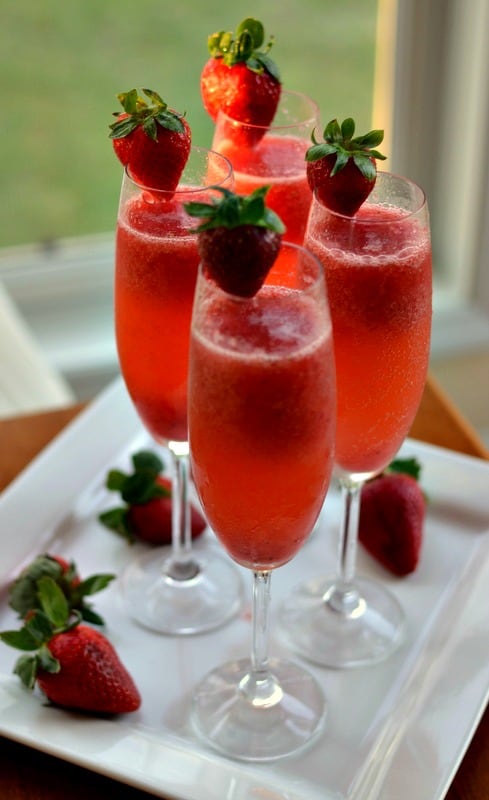 How do you make Strawberry Mimosas?
Simply place the frozen strawberries, sugar and about one cup of champagne in the blender.  Blend on high for a couple of minutes. Pour the champagne glass about halfway full of the strawberry mixture. Then finish filling the glass with chilled champagne and top the glass with a fresh strawberry that has been cut on the bottom to sit on the glass.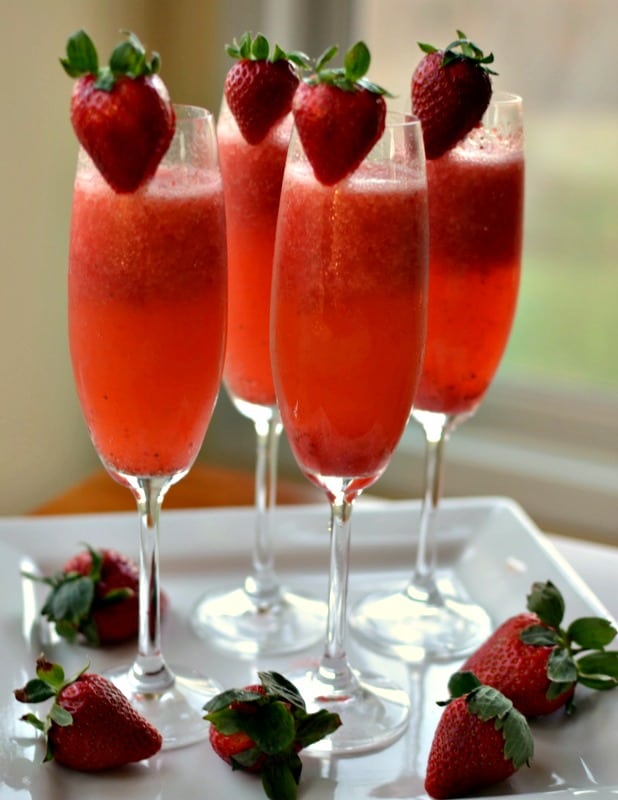 Why I use frozen strawberries for Strawberry Mimosas?
I have found that frozen strawberries are usually sweeter than their fresh counterparts.  I am sure that the suppliers are able to pick them when they are are perfectly ripe because there isn't any shelf life.  They are flash frozen at their peak making them the perfect berry for these.
Along with being more flavorful you don't water down these frozen treats with ice.  Instead you have your own strawberry flavored ice built right in.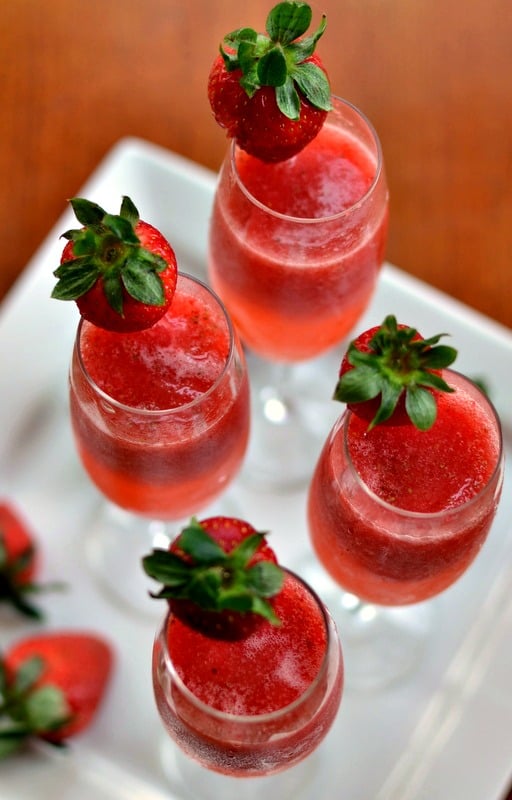 Your guests will love these cool refreshing Easy Frosty Strawberry Mimosas.  Keep the blender handy and plenty of champagne chilling because they will be asking for more.
Other strawberry recipes you will love
This post was originally published March 7, 2017 and was republished November 22, 2019 with new content.
Print
Easy Frosty Strawberry Mimosas
These delicious party worthy Strawberry Mimosas are made with four ingredients in less than five minutes making them the perfect celebration cocktail.
Author:
Prep Time: 5
Total Time: 5 minutes
Yield: 6 cocktails 1x
Category: cocktail
Method: blender
Cuisine: American
3 cups frozen strawberries
2 tablespoons sugar
1 bottle chilled champagne
Fresh whole strawberries for garnish
Instructions
Place frozen strawberries, sugar, and 1 cup champagne in a blender. Turn on high and blend 1-2 minutes, If it is too thick to blend add 1/4 cup more champagne. Fill champagne glass halfway with strawberry mixture. Fill the rest of the glass with chilled champagne. Garnish with a strawberry that is sliced down the middle but not all the way through.
Notes
Makes 6 champagne cocktails.
Keywords: champagne cocktail, cocktail, mimosa, strawberry cocktail, strawberry mimosa, strawberry mimosa recipe, how to make a strawberry mimosa, party cocktails, strawberry puree for mimosas
On the hunt for more delicious recipes?  Follow Small Town Woman on Facebook, Pinterest, and Instagram.
https://www.smalltownwoman.com/wp-content/uploads/2019/05/Beth-1.pdf