Mouthwatering Easy Hawaiian Pizza brings crispy bacon, sweet ham and fresh pineapple together in perfect harmony on already prepared flatbread.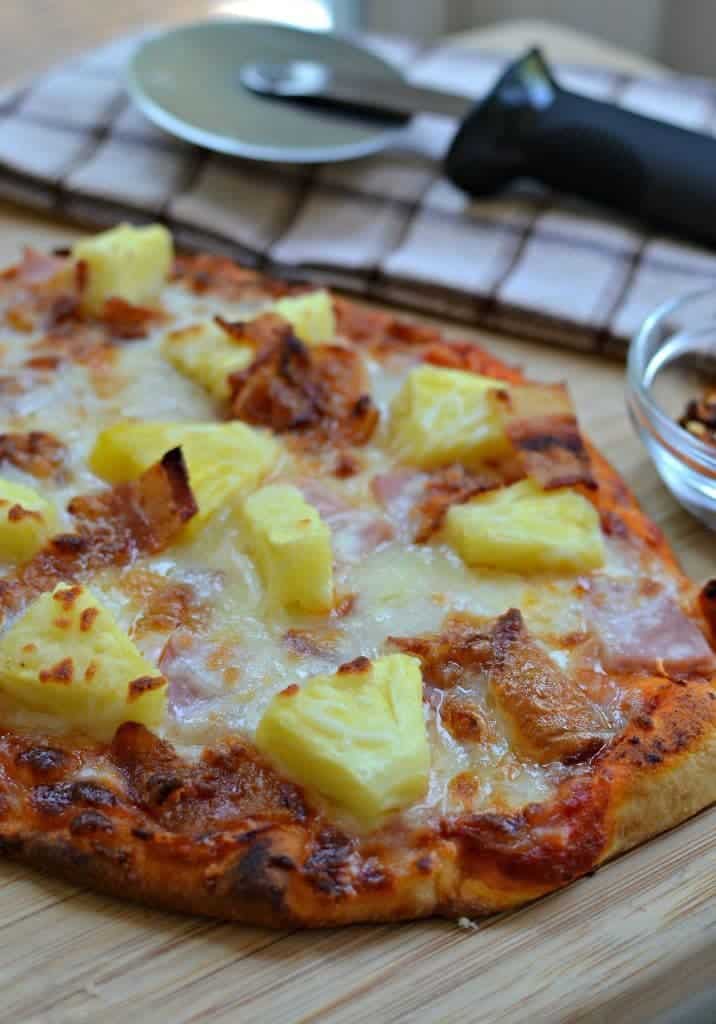 The Mouthwatering Easy Hawaiian Pizzas can be prepped in about five minutes! I like to make these on Naan but any delicious flatbread will work. Flat flour tortillas doubled up work and taste really good too! You can use marinara or pizza sauce. I have found several jarred marinara sauces that are really spectacular so I go that route. They seem to have more natural ingredients and less sugar. Have you ever tried pineapple on a pizza? If not you really need to give a whirl. It is amazing and complements the ham and crispy bacon fabulously!
So you ask What is on a Hawaiian Pizza? These are most common Hawaiian Pizza Toppings!
Crispy Bacon
Sweet Ham
Fresh Pineapple
Mozzarella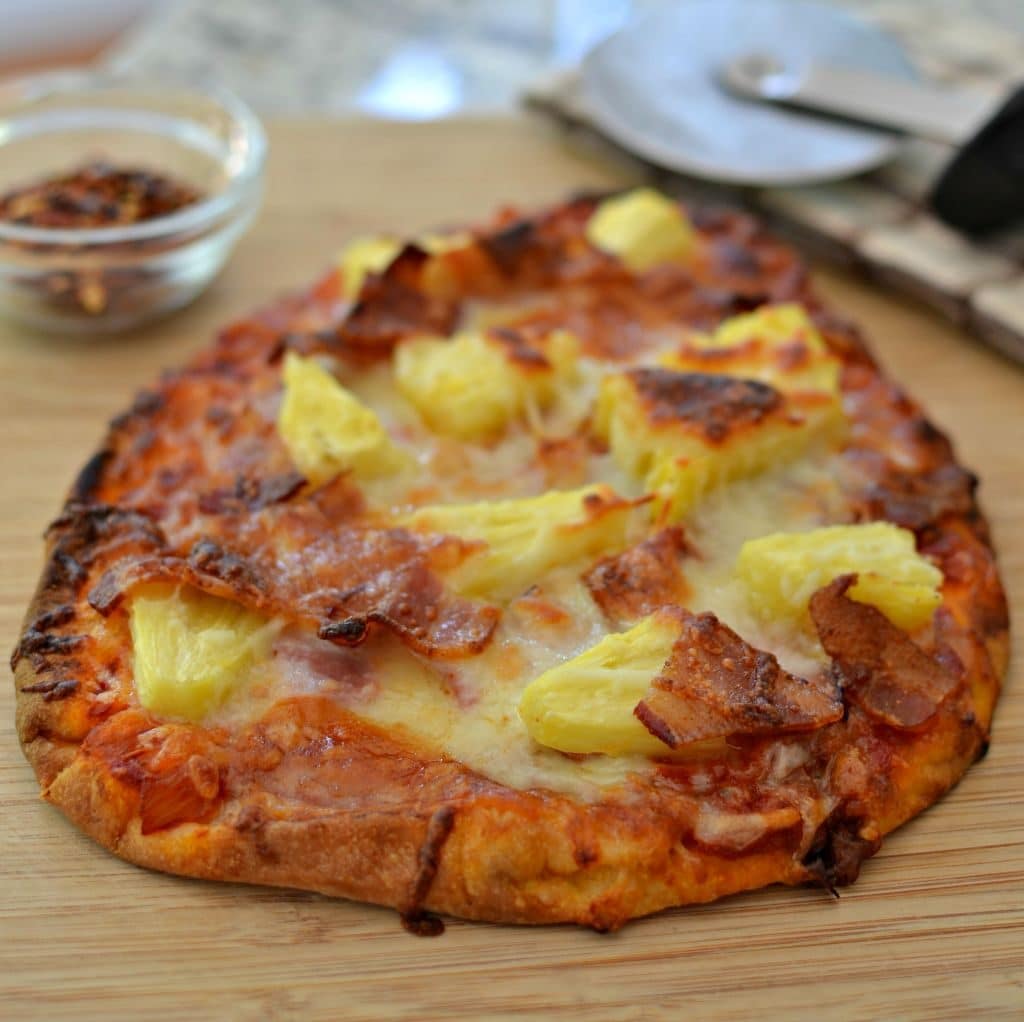 We are a big pizza loving family. Friday night is pizza night and has been for well over two decades. If for some reason we have something else the kids start wondering if this is the end of world. Are you big pizza fans? Here are some more magnificent pizza recipes for your pizza night!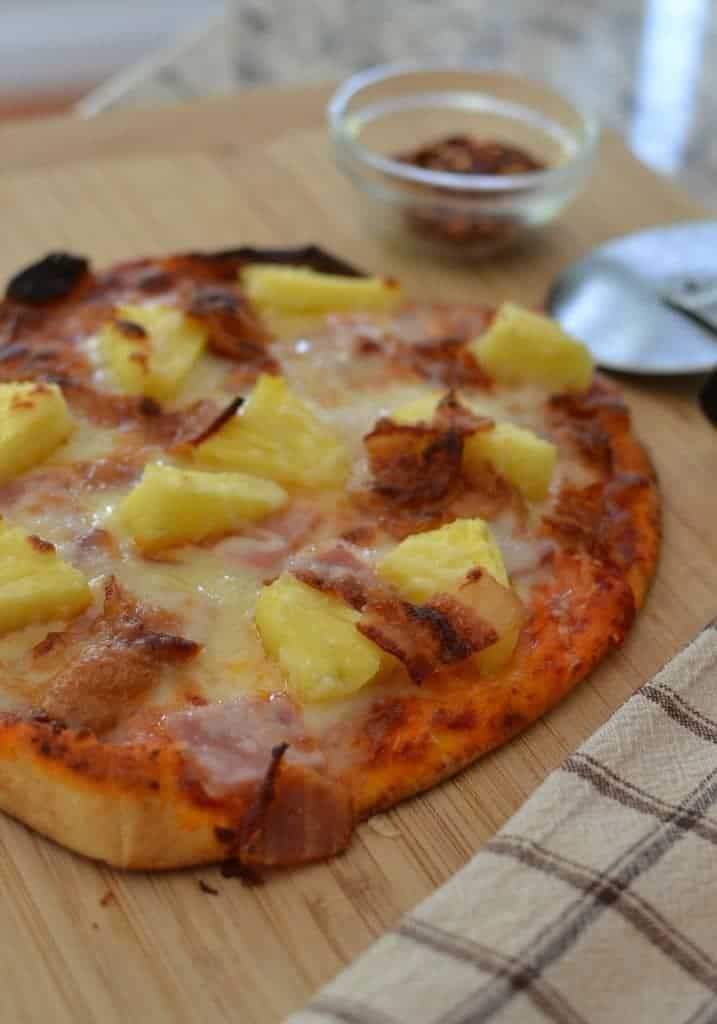 Have you invested in a pizza stone? They are wonderful and they do a terrific job of making and keeping your crust crispy on the bottom. They are also great at keeping the remainder of your pizza hot especially while you look for the pizza cutter! Don't forget to put your stone in the oven while it is cold and let it heat up as the oven does.
This Hawaiian Pizza recipe is simple, dependable and bursting with flavor. Make yourself one right away. Then make your kids one and make your neighbors one. They will be very grateful!
This post was originally published July 14, 2014 and was republished June 18, 2018 with new pictures, new relevant information and a slightly modified recipe serving four instead of two.
Ingredients
4 flatbreads such as Naan
1/2 cup marinara sauce
4 slices canned or fresh pineapple cut into bite size pieces
4 thin slices lean ham diced
6 pieces of crisp cooked bacon chopped
1 cup fresh shredded mozzarella
1 cup shredded provolone
Instructions
Preheat oven to 400 degrees. Place pizza stone in oven to preheat.
Layer each flatbread with 2 tablespoons of marinara sauce, 1/4 cup of each cheese and 1/4 of the pineapple, 1/4 of ham and 1/4 of the bacon.
Bake for 7-8 minutes or until lightly browned.
Notes
If it is a large pizza stone two Naans will fit at one time.
https://www.smalltownwoman.com/hawaiian-pizza/