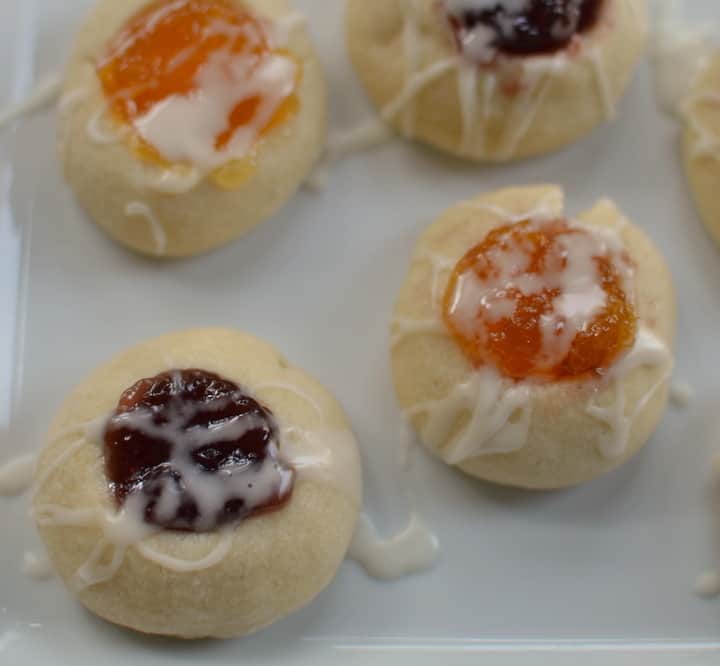 Wow the year is just flying by at the speed of sound.  Before I know it another month has passed and we are looking at a whole new season. The kids are well into their school year, football season has started, my mums are all planted (gorgeous if I say so myself) and the pumpkins are even in the grocery stores.  This is by far my favorite time of the year.  I am sure just like me you are running around like a chicken with your head cut off just trying to keep ahead of the eight ball.
These beautiful Jam Filled Shortbread Thumbprint Cookies are so quick to come together and boy are they tasty.  I mean who wouldn't love a tasty buttery cookie filled with jam.  Assorted jams can be used to create a variety of flavors and colors.  I used cherry, blackberry and apricot.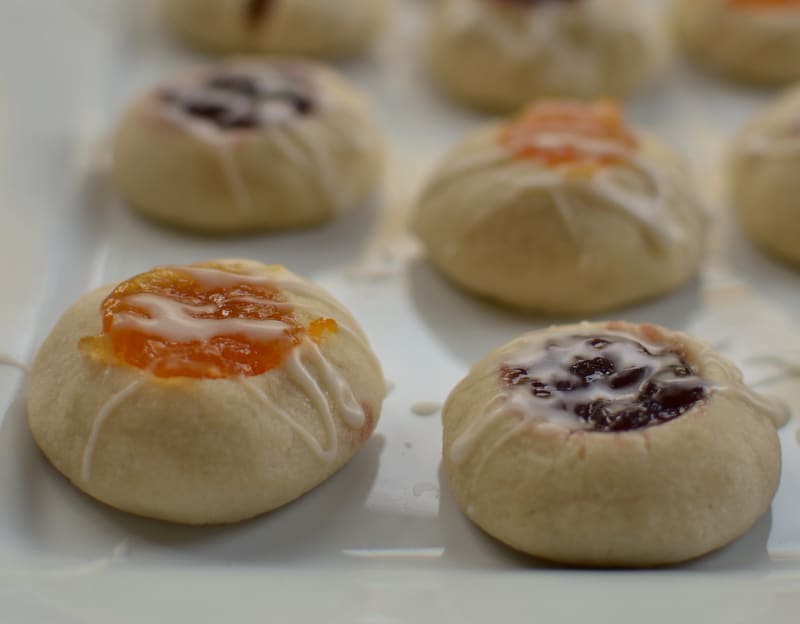 Have you tried any of my other cookies?  Peppermint Chocolate Thumbprint Cookies, Triple Chocolate Chunk Cookies, and White Chocolate Peanut Holiday Haystacks are just a few family and friend favorites. I love cookies and they are just so versatile.
These Jam Filled Shortbread Thumbprint Cookies  are so quick to come together.  The base mix has five ingredients and can be prepared ahead of time.  After baked you pop in just a touch of jam and if desired drizzled with glaze.  They are perfect for holiday parties and can be frozen.  Flash freeze first to prevent messing up the jam.  Stack frozen with waxed paper between layers. Place in freezer containers and to be even more thorough you can place the freezer containers in a Ziploc bag.  When thawing remove from all packaging and place on serving trays (NOT STACKED) to thaw.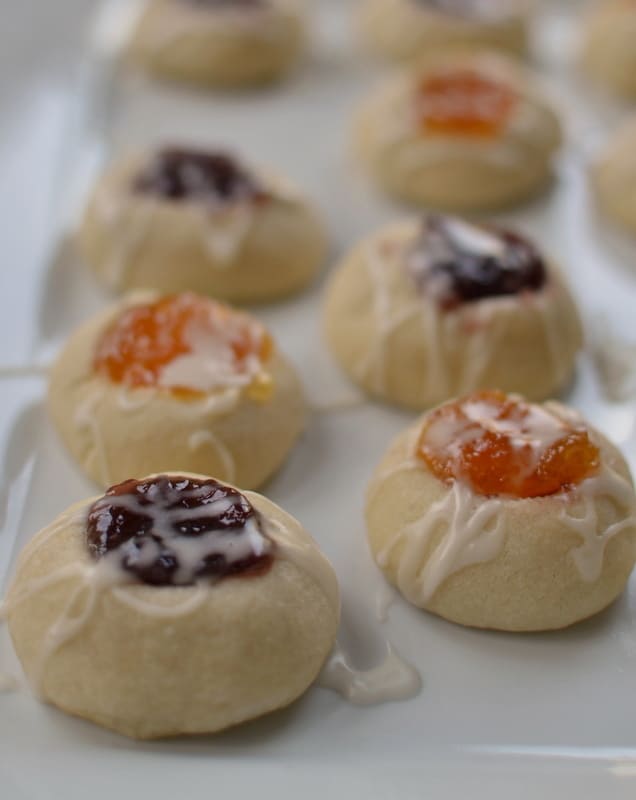 We love these Jam Filled Shortbread Thumbprint Cookies and I hope that your family loves them as well. Put them on your baking list this week and let the party begin.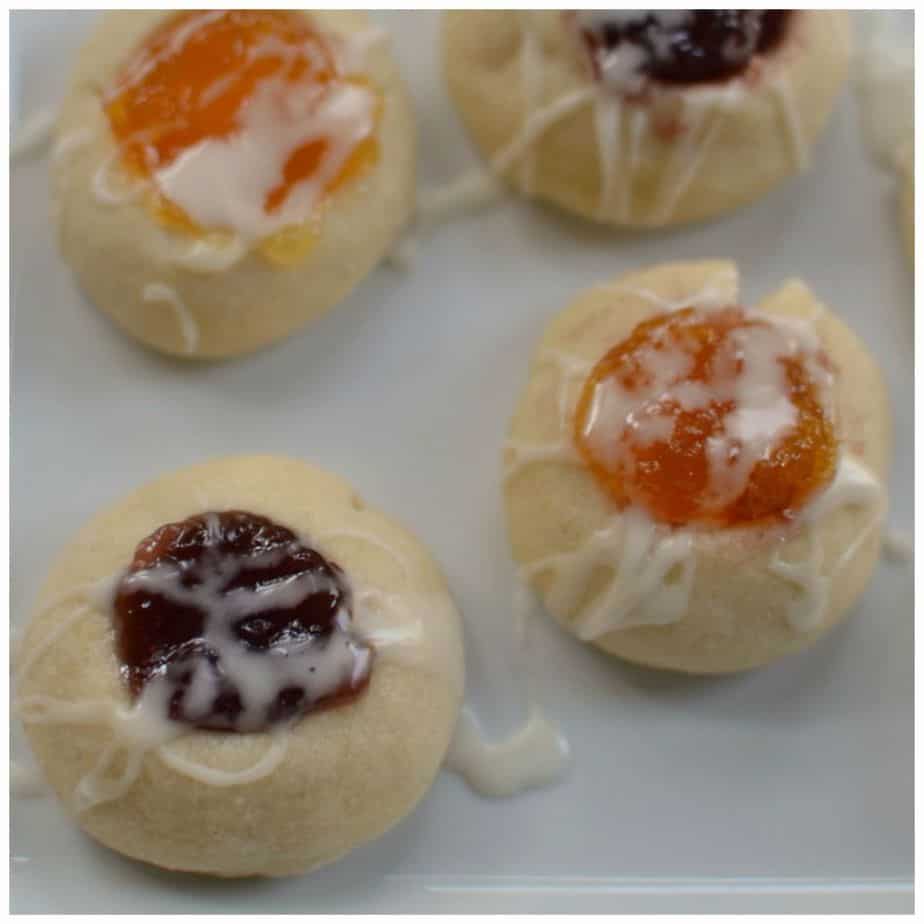 Print
Jam Filled Shortbread Thumbprint Cookies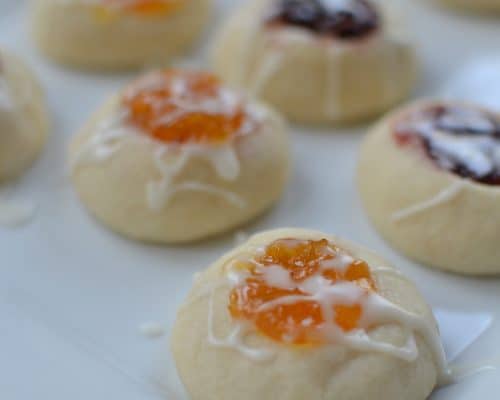 These simple, delicious Shortbread Thumbprint Cookies are such an easy dessert! I filled these cookies with apricot, cherry, and blackberry jam, but you can use your favorite fruit jam as filling.
Author:
Prep Time: 10 minutes
Cook Time: 15 minutes
Total Time: 25 minutes
Yield: 2 dozen cookies 1x
Category: Dessert
Method: Bake
Cuisine: American
Scale
Ingredients
1 cup butter softened
1/2 cup sugar
1 teaspoon vanilla
1/8 teaspoon salt
2 1/4 cups all purpose flour
1/2 cup jam (raspberry, strawberry, apricot, blackberry, cherry are all good choices)
Glaze
1/2 cup powdered sugar
1 tablespoon milk
1/2 teaspoon vanilla
Instructions
Preheat oven to 350 degrees
In stand mixer cream butter and sugar. Add vanilla and mix just until incorporated. In small bowl combine salt and flour. Add flour mixture to butter mixture in 3-4 increments mixing just until incorporated. Refrigerate dough for one hour.
Roll into approximately 1 inch balls and using the back side of a 1/2 teaspoon measuring spoon press indentation into dough. You can also use the tip of your thumb.
Bake for 13-15 minutes on parchment covered cookie sheets. Remove from oven and if the indentation is not as prominent gently press down with your finger to reestablish indentation. Cool completely on cookie cooling racks. Fill with with jam. You can use the back of a heated teaspoon to smooth off the jam. Heat the teaspoon under hot water.
In small bowl stir together powdered sugar, milk and vanilla. Lightly drizzle over cookies.
Keywords: Shortbread Thumbprint Cookies, jam-filled shortbread cookies, shortbread cookies
Other cookie recipes you will love!!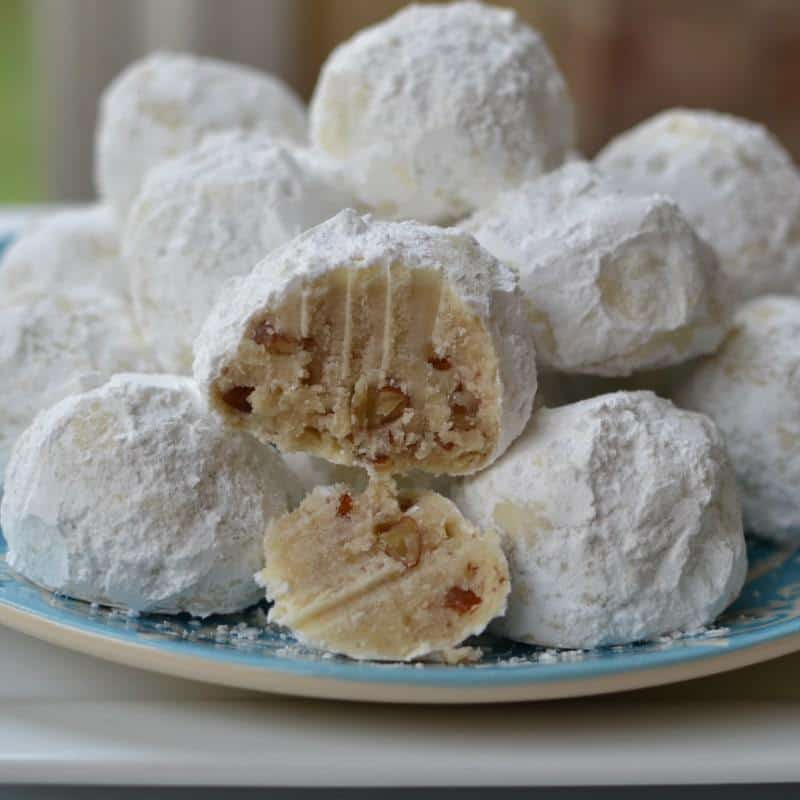 Buttery Pecan Snowball Cookies