Bacon Wrapped Pineapple is basted with a semi sweet slightly spicy oriental sauce and baked to crispy golden perfection.  They are a party favorite so you might want to double the batch.  I love to serve them at my soirees with Crab Rangoon and Baked Shrimp Toast.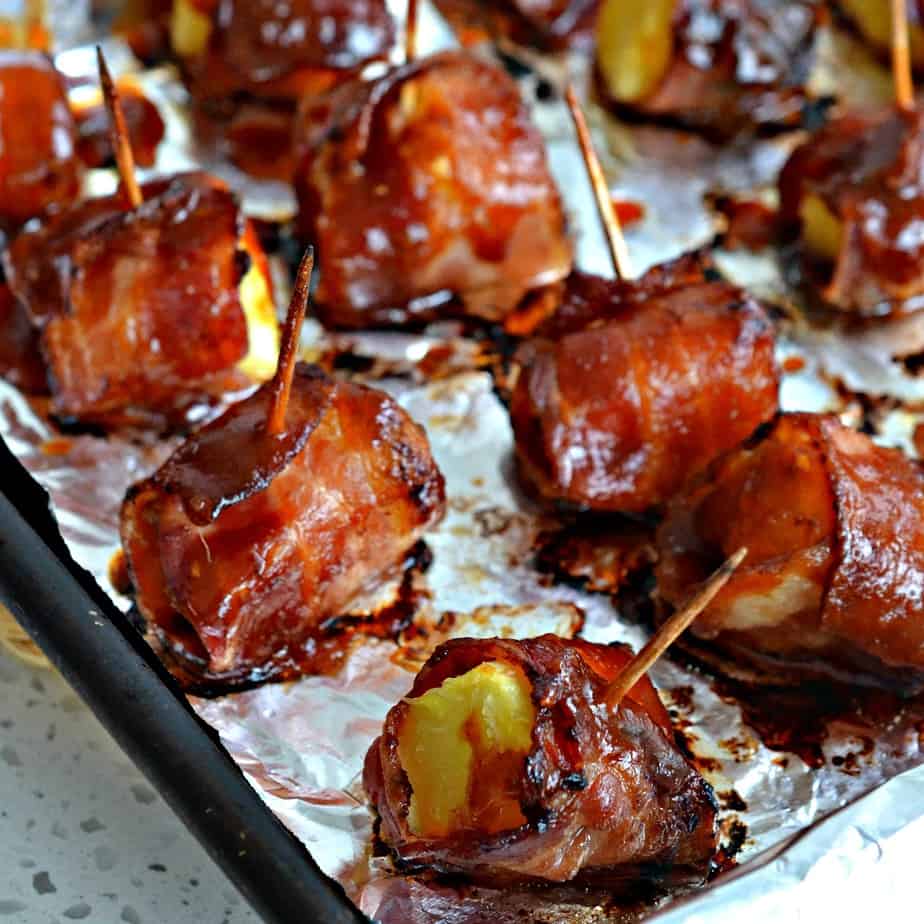 I mean honestly don't all the best appetizers have bacon in them.  Just think about it for a second. What better way is there to treat your guests than to serve them a sweet delicious piece of fruit wrapped in bacon that was basted with a sweet slightly spicy mouthwatering sauce?  Be prepared because these are a hot commodity.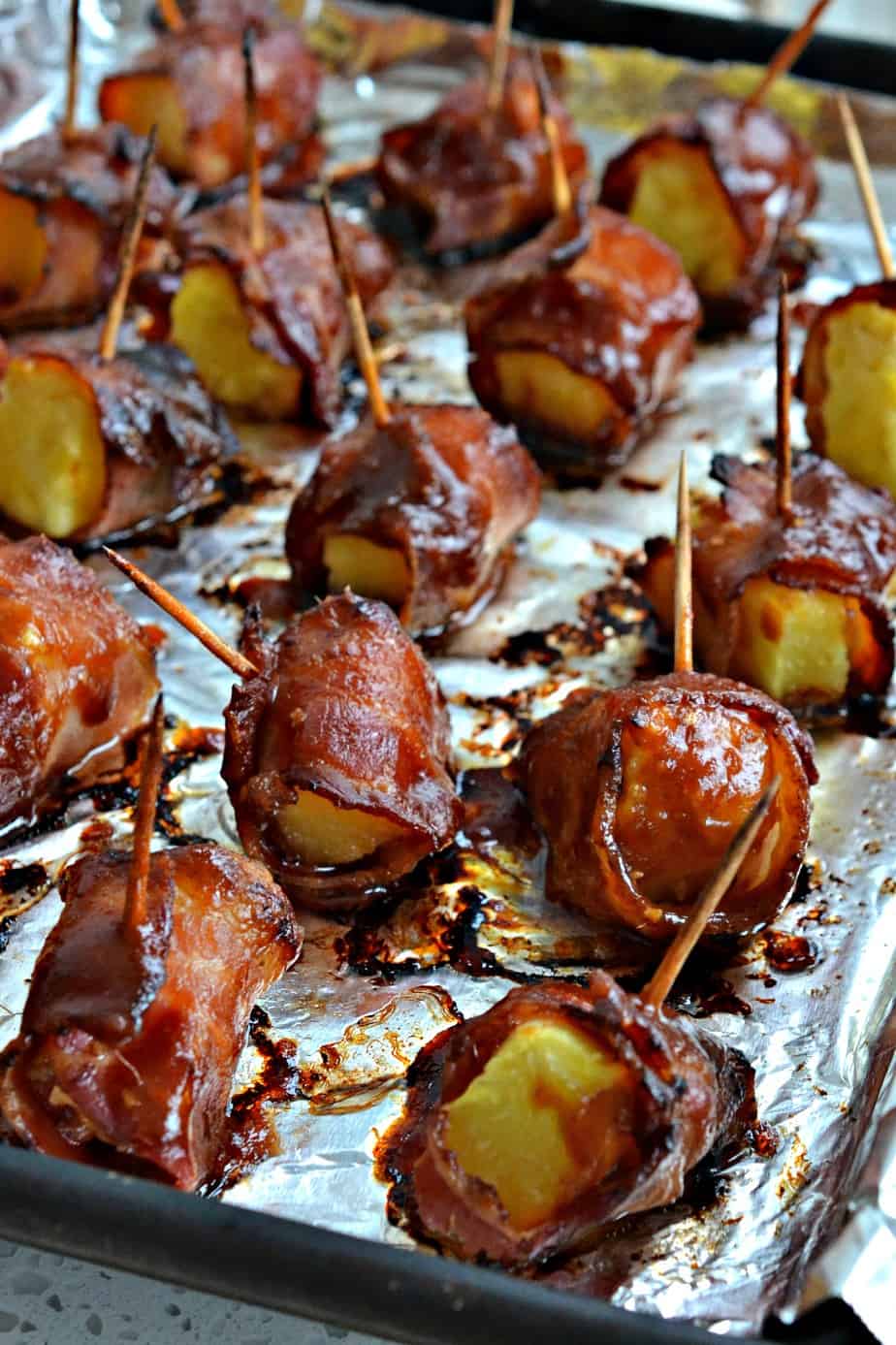 These delectable appetizers are so darn easy and so delicious.   Pineapple and bacon go together like a match made in heaven.  If you are like me you are always in a hurry.  Plan ahead and mix the sauce a day or two in advance. Store it in an airtight container and remove from the fridge about 30 minutes in advance to come to room temperature.  Be sure to read my helpful hints on making this delectable recipe a complete success.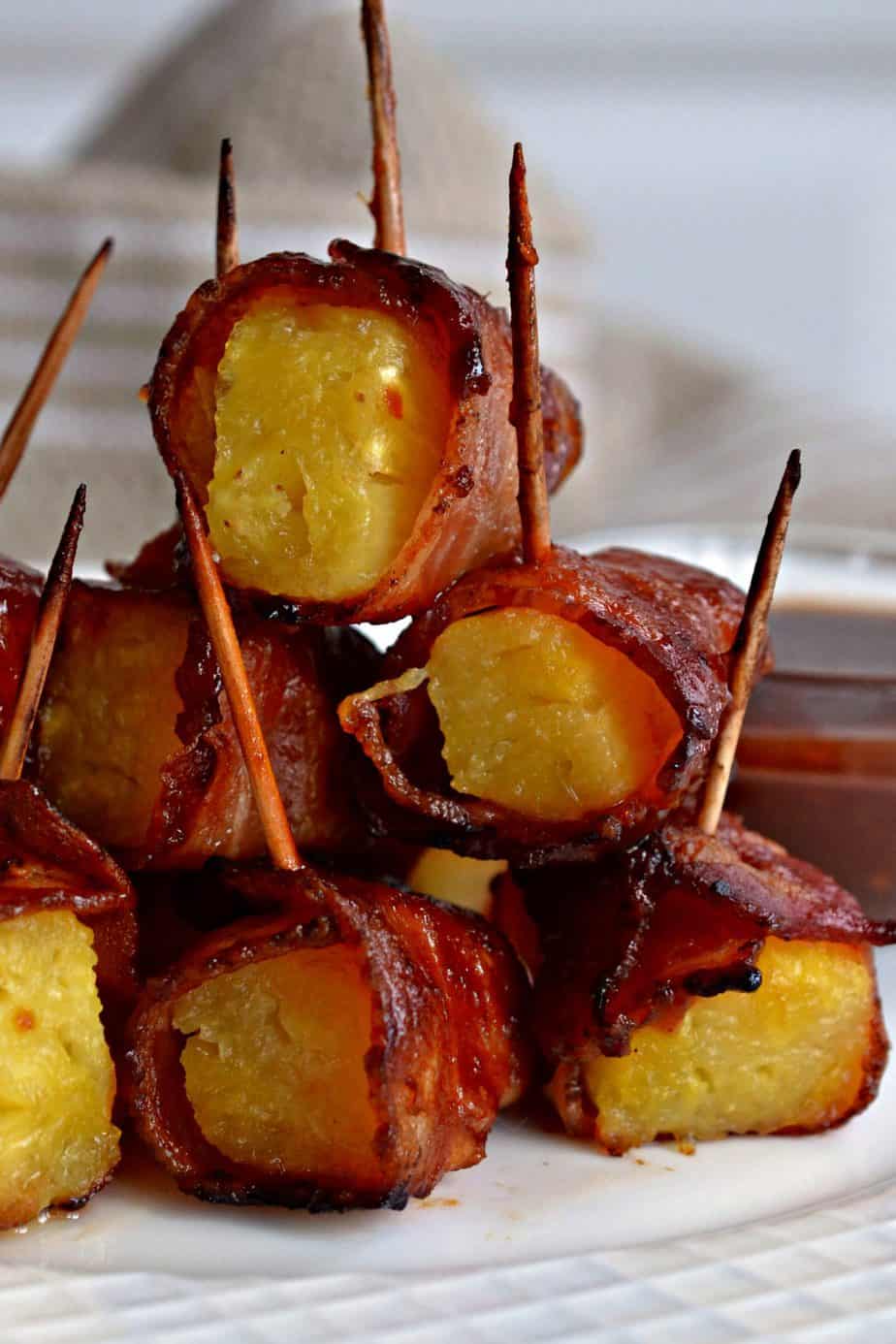 How do you make Bacon Wrapped Pineapple?
First cut your bacon in half and place on a baking sheet in a single layer on baking sheet covered with aluminum. Bake for 3 minutes, flip and bake for another 3 minutes.  Allow to cool long enough to handle.  Then wrap each piece of bacon around the pineapple and secure with a toothpick. Place them on the same baking sheet covered with aluminum foil and bake for about 20 minutes while you make the sauce.
Meanwhile in a small saucepan combine honey, Worcestershire sauce, soy sauce, ginger, ketchup, pineapple juice and sriracha.  Simmer for about 10 minutes to meld all the flavors together and to take the chill off.
Then baste the bacon wrapped pineapple after 20 minutes and cook for an additional 10 minutes or until the bacon is crispy and the pineapple is heated through.  For optimal results serve promptly.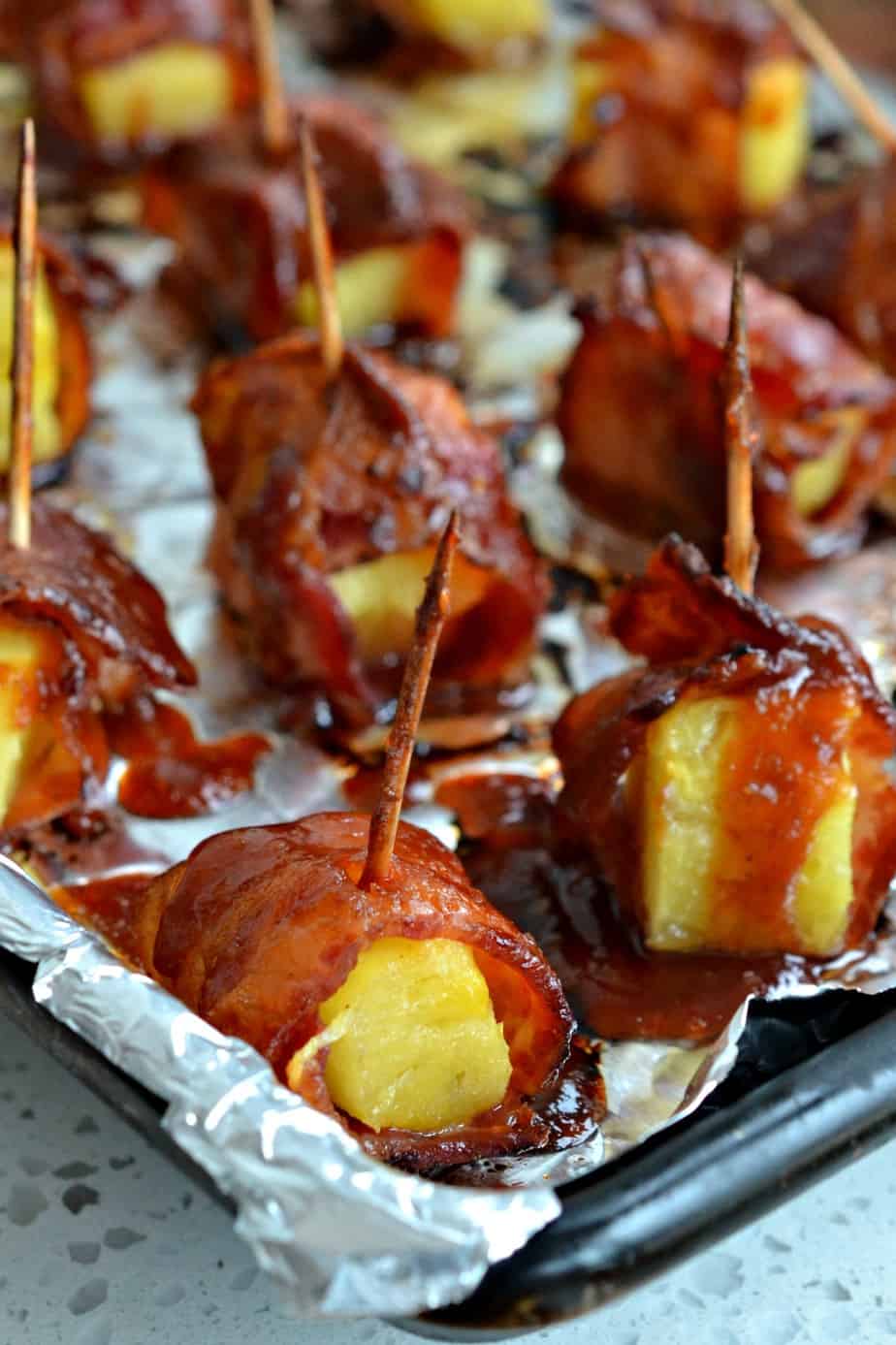 Helpful tips for making Bacon Wrapped Pineapple
You can use fresh or canned pineapple for this recipe.  Fresh pineapple is more acidic so always precook your bacon for best results.
Choose a bacon that is not too thin or too thick.  You want it slightly on the thick side but I have cooked bacon that is almost 1/4 inch thick and that is too thick for it to be easily pliable.
For best results baste after the bacon has lightly browned.  The sauce is somewhat acidic and you don't want it breaking down the bacon so don't start too early!
This appetizer is best assembled right before baking. If you start too soon the acid in the pineapple will break down the bacon and it will split.
Serve the remaining sauce in a bowl for dipping.  It is absolutely delicious and perfect for dipping.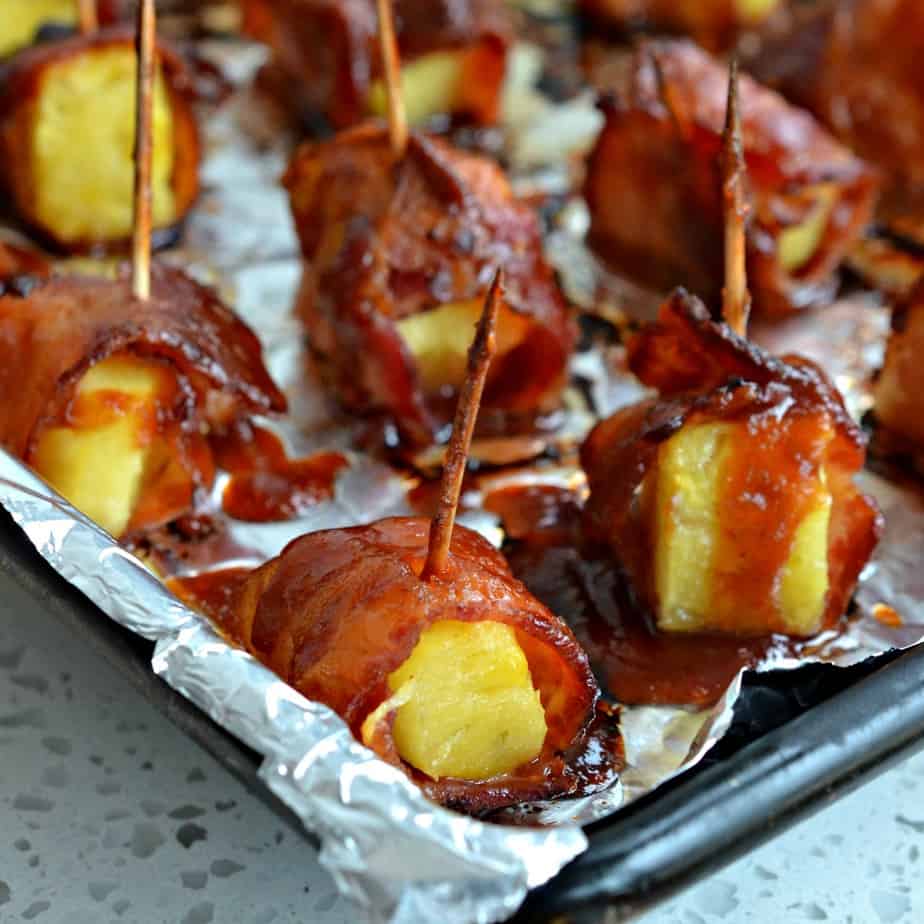 Cook up a batch of these for you and your honey for lunch or serve them at your next soiree.  They are absolutely delicious and they will be devoured before you can blink your eyes.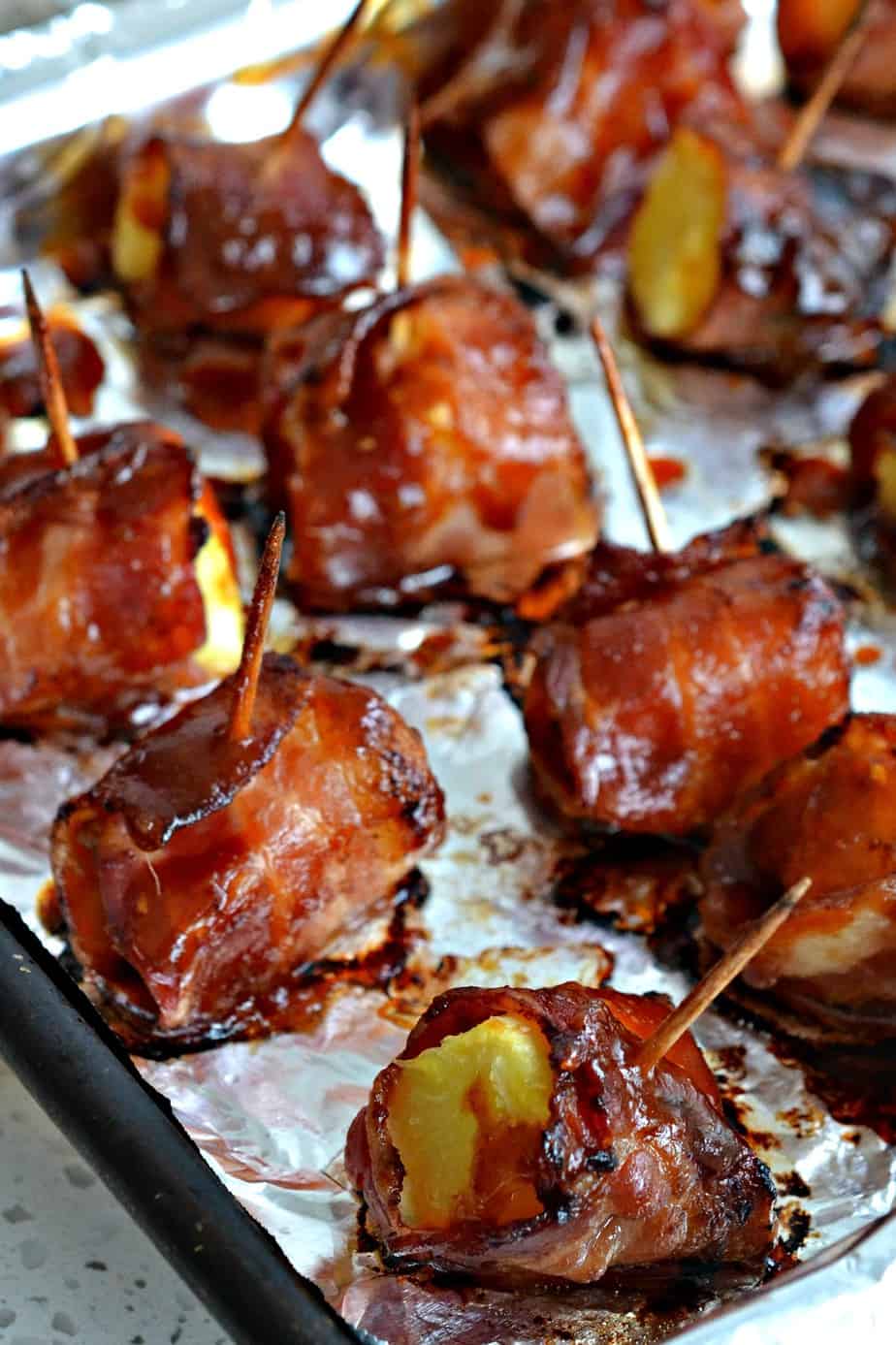 Other bacon recipes you will love!
This post was originally published November 27, 2016 and was republished January 12, 2020 with new content.
Print
Bacon Wrapped Pineapple Bites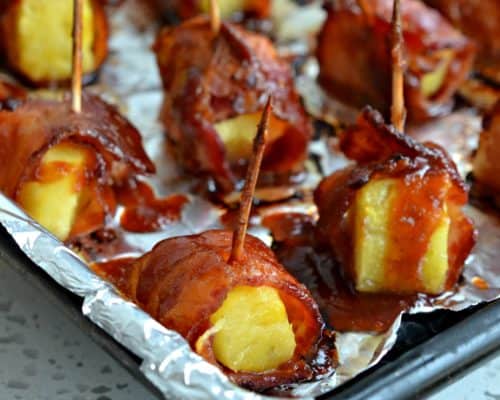 Fresh pineapple chunks are wrapped in crisp bacon and basted with a slightly spicy tangy sweet sauce.  They are perfect for game day, cocktail night, baby and bridal showers.  Your guests will absolutely love them!
Author:
Prep Time: 15 minutes
Cook Time: 45 minutes
Total Time: 1 hour
Yield: 24 bites 1x
Category: appetizers
Method: bake
Cuisine: southern
Scale
Ingredients
1 lb bacon (not too thin nor too thick)
1 pineapple peeled cored and cut in chunks (see notes)
Toothpicks
2 tablespoons honey
2 tablespoons Worcestershire sauce
3 tablespoons low sodium soy sauce
1 tablespoon fresh ginger
1/3 cup ketchup
2 tablespoons pineapple juice.(buy a precut pineapple and use that juice)
1 teaspoon sriracha sauce (hot chili sauce)
Instructions
Preheat oven to 375 degrees. Cut raw bacon in half and place on a baking sheet covered with aluminum foil in single layer.  Bake for 3 minutes, flip and bake for another 3 minutes. Let cool for 5-10 minutes. Wrap each piece of bacon around a pineapple chunk. Secure with toothpick and place back on the baking sheet covered with aluminum foil.  Place in oven.
Combine honey, Worcestershire sauce, soy sauce, ginger, ketchup, pineapple juice and sriracha in small saucepan and simmer for 10 minutes; stirring several times.
Using brush baste with sauce after they have cooked for 20 minutes. Bake for 10 additional minutes or until bacon is crispy and the pineapple is heated through.  Serve promptly with remaining sauce.
Notes
You will not use all the pineapple but it great for fruit salads, yogurt and snacking.
Keywords: bacon wrapped pineapple, bacon wrapped pineapple bites, smoked bacon wrapped pineapple, candied bacon wrapped pineapple, bacon appetizers, bacon wrapped pineapple bites recipe, bacon wrapped pineapple recipe
https://www.smalltownwoman.com/wp-content/uploads/2019/05/Beth-1.pdf