Skillet German Potato Salad is a scrumptious easy skillet recipe with a cider vinegar dressing, crisp bacon, sweet onion and fresh parsley.
This Skillet German Potato Salad is darn near the best potato recipe I have ever made. So savory and full of so much flavor. You can boil the potatoes and mix the dressing ahead of time. That leaves more time to concentrate on the rest of the meal or your cocktail. Believe me I have tweens here so cocktails are a necessity not an option!!
The first time I made this my husband said "Oh my goodness what are you doing to the potato salad." I told him "I am putting it in the skillet to crisp the edges and to make the flavors more intense." He loved it. He said "Who would have thought that would work out so well." I said "You don't know unless you try something new." So this traditional style German Potato Salad gets a bit of a twist by way of a hot skillet with a little bacon grease. This Skillet German Potato Salad is best served warm.
How to make Skillet German Potato Salad!
Parboil the potatoes, drain well and cut into chunks.
Cook bacon until crispy and chop coarsely.
Whisk together vinegar, sugar, water, olive oil and Dijon mustard.
Add 2 tablespoons bacon fat to large skillet. Add onion and cook a few minutes. Spoon in potatoes and cook until crispy on the edges. Drizzle in vinegar dressing in three parts cooking 1-2 minutes between each part.
Stir in chopped bacon and parsley.
That is it folks. It does not get any better or easier than that to the one of the finest potato salads you will ever have.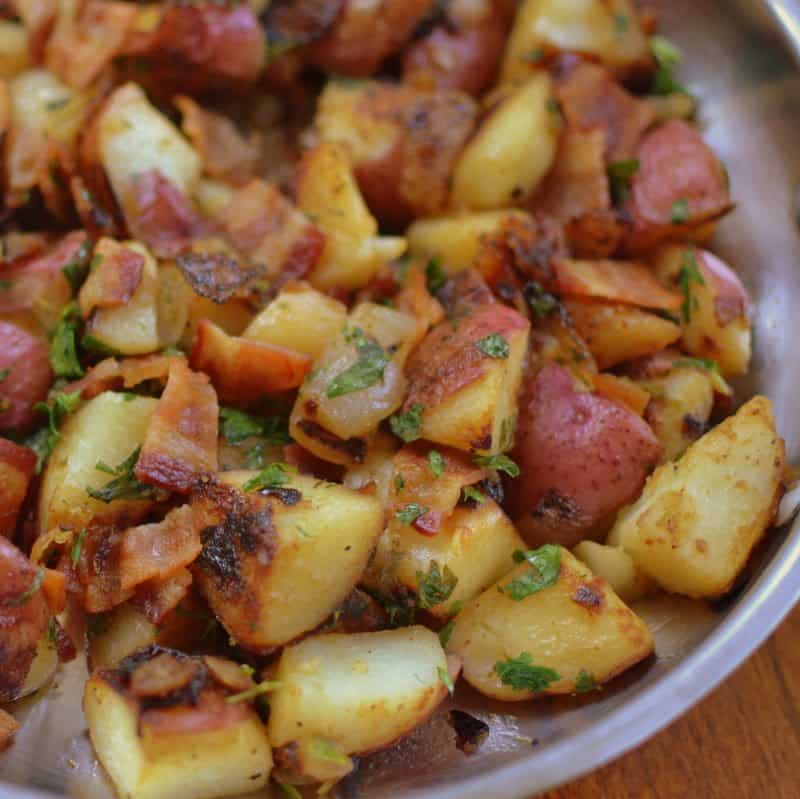 What makes German Potato Salad different from American Potato Salad?
German potato salad dressing is vinegar based and contains bacon grease while most American based potato salad dressings are mayonnaise based. Both are delicious albeit different.
So do yourself and your loved ones a huge favor and try my Skillet German Potato Salad. You are going to love it and your loved ones will be singing accolades.
Are you a spud loving family like us? Here are some more fabulous potato recipes you must try.
This post was originally published August 19, 2016 and was republished July 6, 2018.
Skillet German Potato Salad
Ingredients
1 1/2 lbs small red potatoes
4 slices bacon
1/4 cup apple cider vinegar
1 1/2 tablespoons sugar
2 tablespoons water
3 tablespoon olive oil
1 teaspoon Dijon mustard
1 medium sweet onion chopped
1/4 cup fresh Italian parsley chopped
Salt & Pepper to taste
Instructions
In large pot boil potatoes for 15 minutes. Place under cold running water to stop the cooking process. Cut into large bite size chunks and set aside.
Place bacon on cookie sheet Bake in oven at 375 degrees for 7 minutes. Turn bacon and cook for another 7 minutes or until crispy. Remove from cookie sheet and place on paper towel to drain. Do NOT dispose of bacon grease.
In medium bowl whisk vinegar, sugar, water, olive oil and Dijon mustard.
Place 2 tablespoon bacon grease in large skillet over medium heat. Add onion and cook 3-4 minutes. Add chopped potatoes and cook an additional 5 minutes or until starting to brown on the edges. Add additional bacon grease when necessary to keep things from sticking to the pan.. Whisk vinegar mixture and pour in 1/3 at a time cooking 1-2 minutes after each 1/3.
Stir in chopped bacon and parsley.
https://www.smalltownwoman.com/skillet-german-potato-salad/