A Tuna Melt is a an open faced sandwich piled with creamy tuna salad, fresh sun ripened tomatoes and tasty cheddar cheese.  They are popped in the oven long enough to warm everything up and melt the cheese.  These along with the Monte Cristo Sandwich and the Grilled Meatloaf Sandwich are some of our families favorite hot sandwiches.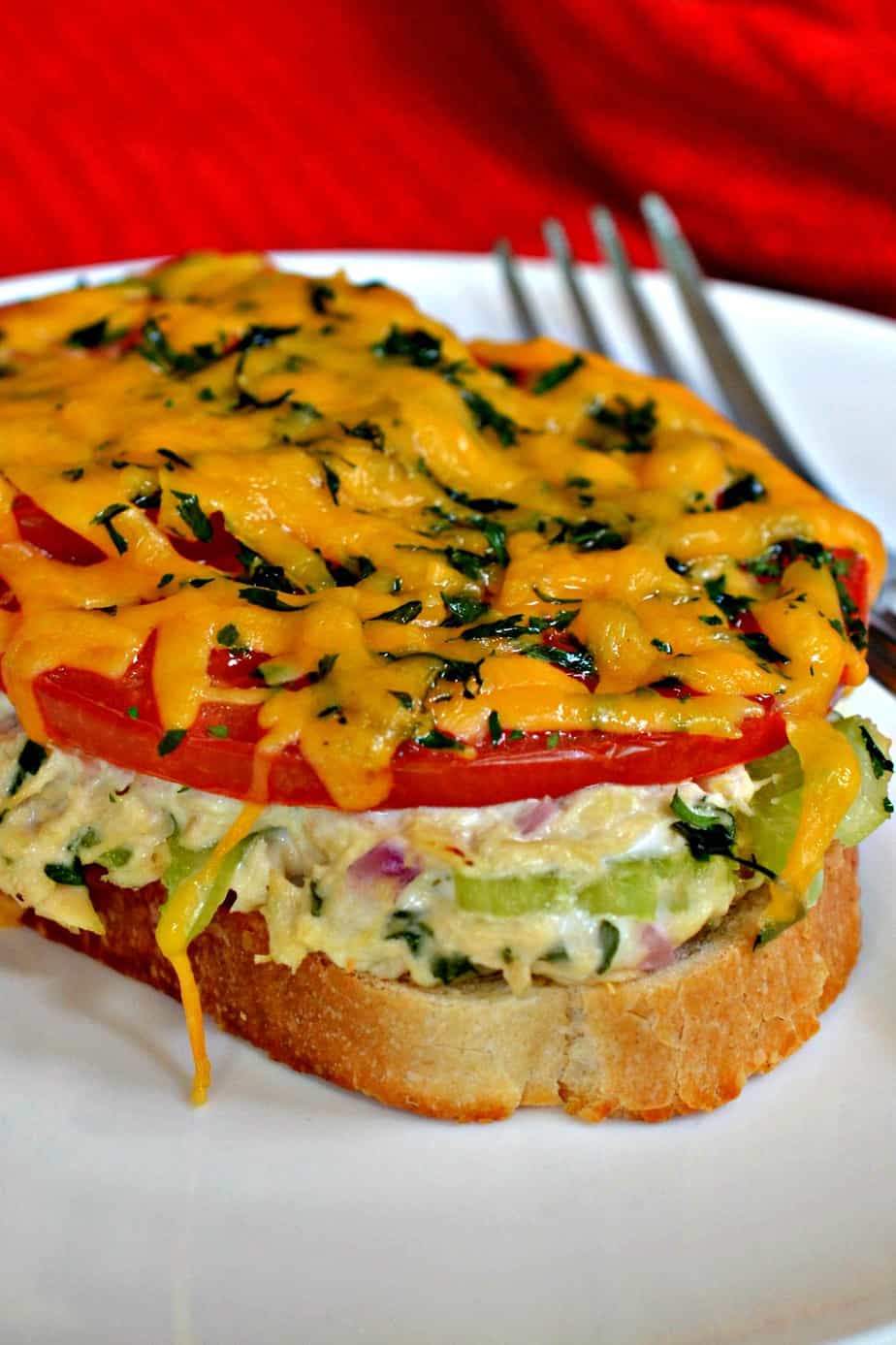 This sandwich is a true blast from the past and brings back such wonderful memories of my older sister making delicious lunches for us.  I am pretty sure that she left off the tomatoes.  Kids don't know what they are missing until their palates mature.  Then they realize how good a sun ripened tomato tastes.  Please don't leave off the tomato as it is an integral part of the final presentation and taste.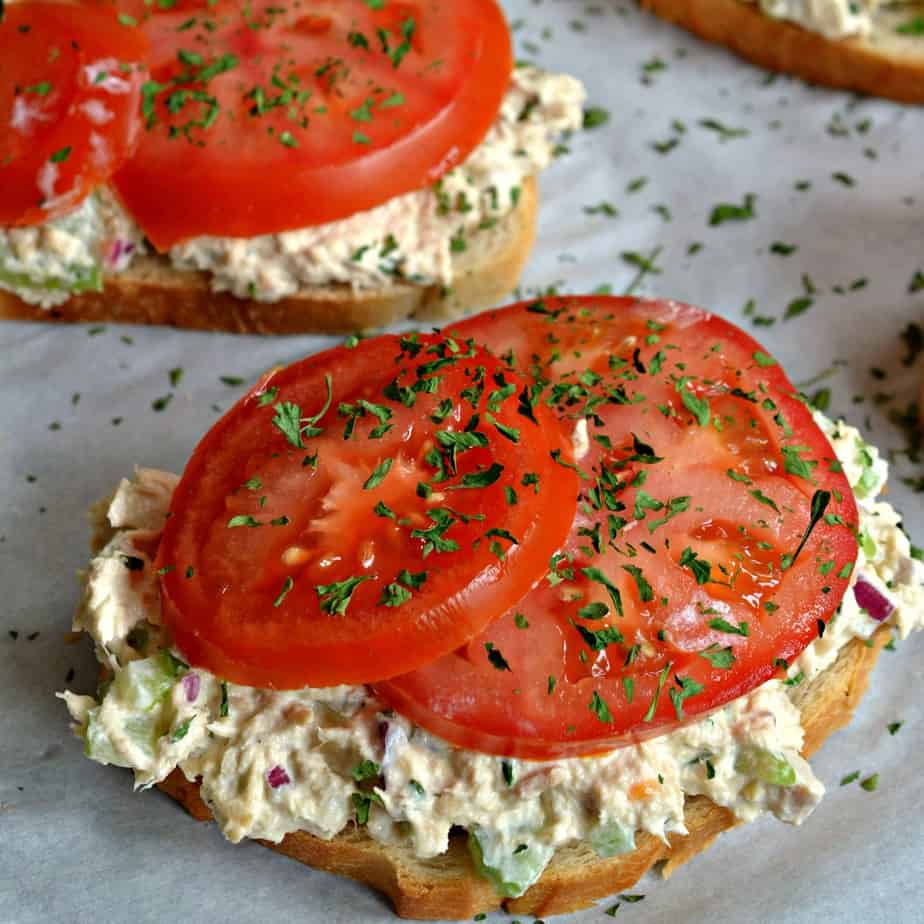 How do you make a Tuna Melt Sandwich?
Well first you mix some albacore tuna with mayo, sour cream, celery, red onion, pickle relish, parsley, dill weed and pepper.  Next lightly toast the bread and add the tuna salad evenly to each bread slice.  Now top with thinly sliced tomatoes and shredded cheddar.
Now place in the oven for about 10-15 minutes or until the cheese has melted and the sandwich has warmed.  These sandwiches are best served promptly.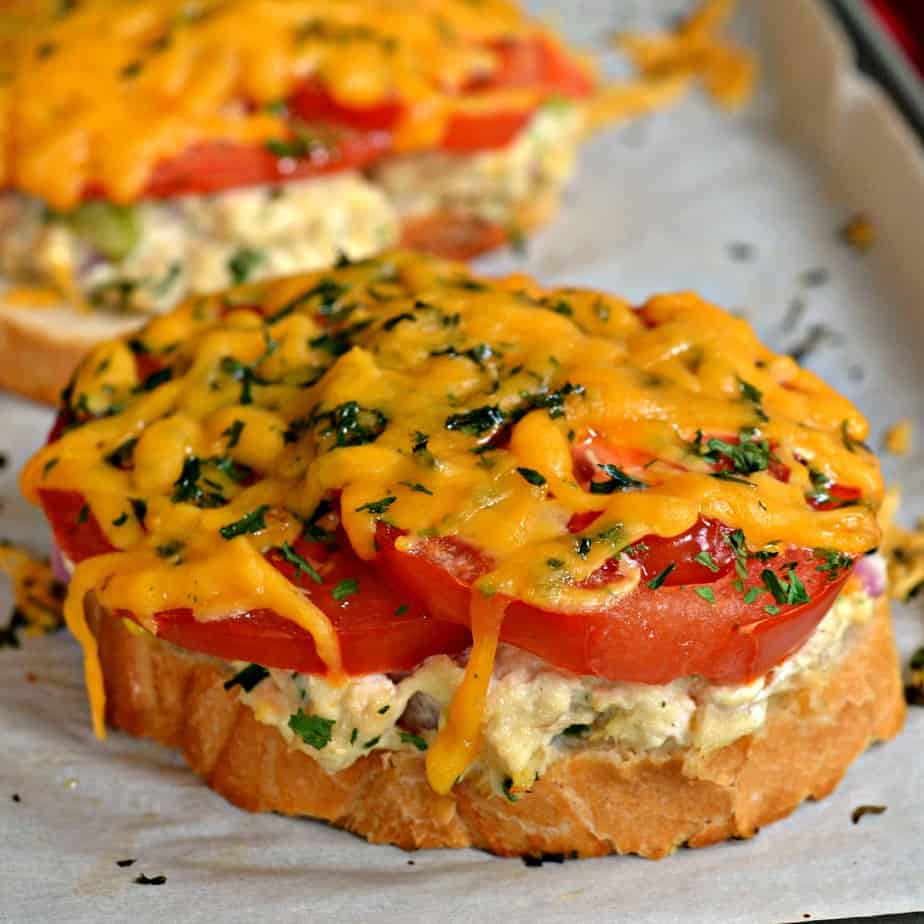 Flavor Variations
Spicy Pepper Jack: add finely minced jalapenos to the tuna salad and top the sandwiches with shredded pepper jack in place of the cheddar.
Bacon Swiss: top each sandwich with crispy cooked bacon and shredded Swiss in place of the cheddar.
 Pineapple Green Onion: replace the chopped red onion with snipped green onions and thin pineapple slices in place of the tomatoes.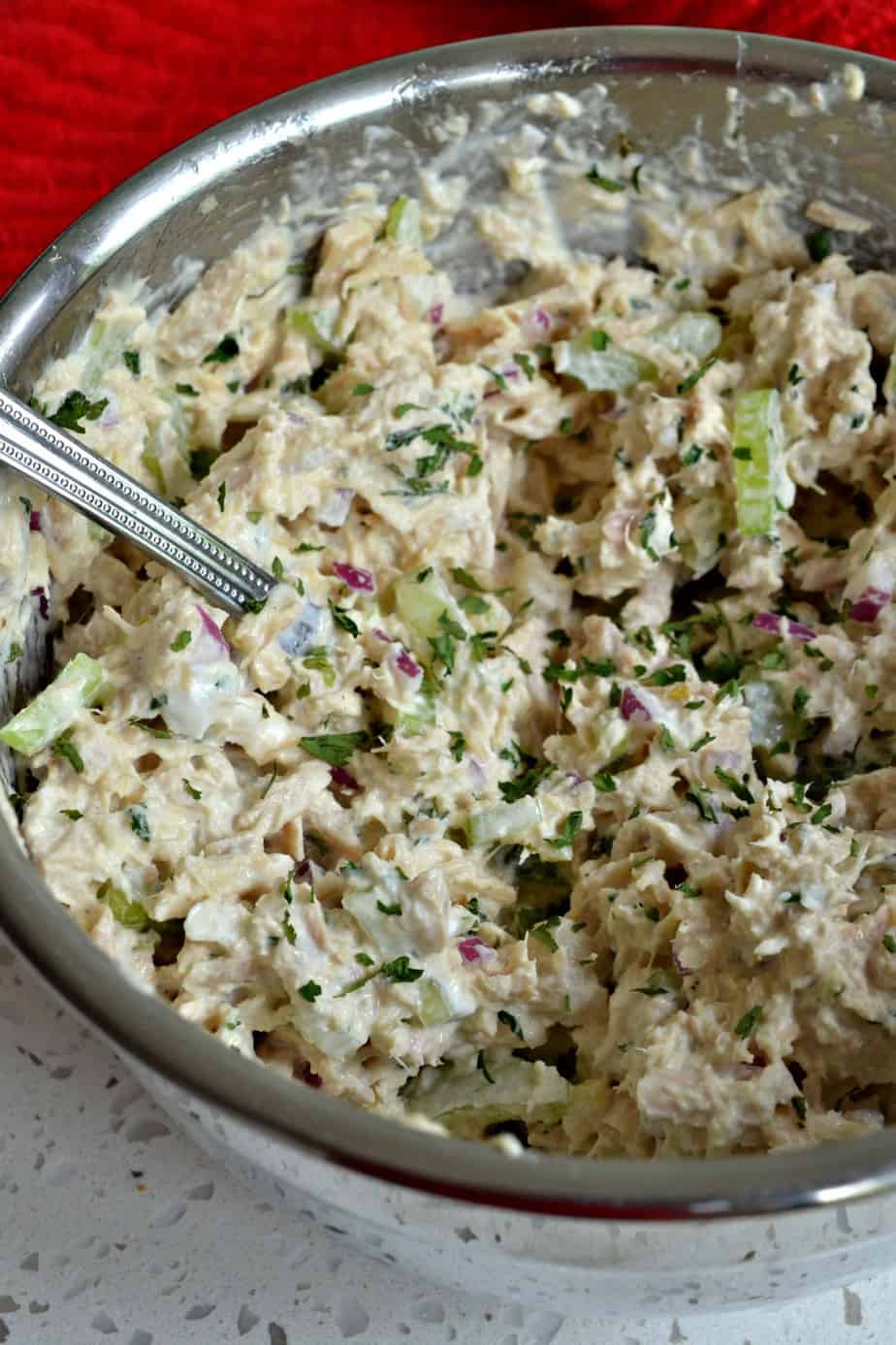 Tips for making a Tuna Melt Sandwich awesome
Good sturdy bread is ideal for this sandwich.  Sourdough, European White, Pumpernickel and Rye are all great choices.
Tuna is naturally salty so additional salt is not needed in this recipe however a good helping of fresh ground pepper is always welcome.
Are you always pressed for time?  Make the tuna salad 1-2 days in advance and skip shredding the cheese and use sliced instead.
You don't like onion?  No problem at all.  Simply omit it.  As I always say don't throw the baby out with the bath water.
If you have access to home grown tomatoes use them.  They are so full of flavor and it will take this sandwich over the top.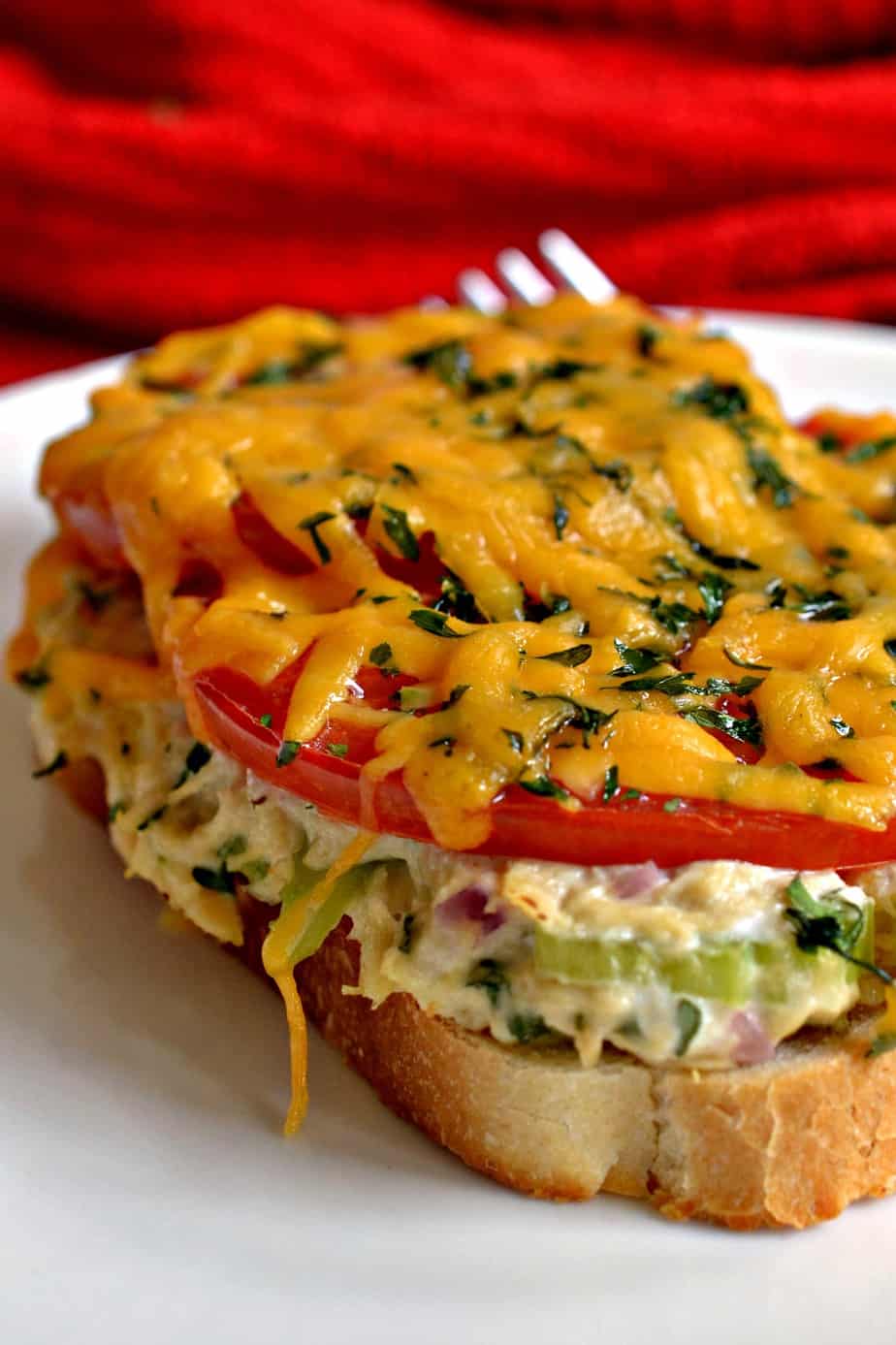 Other lunch recipes you will love!
Print
Tuna Melt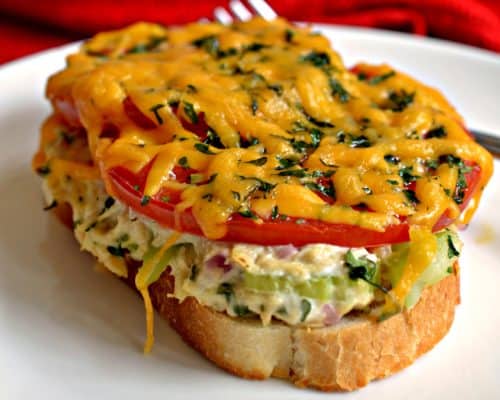 These family friendly open faced sandwiches are a tasty combination of tuna salad, tomato and cheddar cheese toasted to scrumptious perfection.
Author:
Prep Time: 10 minutes
Cook Time: 10 minutes
Total Time: 20 minutes
Yield: 6 sandwiches 1x
Category: lunch
Method: bake
Cuisine: American
Scale
Ingredients
2 (7 ounce) cans albacore tuna packed in water – drained
1/2 cup mayonnaise
1/4 cup sour cream
1 stalk celery chopped
2 tablespoon finely chopped red onion
1/3 cup sweet pickle relish
1 1 /2 tablespoon fresh chopped parsley
1/2 teaspoon dried dill weed
1/4 teaspoon fresh ground black pepper
6 slices sourdough, white, rye or pumperknickel
12 thin slices tomato
1 1 /4 cup shredded cheddar
Instructions
Preheat oven to 400 degrees.
Mix together tuna, mayonnaise, sour cream, celery, red onion, pickle relish, 1 tablespoon parsley, dill and pepper.
Lightly toast the bread.  Divide the tuna evenly between the toast.  Top each sandwich with 2 slices tomato. Top evenly with shredded cheddar.
Bake for 10-15 minutes or until the cheese has melted and the sandwich has warmed.  Serve promptly.
Keywords: how to make a tuna melt, open faced tuna melt, tuna melt sandwich
https://www.smalltownwoman.com/wp-content/uploads/2019/05/Beth-1.pdf