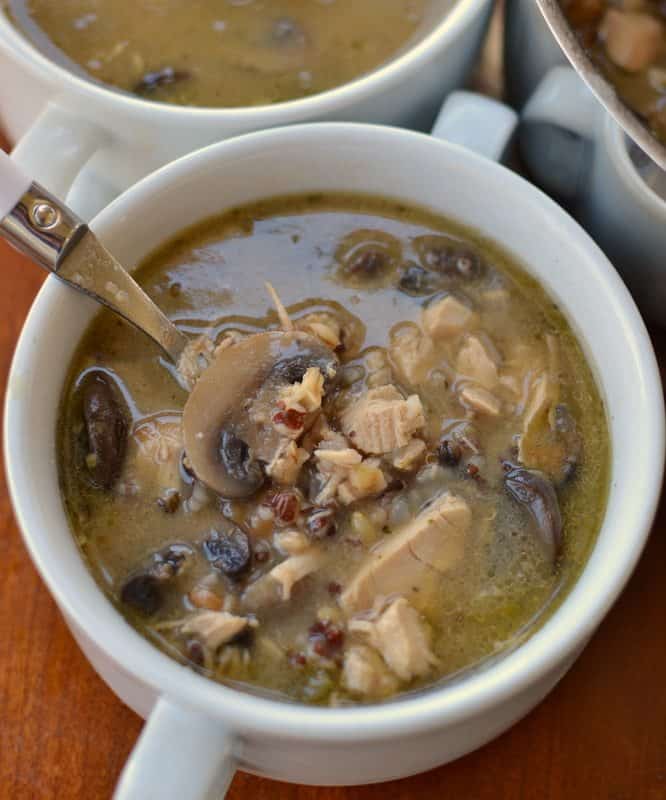 Winter has set in here in full force.  Our furnace has been on for several weeks and warm soup recipes have become a staple for dinner.  I absolutely love soup.  There is just something amazing about it. It really does warm the heart and soul.  It is Thanksgiving Eve and it has been one extraordinarily busy day.  I made this soup so I would have the dinner preparation hour free to make an apple pie.  This Turkey Mushroom and Wild Rice Soup is going to hit the spot just right.  You can use turkey or chicken for this scrumptious soup.  If you like turkey but you have long since eaten up all of your Thanksgiving Day leftovers than purchase a chunk of good quality turkey from the deli or go the roasted chicken route.  Pick up one of those perfectly baked chickens from Sams or Costco.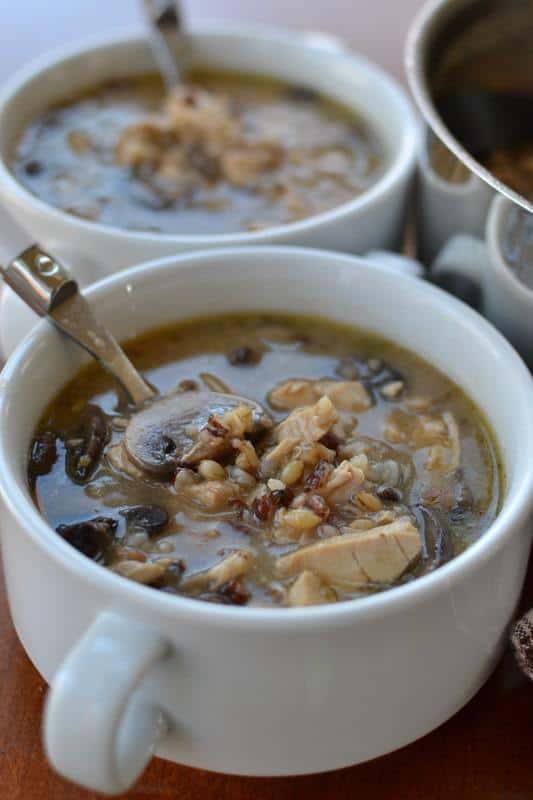 This amazing Turkey Mushroom and Wild Rice Soup brings together turkey (or chicken), white button and cremini mushrooms, wild rice and a perfect blend of spices.  It is quick to come together and the rice can be cooked up to several days in advance. Store cooked rice in an airtight container in the fridge.
Have you tried any of my other soups? Sausage Potato Cheddar Soup, Roasted Broccoli Cauliflower Potato Soup and Sausage Penne Soup are just a few family and friend favorites.  Please browse my Soups and see what there is to your liking.  I am constantly adding new soups so check back often.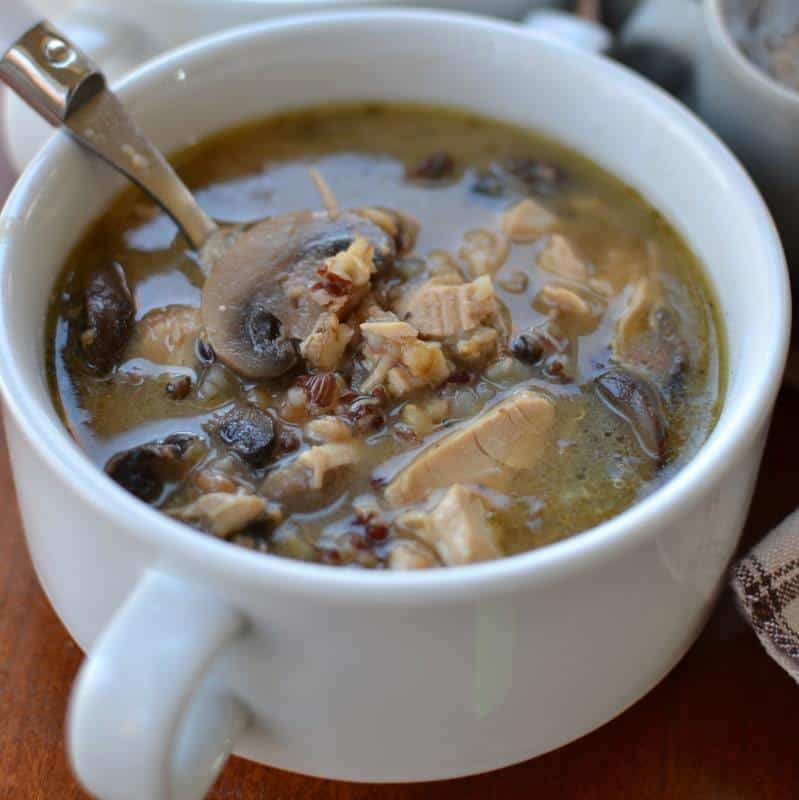 So if you are a mushroom and soup fan you have got to try this Turkey Mushroom and Wild Rice Soup! This soup comes together in about an hour so a weeknight is not out of the question.  If you cook your rice ahead of time you should be able to finish it in about forty minutes.
"Of soup and love the first is best" Venetian Proverb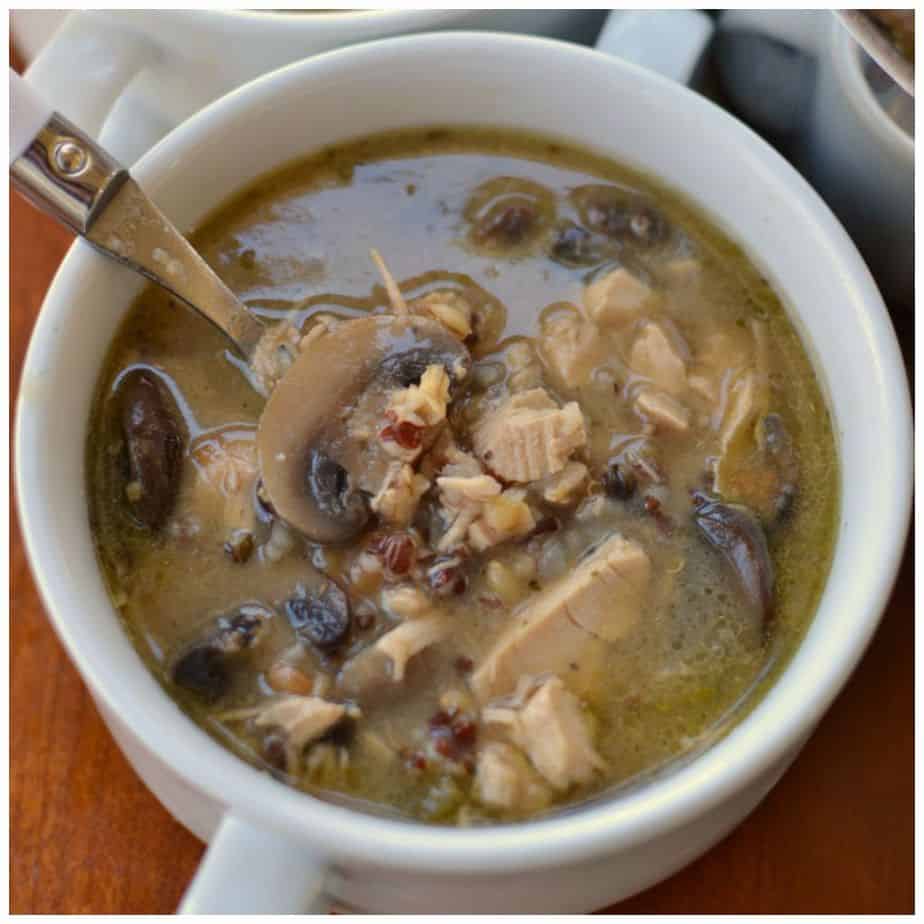 Print
Turkey and Wild Rice Soup with Mushrooms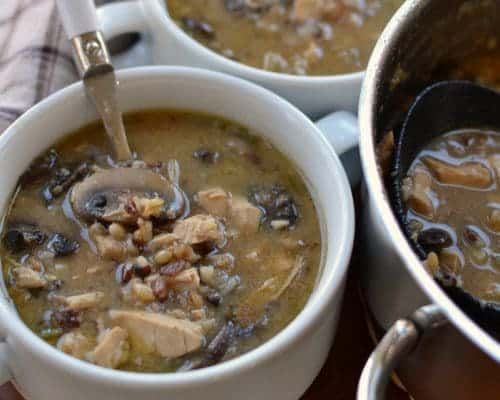 This hearty turkey and wild rice soup with mushrooms will warm you up on a cold day. Tender turkey, mushrooms, and wild rice in a perfectly seasoned broth. A perfect cold weather treat!
Author:
Prep Time: 15 minutes
Cook Time: 40 minutes
Total Time: 55 minutes
Yield: 4 servings 1x
Category: Dinner
Method: Stovetop
Cuisine: American
Scale
Ingredients
1 cup uncooked wild rice
3 tablespoons butter
8 ounces white button mushrooms cleaned and sliced
8 ounces cremini mushrooms cleaned and sliced
1 small onion finely chopped
2 stalks celery finely sliced
2 cloves garlic minced
1 teaspoon oregano
1/2 teaspoon onion powder
1/4 teaspoon poultry seasoning
6 cups low sodium chicken broth
3 tablespoons butter
3 tablespoons flour
2 1/2 cups cooked chopped turkey
Instructions
Cook wild rice according to package instructions.
Meanwhile in large stockpot over medium high heat melt 2 tablespoons butter. Add mushrooms and cook until moisture has evaporated and mushrooms are browning on edges. Add another tablespoon of butter and add onions and celery. Cook for an additional 4-5 minutes. Turn heat to low add garlic, oregano, onion powder and poultry seasoning and cook 1 additional minute. Pour in chicken broth and simmer for 10 – 20 minutes.
In small saucepan over medium heat melt butter until bubbly. Whisk in flour. Turn heat to medium low and continue whisking constantly until the flour turns a light golden brown; approximately 6-8 minutes. Slowly whisk into soup. Simmer soup for 5 minutes.
Add cooked wild rice and cooked turkey.
Keywords: turkey and wild rice soup, turkey and mushroom soup, turkey wild rice soup, easy soup recipe
Other comfort food recipes you will love!