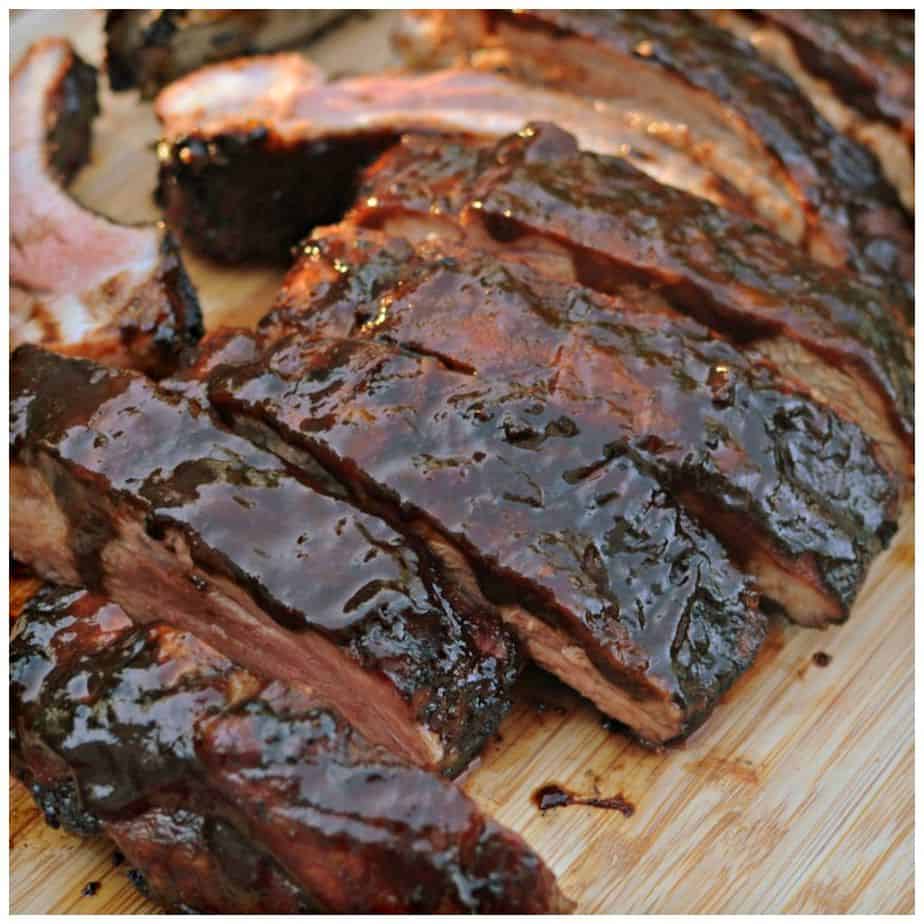 I love pork ribs.  I grew up with them slowed cooked on the charcoal grill until they were downright perfect.  Growing up in a large family they were the most popular birthday dinner choice. These beauties are a touch bit different than Mom and Pops but just as lip-smacking good! Have you tried my other rib recipes?   My Dry Rub Baked Ribs are rubbed with a delicious combination of spices and are low heat baked to perfection.  They are perfect for the winter and cold rainy months. The smells emanating from the oven will send you over the edge.
Now, these Balsamic Vinegar Barbecue Ribs are coated with a sweet sassy rub and allowed to sit for a while to absorb the rub. They are slow-cooked on the grill over indirect heat and then basted with a tangy balsamic vinegar reduction barbecue sauce.  I assure you these are mouthwatering good.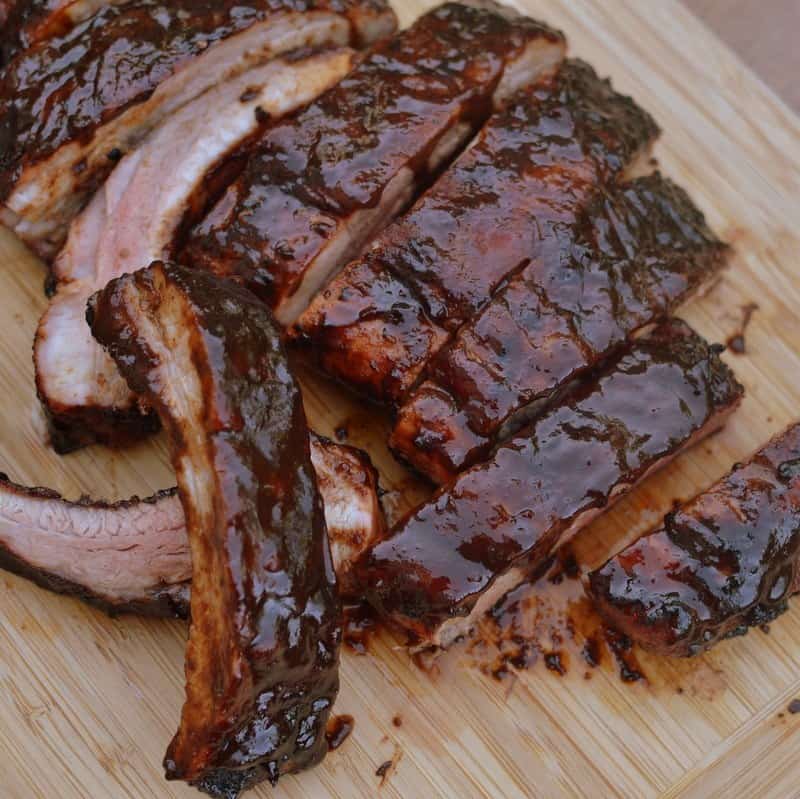 Look at those slow-cooked Balsamic Vinegar Barbecue Ribs.  Cooking doesn't get much better than this.  Make your sides ahead of time and sit on the patio sipping one of my Peach Mango Daiquiris or a glass of Fresh Peach Tea.   When you feel like your legs need a stretch get up and baste the ribs.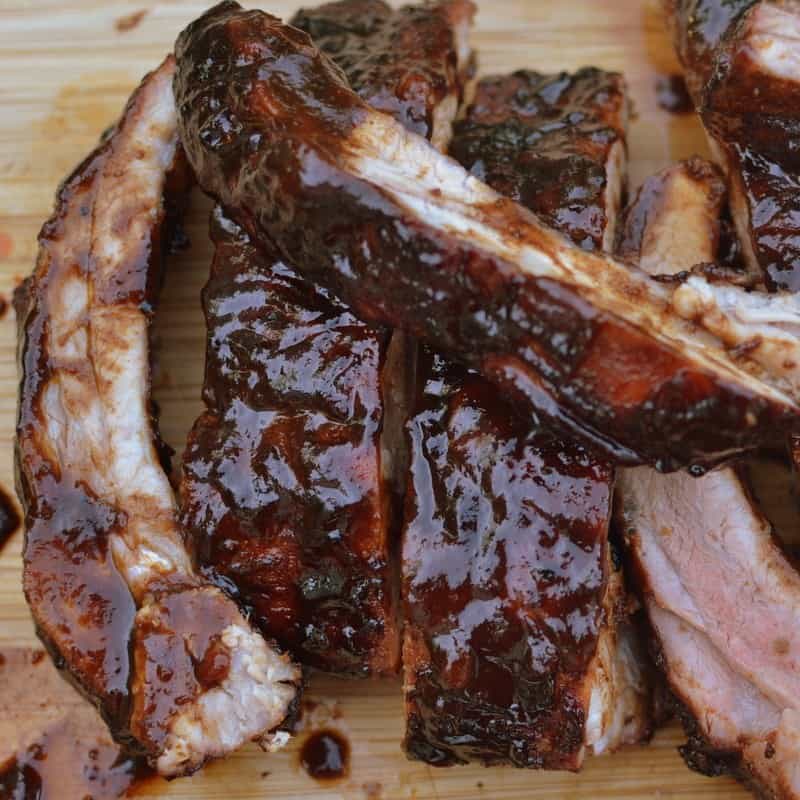 What a perfect way to spend a Saturday or Sunday evening.  The time is right as the evenings are still very pleasant for slow cooking on the pit. You are going to love this Barbecue Ribs recipe.  Are you cooking for a group?  Cook them ahead of time and place in a large turkey pan covered with foil.  Place in the oven on warm.  Do not slice until you are ready to serve as you do not want them drying out.
Great sides for grilling recipes
Print
Balsamic Vinegar Barbecue Pork Ribs
Tender pork ribs are perfectly seasoned with a spicy dry rub, and coated with a sweet and tangy balsamic vinegar barbecue sauce. The perfect summer grilling recipe!
Author:
Prep Time: 3 hours
Cook Time: 3 hours
Total Time: 6 hours
Yield: 4 servings
Category: Dinner
Method: Grilling
Cuisine: American
1 full slab pork ribs thin membrane removed
Dry Rub
1 tablespoon brown sugar
1 tablespoon cumin
1 1/2 teaspoons paprika
1 1/2 teaspoons chili powder
1 teaspoon garlic powder
1/2 teaspoon onion powder
1/4 teaspoon cayenne
Balsamic Reduction Barbecue Sauce
1 cup balsamic vinegar
3/4 cup Kansas City barbecue sauce
2 tablespoons brown sugar
1 tablespoon Worcestershire Sauce
2 garlic cloves crushed
1 tablespoon Dijon mustard
2/3 cup ketchup
Instructions
In small bowl mix brown sugar, cumin, paprika, chili powder, garlic powder, onion powder and cayenne. Rub on both sides of the ribs, cover with wrap and place in refrigerator for 1-3 hours.
In small saucepan heat balsamic vinegar, barbecue sauce, brown sugar, Worcestershire sauce, garlic, Dijon mustard and ketchup. Simmer for 30 minutes; stirring frequently.
Remove ribs from the foil. Cook ribs over indirect low heat (225 degrees) for 2-3 hours. Baste, flip and rotate the slab every 20-30 minutes. Serve extra sauce with the ribs.
Notes
Cooking time will depend on the thickness of the ribs, the amount of heat on the grill, size of the pit and number of slabs.
Keywords: barbecue pork ribs, grilled pork ribs, balsamic vinegar barbecue ribs, barbecue ribs, balsamic vinegar barbecue sauce,
https://www.smalltownwoman.com/wp-content/uploads/2019/05/Beth-1.pdf