This easy to make delectable Homemade Calzone Recipe makes fresh baked hot pockets of marinara, pepperoni and melted mozzarella.  They are always a hit with family and friends and with a few simple tips you can have these in the oven in no time flat.
I love to serve them for weekend lunch and family movie night.  For a complete company worthy meal serve with Italian Chopped Salad  and Fresh Strawberry Lemonade.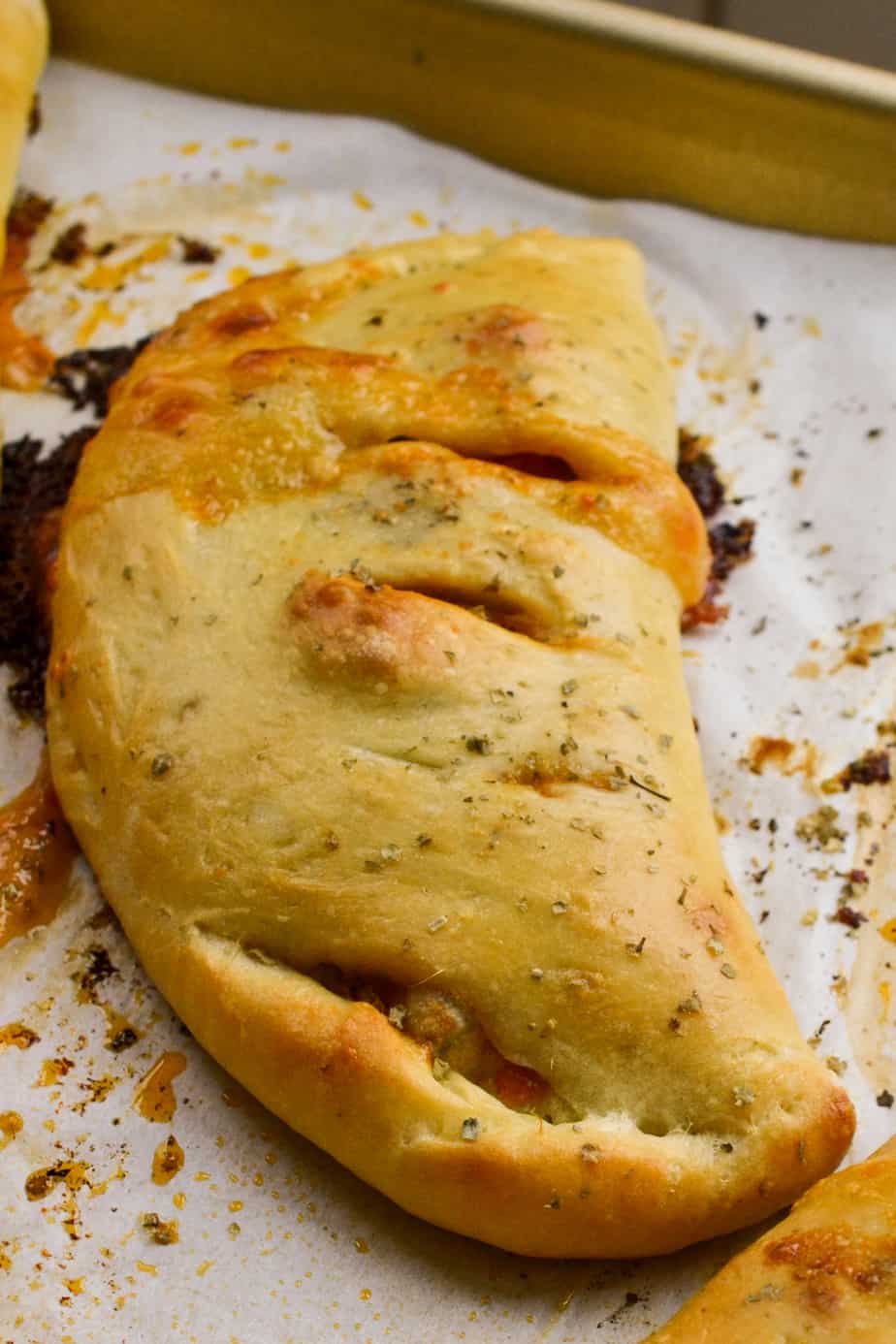 Why this recipe works!
Everyone loves it.  I mean what is not to love about about your favorite pizza toppings including plenty of cheese packed in a pizza dough pocket and baked to golden perfection.
A lot of grocery stores sell fresh ready made pizza dough.  I can usually find it in the deli section next to the fresh mozzarella and other fresh shredded and grated cheeses.  So if you are pushed for time this is an excellent alternative.
Everyone in the family can customize their calzone to suit their taste.  Bacon, ham, pepperoni, mushrooms, spinach, black olives, and onions are just a few choices to stuff them with.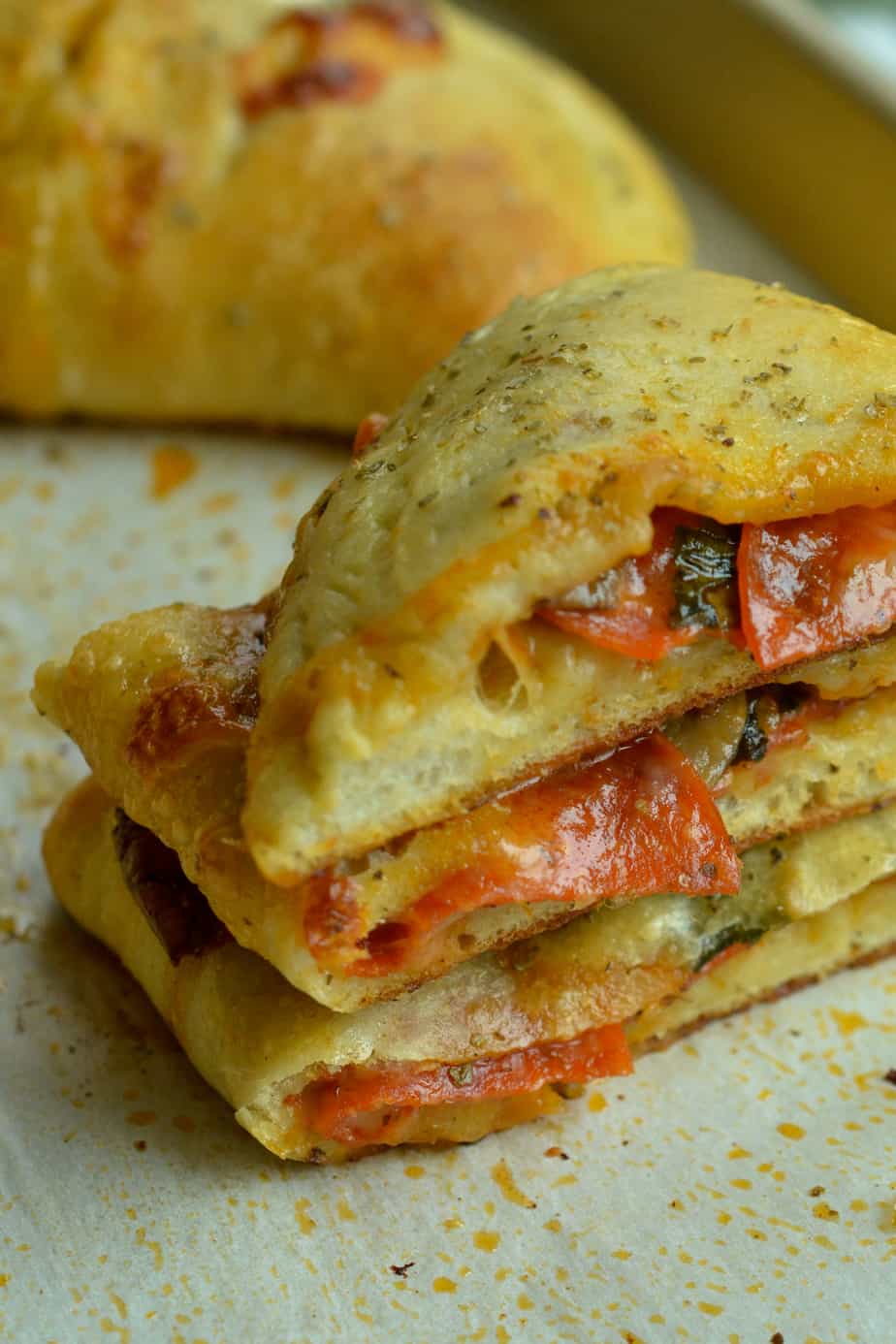 How to make a Calzone
First lightly flour your work surface and cut the pizza dough into quarters using a pizza cutter.  Now using a floured rolling pin roll those pieces into circles.  Then spoon a little marinara in the middle and spread it out leaving at least a 1/2 inch of the edge sauce free.  Next add your meats, cheeses, and veggies.  Now simply fold the dough over creating a half circle.  Use your fingers to roll the edges together and then crimp using a fork.  Next using a sharp knife cut 3 slits in the top of each one.  Now beat the egg with a little water and brush lightly over the top.  Finally sprinkle with a bit of dried oregano, marjoram or parsley and bake for about 15 minutes or until the dough is golden brown.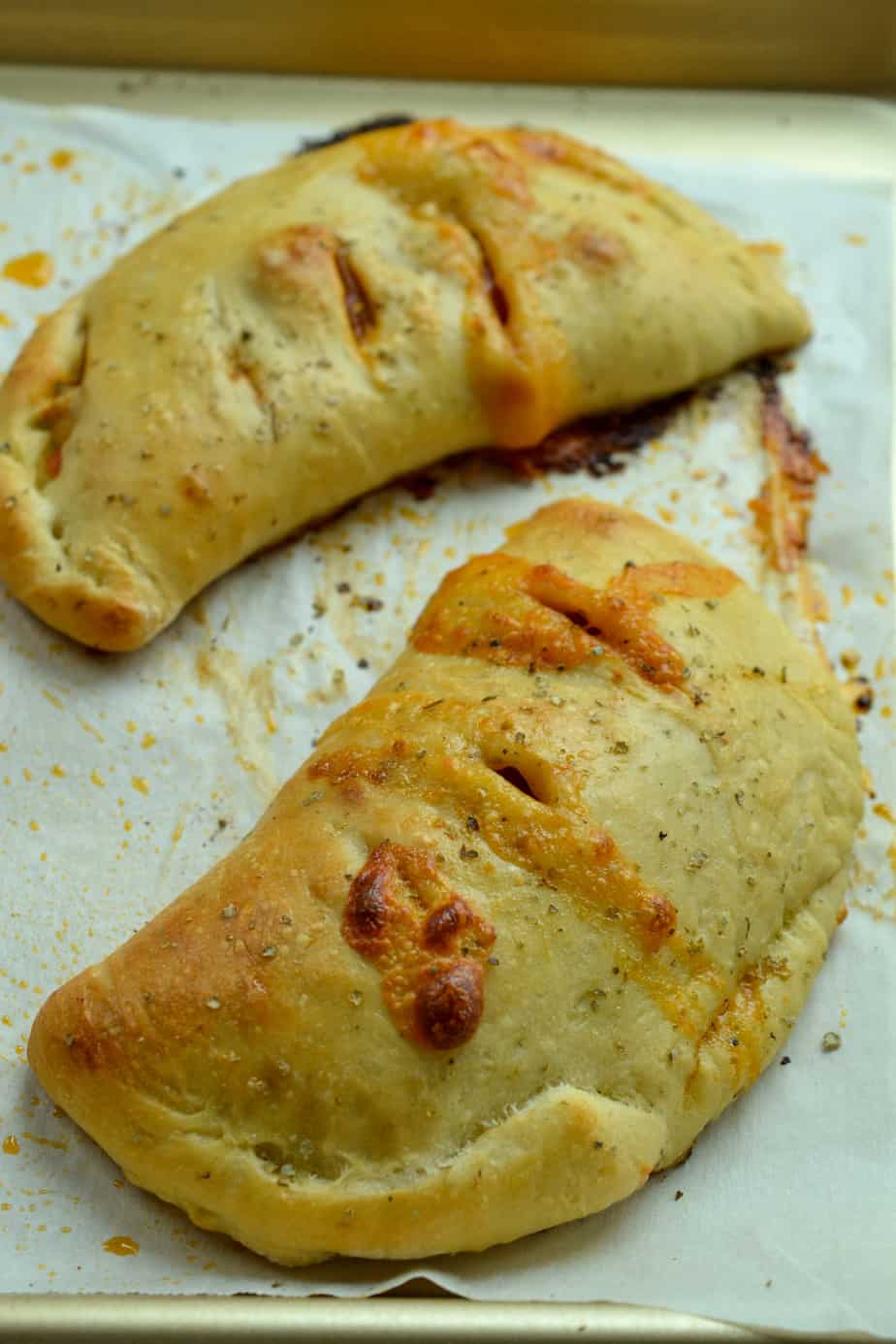 Recipe note and tips
Ready made pizza dough is available at many grocery stores.  It also freezes well so if it is a hit and miss situation at your neighborhood store bring an extra pound home and store it in the freezer. If you have time feel free to make homemade pizza dough.  It is quite easy to make and you will love the results.
You can roll or pat out the pizza dough into a circle.  If you have been working with pizza dough for a while than you are probably pretty good at patting it out into a circle.
Meats such as ham, bacon, hamburger, and sausage should be cooked prior to stuffing them in the calzones.
Don't overfill the calzone as you have to able to seal and crimp the edges.  Use a fork to crimp the edges.  I like to crimp them twice.  Once after I have stuffed them and one more final time after I have brushed on the egg wash.
Egg wash is so easy to make and it really adds a nice touch with a little bit of gloss and a nice golden brown finish.
To reheat remove the calzone from the refrigerator about 30 minutes prior to reheating to bring it to room temperature.  Wrap it in a loose aluminum foil tent and place on a baking sheet.  Bake in a preheated 400 degree oven for about 12-15 minutes or until warmed through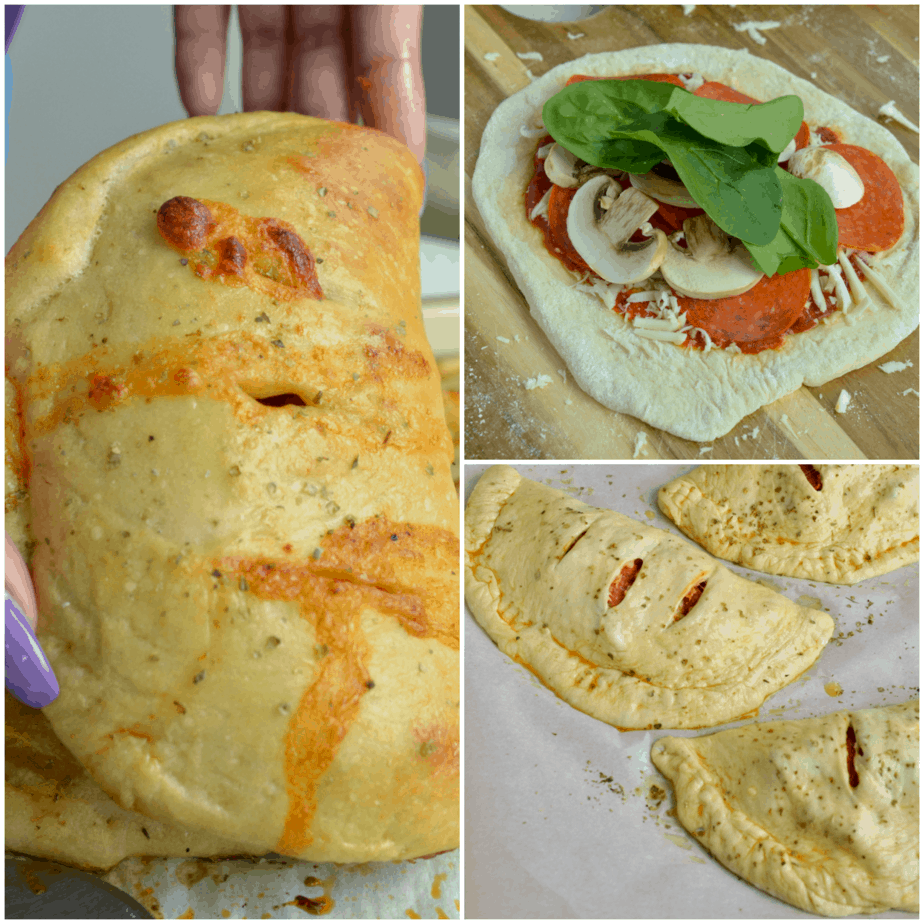 What is the difference between Calzone and Stromboli?
Basically they have all the same ingredients like pizza dough, marinara (or pizza sauce), cheese and other goodies like pepperoni, bacon, ham, and onions however they are shaped differently.  With a calzone a standard (1 lb) pizza dough is cut into fours and rolled into small circles then the sauce, cheese and other fillings are added and the dough is pulled over itself and crimped creating a closed pocket.  With stromboli a standard (1 lb) pizza dough is rolled out to a rectangle and sauce, cheese and toppings are added.  Then it is rolled up like a cinnamon roll.  Both are equally delectable albeit different.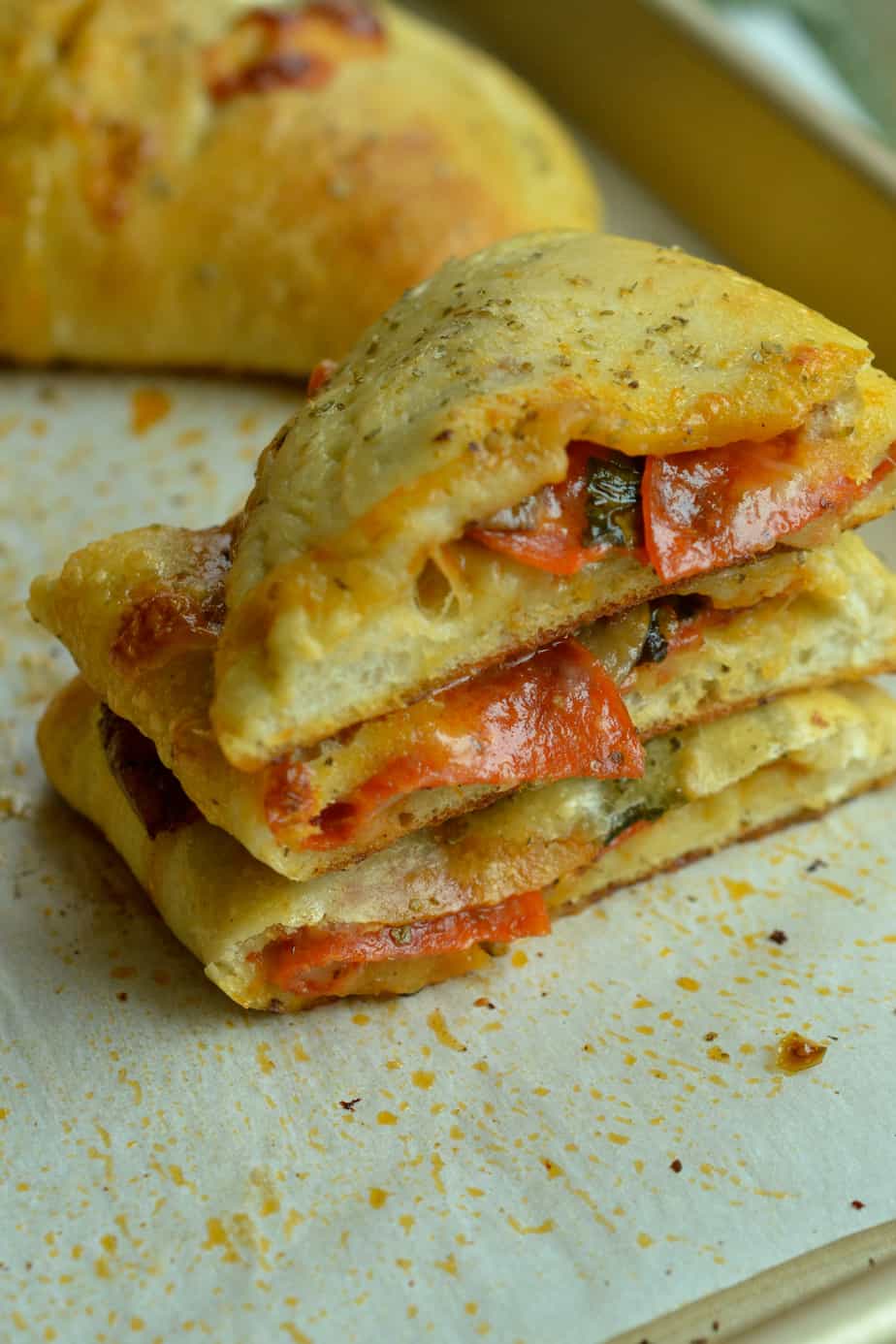 Calzone Fillings
Sauce – pizza sauce, marinara, or even alfredo sauce
Cheese – mozzarella, provolone, Parmesan and provel
Meats – pepperoni, ham, bacon, Italian sausage, hamburger
Vegetables – spinach, mushrooms, bell peppers, onions, Pickled Jalapenos
On the hunt for more delicious recipes?  Follow Small Town Woman on Facebook, Pinterest, and Instagram.
Print
Homemade Calzone Recipe
A delectable and easy calzone recipe using homemade pizza dough, mozzarella, pepperoni and your favorite vegetables.  This recipe includes lots of helpful tips in mastering calzones.
Author:
Prep Time: 20 minutes
Cook Time: 15 minutes
Total Time: 35 minutes
Yield: 4 servings 1x
Category: dinner, lunch, mail meal
Method: bake
Cuisine: Italian
1 lb pizza dough (homemade or store bought)
1/2 cup marinara or pizza sauce
1/2 cup sliced pepperoni
3/4 cup shredded mozzarella
1/4 cup shredded provolone
sliced mushrooms (optional)
chopped onion (optional)
baby spinach (optional)
diced bell peppers (optional)
1 egg
1 tablespoon cool water
1/4 teaspoon dried marjoram or oregano
Instructions
Preheat oven to 425 degrees.  Line large baking sheet with parchment paper.
Lightly flour your work surface and cut the pizza dough into quarters using a pizza cutter. Using a floured rolling pin roll the pizza dough into 1/4 inch thick circles.
Spoon 2 tablespoons marinara onto each dough circle and spread it out leaving at least a 1/2 inch of the edge sauce free.  Divide your pepperoni and cheese evenly and add any desired vegetables.
Fold the dough over creating a half circle and crimp the edges first rolling together with your fingers and then crimping with a fork.  Cut 3 slits in the top of each one.
Beat the egg and water and together. Brush lightly over the exposed dough.  Sprinkle with dried marjoram. Bake for 15 minutes or until golden brown.
Notes
Ready made pizza dough is available at many grocery stores.  It also freezes well so if it is a hit and miss situation at your neighborhood store bring an extra pound home and store it in the freezer. If you have time feel free to make homemade pizza dough.  It is quite easy to make and you will love the results.
You can roll or pat out the pizza dough into a circle.  If you have been working with pizza dough for a while than you are probably pretty good at patting it out into a circle.
Meats such as ham, bacon, hamburger, and sausage should be cooked prior to stuffing them in the calzones.
Don't overfill the calzone as you have to able to seal and crimp the edges.  Use a fork to crimp the edges.  I like to crimp them twice.  Once after I have stuffed them and one more final time after I have brushed on the egg wash.
Egg wash is so easy to make and it really adds a nice touch with a little bit of gloss and a nice golden brown finish.
To reheat remove the calzone from the refrigerator about 30 minutes prior to reheating to bring it to room temperature.  Wrap it in a loose aluminum foil tent and place on a baking sheet.  Bake in a preheated 400 degree oven for about 12-15 minutes or until warmed through
Keywords: easy calzone recipe, easy homemade calzone, easy pizza calzone recipe
https://www.smalltownwoman.com/wp-content/uploads/2019/05/Beth-1.pdf