This Stromboli Recipe includes an easy made from scratch pizza dough along with helpful hints on mastering the Stromboli and making this recipe epic. This scrumptious family favorite is loaded with pepperoni, ham and mozzarella.
If you have never made a homemade Stromboli Recipe than you are in for one delectable treat.  This pepperoni, ham and mozzarella Stromboli one is my absolute favorites and can be mastered by even the novice chef.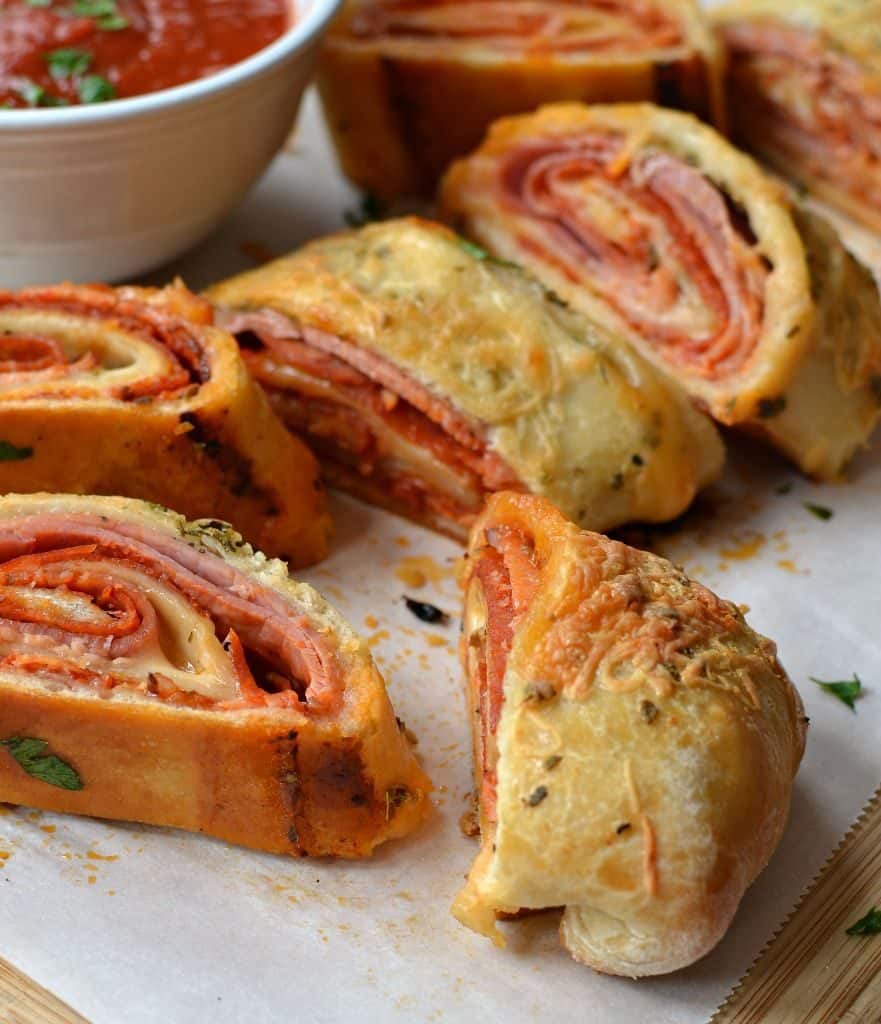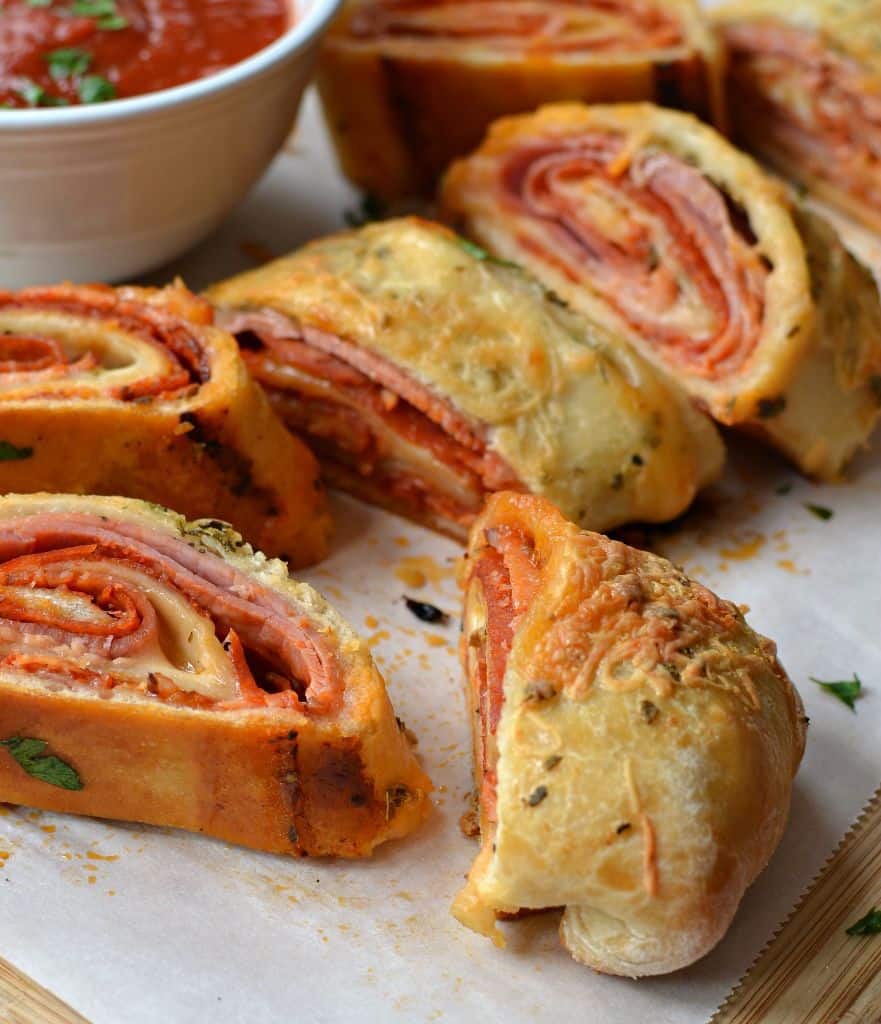 Life just wouldn't be the same without scrumptious recipes like this.  Now this particular recipe calls for homemade pizza dough because when it come to stromboli I think it makes all the difference in the world.  This beauty is stuffed with marinara, pepperoni, sweet ham and mozzarella however there are many choices when it comes to stuffing a stromboli.
HOW TO MAKE STROMBOLI
First prepare the pizza dough.  Dissolve the yeast and sugar in water and wait about ten minutes. Mix salt, yeast mixture, olive oil and flour in a stand mixer with dough hook attached.  Add the flour 1/2 cup at a time until the dough pulls away from the side of the bowl. Turn on to floured surface and knead for about four minutes.  Divide the dough in half and roll out two rectangles. You can also take half the dough and wrap up and refrigerate for later use. Pizza dough is at its best for about three days if wrapped properly and stored in the refrigerator.
Melt butter and add garlic powder, basil and oregano. Lightly brush pizza crust with herb butter.
Spread shredded mozzarella over the crust, followed by ham, a thin layer of marinara and pepperoni leaving a border all the way around.  With the pizza crust turned lengthwise roll up like you would cinnamon rolls. Place on cookie sheet and brush with egg wash, a little more herb butter and a sprinkling of mozzarella. Cut slits in the top diagonally every inch and bake.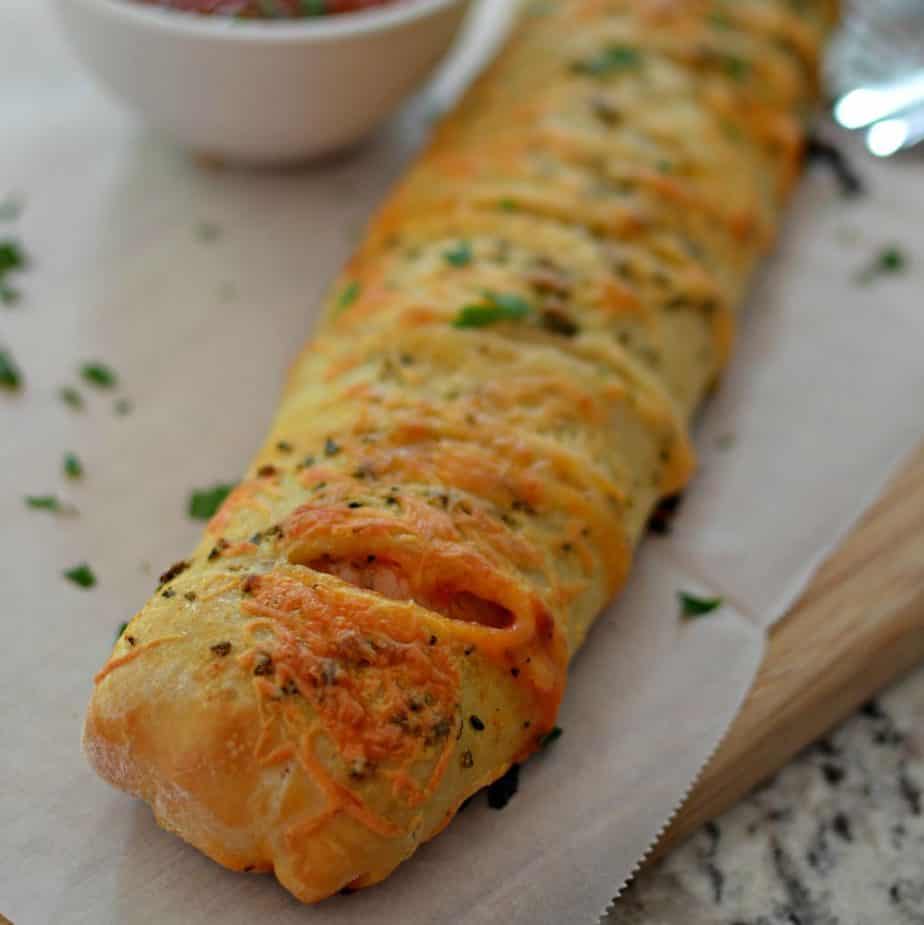 CAN YOU MAKE PIZZA DOUGH AHEAD OF TIME?
The pizza dough can be made up in advance. Tightly cover the pizza dough with plastic wrap and store in the coldest part of the refrigerator for up to three days. After three days it is still edible but the quality of the dough begins to degrade.  To freeze double wrap and store for up to three weeks. Move frozen pizza dough to the refrigerator the day before use to thaw.
HELPFUL HINTS FOR MAKING THIS STROMBOLI RECIPE AMAZING!
Roll the pizza dough out on surface lightly covered with flour. Move to baking sheet after rolled out.
If the pizza dough seems to be springing back when you roll it then give the gluten time to relax in its new flat shape. Roll it out, wait 15 minutes, roll it again, repeat if necessary.
If pushed for time some grocery stores have ready made pizza dough.  Call ahead to check.
Leave a 1-2 inch border around the pizza dough so you can pinch and seal consequently leaving all the goodies cooking inside.
Place the Stromboli on cookie sheet seam side down.
Make sure you brush the top with egg wash, herb butter and a sprinkle of mozzarella.
Bake in center of preheated oven uncovered.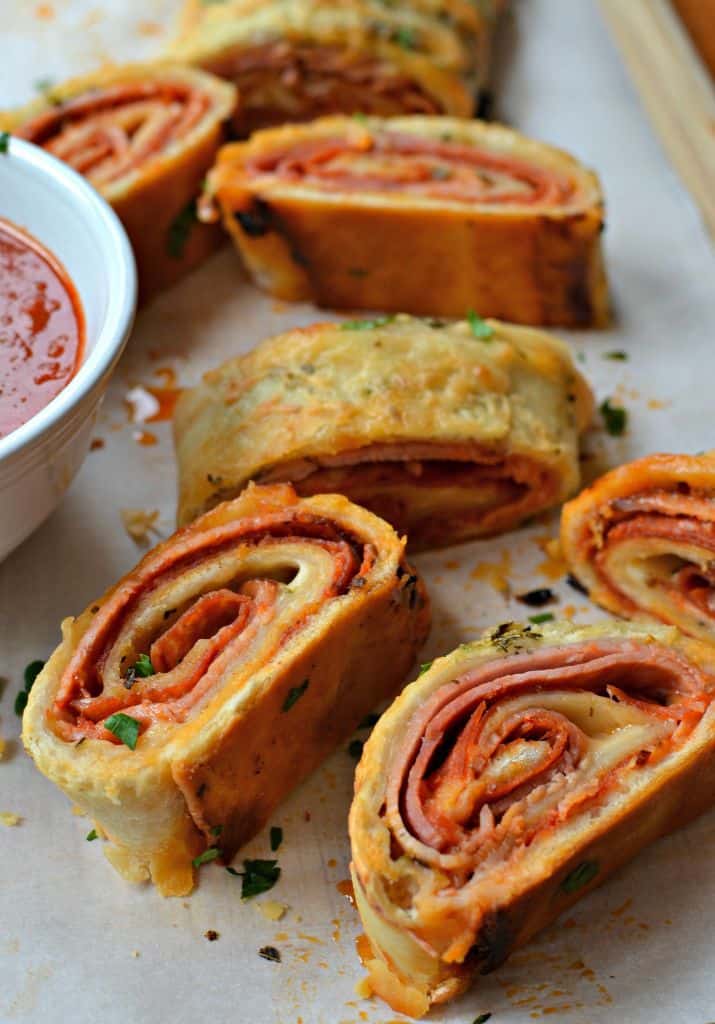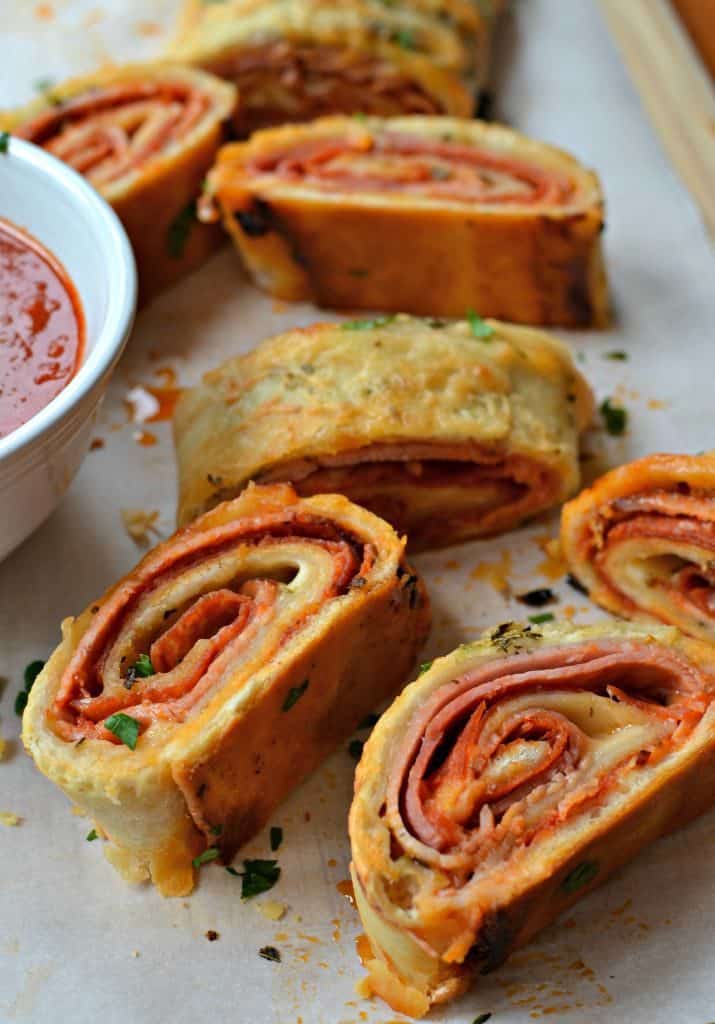 I can not tell you enough how delicious this Stromboli is.  It makes for the prefect party appetizer or family dinner.  Do yourself a huge favor and make this amazing Stromboli Recipe today!
More delicious appetizers you will love!!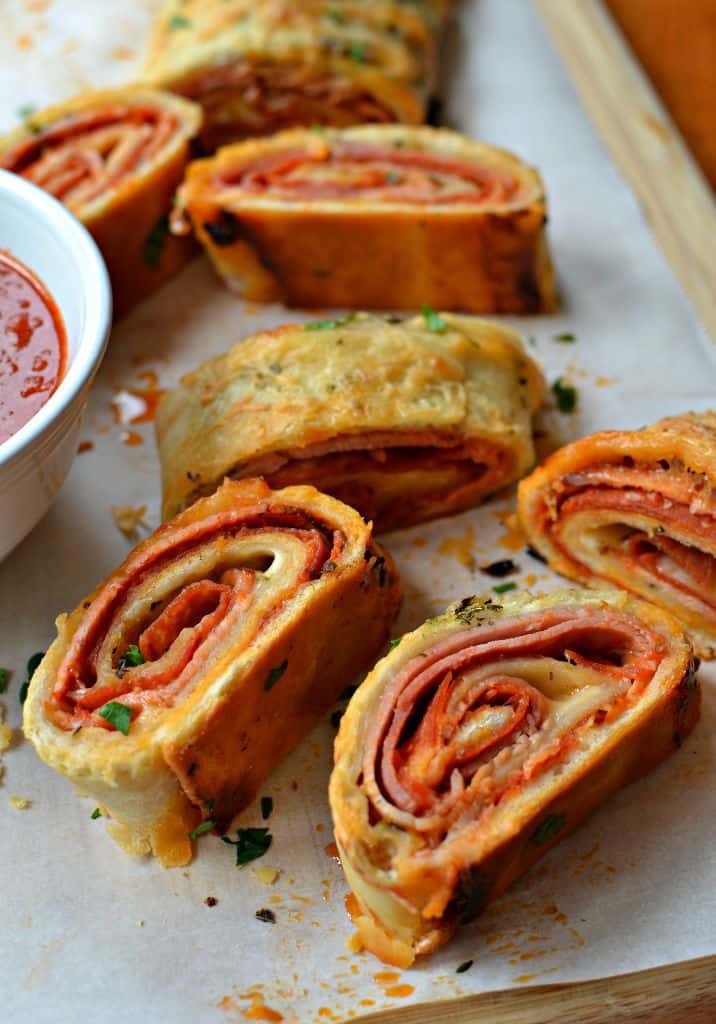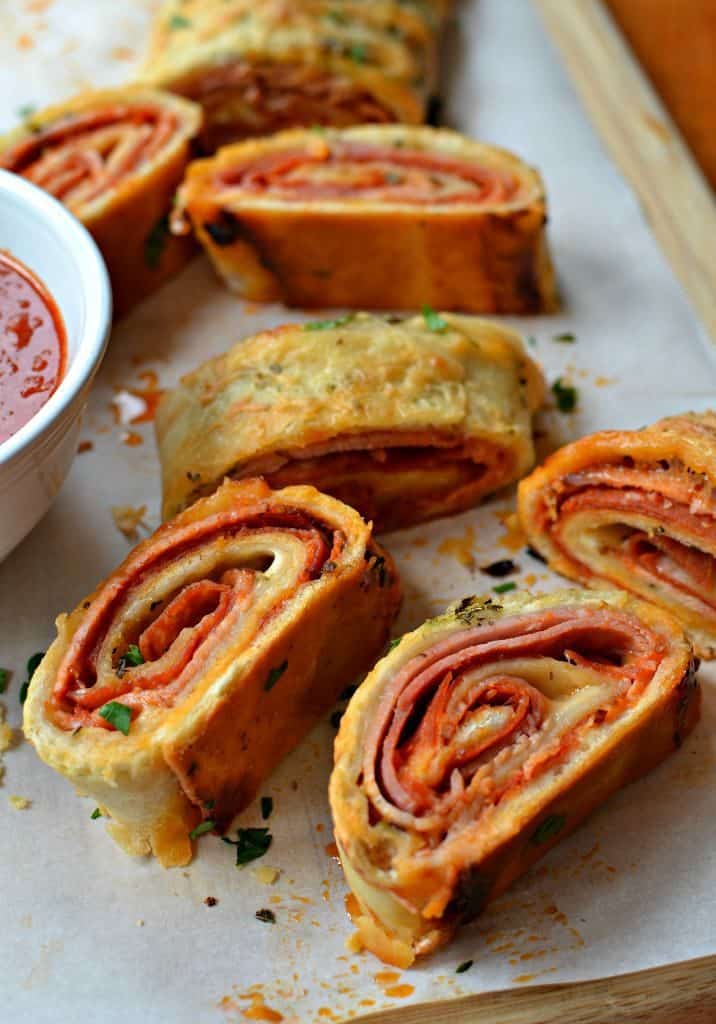 This post was originally published July 28, 2018 and was republished March 6, 2019 with new content.
Print
Stromboli Recipe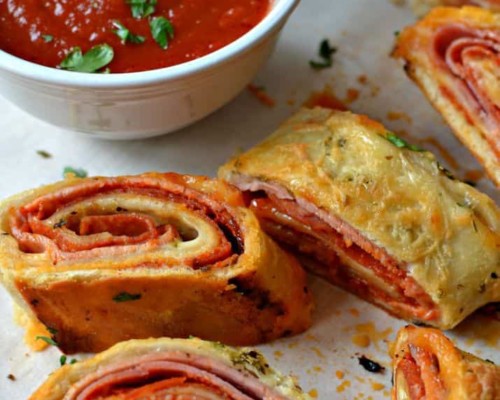 This delectable pepperoni and mozzarella  Stromboli Recipe comes together quickly with an easy made from scratch dough.  It is so good that it will quickly become one of your favorite recipes.
Author:
Prep Time: 40 minutes
Cook Time: 25 minutes
Total Time: 1 hour 5 minutes
Yield: 8 1x
Category: Main Meal
Method: Baking
Cuisine: Italian
Scale
Ingredients
Pizza Dough
1 (.25 ounce) package active dry yeast
1 teaspoon sugar
1 cup warm water
1/2 teaspoon salt
1 tablespoon olive oil
2 1/2–3 cups all purpose flour plus extra for rolling
Stromboli
3 tablespoons butter
1/2 teaspoon dried basil
1/2 teaspoon dried oregano
1/2 teaspoon garlic powder
2 1/2 cups finely shredded mozzarella
6 large thin slices sweet ham
1/2 cup marinara plus more for dipping
6 ounces pepperoni
1 egg beaten
Instructions
In a small bowl mix together yeast, sugar and water. Let it sit for about 10 minutes for the yeast to activate. If the yeast is active small bubbles will form on the surface.
In the bowl of your stand mixer using dough hook add salt, yeast mixture and olive oil. Begin adding flour about 1/2 cup at time. Continue to add flour 1/2 cup at a time until the dough starts to pull from the sides.
Knead the dough for 3-4 minutes on a well floured surface.
Split dough in half. Roll dough out on lightly floured surface to an approximately 10 x 13 rectangle. Move dough to baking sheets.
Melt butter in small microwaveable bowl. Stir in basil, oregano and garlic powder. Brush over the laid out pizza crust. Sprinkle each crust with 1 cup of shredded mozzarella leaving a 1 1/2 inch border all around the pizza crust. Layer with ham leaving same border. Divide pizza sauce and spread over ham keeping off of the border. Layer with pepperoni overlapping again avoiding the border. Turn the pizzas horizontally in front of you and gently roll the pizza dough into logs sealing the edges as you go. Place seam side down on baking sheets.
Brush with beaten egg. Brush the tops lightly with the butter/herb mixture. Sprinkle each Stromboli evenly with the remaining mozzarella. Cut slits diagonally in the top about 1 inch apart.
Bake at 375 degrees for 20-25 minutes. Slice along slits and serve with extra marinara.
Keywords: dinner, homemade stromboli, lunch, made from scratch pizza dough, pepperoni and ham Stromboli, Stromboli
https://www.smalltownwoman.com/wp-content/uploads/2019/05/Beth-1.pdf