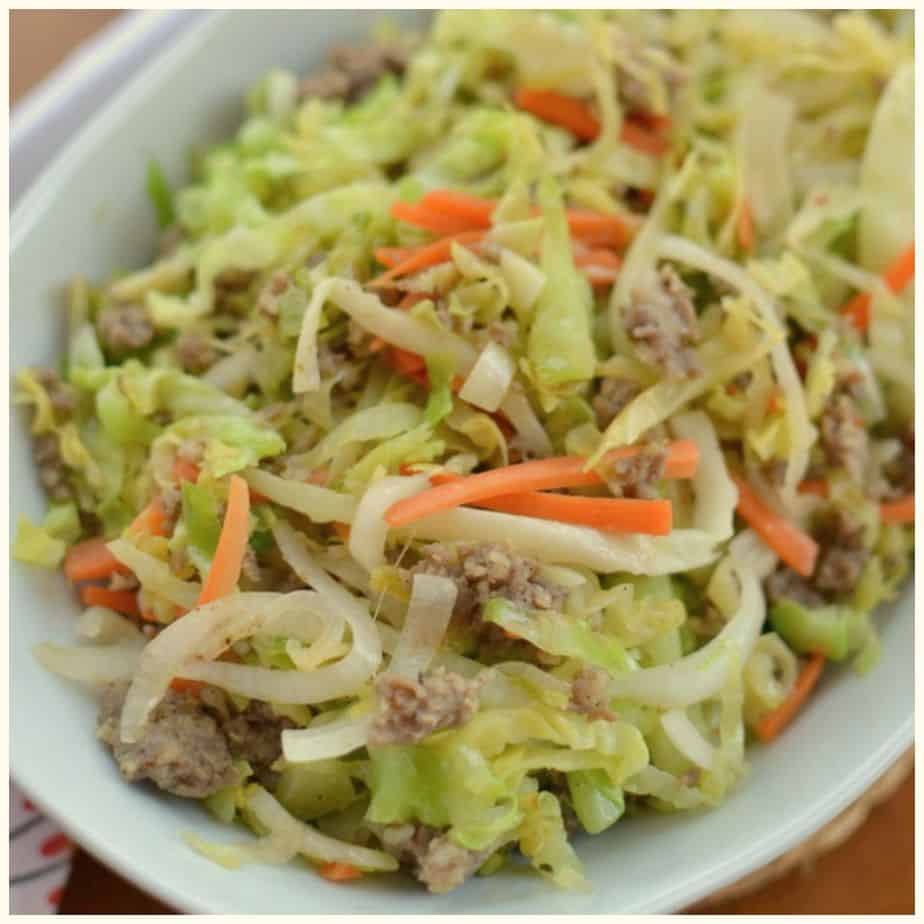 Boy Christmas is over and New Years is right on the horizon. I think I have snacked on a little too many Christmas cookies. Even my fat pants are feeling quite tight these days. I think it is time to switch it up with some more nutritious recipes! With the New Year comes a little bit more healthy eating and carb watching.  You can whip this Easy Low Carb Egg Roll in a Bowl Recipe in a matter of fifteen minutes or less and it tastes just as good if not better than something you spent an hour on.
This Easy Low Carb Sausage Egg Roll in a Bowl combines all the goodies of pork egg rolls without the carbs from the egg roll skin or the deep frying. It is paleo and keto diet friendly.  You will be surprised at how awesome this tastes and how unbelievably simple this is.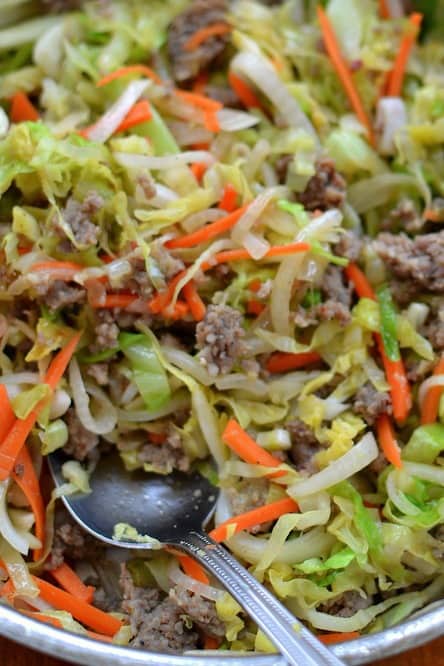 We are a huge cabbage loving family.  Is your family?  Here are some more amazing cabbage recipes!
Cabbage has so many incredible health benefits. Cabbage is an abundant source of vitamin C, dietary fiber, sulfur and glutamine.  Sulfur is a very useful nutrient because it fights infections and glutamine is a strong anti-inflammatory agent. Cabbage may help protect against radiation, prevent cancer, and reduce heart disease risk according to The Health Benefits of Cabbage in MedicalNewsToday.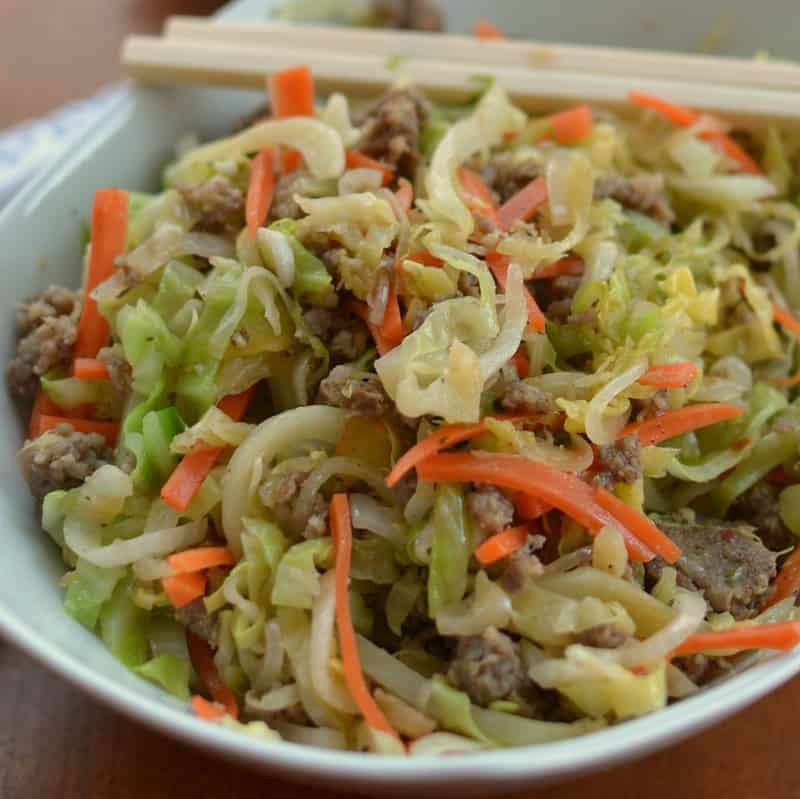 So if you have had your fill of Christmas treats and your jeans are a little more snug than you like put this Easy Low Carb Egg Roll in a Bowl on your to try list.  You will be so glad that you did! You do not need to sacrifice flavor or feel like your belly is going to be growling in ten minutes.  This delicious recipe will leave your taste buds satisfied and your tummy full.
Print
Easy Low Carb Egg Roll in a Bowl
Scale
Ingredients
2–3 teaspoons sesame oil
3/4 lb bulk pork sausage
1 medium sweet onion cut in half and thinly sliced in half moon
2 large carrots cut in thin matchsticks
1 tablespoon fresh ginger or ginger paste
1/4 teaspoon garlic powder
1/8–1/4 teaspoon Chinese five spice
1 medium head green cabbage finely shredded
Instructions
Add sesame oil over medium heat to large heavy skillet or wok. Cook pork sausage until almost completely browned. Add onion, carrots, ginger, garlic powder and Chinese five spice (see notes) the last 2 minutes of cooking. Remove from skillet and plate.
If necessary add 1 teaspoon of sesame oil to skillet. Add the cabbage and cook until just starting to wilt, about 2 minutes. Add the sausage mixture back to the skillet. Stir and heat for 30-60 seconds. Serve immediately.
Notes
Chinese Five Spice is delicious but I suggest that you add a little at a time till your taste buds say it is just right.
You can add a little soy sauce to this recipe but I find it more delicious and flavorful without it.
More delicious stir fry recipes you will love!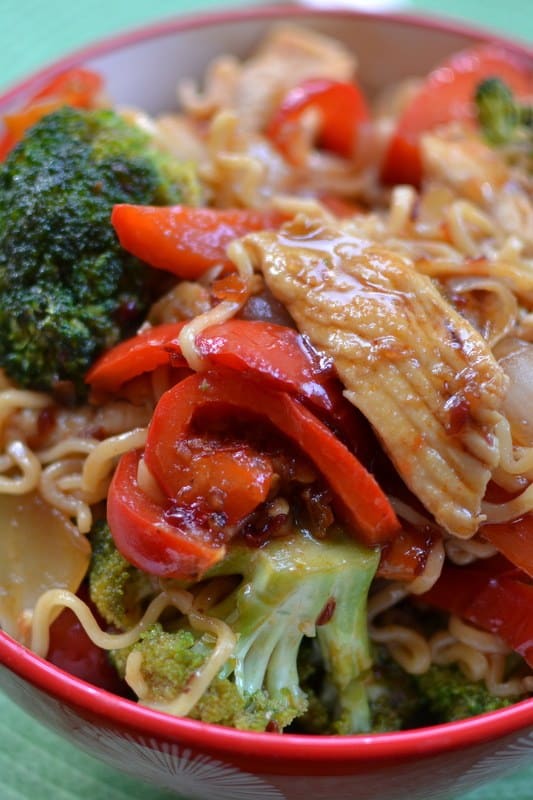 Sweet Chili Chicken Ramen Stir Fry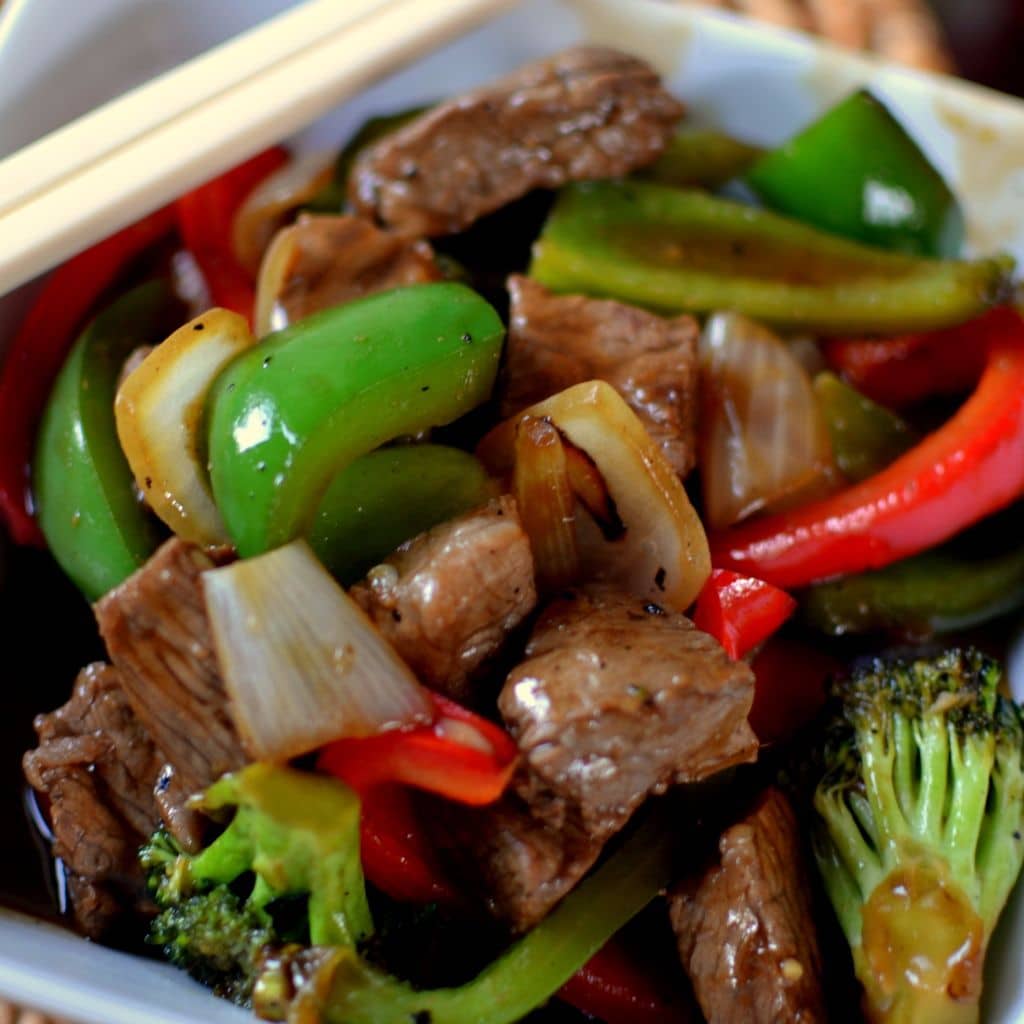 https://www.smalltownwoman.com/wp-content/uploads/2019/05/Beth-1.pdf