This beautiful delicious summer party worthy Tequila Sunrise cocktail is made easy with three ingredients in less than three minutes.  It is my go to summer cocktail because it is so incredibly quick and refreshing.  Make yourself one this evening and enjoy the sweet taste of summer.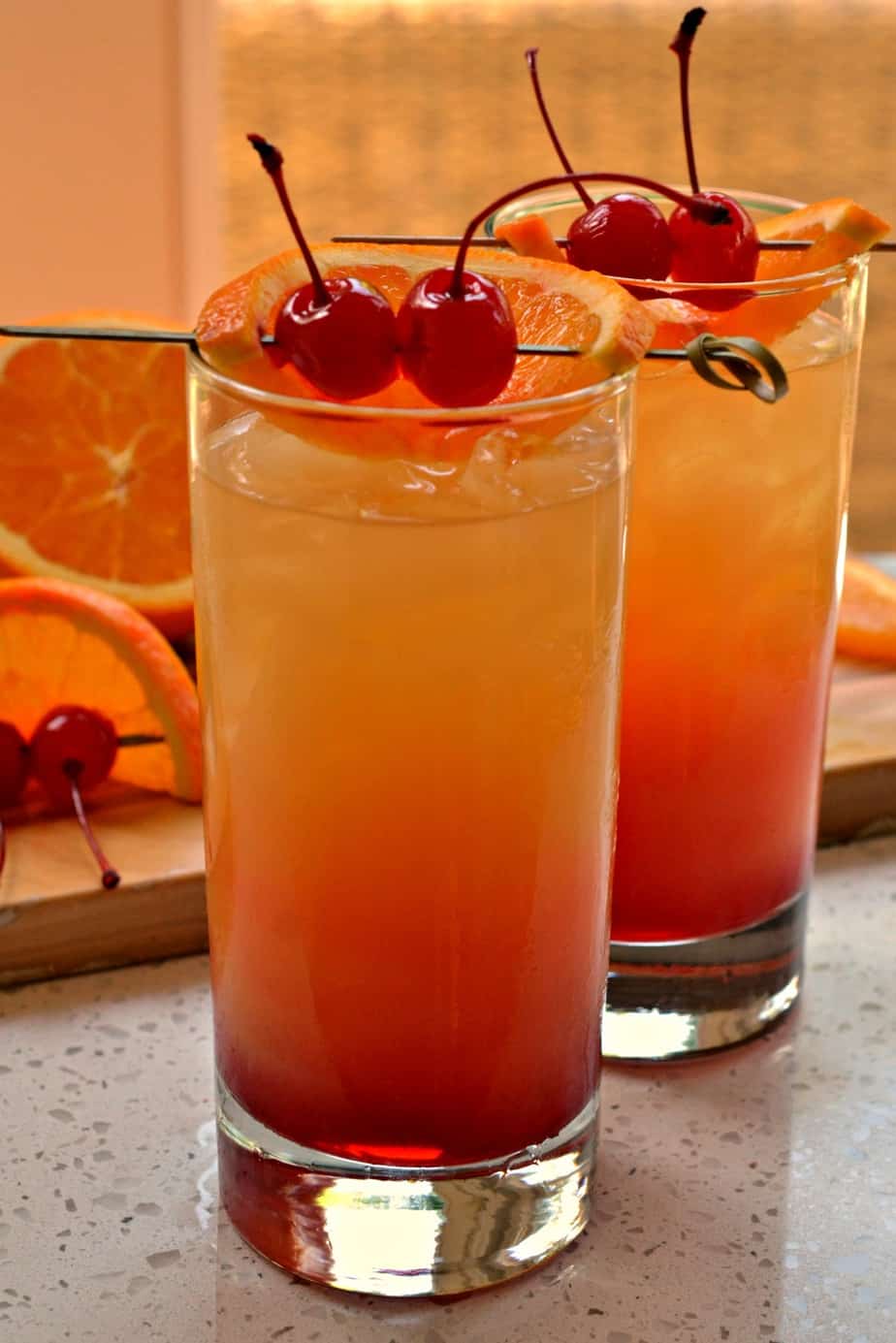 It is pretty darn toasty in this neck of the woods.  If you did not know better you would think that this heat way was going to continue forever and ever but with age comes wisdom.  This season will pass all too fast and we will be left wondering what happened to summer.  Take full advantage of the season and kick it back with a cold cocktail. Hubby and I just love to entertain especially in the summer months.  We love to have a selection of ice cold beverages for our guests to enjoy.  This drink, Pineapple Margaritas, Salty Dogs, and Frozen Mudslides are just a few of our favorites.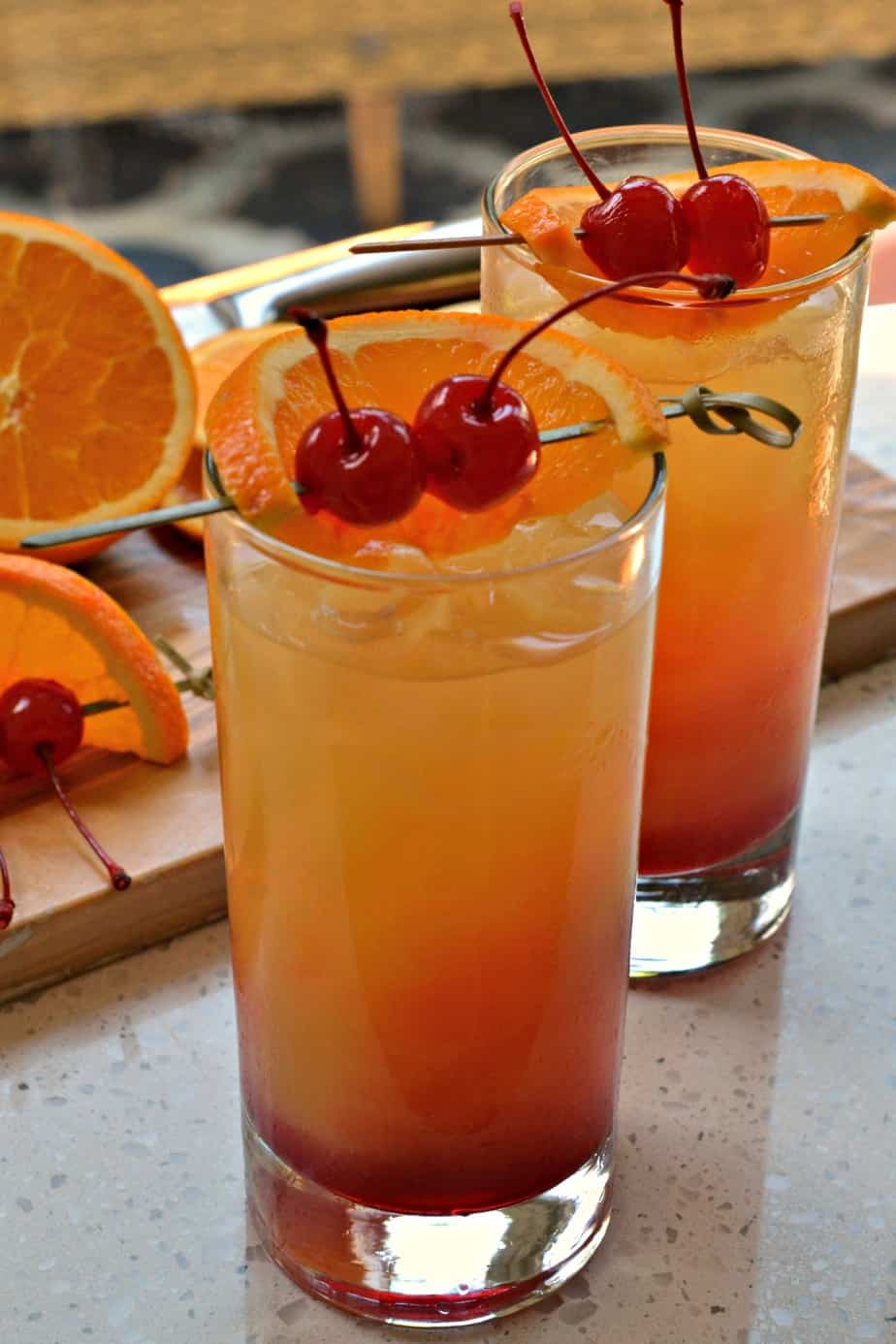 How do you make a Tequila Sunrise?
Honestly there is really no special technique for creating the beautiful colors in this yummy drink. You certainly do not have to be a trained bartender to make one of these.  It is simply made with orange juice, tequila and grenadine.  First you are going to add a lot of ice to the glass.  Then add the orange juice and tequila and stir that together.  About two parts orange juice and one part tequila.  Be careful with the tequila!  These cocktails have a way of sneaking up on you. Now using a teaspoon or a bar spoon add the grenadine by pouring it slowly down the side of the glass on the inside. You are going to need to fill the spoon three to four times to get the effect.
The grenadine is thicker than the orange juice and tequila therefore it will sink creating that beautiful sunrise effect.  Do not stir it. Finally garnish with orange slices and maraschino cherries.  Right before serving very gently and slowly stir once to create that beautiful sunrise effect. Offer your guests drink stir sticks so they if they desire they can gently stir the cocktail and enjoy the flavors all blended together.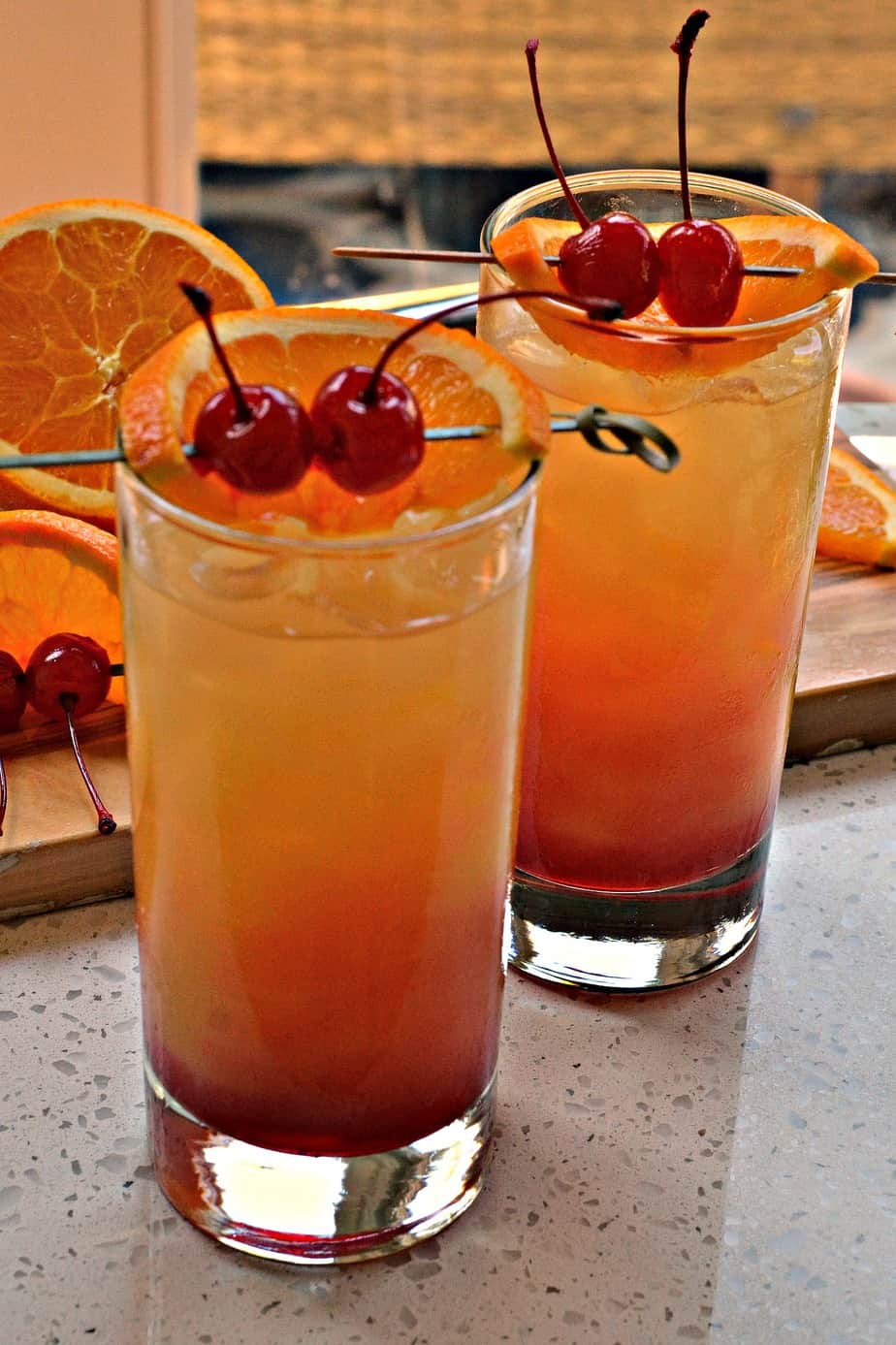 What is the difference between the Tequila Sunrise and the Tequila Sunset?
This if often a heated debate as some argue that they are the same exact cocktail.  Others may substitute grapefruit juice or a mixture of pineapple and orange juice for the Tequila Sunset.  While others mix the grenadine with soda water and pour on top of the orange juice/tequila mixture for a red hue at the top. You can also replace the grenadine with blackberry brandy to create a richer darker color at the bottom.  There is quite a bit more variance when it comes to the sunset version of this cocktail.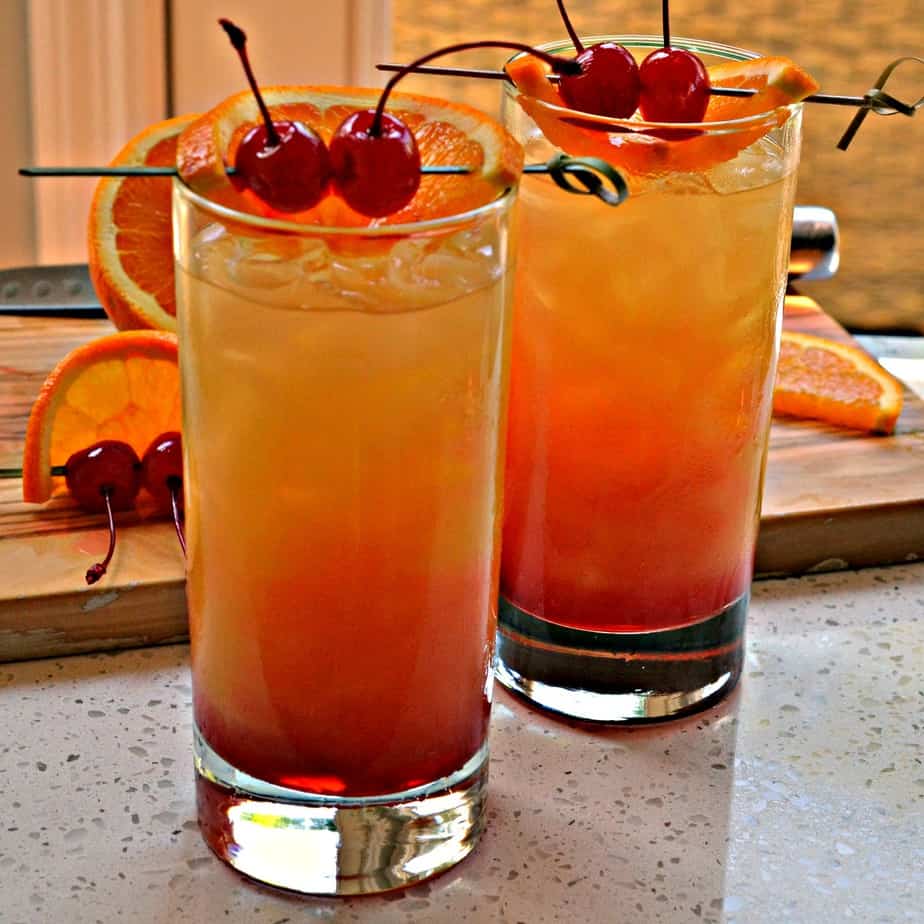 Helpful tips and hints for this recipe
Because of the hint of sweetness Gold Tequila is perfect for this recipe because it is slightly sweet and will complement the fruity flavors.
Grenadine is available in the liquor aisle of most grocery stores next to the other mixers.
Pour the grenadine slowly.  It is heavier than the orange juice and tequila and it will sink to the bottom in due time.
Do not stir the cocktail until serving it.  At that time it only needs a one time very slow and easy stir to put on a show.  Leave the stir stick in the drink and allow your quest to decide if they want completely mix the drink.
For a change of pace try this beautiful cocktail with grapefruit juice or pineapple juice.
Print
Easy Tequila Sunrise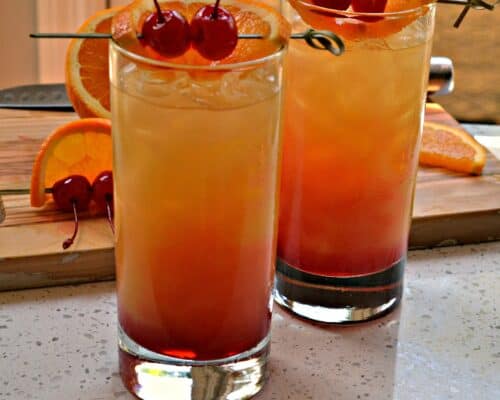 You don't have to be a professional bartender to make this beautiful three ingredient cocktail.  Impress your family and friends with this quick, easy refreshing drink.
Author:
Prep Time: 3 minutes
Total Time: 3 minutes
Yield: 1 serving 1x
Category: cocktail
Cuisine: American
Scale
Ingredients
ice
4 ounces orange juice
2 ounces gold tequila
1/2 ounce grenadine
orange slices (garnish)
maraschino cherries (garnish)
Instructions
Fill a tall glass with ice.
Pour in orange juice and tequila.  Stir to combine. Using a small spoon pour grenadine down the inside of the glass giving it a minute to settle on the bottom. If it completely settles on the bottom gently and slowly stir just once right before serving.
Garnish with orange slices and cherries.
Keywords: tequila sunrise ingredients, how to make a tequila sunrise, tequila sunrise drink, what's in a tequila sunrise
https://www.smalltownwoman.com/wp-content/uploads/2019/05/Beth-1.pdf