It is never too late in the year to grill.  There are always those minor warm fronts that come through that make grilling delightful.  It is going to be  in the fifties for highs all week here so it was absolutely doable to make these Grilled Chicken Bacon Pepper Jack Ciabatta sandwiches for lunch today. I love a good sandwich.  I mean honestly who doesn't? My favorite bread or roll for a great sandwich is ciabatta.  Ciabatta is an Italian white bread made from wheat flour, water, salt, and yeast and is extraordinarily delicious when toasted to perfection.
This delectable Grilled Chicken Bacon Pepper Jack Ciabatta layers grilled chicken, pepper jack cheese, smoked bacon, grilled red onion and red peppers on fresh Ciabatta bread.  It can all be prepared on the grill or you can cook the bacon, grilled red onions and red peppers in the oven. You can add mayo, mustard, lettuce, tomatoes or avocado.  The possibilities are only limited by your imagination.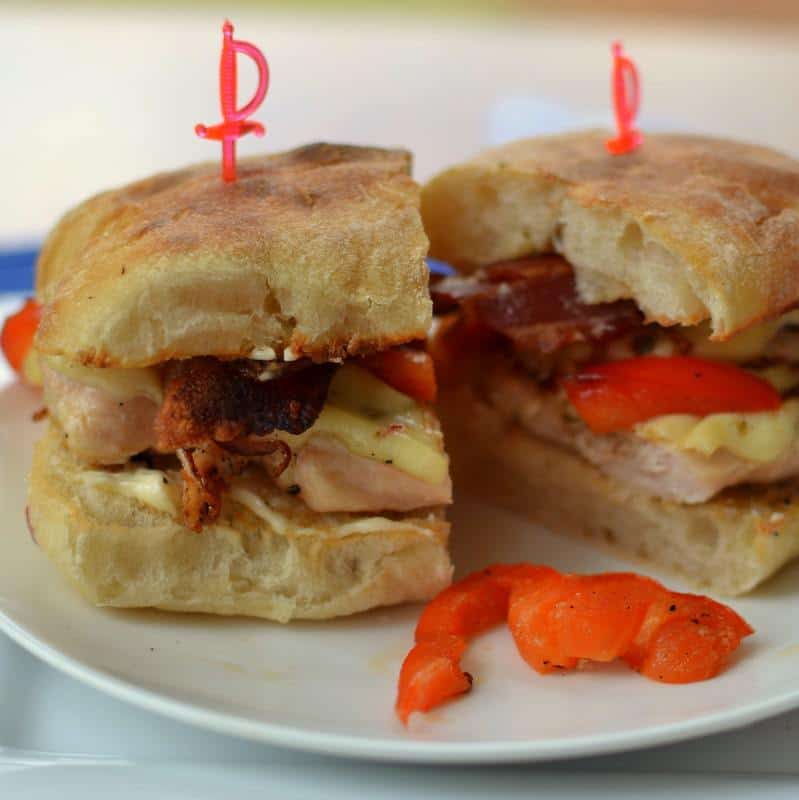 Have you tried any of my other great sandwiches? Italian Pressed Sandwich, Grilled Meatloaf Sandwich with Chipotle Ketchup, and Buttermilk Fried Chicken Sandwich with Spicy Chipotle Cilantro Slaw are just a  few of hubby's favorites but there are a lot more.  This California Club Sandwich from my blogging friend Baking Beauty is one of our favorites!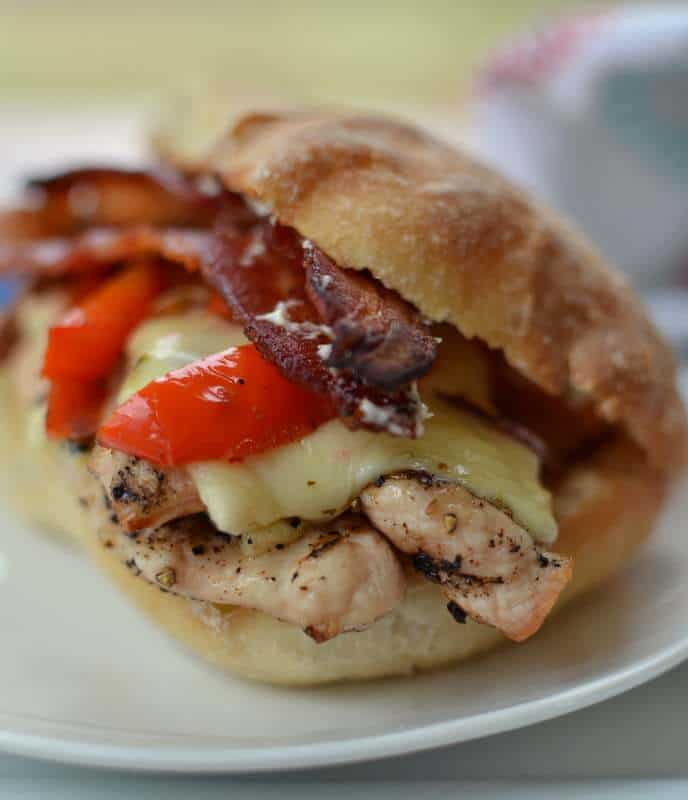 So waste no more time my food loving friends.  Put the ingredients for this phenomenal Grilled Chicken Bacon Pepper Jack Ciabatta on your grocery list today.  Shake the cold off and go out to the grill and make yourself an outstanding sandwich or as they say down in Southern Florida where my sister resides sammich.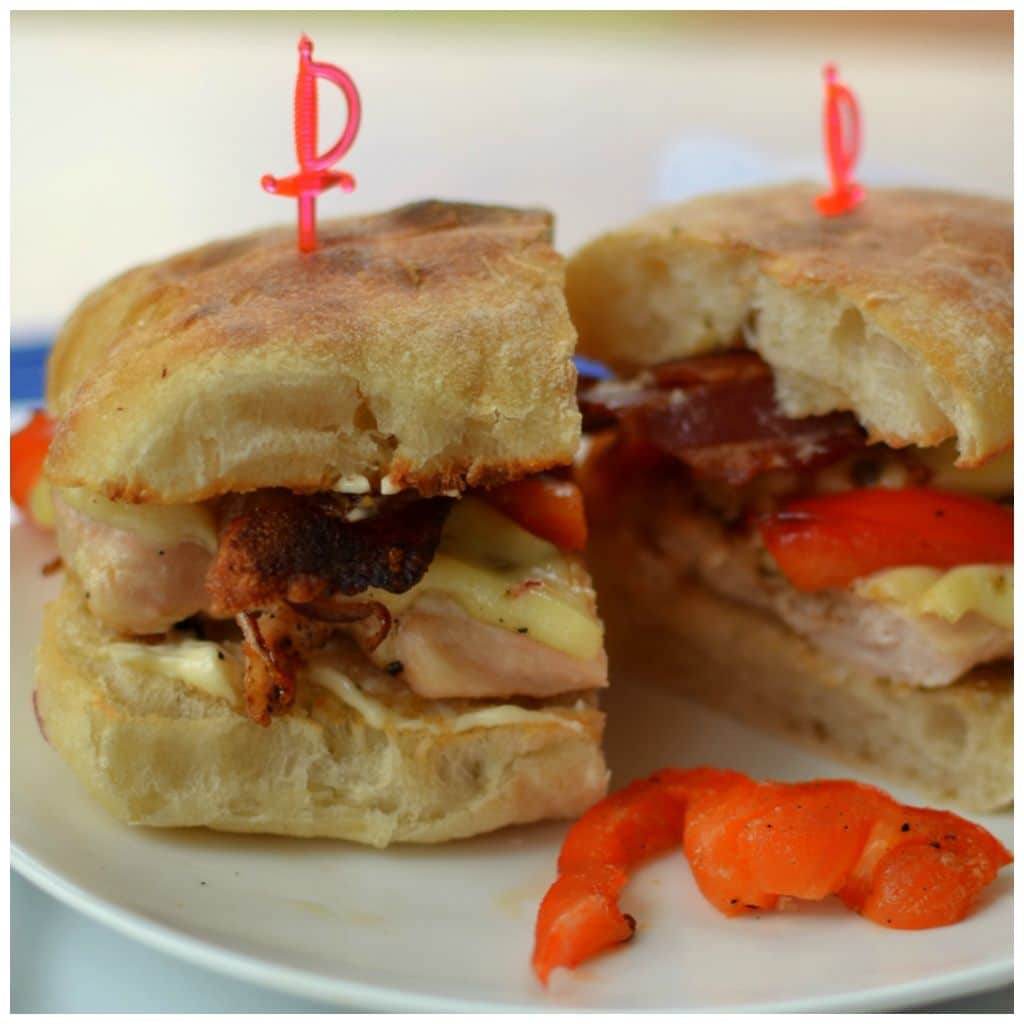 Print
Grilled Chicken Bacon Pepper Jack Ciabatta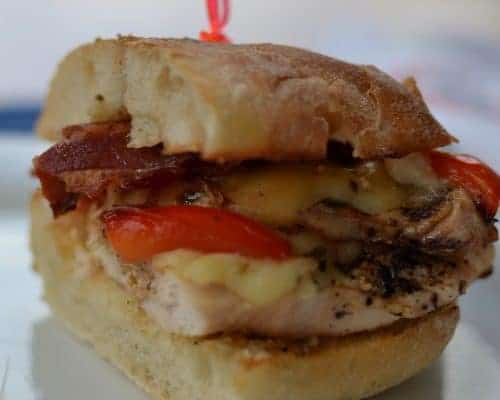 This delicious sandwich is a simple, satisfying lunch. Seasoned grilled chicken topped with spicy pepper jack cheese, red peppers, and crispy bacon served on a toasted ciabatta roll.
Author:
Prep Time: 10 minutes
Cook Time: 25 minutes
Total Time: 35 minutes
Yield: 4 servings 1x
Category: Lunch
Method: Grill
Cuisine: American
Scale
Ingredients
4 Ciabatta rolls
2 large chicken breasts (cut in half lengthwise
4 thick deli slices pepper jack cheese
8 slices uncooked smoked bacon
1 red pepper seeded and cut into long thin stips
1/2 small red onion sliced in thin half moons
mayo
salt & pepper
Instructions
Preheat grill to about 425 degrees.
Salt and pepper chicken breasts. Using an old cookie sheet add bacon slices and place over indirect heat on the pit and close the lid. After 7-8 minutes turn the bacon and rotate if needed. Add the chicken to the grill directly over the heat and cook for 3-4 minutes closing the lid. Add the onions and peppers to the cookie sheet and turn the chicken. Close the lid and cook an additional 3-4 minutes placing the Pepper Jack cheese over the chicken the last 1-2 minutes of cooking and flipping the onions and peppers for the last 1-2 minutes. Remove the chicken, onions and peppers from the grill. Cover loosely so not to remove the cheese from the chicken.
Toast Ciabatta bread, spread with mayo, layer with chicken, peppers, and onions.
Keywords: grilled chicken sandwich, chicken sandwich, grilled chicken and bacon sandwich, grilled chicken with pepper jack cheese
Other Chicken recipes you will love!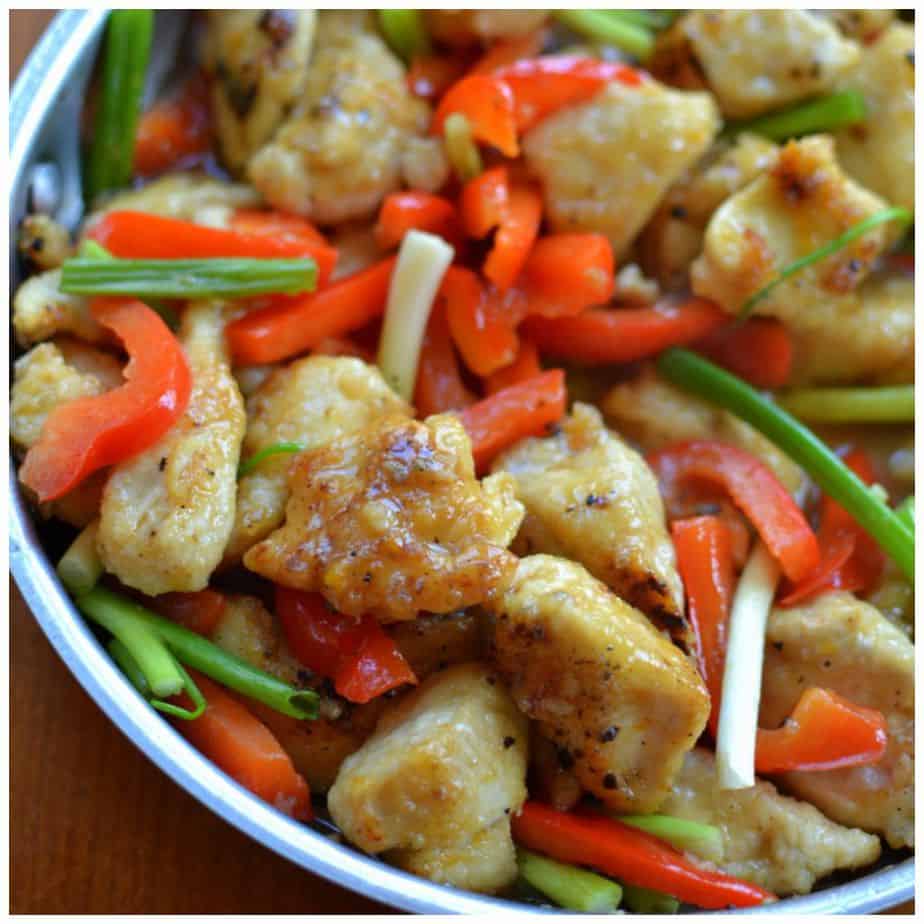 Easy Orange Chicken and Red Bell Peppers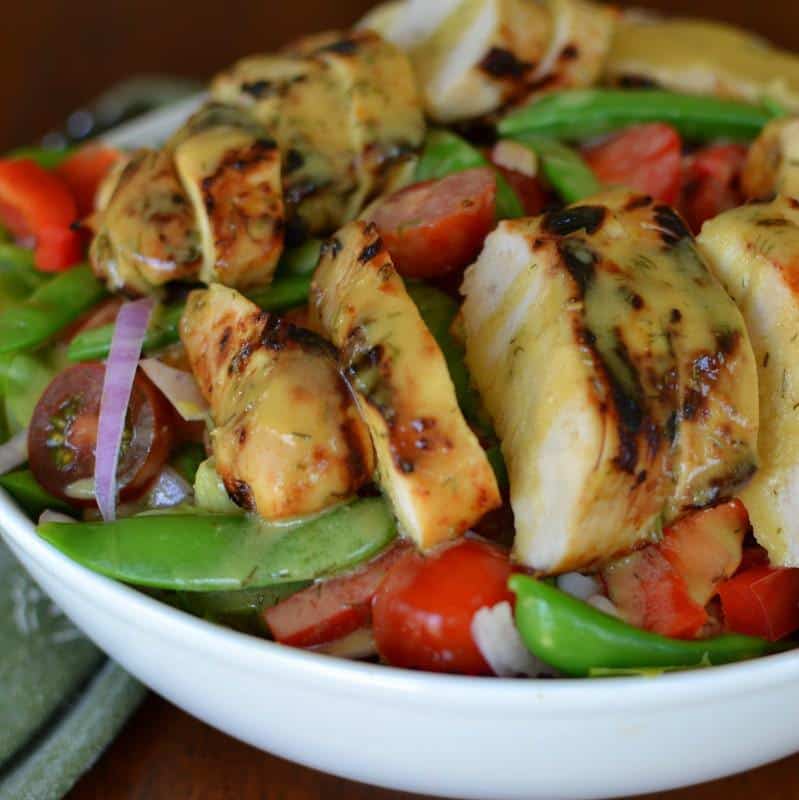 Honey Mustard Chicken Snap Pea Salad
https://www.smalltownwoman.com/wp-content/uploads/2019/05/Beth-1.pdf