This mouthwatering good Classic Patty Melt is even better than the old diners and dives that your parents took you to.  The beef patty is grilled to perfection with plenty of sweet melt in your mouth onions and homemade thousand island dressing.  For even more fun diner nostalgia serve with Beer Battered Onion Rings or Easy Baked Sweet Potato Fries.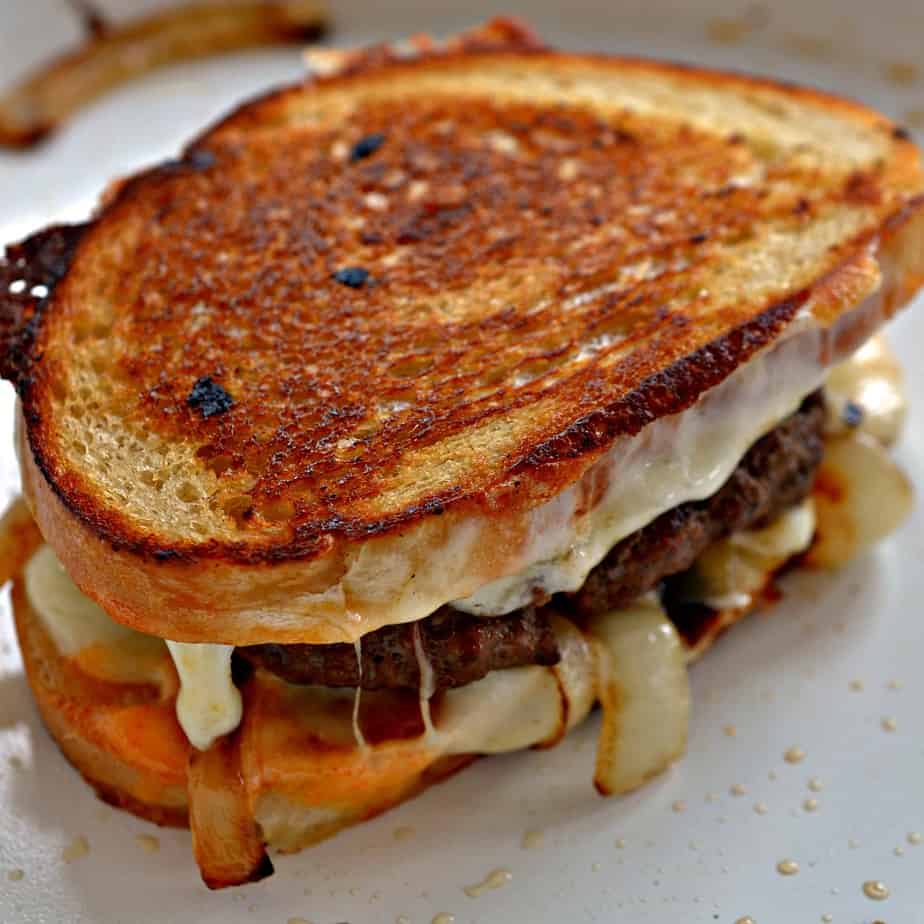 When I was a kid the patty melt was a standard at the local dinners that mom and dad used to take us to. I remember the sweet smell of the onions and beef searing on the grill. This recipe will bring back all kinds of wonderful memories and good times.  You are going to love every ounce of this sandwich.  You can prepare it with or without onions but the true classic always came with grilled onions.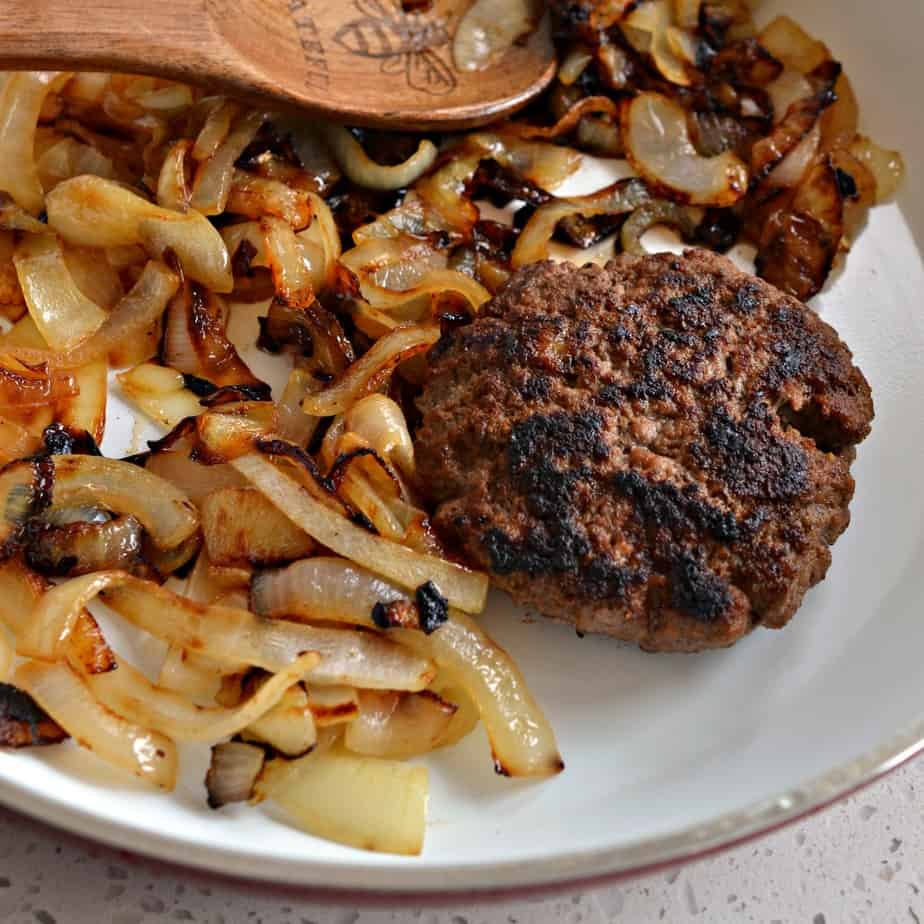 How do you make a Classic Patty Melt?
Start by slicing some sweet onions.  Next grab a good sized skillet and over medium to medium low heat melt a few tablespoons of butter.  Now add those onions and cook over the heat stirring every couple of minutes or so.  However do not stir them all the time as you want them to brown up a bit.
Meanwhile mix a little Worcestershire Sauce, salt and pepper into the ground beef. Next shape the beef into four patties and add to the skillet by scooting the onions over.  Now cook those patties until they are nicely browned on both sides and cooked through.
Then assemble the sandwiches to be grilled.  First spread each slice of bread with a little bit of thousand island dressing.  Now top each slice of bread with a slice of Swiss cheese and position the cooked patties in the middle. Then add a heaping spoonful of the cooked onions to each patty.  Next bring the slices of bread together to form four sandwiches. Butter the tops of the sandwiches and place butter side down in the preheated skillet over medium/low heat.  Now butter the tops of the sandwiches and cover the pan with aluminum foil but stay close by to check on them.  Finally once browned on the bottom flip and brown the other side.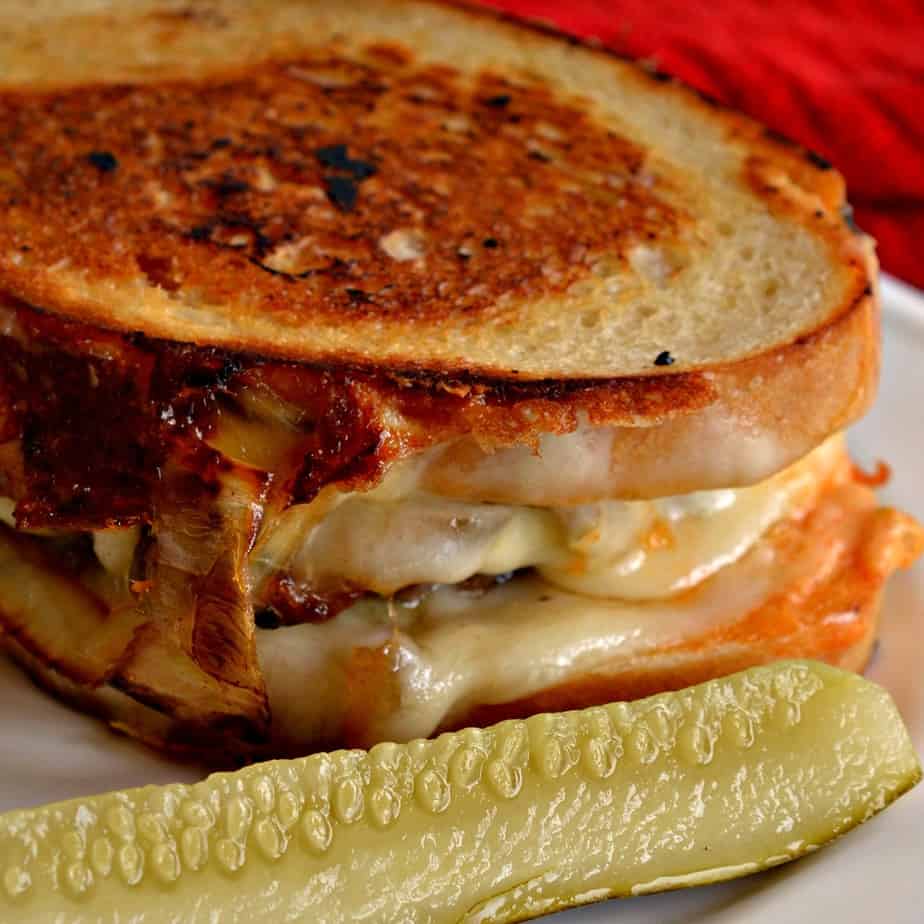 Tips for making the best Patty Melt
Use bakery quality sourdough or rye bread.
Stir the onions but not too frequently.  Every few minutes or so will do the trick as you want those onions to soften and brown on the edges.
Are you under time constraints? If so use your favorite bottled thousand island dressing.
If you don't like Swiss Cheese try cheddar or American.
Preheat the pan before adding the burger and sear those juices in.
The melts are best served right out of the pan or off the grill while the cheese is melted and bread is warm, buttery and toasty.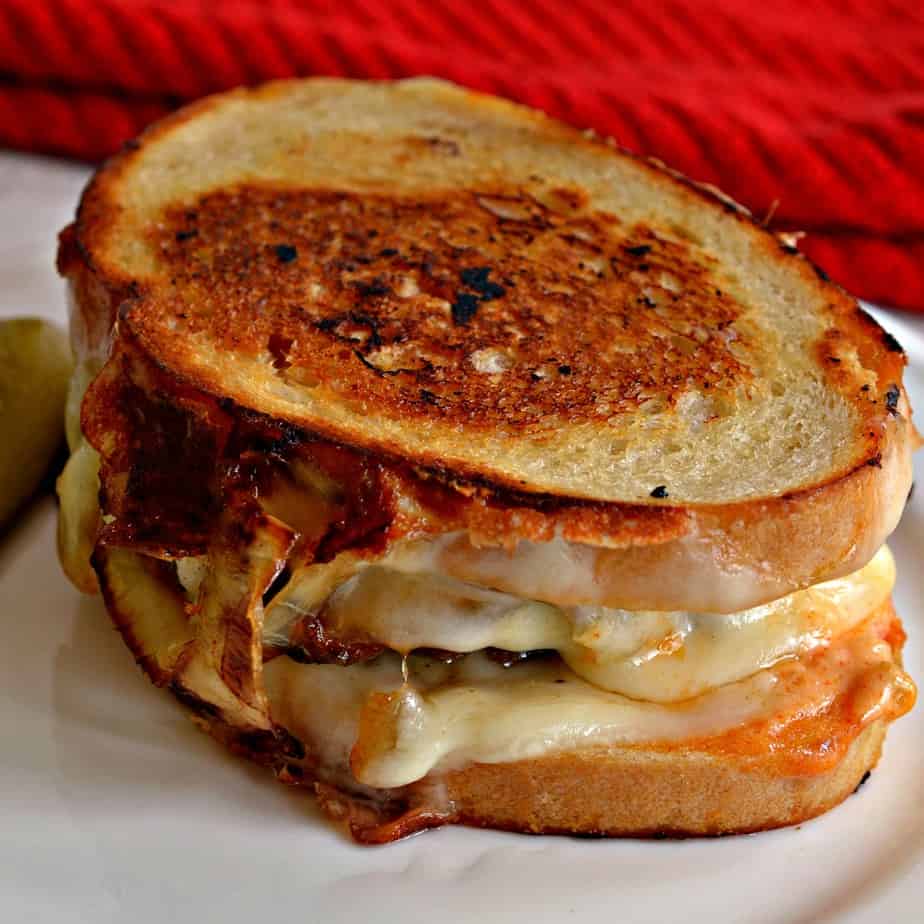 More ground beef recipes you will love!!
This post was originally published August 21, 2015 and was republished February 24, 2020 with new content.
Print
Classic Patty Melt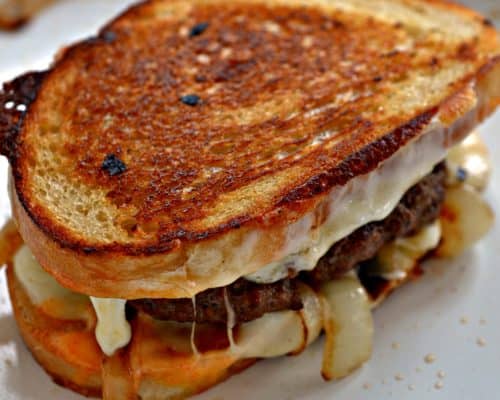 A classic recipe that brings back old world diner charm with grilled onions, Swiss Cheese and a homemade thousand island dressing.
Author:
Prep Time: 10
Cook Time: 20
Total Time: 30 minutes
Yield: 4 sandwiches 1x
Category: main meal beef
Method: stove top
Cuisine: American
Scale
Ingredients
1/2 cup mayonnaise (I like Dukes)
2 tablespoons ketchup
1 tablespoon grated onion
1 tablespoon sweet pickle relish
1/8 teaspoon smoked paprika
1 large onion cut in half and then sliced
1 lb ground beef
1/2 teaspoon sea salt
1/4 teaspoon fresh ground black pepper
1 teaspoon Worcestershire Sauce
8 slices sourdough or rye bread
8 thick slices Swiss cheese (preferably Baby Swiss)
Butter
Instructions
In small bowl whisk together mayonnaise, ketchup, grated onion, pickle relish, and paprika.
Place 2 tablespoons butter in nonstick skillet over medium high heat. Add onions and cook until golden brown approximately 10-15 minutes; stirring every few minutes.
Mix ground beef, Worcestershire Sauce, salt and pepper. Form into four equal patties. Preheat skillet and cook over medium heat until golden brown and cooked through; flipping halfway through the cooking process.
Spread a little more than 1 tablespoon of dressing on each slice of bread. Place a piece of Swiss Cheese on each slice of bread. Add browned onions and one beef patty to four of the slices.  Top with the remaining slices to form four sandwiches.
Butter top side of bread and place butter side down in skillet over medium low heat and cook until golden brown.  Butter other side of bread before flipping. Flip and brown other side until golden brown and cheese is melted. It is helpful to cover the skillet with aluminum foil while it is browning.
Keywords: how to make a patty melt, what is a patty melt, best patty melt recipe, homemade patty melt
https://www.smalltownwoman.com/wp-content/uploads/2019/05/Beth-1.pdf