This easy Lemon Pudding Poke Cake is so moist and full of flavor. A lemon lovers dream come true! It comes together quickly as it takes full advantage of a box cake mix and pudding mix.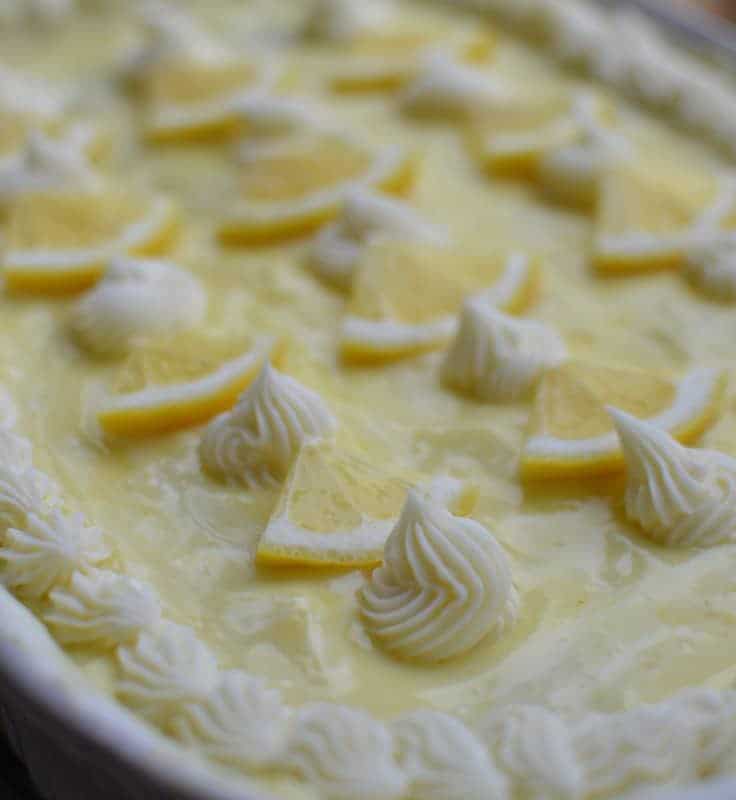 I am a crazy lemon lover.  Just the thought of lemons makes my mouth water.  This delectable Lemon Pudding Poke Cake brings out the best that lemon has to offer and leaves your lips puckering for more.  Do you have a favorite lemon recipe?  This delicious cake is so easy and takes full advantage of starting with a box mix.  Sometimes life is just so busy that we need to cut ourselves a little slack.  Box mixes have come a long way over the years and sometimes taste as good or better than a made from scratch cake.  No worries it will be our little secret.  Just can pipe some lemon cream cheese frosting and add lemons on the top so it looks completely homemade.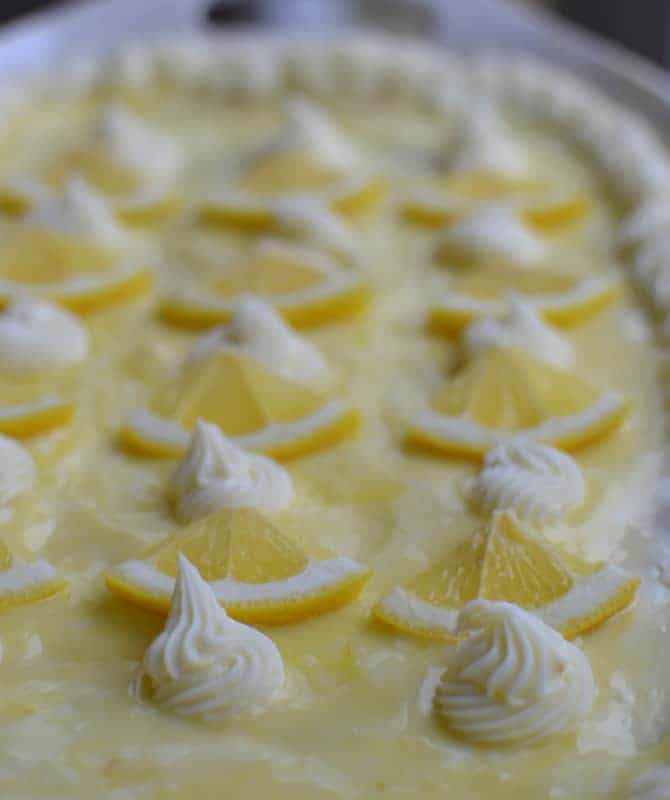 How do you make Lemon Pudding Poke Cake?
First follow box directions for butter golden cake mix adding water, butter and eggs. Stir in a little lemon zest and spoon the batter into a well greased 9×13 inch pan.  Bake until toothpick inserted in the center comes out clean.  While the cake is baking mix the lemon pudding mix and milk.  Cover and refrigerate while you prep the cake.
As soon as you remove the cake from the oven poke holes in the cake using the end of a wooden spoon.  Poke holes should be about ever inch.  Spread the lemon pudding over the cake gently pushing into the holes. Cover and refrigerate the cake while you make the icing. Using a mixer beat cream cheese, butter, lemon juice and lemon zest until smooth.  Add the powdered sugar in small amounts until desired consistency. If piping the icing it should be fairly thick.
Reserve about 1 1/2 cups of icing if you are going to pipe the edges and top.  Spread the remaining icing over the top.  Some of the lemon pudding will mix with the icing but it will still look nice and taste amazing. If desired pipe edges and top.  For an added touch garnish with lemon slices.  For best results refrigerate for several hours up to overnight.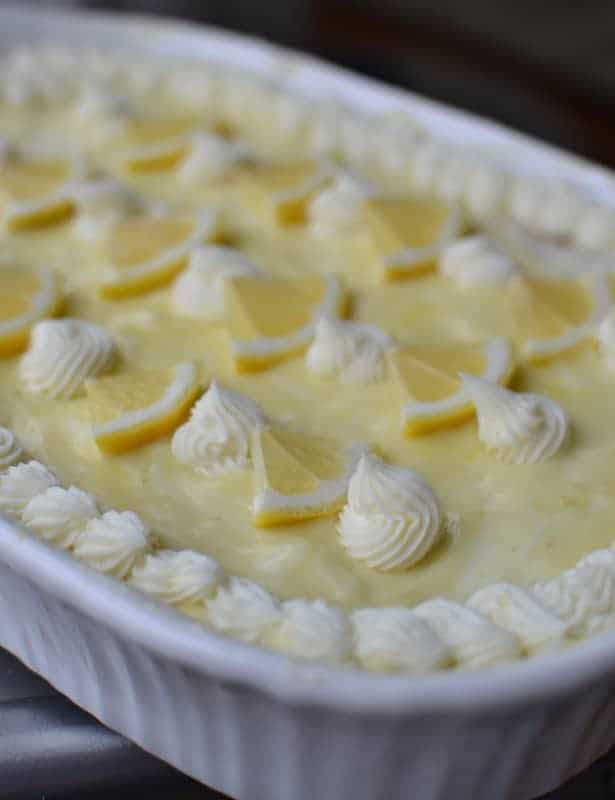 Helpful tips for making this Lemon Pudding Poke Cake
Grease your baking pan well.
To poke holes in the baked cake use the top of a wooden spoon or the fat end of a thick pair of chopsticks.
Poke holes a little over one inch apart.  If they are too close the cake will be too moist and difficult to cut.  If they are too far apart there will not be enough lemon pudding throughout the cake.
When frosting the top the icing will be mixed in with any residual lemon pudding.
The cake looks very pretty with the edges and top piped with slices of lemon for garnish.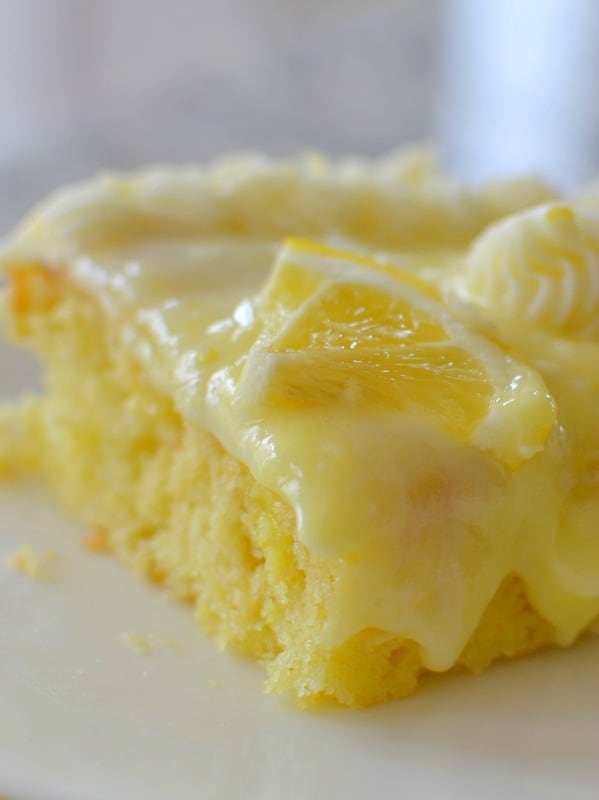 This Lemon Pudding Poke Cake is so moist and full of flavor.  Poke cakes are a little more messy than than a traditional cake but every single bite is a little slice of heaven. Poke cakes are best made a day in advance so the filling has time to chill and set.   Put this delectable cake on your to try list and let your family and friends sing your praises.
Other lemon recipes you will love!
This post was originally published March 26, 2016 and was republished August 5, 2019 with new content.
Print
Lemon Pudding Poke Cake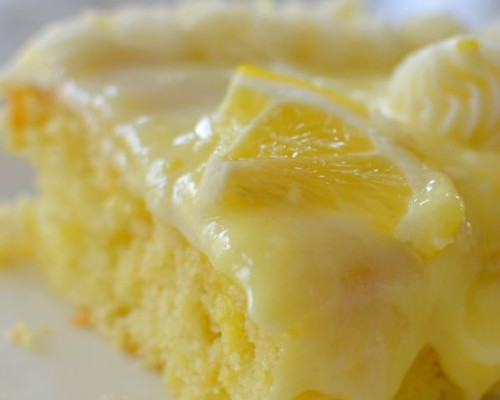 A luscious lemon butter cake with lemon pudding drizzled through it made super easy with a box cake mix and instant lemon pudding.
Author:
Prep Time: 30
Cook Time: 30
Total Time: 1 hour
Yield: 12 servings 1x
Category: cake
Method: bake
Cuisine: American
Scale
Ingredients
Cake
1 Duncan Hines butter golden cake mix (15.25 ounce)
3/4 cup water
7 tablespoons butter softened
3 large eggs
1 1/2 tablespoons grated lemon zest
Pudding layer
2 cups cold milk
1 box (3.4 ounce) instant jello lemon pudding
Frosting
1 box (8 ounce) cream cheese
1/4 cup butter softened
3 tablespoons lemon juice
1 tablespoon lemon zest
3–4 cups powdered sugar
Small lemon slices
Instructions
Preheat oven to 350 degrees. Grease 9 x 13 inch baking pan. Follow box directions for butter golden cake mix adding water, butter and eggs (as indicated on the package). Stir in lemon zest. Spoon in pan and bake for 30 minutes or until toothpick inserted in center comes on clean.
Meanwhile stir lemon pudding mix and milk according to box instructions. Cover and refrigerate.
Remove cake from the oven and immediately poke holes about every inch using the back of a wooden spoon. Spread the pudding over the cake gently pushing into the holes. Cool completely.
Beat cream cheese, butter, lemon juice, lemon zest and powdered sugar in 1/2 cup intervals until desired consistency.
Reserve 1 1/2 cups frosting if piping edges and centers. Spread remaining frosting over cake blending with remaining lemon pudding. Top with piped edges, centers and lemon slices if desired.
Refrigerate for several hours to overnight to fully set.
Notes
There will be some lemon pudding on the top. When spreading the frosting work them in together.
If you are not piping the frosting you can cut the amount of powdered sugar down a little.
Keywords: lemon pudding cake, lemon cake, lemon poke cake, poke cake, pudding cake,
https://www.smalltownwoman.com/wp-content/uploads/2019/05/Beth-1.pdf