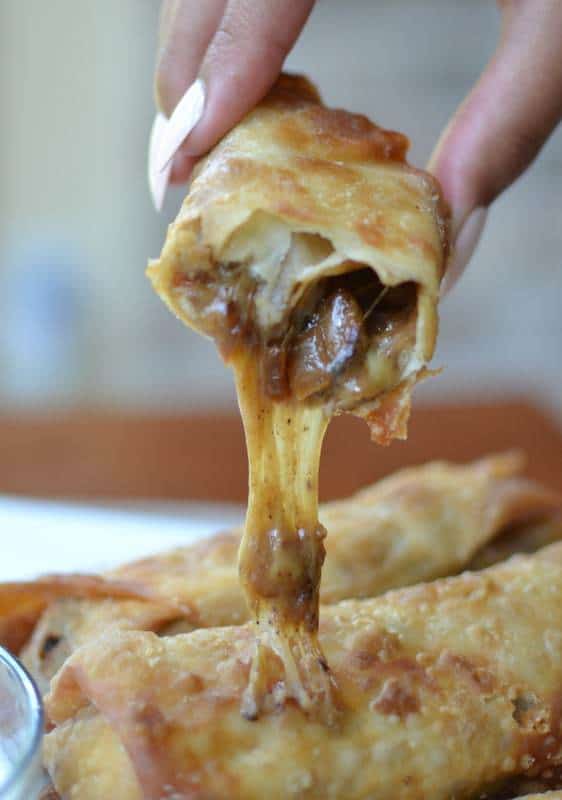 Boy time really does go by fast, doesn't it?  It seems like just yesterday that my kids were getting out of school for the summer and today is open house for the new school year.  Fall is on the horizon and the nights have already started cooling down.  Soon we will be talking football, Halloween and pumpkins.  Like I said time sure flies.
Do you like egg rolls? I love them and I wanted to put something a little different and delicious together.  I cooked these awesome Philly Steak & Cheese Egg Rolls yesterday and the family went crazy over them.  They are perfect for your game day party (remember football season is right around the corner) or your fall patio party. Honestly who needs a summer patio party when you can do one with a bonfire and marshmallows in the fall.  These beauties come together fast and the filling can even be prepared ahead of time.  What?  You don't eat fried foods?  No problem at all. They can be spritzed with a little oil and baked. As I always say don't throw the baby out with the bath water.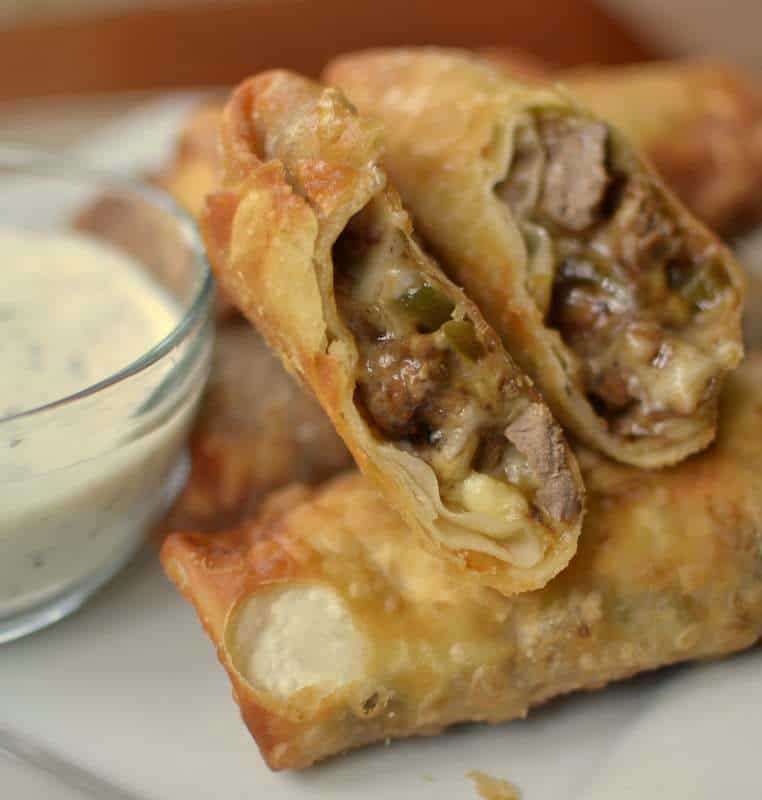 These mouthwatering Philly Steak & Cheese Egg Rolls combine pan seared steak with monterey jack, mozzarella and quesadilla cheese all fried up in a crispy egg roll.  They can be served with ranch or my favorite (not so much the kids favorite) chipotle ranch.  Prep time is under fifteen minutes and cooking time is even less.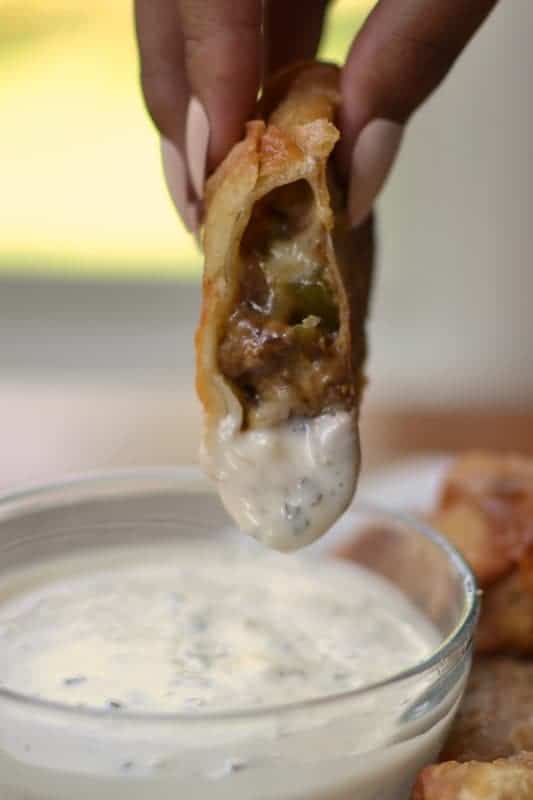 Weekend is coming.  Put the ingredients for these Philly Steak & Cheese Egg Rolls on your grocery list and make your loved ones a real special treat.  They will be singing your praises over and over again.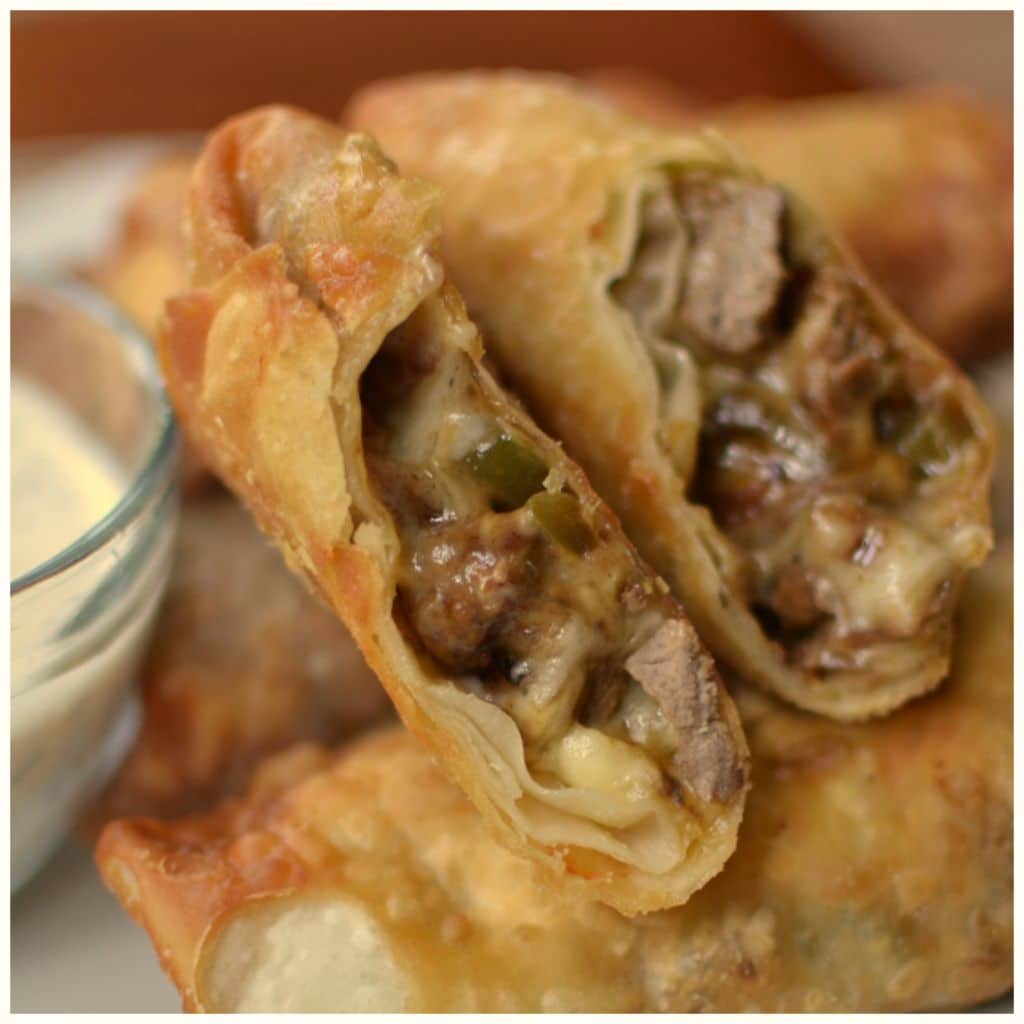 Other appetizer recipes you will love!
Print
Philly Steak & Cheese Egg Rolls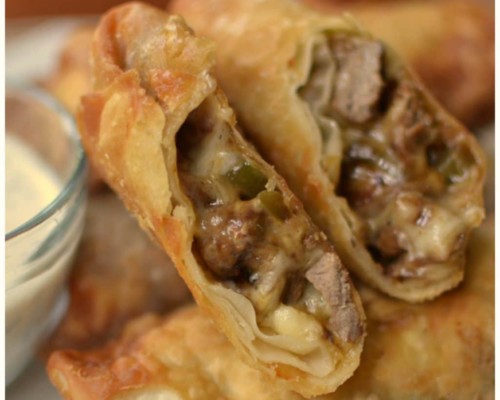 A classic Philly Cheesesteak wrapped in crispy wontons, these steak and cheese egg rolls are a perfect party appetizer! Tender steak, green peppers, onions, and creamy cheese, wrapped up and fried to perfection.
Author:
Prep Time: 10 minutes
Cook Time: 15 minutes
Total Time: 25 minutes
Category: Appertizer
Method: Fried
Cuisine: American
8 egg rolls wrappers
1 lb steak cut into very small pieces ( I used strip)
1 tablespoon olive oil
1 1/2 tablespoons Worcestershire sauce
1/2 small onion finely chopped
1/2 small green pepper finely chopped
1/2 cup shredded monterey jack
1/2 cup shredded mozzarella
1 cup quesadilla cheese
Vegetable oil for frying
Instructions
In large skillet heat oil over medium high heat. Add steak and sear; turning frequently and slowly adding Worcestershire Sauce. Add the onion and green pepper and continue cooking until the steak is fully seared; about 1-2 minutes. Remove from heat and allow to cool for 15 minutes.
Add monterey jack, mozzarella and quesadilla cheese. Stir to distribute.
Lay one egg roll wrapper out with a corner pointing towards you. Place about three rounded tablespoons in the center of each wrapper making a short horizontal lump . Bring the corner that is closest to you up and over and gently tuck it in. Fold in the sides and roll the wrapper tightly. Use a small amount of water to secure the tip of the wrapper. (If you don't know how to roll an egg roll it usually shows on the package with pictures).
Heat oil in heavy stockpot or saucepan to 365 degrees. Fry them 2-3 at a time (depending on the size of your pan) for 1-2 minutes or until lightly browned. Allow the heat to charge back up in between batches. Place on paper towels to drain. Serve warm.
Notes
Can be served with ranch or chipotle ranch. You can make your own chipotle ranch by adding 1 chopped chipotle pepper and one tablespoon adobo sauce to
1/2 cup of ranch dressing. Slowly add the pepper and sauce so you can adjust to taste. You can find canned chipotle peppers in adobo sauce in the Mexican food section of your grocery store.
Keywords: Philly Cheesesteak Egg Rolls, steak and cheese egg rolls, homemade egg rolls, steak egg rolls, philly cheesesteak appetizer, cheesesteak egg rolls
On the hunt for more delicious recipes?  Follow Small Town Woman on Facebook, Pinterest, and Instagram.
https://www.smalltownwoman.com/wp-content/uploads/2019/05/Beth-1.pdf