These Easy Apple Turnovers are plump full of juicy honey crisp apples, cinnamon, nutmeg and cloves. This turnover recipe utilizes puff pastry dough making this delicious recipe uncomplicated and quick.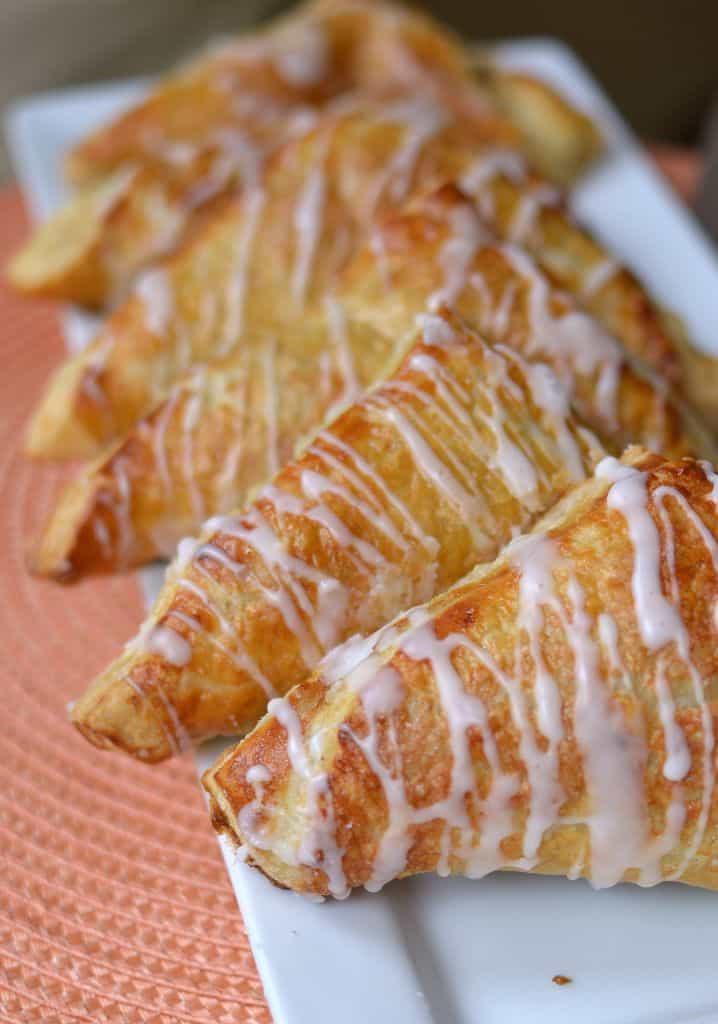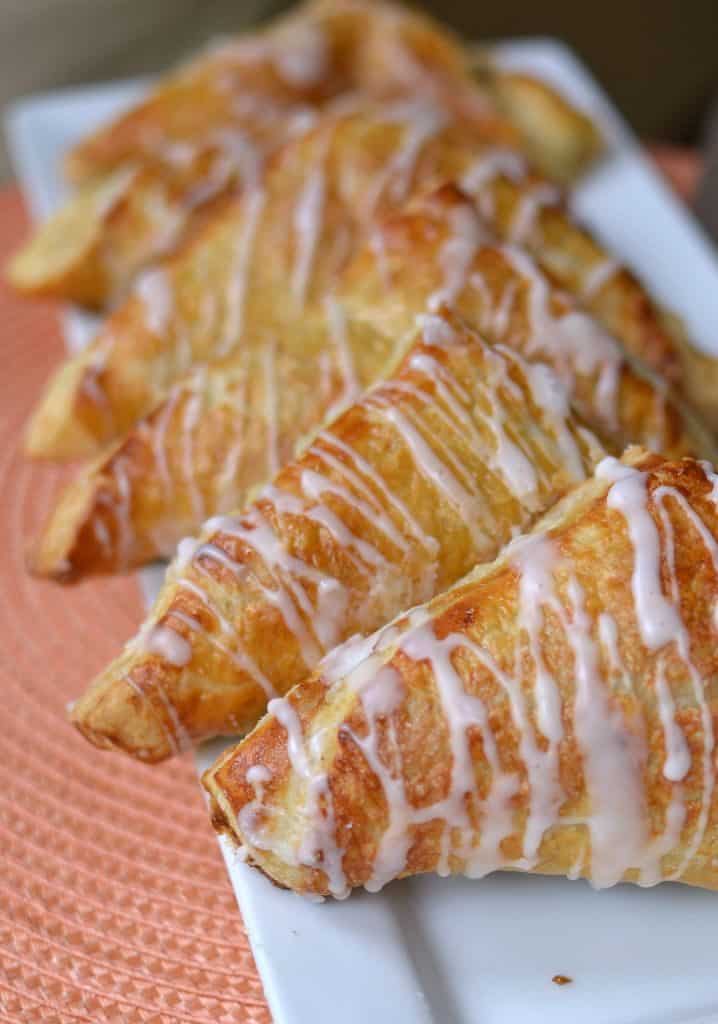 Fall will be here before you know it and with it comes lots of amazing flavors. One of my favorite parts of the autumn season is apple picking. There are just so many amazing recipes that you can make and prepare with fresh apples. These Easy Apple Turnovers were made with Honey Crisp Apples but you could use Granny Smith, Braeburn, Pink Lady or Jonagold. Every year it seems like they come out with another amazing apple. How do they do this? With the help of frozen pastry puff this scrumptious Apple Turnover Recipe comes together so quickly and tastes so much better and fresher than store bought pastries.
What is puff pastry and how do you use it?
Puff pastry is found in the freezer section of your grocery store. Puff pastry is ready made dough that is buttery, light and flaky. It is perfect for making pastries and appetizers. You just thaw it, unfold it, cut or shape it and bake it. I have learned two things about puff pastry that are very important though. After a short thaw period (about 20-35 minutes) it is ready to go. If you wait much longer than that you will lose some or most of its ability to rise. Also don't peek too much (little teeny tiny oven peeks) it does not like oven temperature drops and certainly don't slam the oven door.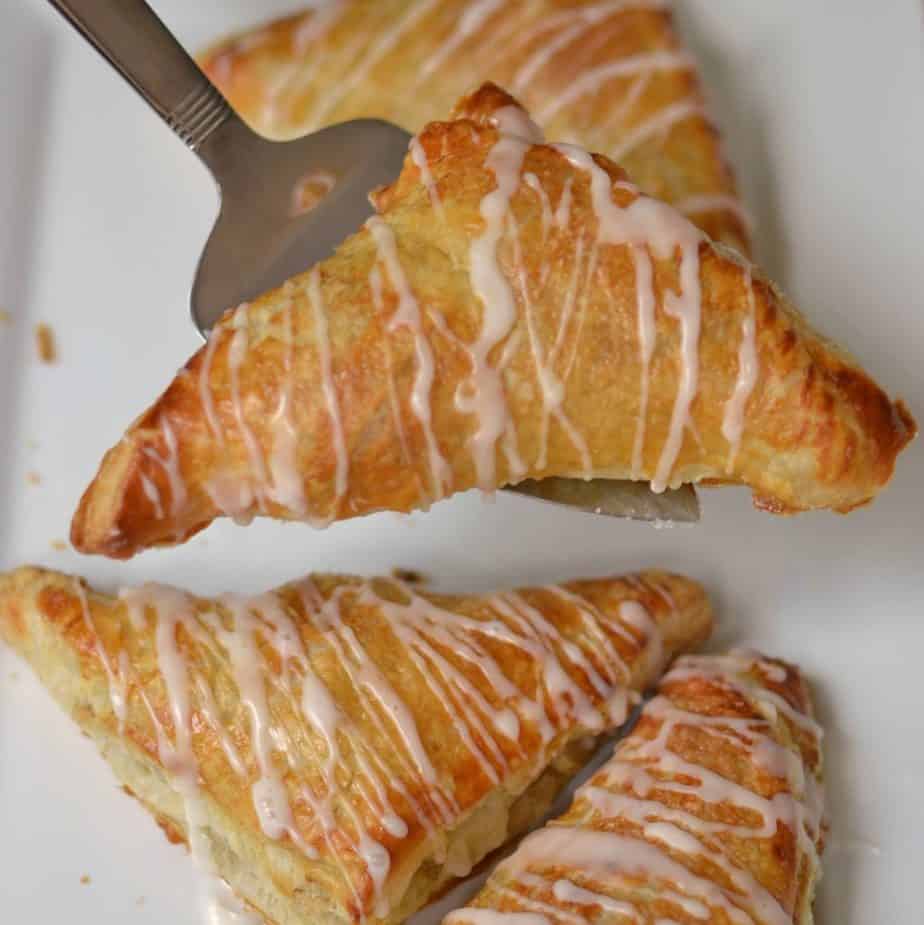 How do you make Easy Apple Turnovers?
Peel, core and chop apples. Melt butter in skillet. Add apples, brown sugar, cinnamon, nutmeg and cloves and cook over low heat until soft. Mix cornstarch and water add to pan and cook until slightly thickened.
Cut each sheet of puff pastry in fours. Scoop apples into center of each square. Fold over and press edges to seal. Crimp edges with a fork. Brush on egg wash and bake.
Whisk milk and powdered sugar together. Drizzle over cooled turnovers.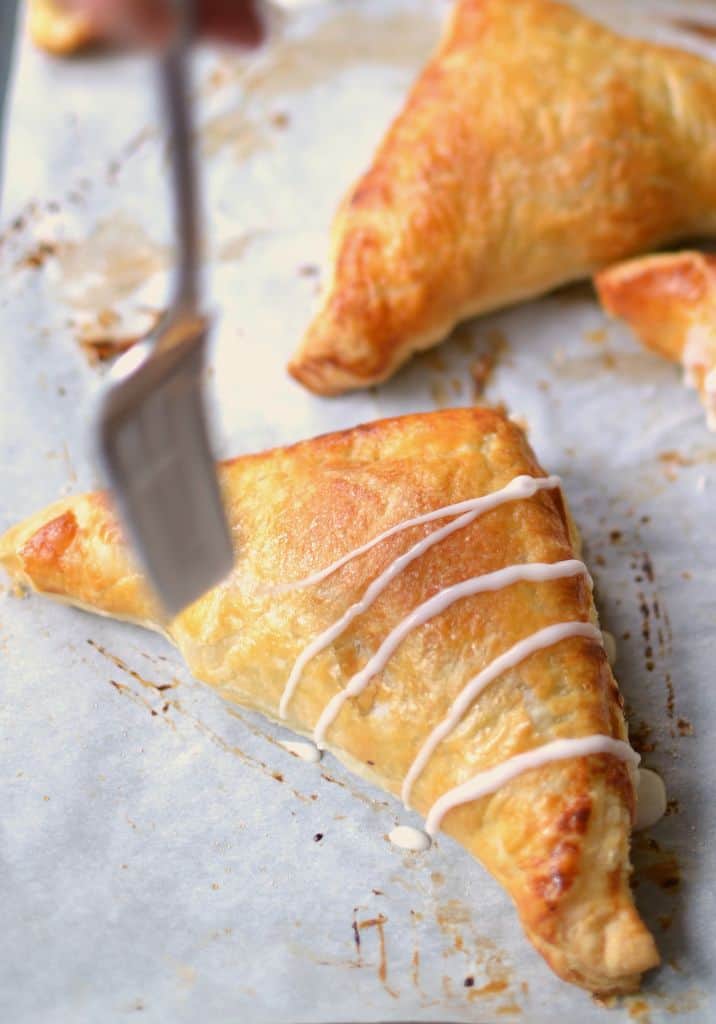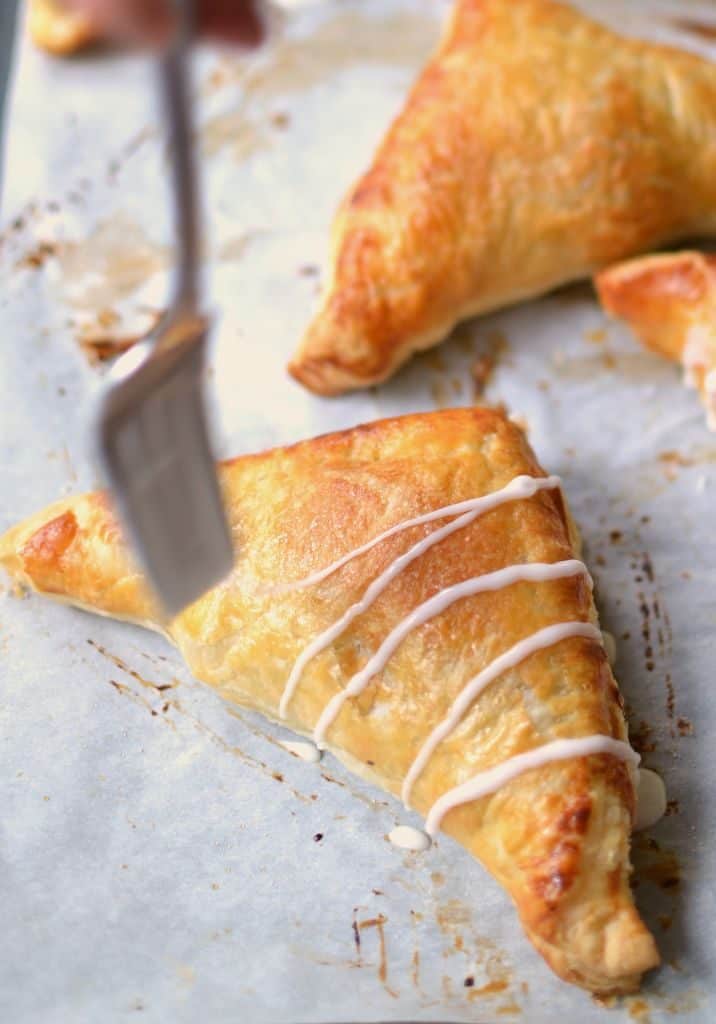 These Easy Apple Turnovers are so flaky and delicious. They are the perfect sweet treat for school snacks, brunches, weekend breakfasts and light desserts. Put the ingredients on your shopping list today and leave me comment and let me know what you think.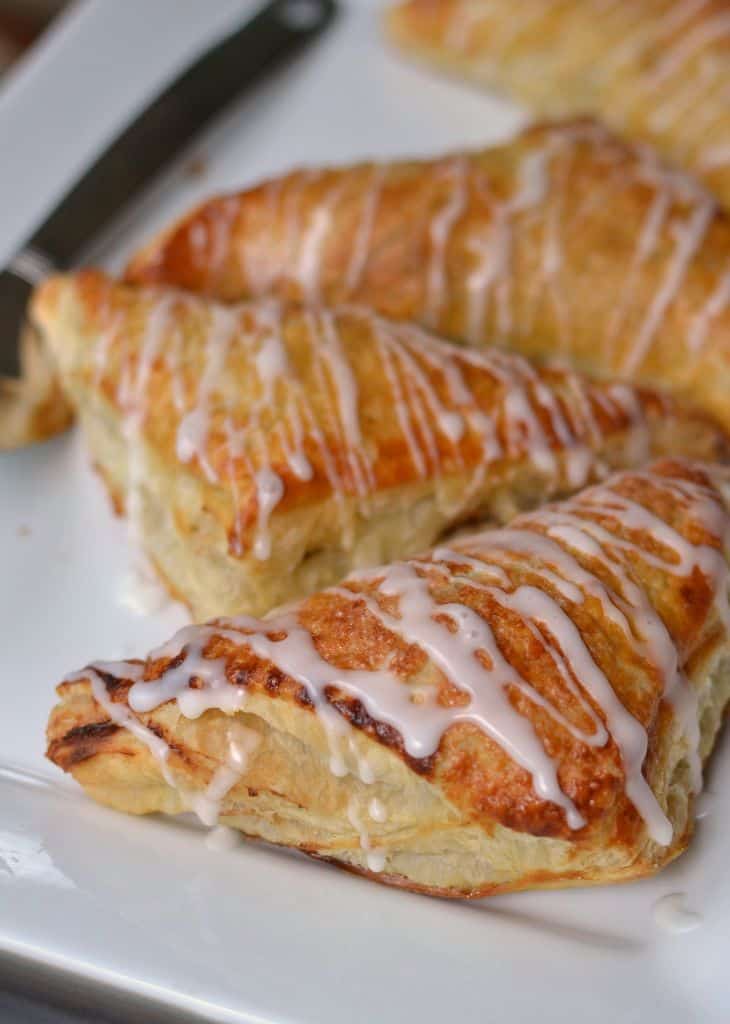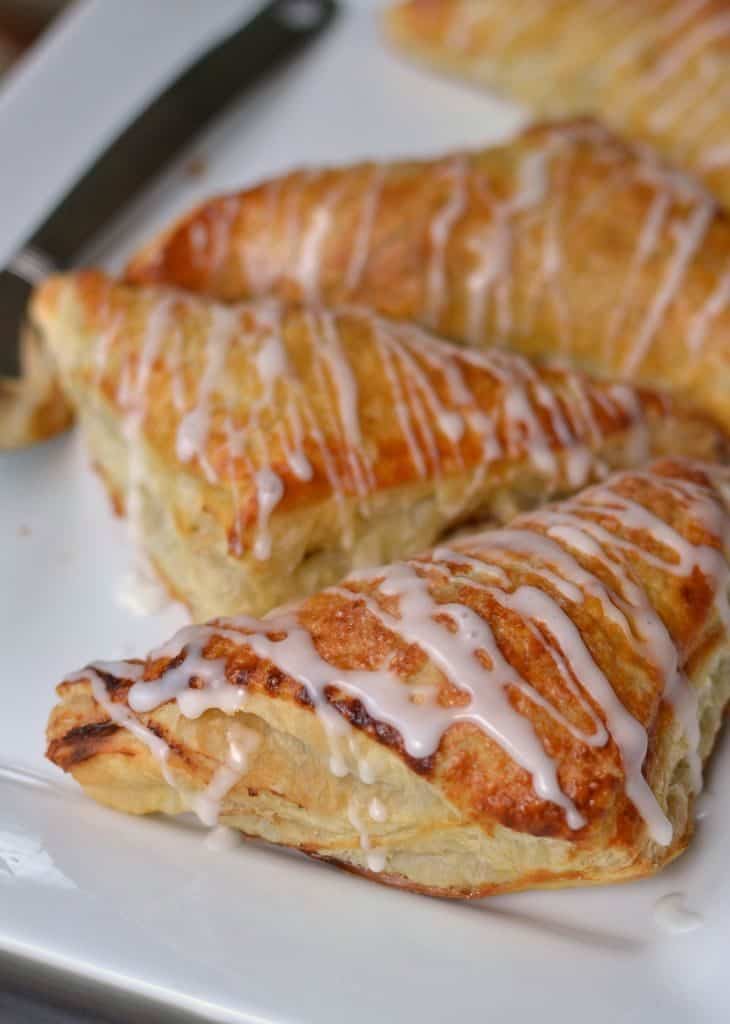 More apple recipes you will love!
Print
Easy Apple Turnovers
These scrumptious Easy Apple Turnovers are plump full of juicy honey crisp apples, cinnamon, nutmeg and cloves and baked in a flaky crust.
Author:
Prep Time: 35 minutes
Cook Time: 45 minutes
Total Time: 1 hour 20 minutes
Yield: 8
Category: Pastry
Method: Baking
Cuisine: American
1 box (17.3 ounce) puff pastry (2 sheets)
2 tablespoons butter
4 honey crisp apple peeled cored and cut in small dice
1/2 cup brown sugar
1 teaspoon cinnamon
1 pinch ground cloves
1 pinch ground nutmeg
1 tablespoon water
1 1/2 teaspoons cornstarch
1 egg
1 tablespoon milk
3/4 cup powdered sugar
Instructions
Melt butter in skillet over medium low heat. Add apples and cook for 15 minutes or until they have begun to soften. Add brown sugar, cinnamon, cloves and nutmeg and simmer for 8-10 minutes or until fully softened. Stir water and cornstarch together and add to apples. Cook until slightly thickened; about 1 minute.
Remove from heat and cool to room temperature.
Puff pastry will need to be thawed for 20-30 minutes prior to using. Do not thaw too long (see instructions on box),
Unfold each sheet of puff pastry and place on light floured surface. Cut into 4 squares. Place squares on parchment covered baking sheets Top each with a heaping tablespoon or so of apple mixture and fold over and press edges to seal creating a triangle.. Crimp edges with a fork. Beat egg until frothy. Brush on light coat of egg wash with pastry brush
Bake at 400 degrees for 18-20 minutes or until turnovers are puffed and lightly browned. Let turnovers cool.
Whisk milk and powdered sugar until smooth and drizzle over cooled turnovers
Notes
If powdered sugar drizzle is too thick add a tiny bit of milk if it is too thin add a tablespoon or two of powdered sugar.
Keywords: apple pastry, puff pastry apple turnovers
On the hunt for more delicious recipes? Follow Small Town Woman on Facebook, Pinterest, and Instagram.
https://www.smalltownwoman.com/wp-content/uploads/2019/05/Beth-1.pdf