Steak Diane is beef tenderloin, mushrooms and shallots in a sauce made with seasoned pan juices, brandy, cream and a touch of mustard.  Skip the expensive restaurants and make this mouthwatering dish right in your own kitchen.
In the infamous words of hubby "Do you have anymore of this steak?"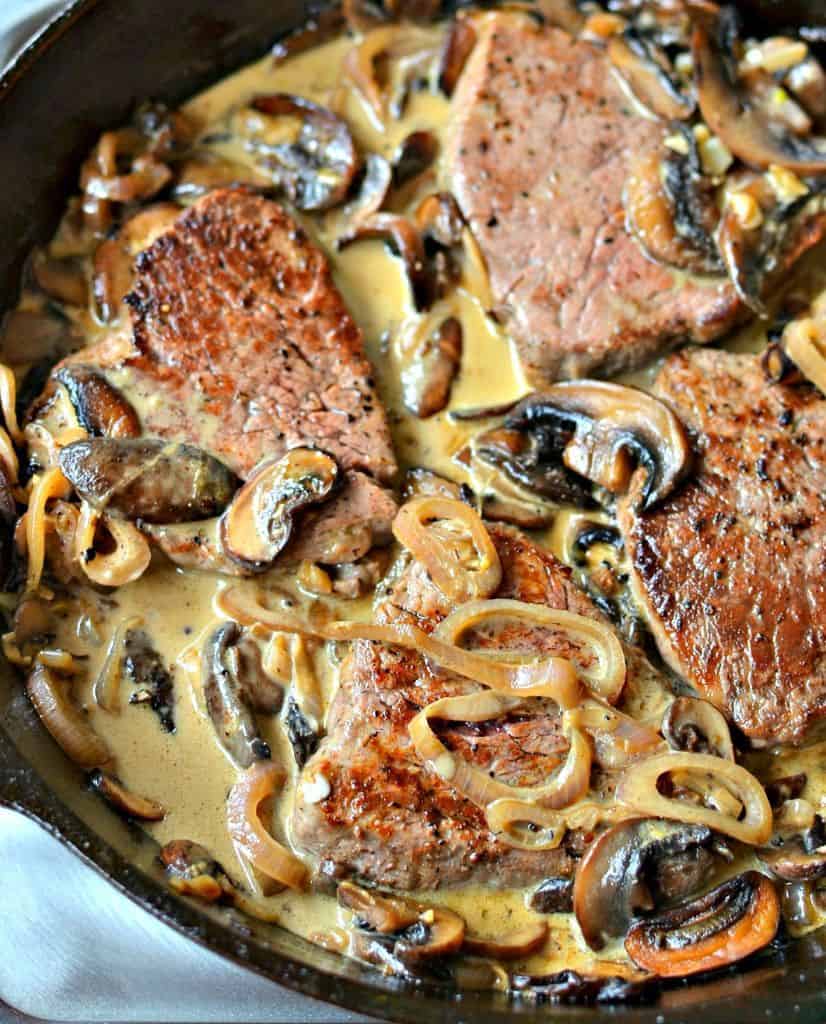 Steak Diane is one of my absolute favorite steak recipes. I usually wait for tenderloin to go on sale and it always does eventually.  Then I grab my shrooms, shallots and cream and I am armed and ready to make a mouthwatering quick skillet recipe for my family.  This outstanding steak recipe is made in one pan in about ten to fifteen minutes.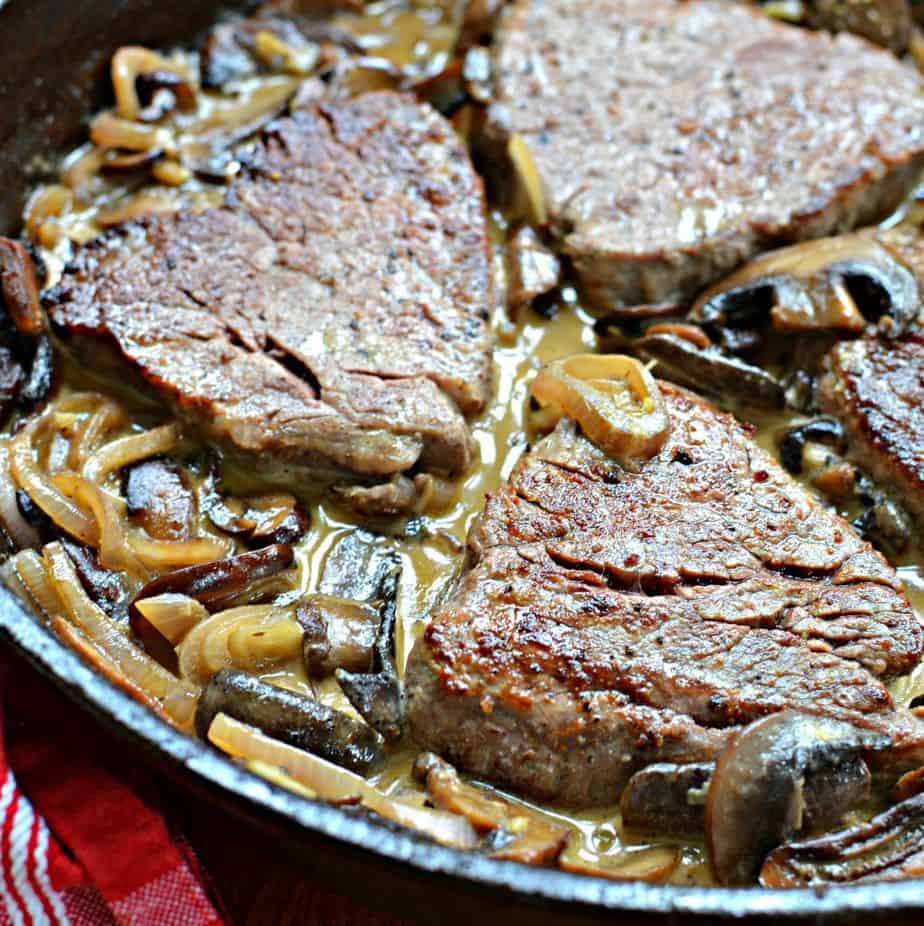 What is Steak Diane?
Steak Diane is beef steak (usually tenderloin) cooked in butter and served with a delicious sauce made from the pan juices, brandy,  beef broth, cream, and a touch of mustard and Worcestershire sauce usually accompanied by skillet browned mushrooms, shallots and garlic.  The steak is most commonly flambeed with brandy but with this recipe I just deglaze the pan with the brandy and reduce the brandy before preparing the sauce.
What are the best cuts of beef to use for Steak Diane?
By far the best cut of beef to use is tenderloin medallions also know as filet mignon. However you can use flank steak or petite shoulder. Honestly you can use any tender cut of beef that can be cut into 3/4 inch thick slices and seared in butter in a skillet.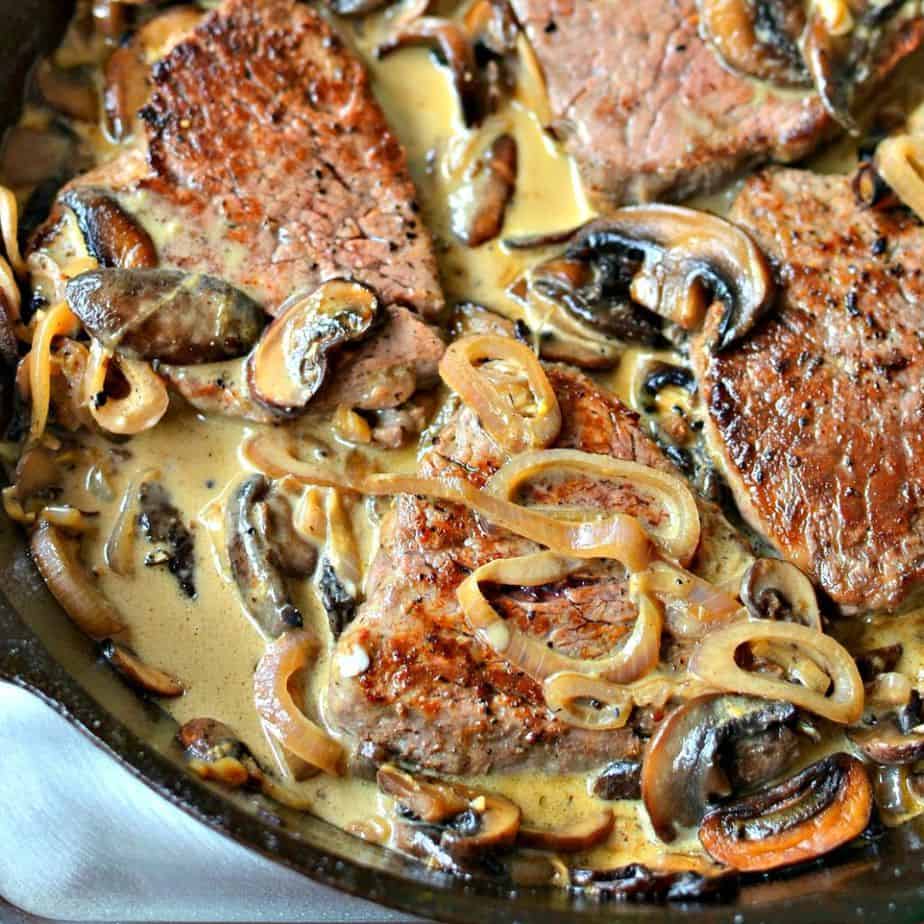 How do you prepare Steak Diane?
First lightly salt and pepper the beef medallions. Then melt the butter in the skillet over medium heat.  Cook the steak until golden brown on both sides.  Remove the steak to a plate and melt a little more butter and add a little olive oil over medium high heat. Add the mushrooms and cook until golden brown.  Add shallots and cook 1-2 minutes. Reduce the heat to medium low and add the garlic cooking for 30 seconds.
Turn off the heat and add the brandy. Be very careful as the fumes from the brandy can ignite.   Return heat to medium low. Scrape the bottom of the pan to deglaze it and get those tasty brown bits off the bottom of the skillet. Cook the brandy for several minutes to reduce by half.  Whisk in the cream, Worcestershire Sauce and mustard.  Cook for 2-3  minutes whisking frequently. Whisk in the beef broth.  Finally salt and pepper to taste and return the medallions back to the skillet heating for 1-2 minutes.  Garnish with fresh parsley and serve.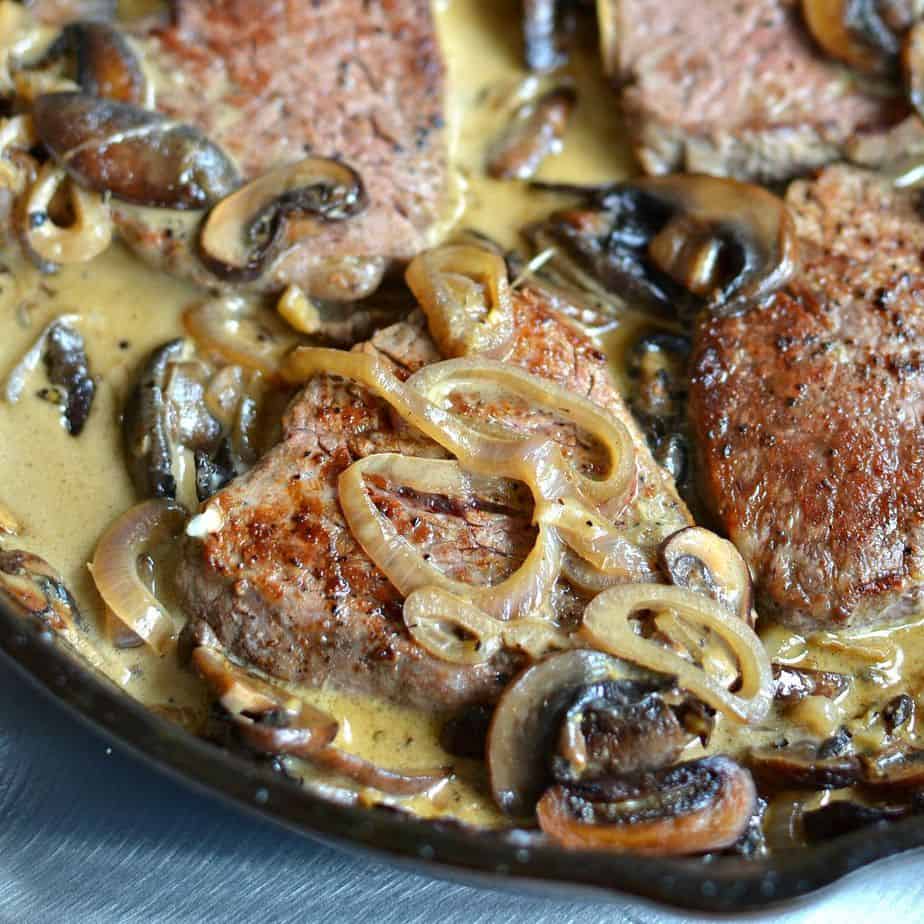 This steak recipe is simply amazing and easily prepared by even the novice chef.  So put this delicious recipe on your to try list and start keeping an eye open for tenderloin to go on sale.
Other Steak Recipes you will love!
On the hunt for more delicious recipes?  Follow Small Town Woman on Facebook, Pinterest, and Instagram.
This post was originally published September 3, 2018 and was republished October 14, 2019 with new content.
Print
Steak Diane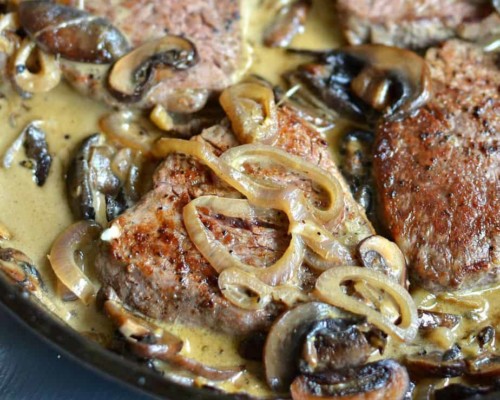 Delectably tender steaks cooked in a mouthwatering creamy brandy sauce with mushrooms and shallots. Easy enough for a weeknight meal yet elegant enough for company.
Author:
Prep Time: 5
Cook Time: 30
Total Time: 35 minutes
Yield: 4 1x
Category: Beef
Method: Stovetop
Cuisine: American
Scale
Ingredients
3 tablespoons butter
1 1/2 lb beef tenderloin medallions about 3/4 inch thick
1 tablespoon olive oil
8 ounces Cremini mushrooms sliced 1/4 inch thick
2/3 cup finely sliced shallots
3 cloves garlic minced
1/3 cup brandy
1/3 cup heavy cream
1 tablespoon Worcestershire Sauce
2 teaspoons Dijon mustard
1/4 cup low sodium beef broth
salt and pepper to taste
Fresh chopped Italian parsley
Instructions
Lightly salt and pepper the tenderloins. In skillet over medium heat melt 2 tablespoons of butter. Add steak and brown well on both sides. Remove steak to plate.
Turn heat to medium high and add remaining butter and olive oil to skillet. Add mushrooms and spread them out so that as many as possible are exposed to the heat. Cook until golden brown stirring a couple of times. Add shallots and cook another 2 minutes; stirring a couple of times. Reduce heat to medium low. Add garlic and cook for 30 seconds; stirring continuously.
Turn off the burner and add brandy. Be very careful as alcohol fumes can ignite. Turn the heat on medium low and continue cooking until reduced by half. Whisk in the cream, Worcestershire Sauce and mustard; cooking for 2-3 minutes. Whisk in the beef broth, salt and pepper to taste. Return beef to the pan and heat for 1-2 minutes. Sprinkle with parsley and serve.
Keywords: one skillet steak, steak and mushrooms in cream sauce, steak diane recipe, steak and mushrooms in brandy sauce, steak diane sauce, what is steak diane, steak diane sauce recipe, traditional steak diane sauce
https://www.smalltownwoman.com/wp-content/uploads/2019/05/Beth-1.pdf