This simple Vinegar Coleslaw is quick to come together, dependable and healthy.  It is the perfect side for all your spring and summer grilling. It goes great with ribs, burgers, hot dogs, brats, chicken and pork.  I love to serve it at my summer shindigs with Broccoli Salad and Corn Salad with Easy Lime Vinaigrette.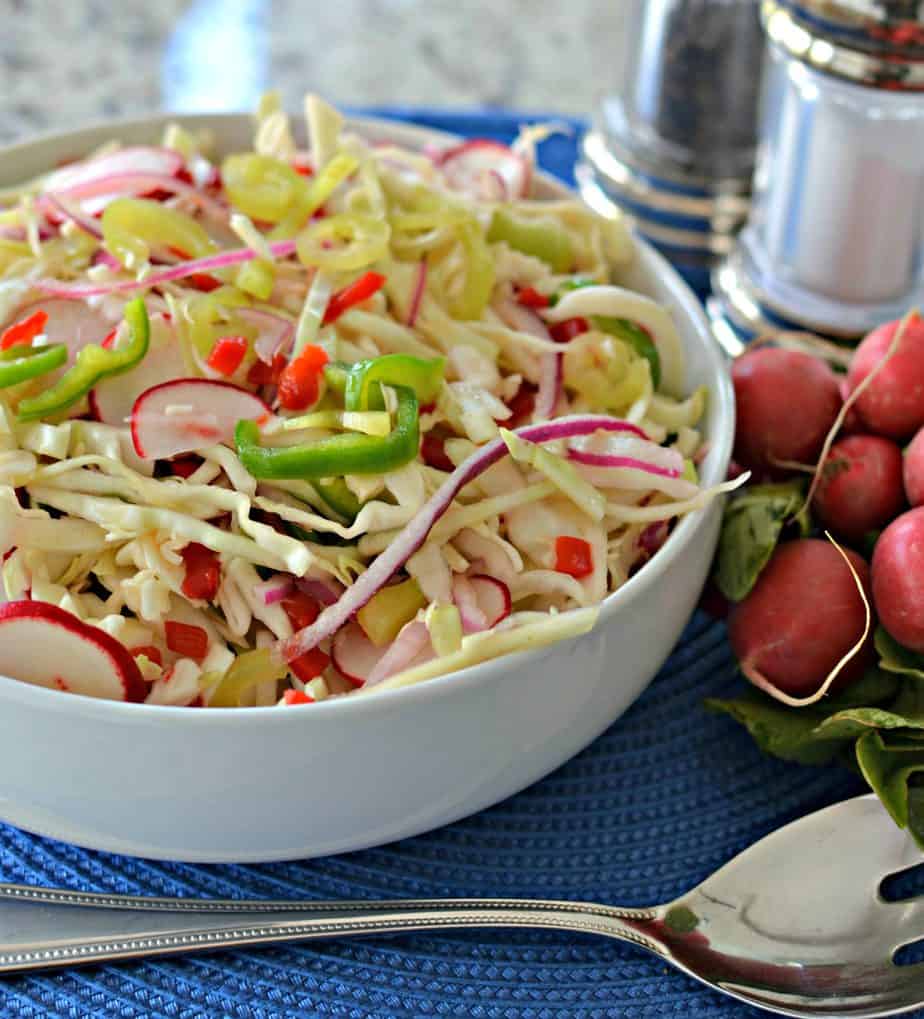 I bet you are so ready for summer.  I know we are!  It has been a long cold winter and every once a while winter still tries to rear it's ugly head.  I have fired up my grill a couple of times but I can't wait to make it a daily occurrence.   Tonight we are going to grill up some marinated chicken breasts and serve it with this Vinegar Coleslaw.  I think I will even slide in a couple of tablespoons of minced jalapeno for a little pick me up.  No worries if you like things a lot cooler than just omit the jalapeno.
This Vinegar Coleslaw brings crisp shredded cabbage, red onions, peppery radishes, mild Anaheim and banana peppers and sweet pimentos into a tasty five ingredient vinegar and oil dressing.  This dish can  be prepared in a matter of minutes. I think this dish is best fixed a couple of hour in advance but many times I have mixed right before grilling and it was still delicious.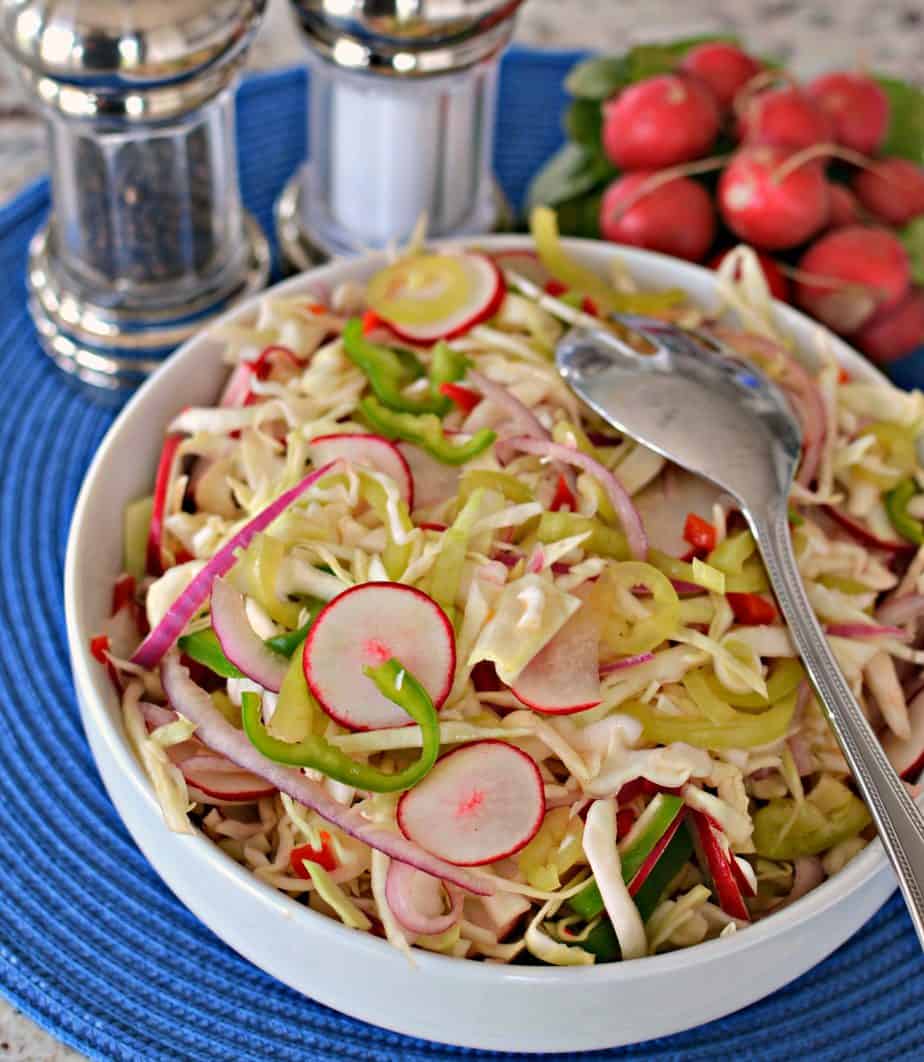 How do you make Vinegar Coleslaw?
Start by thinly slicing all your vegetables.  I like to use either a sharp serrated or German knife.  You could also use a mandoline or a food processor. Next whisk together the vinegar, sugar, Dijon mustard, cumin and olive oil.
Now in a large bowl combine the shredded cabbage, sliced peppers, sliced red onions, sliced radishes, diced pimentos and minced jalapeno. Next drizzle with the vinegar mixture and toss to coat. For best results chill for several hours tossing several times.  Finally toss again right before serving.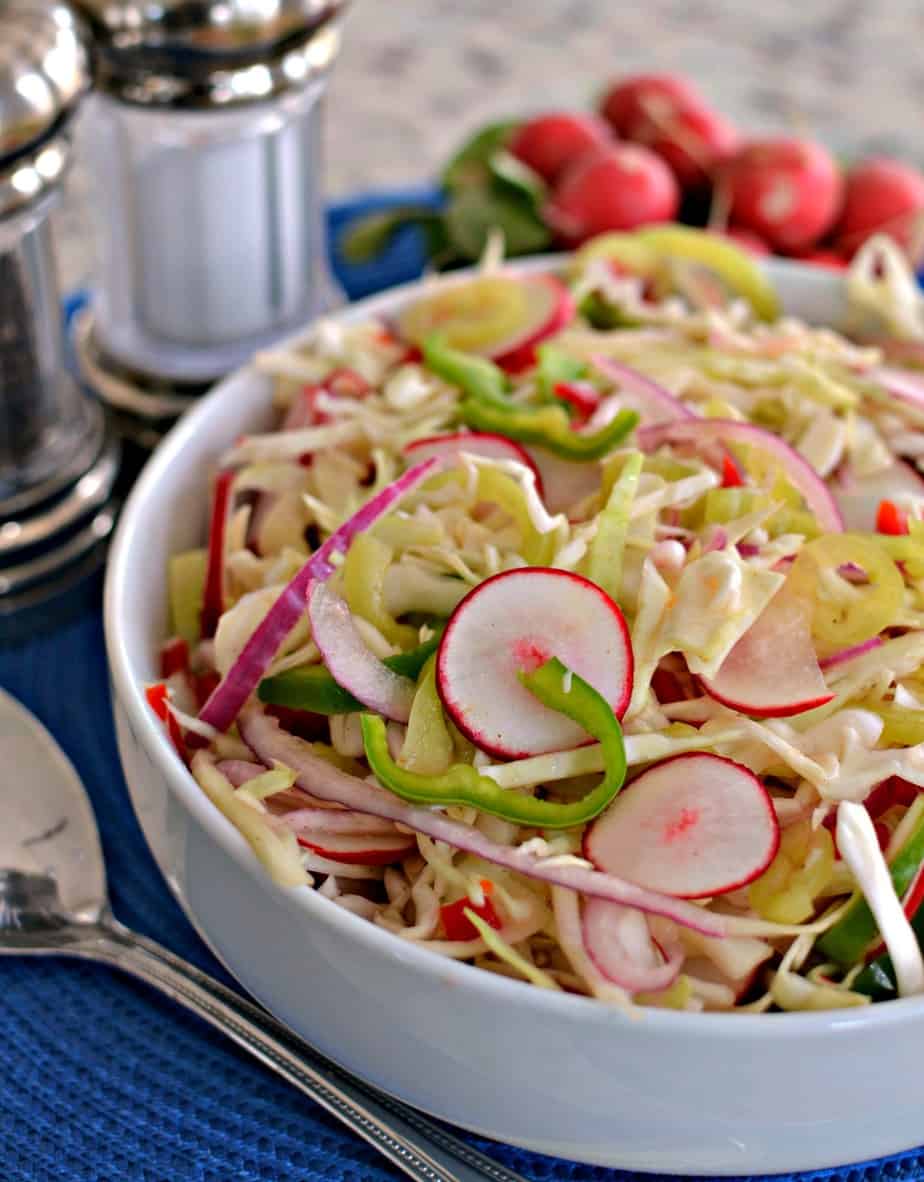 Make sure you put this delectably tangy Vinegar Slaw on your to try list today.  Before you know it we will be grilling up a storm.  I think my grill is calling me now!  Bon appetit my food loving friends.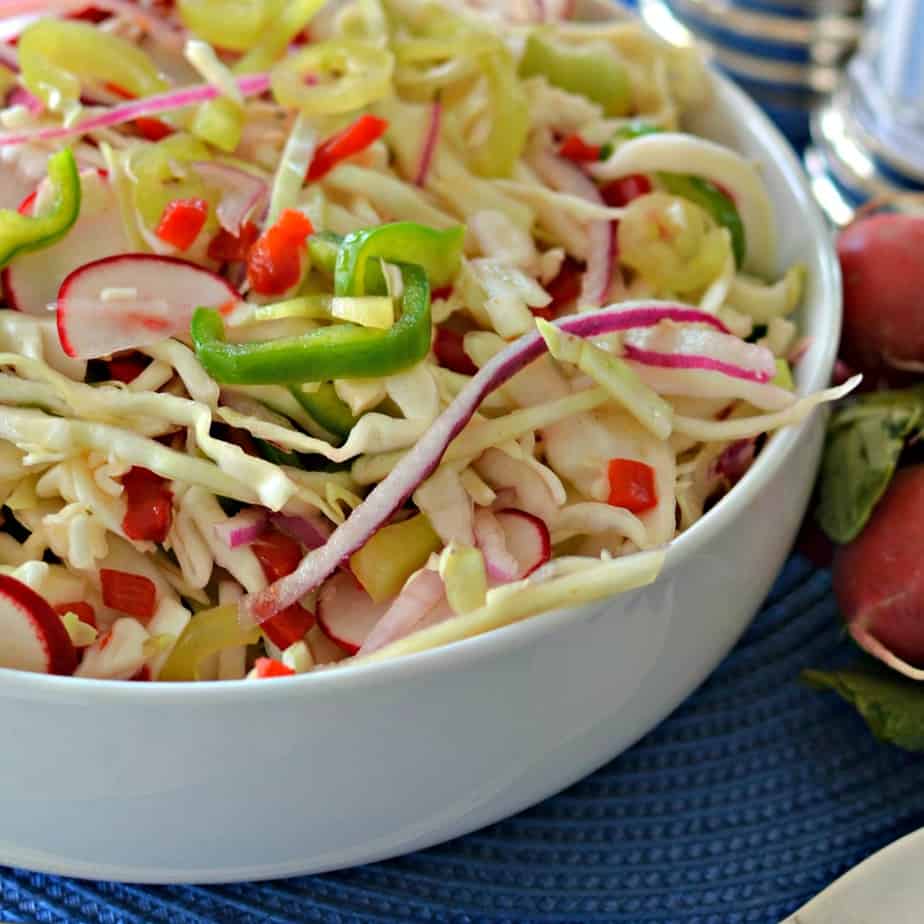 More salad recipes you will love!
This post was originally published April 18, 2018 and was republished March 24, 2020 with new content.
Print
Vinegar Coleslaw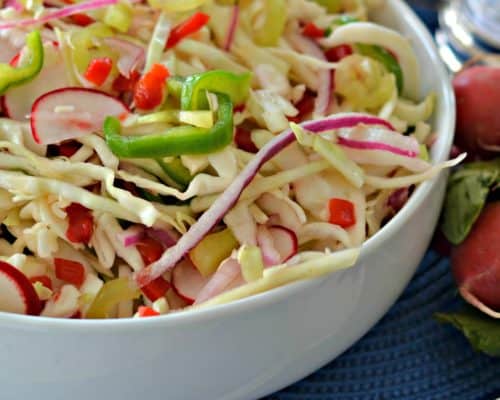 This tasty vinegar cabbage coleslaw is flavor packed with Anaheim and banana peppers, red onions, radishes, pimentos and diced jalapenos.
Author:
Prep Time: 15 minutes
Total Time: 15 minutes
Yield: 6 serving 1x
Category: salad
Method: no bake
Cuisine: American
1/2 cup rice vinegar
1/4 cup sugar
2 tablespoons Dijon mustard
1/4 teaspoon ground cumin
3 tablespoons olive oil
1/2 thinly sliced head of green cabbage
1 thinly sliced Anaheim pepper
1 thinly sliced banana pepper
1/2 cup thinly sliced red onion
3/4 cup thinly sliced radishes
1 jar (7 ounce) diced pimentos
Optional 1 minced jalapeno
Instructions
In a small bowl whisk together vinegar, sugar, mustard, cumin and olive oil.
In large bowl combine cabbage, peppers, red onion, radishes, pimentos and jalapeno (if using).
Drizzle dressing over cabbage mix and stir gently to coat.
Season with salt and pepper to taste. Chill before serving.
Keywords: coleslaw, grill side, healthy vinegar coleslaw recipe, old fashioned coleslaw with vinegar, vinegar based coleslaw, coleslaw dressing vinegar, oil and vinegar coleslaw, best vinegar coleslaw recipe, easy vinegar coleslaw, how to make vinegar coleslaw
On the hunt for more delicious recipes?  Follow Small Town Woman on Facebook, Pinterest, and Instagram.
https://www.smalltownwoman.com/wp-content/uploads/2019/05/Beth-1.pdf