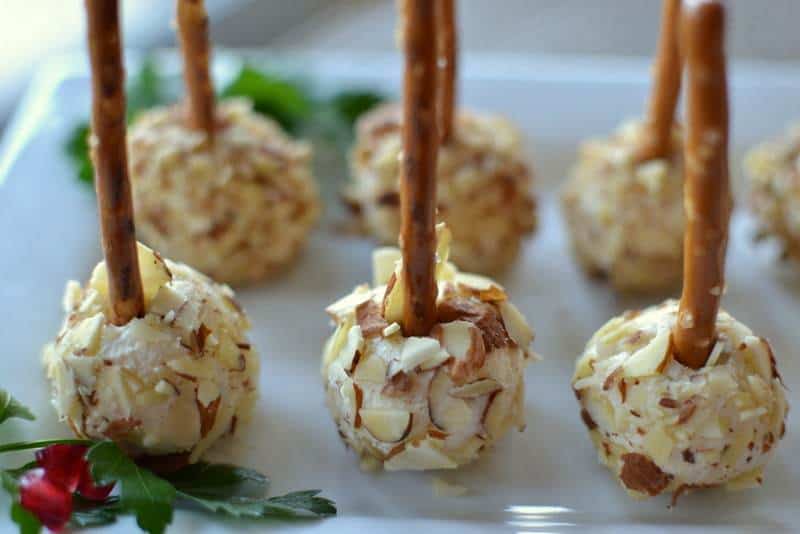 Are you entertaining this holiday season?  I love entertaining.  It is just so much fun.  I love everything about it from the menu planning, invitations, prep, cooking and food styling to the party itself.  It brings me such pleasure to see my family and friends having a wonderful time enjoying themselves, eating, drinking and socializing with loved ones.  These Pepper Jack Almond and Pecan Mini Cheese Balls are a party favorite and can be prepped and stored ahead of time.  If preparing ahead please wait to add the pretzel sticks till right before serving or they will not be crispy and crunchy.
Triple Cheese Shrimp Dip Wontons, Bacon Cheddar Stuffed Mushrooms, Pepper Jack Chicken Cream Cheese Wontons are just a few family and friend favorite appetizers.  Are you doing a holiday party or a New Years party? It is always fun to include festive beautifully wrapped boxes as props to elevate the different dishes.  You can stagger or stack them and use various size boxes to accommodate everything from a large dessert platter to a small bowl of dip.  You can even cover the table with different complementary wrapping papers to create a stunning cheerful effect.  I have had so many sweet compliments on how I prepare my serving tables but honestly it is so easy.  Costco sells really thick excellent quality coordinating wrapping paper in multi-packs.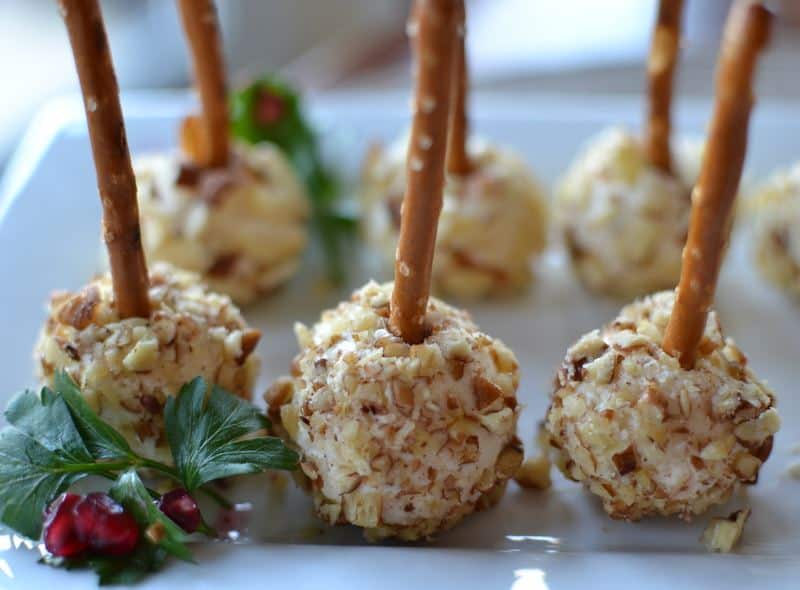 These fantastic Pepper Jack Almond and Pecan Mini Cheese Balls only require about twenty minutes prep and can be prepared up to two days in advance.  Cream cheese, Pepper Jack and a perfect blend of spices are combined and rolled.  Half of the batch is rolled in sliced almonds and other half is rolled in chopped pecans.  Each ball is pierced with a pretzel stick making it the perfect finger food and holiday appetizer.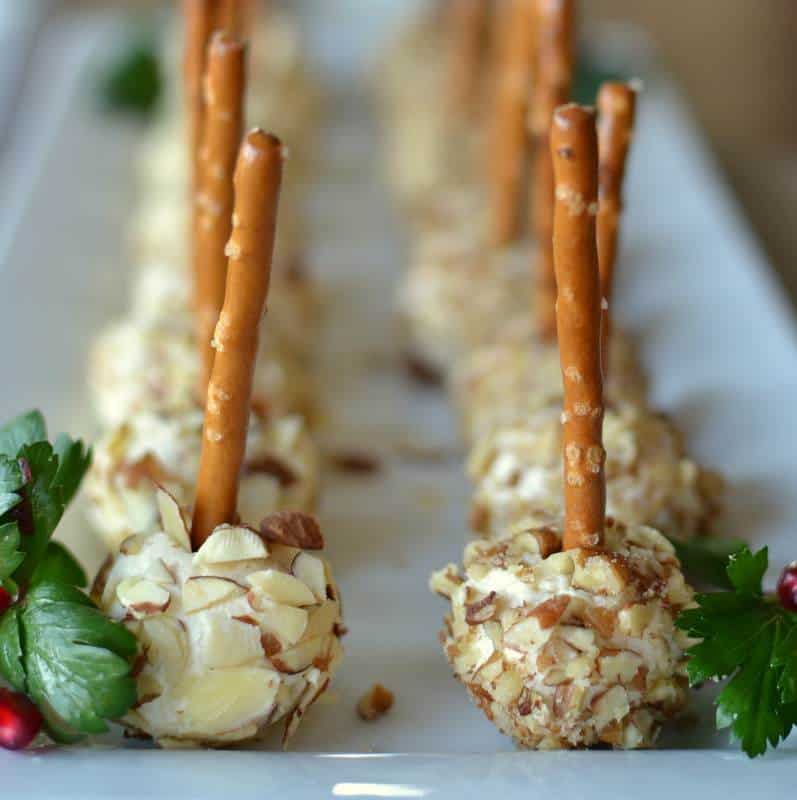 So if you are entertaining a whole house full of people or if you are just hanging out with your spouse and kids these Pepper Jack Almond and Pecan Mini Cheese Balls are gorgeous and delectable.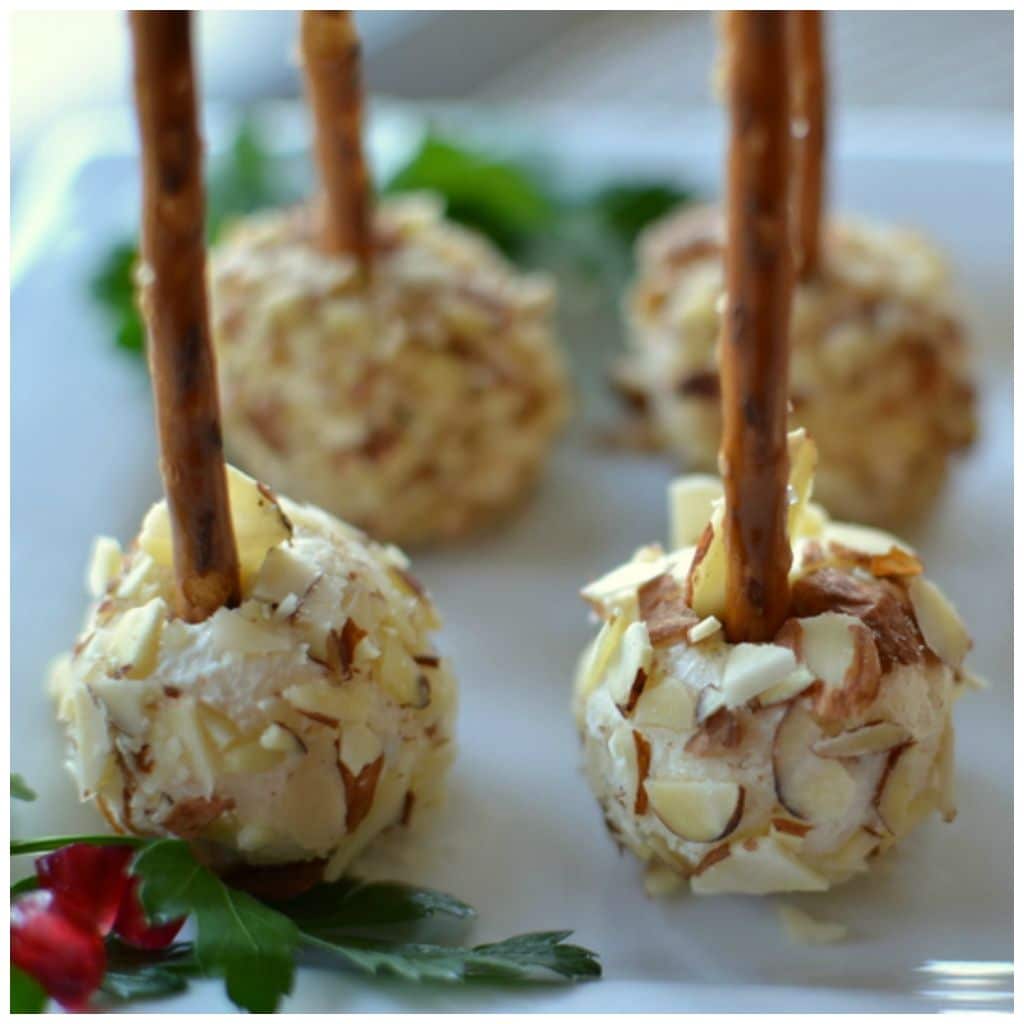 Print
Pepper Jack Almond and Pecan Mini Cheese Balls
Yield: Approximately 18-20 mini cheeseballs
1 box (8 ounce) cream cheese
1 cup finely shredded Pepper Jack Cheese
1/4 teaspoon garlic powder
1/8 teaspoon onion powder
1 teaspoon Worcestershire sauce
1/2 teaspoon hot sauce
1/2 cup finely chopped pecans
1/2 cup coarsely chopped sliced almonds
Preztel sticks
Instructions
In small bowl using mixer combine cream cheese, Pepper Jack cheese, garlic powder, onion powder, Worcestershire sauce and hot sauce. Spread a thin layer of butter over your hands and taking about one tablespoon of cheese and roll into balls. Refrigerate for 1 hour.
Roll half of the balls in chopped pecans and half in sliced almonds. Poke each with one pretzel stick right before serving.
https://www.smalltownwoman.com/wp-content/uploads/2019/05/Beth-1.pdf