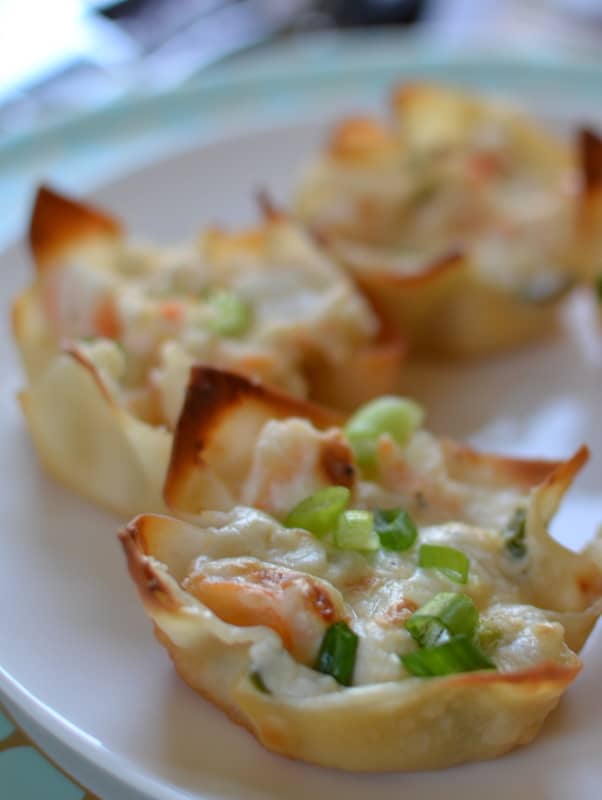 I love appetizer-type food.  I love to prepare it, serve it and eat it.  There are just so many fantastic appetizer recipes to create and just as many gorgeous ways to present it and serve it.  Especially around the holidays with all the beautiful decorations and cozy ambiance.  These Triple Cheese Shrimp Dip Wontons are easy and amazingly delicious.  You can prepare the filling ahead of time and be ready to stuff those babies just before your guests arrive.  Pop them in the oven for about fifteen minutes, and greet all of your hungry friends and family with a hot delectable hors d'oeuvre that will knock their socks off.
Have you tried any of my other appetizers?  Crab Rangoon Egg Rolls, Quick and Creamy Crab Stuffed Mushrooms, and Pepper Jack Chicken Cream Cheese Wontons are just a few family and friend favorites.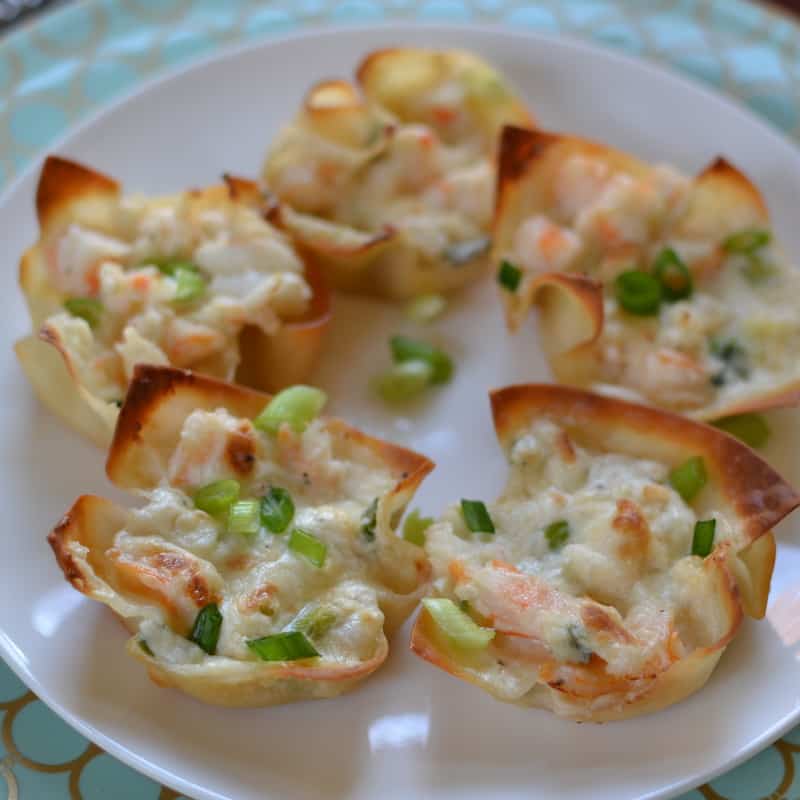 These tasty Triple Cheese Shrimp Dip Wontons combine shrimp, cream cheese, Swiss cheese, Parmesan cheese, and garlic baked into a crispy wonton.  The end result is pure heaven.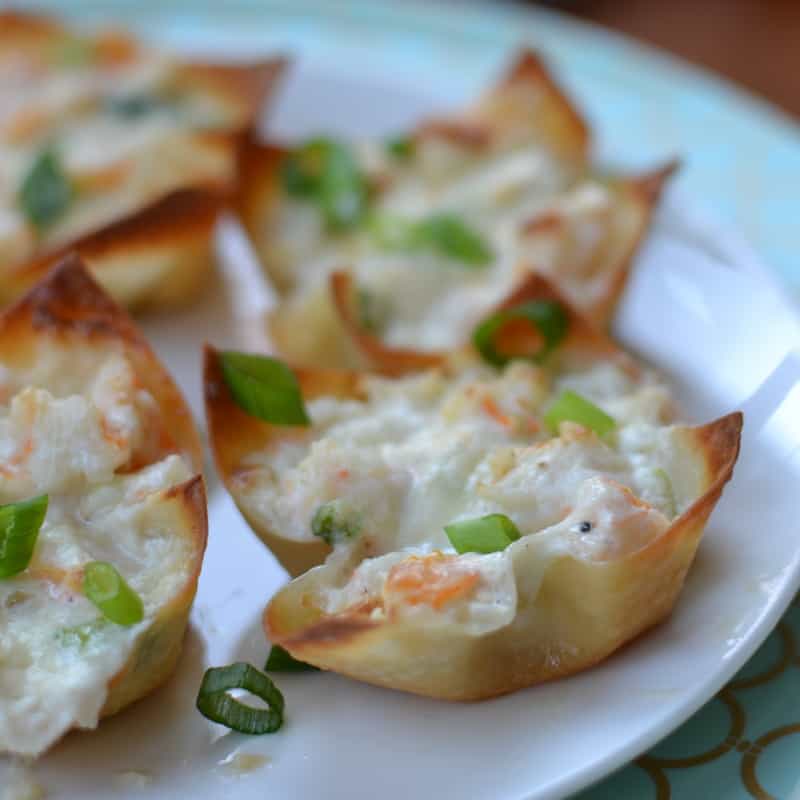 So if you love to entertain, cook, or maybe just love amazing appetizers, these are a must-make.  Put the ingredients on your shopping list today, along with a nice bottle of Sauvignon Blanc.  Treat yourself and your loved ones to a special treat!  You have been working extraordinarily hard, and you deserve it.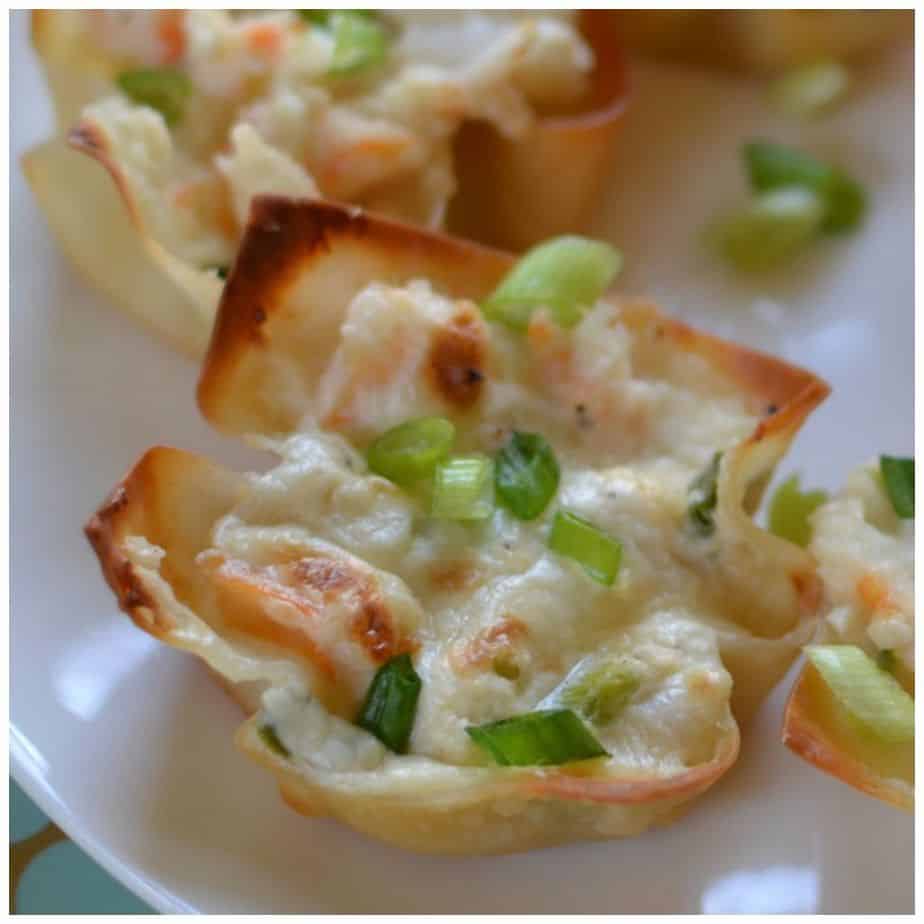 Other appetizer recipes you will love!
Print
Triple Cheese Shrimp Dip Wontons
These Triple Cheese and Shrimp wonton bites are the perfect party appetizer. Creamy shrimp dip mixed with cream cheese, Parmesan, and swiss, then baked to crispy perfection.
Author:
Prep Time: 10 minutes
Cook Time: 25 minutes
Total Time: 35 minutes
Category: Appetizer
Method: Baked
Cuisine: American
18 wonton skins
2 1/2 tablespoons butter melted
1 box (8 ounce) cream cheese
1/4 cup freshly grated Parmesan cheese
1 cup grated Swiss cheese
1 tablespoon Worcestershire sauce
2 tablespoons mayo
2 cloves garlic minced
1 lb cooked shrimp shelled deveined and chopped
1/2 cup sliced green onions (reserve 2 tablespoons for top)
Instructions
Preheat oven to 350 degrees.
Using a pastry brush lightly coat 18 holes of standard muffin pans with melted butter. Gently press wonton skins into muffin pans and brush the top side with melted butter using a pastry brush. Bake for 8-9 minutes to lightly brown.
In a large bowl, using a mixer beat cream cheese, Parmesan cheese, Swiss cheese, Worcestershire sauce, mayo, and garlic. Stir in chopped shrimp and green onions
Spoon shrimp mixture into cooked wonton skins. Bake for 15 minutes turning on the broiler the last minute of baking. Stay close by, as I have always found broilers unpredictable.
Keywords: cheesy shrimp dip wontons, shrimp wonton recipes, shrimp wontons with cream cheese, wonton recipes
On the hunt for more delicious recipes? Follow Small Town Woman on Facebook, Pinterest, and Instagram.
https://www.smalltownwoman.com/wp-content/uploads/2019/05/Beth-1.pdf