Skillet Sausage and Peppers are a winning combination of sweet chicken sausage, crisp bell peppers and onion in an amazing Asian inspired sauce. It is the perfect busy family meal as it can be on the table in less than thirty minutes.
I love this recipe. Skillet Sausage and Peppers is so easy and tastes so darn good. It is one of hubby's favorite meals. I bet you never knew that sausage, peppers and onions could come together is such perfect harmony. You can serve it over rice or couscous or noodles or spaghetti squash. I like it just by itself! They sell so many tasty and healthy chicken sausages these days.
How to find healthier sausage choices.
Thank goodness stores have started carrying healthier choices for sausage and smoked sausages. You can find a lot of amazing chicken sausages that are additive and preservative free. You really don't have to put up with those nitrates anymore. Some of my favorites are Applegate, Al Fresco and Aidells. Do you see a pattern here? LOL! I have found these in some of the finer grocery stores and with a little luck sometimes Walmart.
As always read your labels to see if you recognize all the ingredients and watch your sodium level. Try to avoid those sausages that contain additives and preservatives. Typical additives include sugar, yeast extract and smoke flavor. Typical preservatives include nitrates, sulphur dioxide, sodium and potassium sulphites. As I said there are healthier choices out there you just need to chase them down.

MY LATEST VIDEOS
How do you make Sausage and Peppers?
For this Sausage and Peppers Recipe you will need some sliced onions, green peppers, red peppers and a little minced garlic for the sauce. Oh the sauce! The sauce is la piece de resistance of this Skillet Sausage and Peppers. Translation….your taste buds are going to be tantalized. Brown those delicious little sausages in a skillet. You can brown them whole or slice them and brown them! I personally like them sliced and browned.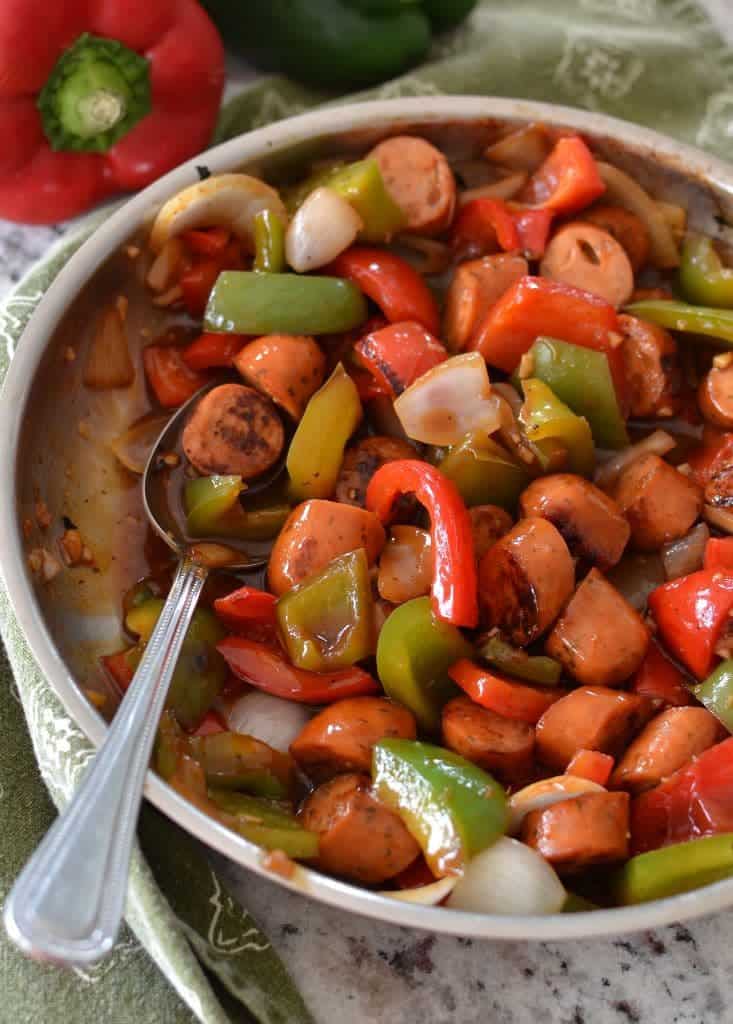 After the sausages are browned move them to a plate and cover to keep warm. Now add a little olive oil and a little sesame oil to the pan. Add the onions and peppers and cook on medium high for about eight to ten minutes depending up the amount of heat you are working with and how brown you like the edges of your veggies. Add the garlic and cook 1 minute. Add the sherry, soy sauce, mirin, sriracha sauce, Worcestershire sauce, ginger, and ketchup. Mix gently in amongst the veggies and return the sausages to the pan to warm up. Let all those delicious foods co-mingle for about five minutes. Oh this Skillet Sausage and Peppers is so yummy. Bon appetit everyone!
More chicken sausage recipes you will love!

Skillet Sausage and Peppers
Ingredients
2 tablespoons olive oil
2 teaspoons sesame oil
4 Chicken Sausages
1 green pepper diced
1 red pepper diced
1 large onion diced
2 large cloves garlic minced
1 tablespoon sherry
1/4 cup soy sauce
2 tablespoons Mirin
2 teaspoons sriracha hot chili sauce
1 tablespoon Worcestershire sauce
1 tablespoon fresh ginger
1/3 cup ketchup
Instructions
Add 1 tablespoon olive oil and one teaspoon sesame oil to large skillet over medium heat. Add sausage and cook until lightly browned. Remove to plate.
Add 1 tablespoon olive oil and 1 teaspoon sesame oil to the skillet over medium high heat. Cook the peppers and onions on medium high for about 8 minutes or until the onions are lightly browned on the edges. Add the garlic and cook for 1 minute. Add the sherry, soy sauce, mirin, sriracha sauce, Worcestershire, fresh ginger, and ketchup. Mix gently until combined. Add the sausages back to the skillet and allow everything to warm for 1-2 minutes.
Notes
Mirin is sweetened sake. You can sub three parts sherry to one part sugar or omit if it is difficult to find.
Both mirin and sriracha would be in Asian food section of your grocery store.
Other delicious supper recipes you will love!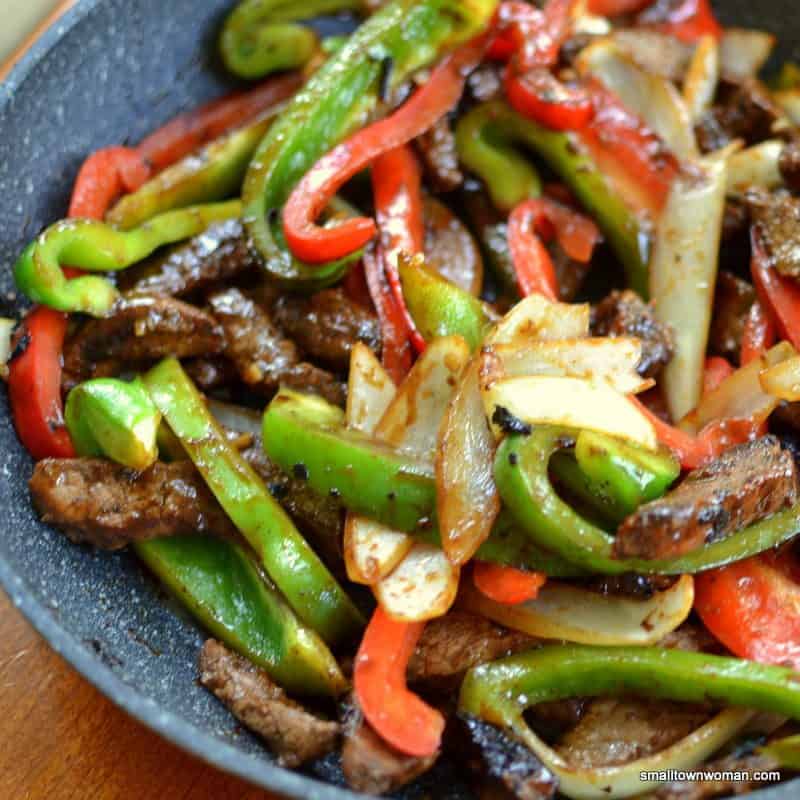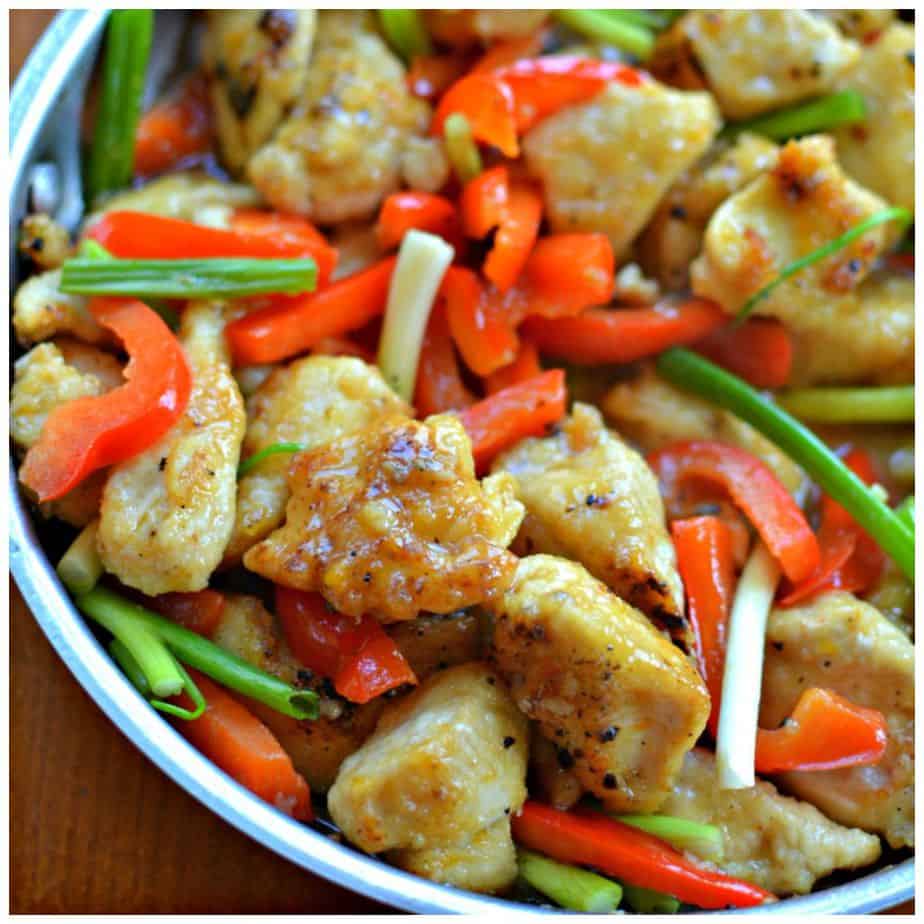 Easy Orange Chicken and Red Bell Peppers